Phoenix Fear Film Festival 3 – the 'close, but no cigar' movies
If you've been wondering where we've been of late, and why there's been no reviews posted for three weeks, we're heading towards the 3rd Phoenix Fear Film Festival on January 23rd. So, our spare time has been spent filtering through the various shorts an features sent in for the consideration of the viewing panel. Submissions came from a variety of sources: we had films directly from the makers, got others passed on to us for consideration by our friends at Brain Damage, and we also reached out to some creators whose work looked like it might be interesting. [You can spend, literally, days trawling round Youtube, watching trailers of all shapes, sizes and qualities of horror!]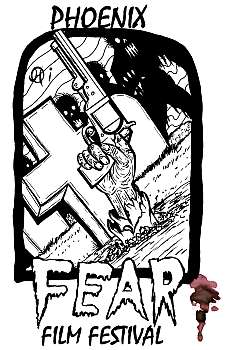 This year, I think the quality of the submissions was the highest it's ever been. I know it sounds like a patronizing cliche, but the decision of what to show was genuinely a difficult one, and we could easily have run the event over two days rather than one. Writing the rejections is not the funnest part of the endeavor, though much credit due to Devi Snively, whose email in reply was surprisingly upbeat and quite made our day [her film, Trippin', is currently first alternate, in the event that a movie Brain Damage have promised us does not complete post-production in time. Update: and as that proved the case, Trippin' made it in!].
We have now just about finalized the list of features to be screened there – details of those can be found on the festival site. But I'd like to pay deserved tribute to some of those that didn't quite make the final cut [as it were], and give them a bit of publicity for their efforts. Hence, the reviews below, which cover some of the contenders in the feature category – please note, these are my opinions alone, and do not necessarily reflect those of the entire festival panel, blah, blah. You know how it works. We'll be covering the shorts separately, since we're trying to squeeze as many of those into the festival as possible.
It's somewhat amusing how some film-makers subtly (or not-so subtly) hint that if we pick their movie, all their friends will show up at the festival. We treat such assurances with skepticism, after years of promoting bands and other shows. Now, we pretty much knock a zero off any predicted claims of attendance – and deduct a further 50%, for those who do show up, and claim they should be 'on the list.' From a pragmatic viewpoint, it'd be only a short-term gain, even if their friends did turn up, and pay to get in. Showing crappy films might get a few more arses on seats this year, but the rest of the crowd will not come back next year.
For some reason, we got an awful lot of late entries this year too – in September, we were wondering if we'd have enough features submitted to fill up the event, hence our decision to see if Brain Damage had any suggestions. However, the last couple of weeks saw a tidal-wave of features and shorts arrive, on almost a daily basis. Which, of course, means that the viewing panel has had to convene on almost a daily basis to watch them. While this has been more of a pleasure than a chore, now we have got the line-up finalized, I think we will likely be taking a break from watching inde horror by choice for a while. So, look forward to our review of The Ugly Truth in next week's update.
We're joking. Of course.
Meanwhile, other preparations continue for the event: we did look at the possibilities of bringing in a "big name" star to headline the event, but the finances didn't quite work themselves out there. I have to say, some do seem to have a rather inflated idea of their own worth, demanding more money for their appearance than we'd take in, if the entire event sold out. And we're not even talking icons like Bruce Campbell, but fairly minor stars. Perhaps they're under the impression the PFFF is some kind of commercial event such as Fango's Weekend of Horrors, when it's really just Chris and I, doing the work entirely because we love the genre – if we break even, we'll be happy. However, we are delighted to have inked scream queen Tiffany Shepis, one of the leading horror movie actresses of recent years: she's been a pleasure to work with.
Stay tuned for a full report on the event, with reviews of the five chosen features, towards the end of January – after we've recovered from the event itself!
Reviews