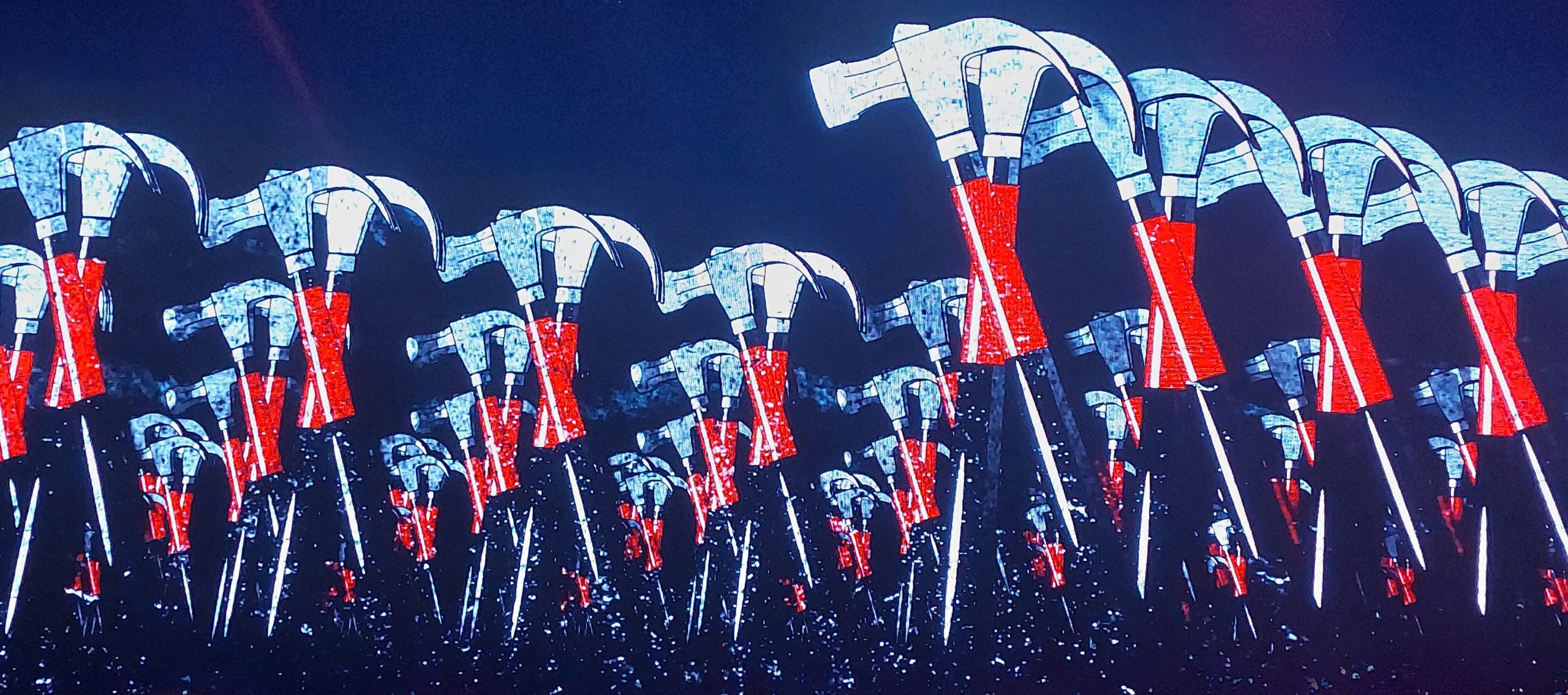 Desert Diamond Arena,
3rd October, 2022
"If you're one of those 'I love Pink Floyd, but I can't stand Roger's politics' people you might do well to fuck off to the bar right now."
— Pre-show introduction
Fair play to the man. We might disagree on certain topics (to put it mildly), but I get the sense he'd be a decent bloke with whom to have a drink. At age 79, and remarkably spry for it, he is clearly deep into the "give no fucks" stage of his career. This is going to be his show, and if you don't like it, you can lump it. But would I like it?
The Desert Diamond Arena had undergone one of its frequent name changes, since we were last there for Jurassic Fight Night. It's the fourth name it has had since just 2006, having begun as Glendale Arena, then Jobing.com Arena, before becoming Gila River Arena. We still call it "where the Coyotes play," but even that is not longer accurate, since they slid out from Glendale to Tempe after a rent fight, leaving the city keen to find other occupants. Waters's "This Is Not a Drill" tour had, like Rammstein, originally been scheduled for 2020, but was pushed back due to COVID. I hadn't actually picked up tickets until earlier this year. I'm not a huge Pink Floyd fan – that's more Chris – but had enjoyed the staged productions of The Wall we'd watched, and was hoping for something offering a similar spectacle.
The layout was initially confusing. The concert unfolded in the round, with the middle occupied by a gigantic, cross-shaped wall of LED screens, twenty foot high. After the warning above, the screens lit up with footage of a blasted cityscape, as Comfortably Numb played. But in front of the quadrant of the cross we could see, there were just two musicians. Neither of whom were Waters. However, after the song finished, the screens lifted revealing a cross-shaped stage beneath: ah, there's the rest of the band. For the rest of the night, the screens delivered video footage to complement the songs being played beneath them. Sometimes this was spectacular, as in the marching hammers from The Wall shown at the top. Yet some of the most affecting moments were the simplest, such as a simple text scroll of anecdotes about Waters and Floyd founder, Syd Barrett.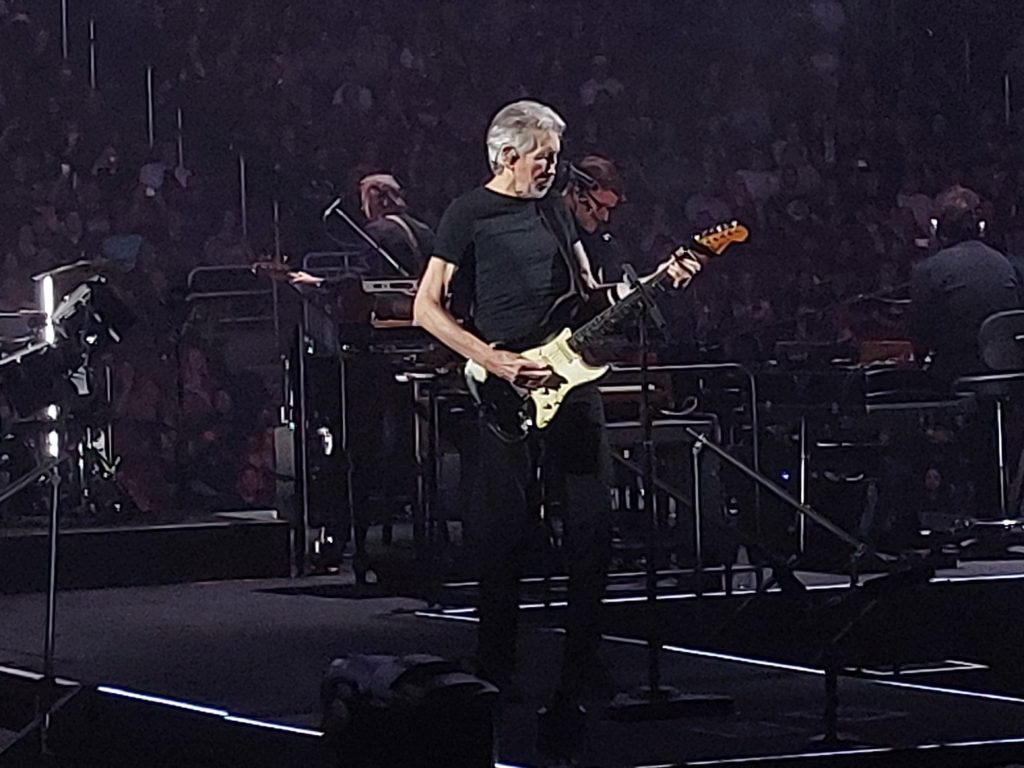 There were points when it did become a bit like paging through /r/politics, ticking the check-boxes of right-on issues without nuance, though his anger was more non-partisan than can be said for /r/politics. I'm not sure whether it's admirable he has reached his age and still clearly cares. Or daft that he hasn't apparently realized all the video montages in the world are unlikely to change anyone's mind, and he'd be better off going outside and touching the grass. It was all unquestionably dystopian, yet that perhaps made it easier to tune out any apparent message. I've been hearing about the imminent threat of nuclear war for at least forty years. Still here. However, Waters himself seemed far from the dour pessimist the music and visuals appeared to suggest, effectively doing laps of the stage. I hope to have half his get up and go at that age, though probably will not be energetically leading parody crypto-fascist rallies (below).
Musically, my knowledge of Floyd and Waters is… spotty, to put it mildly. So I'll defer to Chris, who had seen the group on multiple occasions: she noted that the songs were re-enacted by Waters and his band with great fidelity to the original versions. The musicians certainly functioned like a well-oiled machine, and it was the kind of spectacle which left me feeling I'd got my money's worth. Had it been just an old geezer playing songs with his mates – I'm looking at you, Nick Mason – it wouldn't be worth the $60 it cost for the cheap seats. I'll stick to YouTube for that. In a post-pandemic world, large live shows need to be an experience, to be worth both the investment and the non-zero risk of contracting a fatal infection. Political differences aside – or even included – this was an experience.
After Two Sons in the Sunset, about that "nuclear war" thing, the show finished on a more optimistic note, with a reprise of The Bar, a song Waters wrote about finding a place where everybody can get along, and the finale of The Wall, Outside the Wall. "And when they've given you their all/Some stagger and fall, after all it's not easy/Banging your heart against some mad bugger's wall." Keep on banging, Mr. Waters. Keep on banging…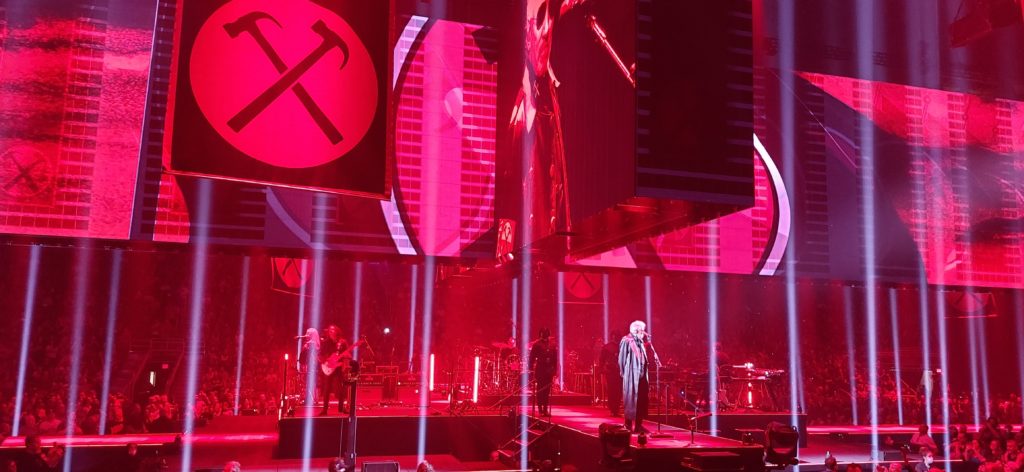 Set List
Set 1:
Comfortably Numb
The Happiest Days of Our Lives
Another Brick in the Wall, Part 2
Another Brick in the Wall, Part 3
The Powers That Be
The Bravery of Being Out of Range
The Bar
Have a Cigar
Wish You Were Here
Shine On You Crazy Diamond (Parts VI-IX)
Sheep
Set 2:
In the Flesh
Run Like Hell
Déjà Vu
Is This the Life We Really Want?
Money
Us and Them
Any Colour You Like
Brain Damage
Eclipse
Two Suns in the Sunset
The Bar (Reprise)
Outside the Wall