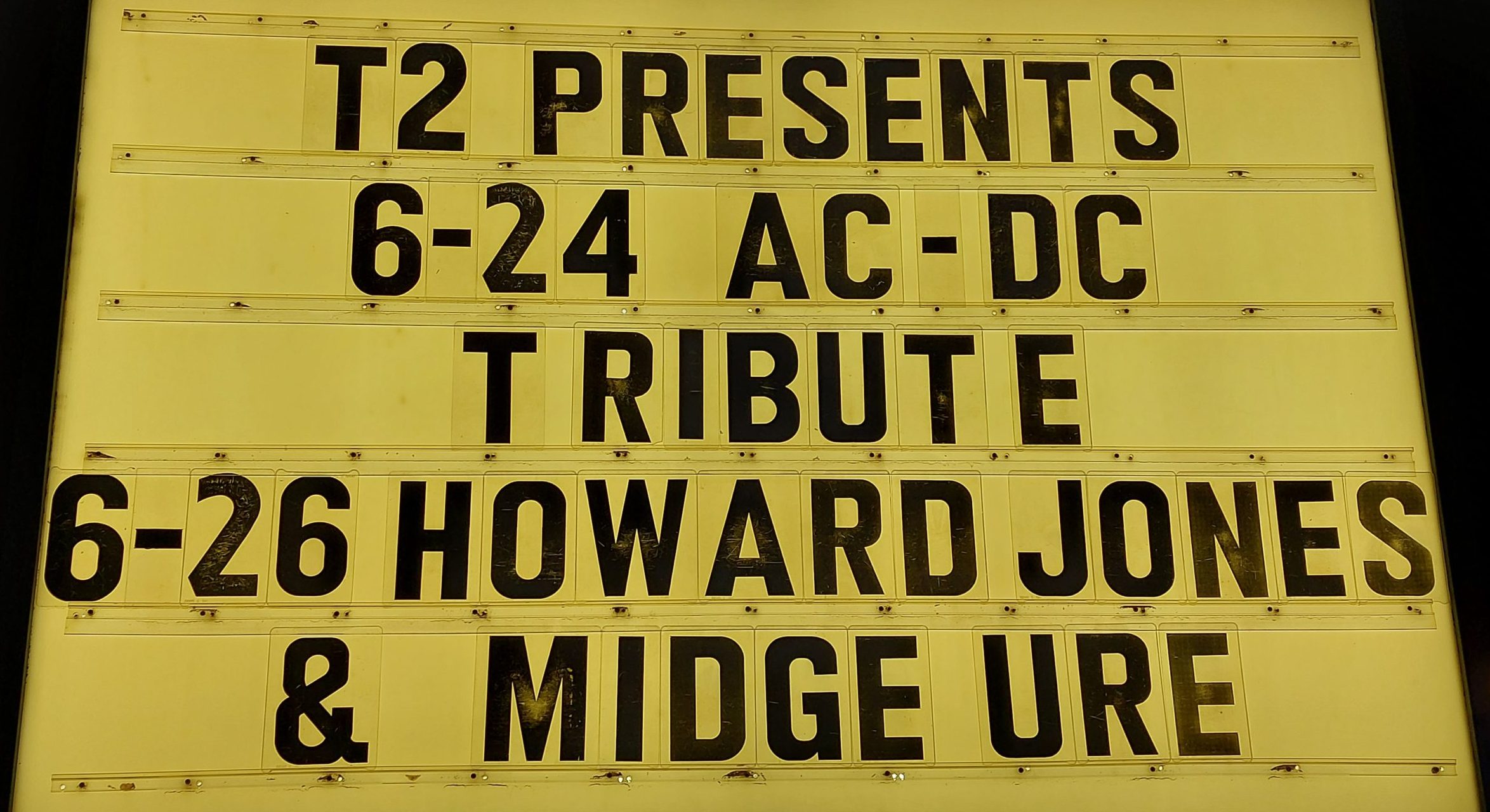 Farnsworth Hall, Mesa
June 26th, 2022
I got to cross off two eighties icons for the price of one here, and also visit a venue we'd not been to before. Looking at their schedule (or even the marquee outside, above), they seem to specialize in tribute groups, e.g. Ronstadt Revival, The Magic Of Manilow or – and I quite liked this one's name – Shania Twin. These caused one friend to wonder if we were sure these were going to be the real Howard Jones and Midge Ure. I am pleased to confirm we did not have to accept any imitations.
Going in, I was considerably more in the Midge camp than on Team Howard. Ultravox's Vienna is one of the finest albums of the time, and it remains an utter tragedy that the title song was robbed of #1 status in the UK by Joe Dolce's novelty song, Shaddup Your Face. The group spawned a bunch of other classic songs, and that's even after Midge took over from John Foxx, another electronic music icon, as lead singer. Howard Jones? Meh. I had him filed firmly in the same category as other eighties pretty boys, like Limahl, Nik Kershaw and the plonker from Haircut One Hundred. By which I mean, all haircut and dubious talent. Still, as long as I got a decent show from Mr. Ure, I'd be fine with that.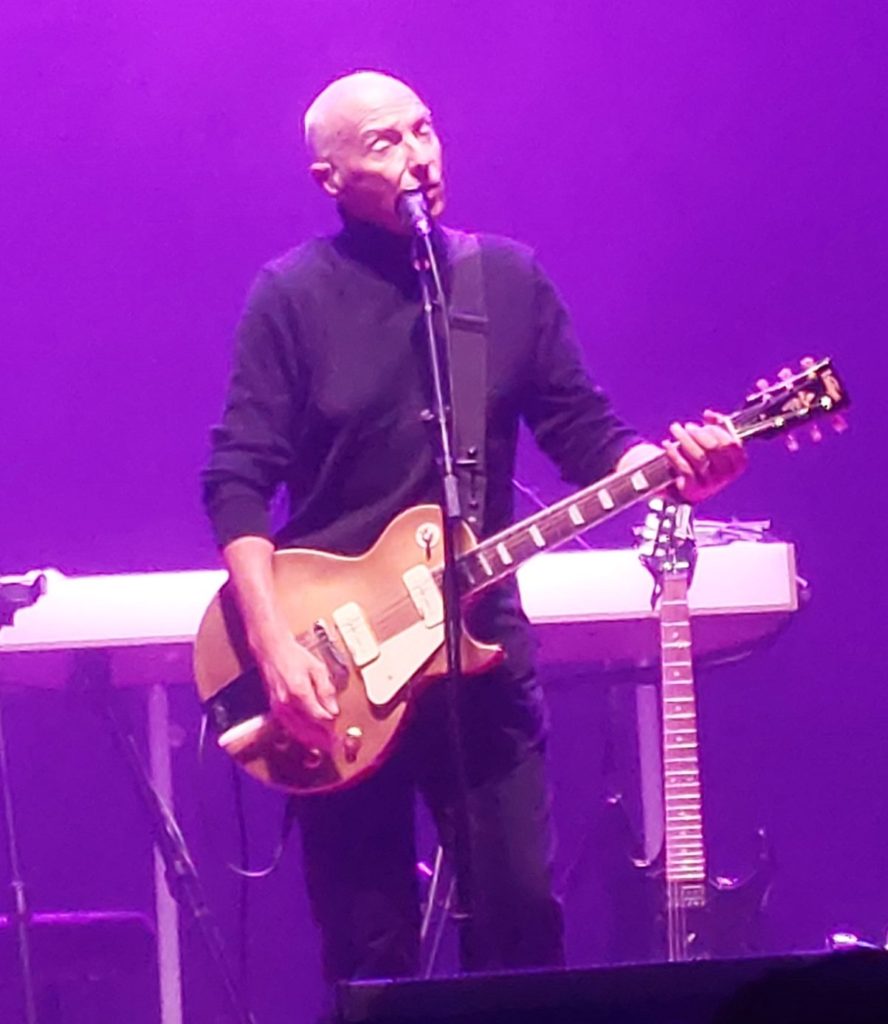 In general, I'd say he delivered. It was a little sparse musically, since it was just him and a keyboard player (apparently on load from Howard's band!), and there were times when the songs needed more width than two people could provide. This was most apparent on All Stood Still, which definitely needed someone else for the call/answer part of proceedings: "The lights went out / (The last fuse blew) / The clocks all stopped / (It can't be true)". I ended up filling in the blanks enthusiastically from my seat. But in general, most of the arrangements worked well enough, even if I missed Billy Currie's guitar, etc. Of course, Vienna was the highlight, and I was a little surprised it showed up in the middle of the set, finishing off instead with Dancing With Tears in My Eyes. Maybe that was a bigger hit in the US.
Before launching into Vienna, he said, "I'd like to point out that's even older than Running Up That Hill. So if there's anybody out there who works on Stranger Things…" It would certainly be nice to right that 42-year-old wrong and get it to number 1. Chris was quite surprised to hear Midge's broad Scottish accent, not realising he was born in Cambuslang. I thought she might have heard him speak when he was working with Bob Geldof on Live Aid. Though to be fair, throughout that event, he was very much the silent partner, compared to Bob yelling "Give us your fucking money!" [though that's a myth: what he actually said was "Fuck the address, let's get the numbers!"]
He also did a couple of covers: Visage's Fade to Grey, which he co-wrote along with his band-mates in Ultravox, and also produced, and David Bowie's The Man Who Sold the World. He had covered that back in 1982, and mentioned it was his most-streamed song on Spotify. He's probably cursing his luck it wasn't one he wrote, considering Bowie's estate probably gets most of the streaming revenue!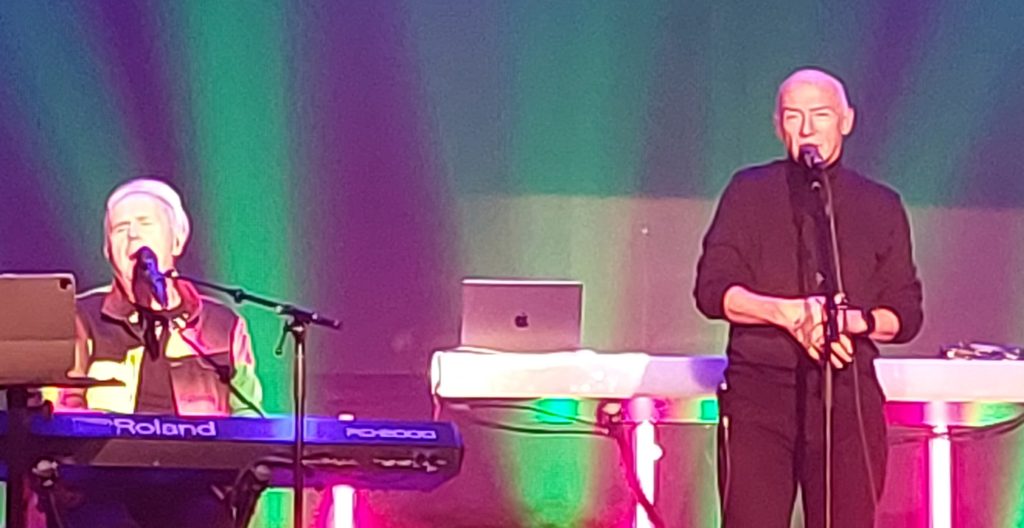 Setlist
Dear God
I Remember (Death in the Afternoon)
Reap the Wild Wind
Fade to Grey
The Man Who Sold the World
Vienna
The Voice
All Stood Still
Hymn
Dancing With Tears in My Eyes
Then it was on to Mr. Jones, and I have to say, I was very pleasantly surprised. First things first: he has done a good job of retaining his eighties hair. Now, that may be a bit of a mixed blessing, considering he turned 67 in February, and it's not the kind of cut you typically associate with OAPs. But having the courage to keep it, is laudable. Contrast this to the lead singer from A Flock of Seagulls, who is now completely bald, which just seems… wrong. Beyond the image, I was also genuinely impressed with his musical talent: he very clearly knows his way around a keyboard, and his band were pretty good too. They included on bass Nick Beggs, formerly of Limahl's band Kajagoogoo, so were given a cover of their best-known song, Too Shy.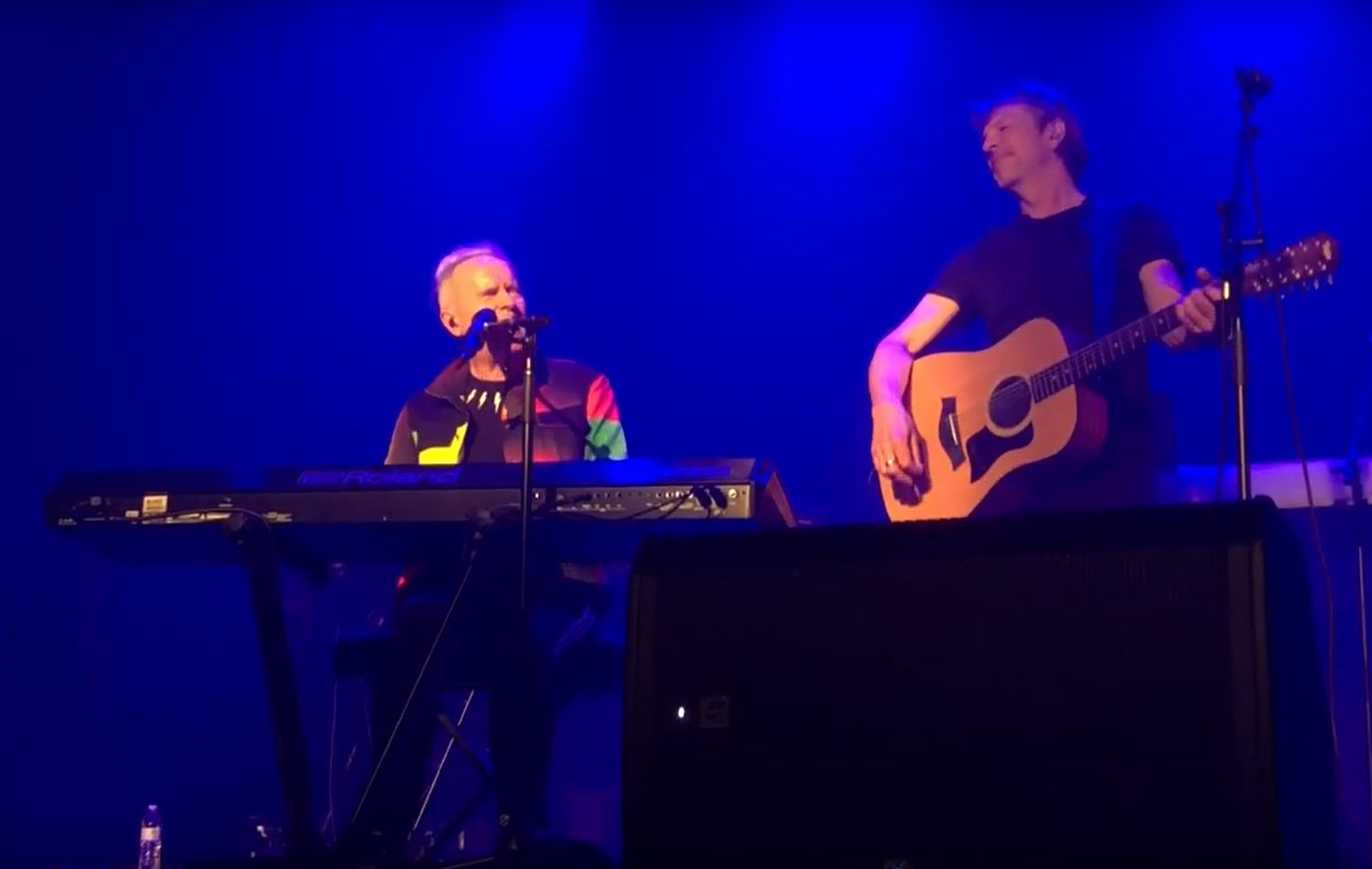 I'm generally less well-acquainted with Jones's output over the years than Ure's. Which is a kind way of saying, I've not heard anything of his since about 1990. But even all the songs I didn't know were well-crafted bits of pop, to the point that I am now genuinely interested in checking out some of his more recent output. It seemed borderline EBM at some points – again, not what you expect someone who is collecting a old-age pension to be producing. [Then again, it also acted as a sobering reminder that I'm not all that far off getting one myself.]
Still, like most people there, I was here for the hits, and we were not short-changed there. What I did like was the way he didn't just feel obliged to produce a carbon-copy of how they sounded in the eighties. For instance, Life in One Day was reduced to him on the keyboards and a guitarist, and it arguably sounded better than the original version. It felt almost like it was sung by a wandering balladeer on a beach. We also got an encore appearance from Midge Ure, to perform Do They Know It's Xmas? Which given we were about as far from Christmas as possible, and it was approximately 110 degrees F outside, was a bit strange. Overall though, it was a very solid performance from both men, and I'm glad to have finally had the chance to see them live, even if it took even longer than OMD.
Setlist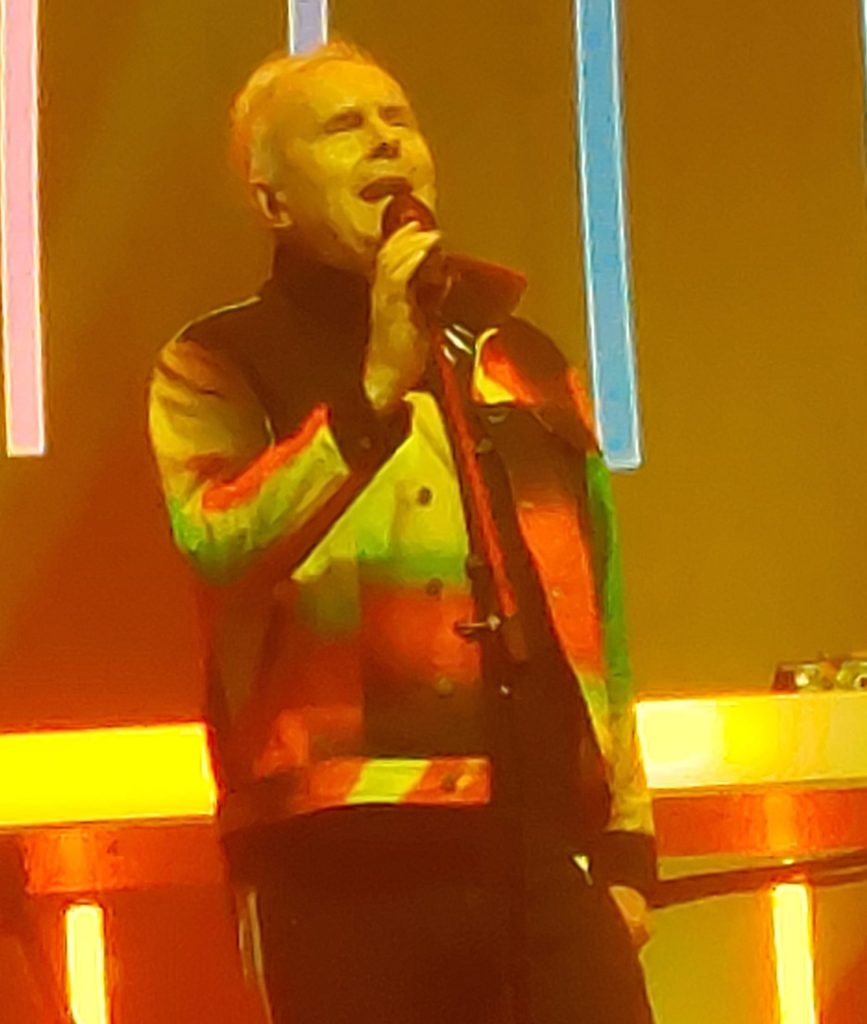 Pearl in the Shell
Hunt the Self
Equality
Hero in Your Eyes
Like to Get to Know You Well
The One to Love You
Life in One Day
Too Shy
No One Is to Blame
Do They Know It's Christmas?
New Song
The Human Touch
Celebrate It Together
Everlasting Love
Who You Really Want to Be
What Is Love?
Things Can Only Get Better
Hide and Seek