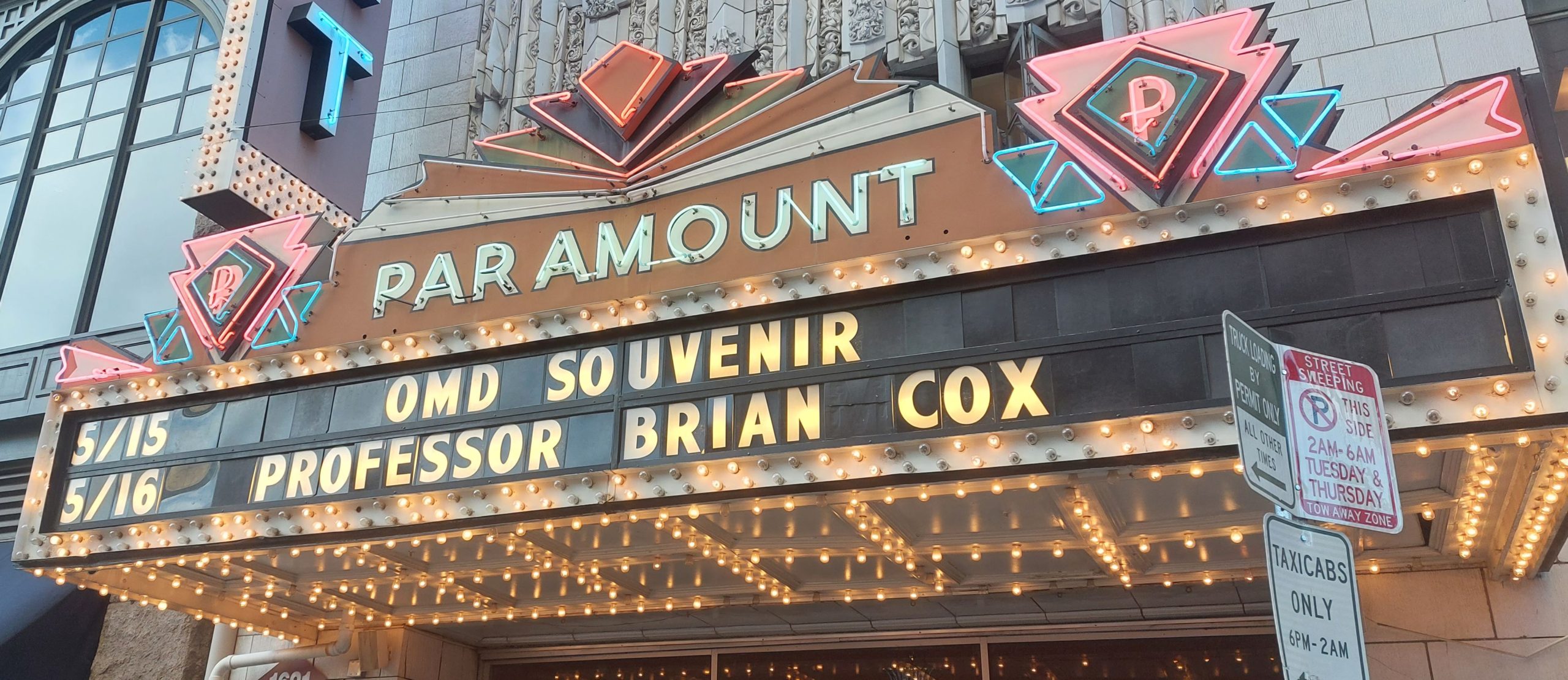 Orchestral Manoeuvres In The Dark
Paramount Theater, Denver
March 14th, 2022
It took a very long time before I got to see OMD live. I think I became aware of them in the autumn of 1980, when their first hit, Enola Gay, hit Radio 1. I was certainly a fan: Architecture and Morality was on very heavy rotation on my bedroom record-player, though they drifted off my radar after Paul Humphreys left the group in 1989. Their re-formation in the mid-2000's was well off my radar, but a few years ago, I bumped into a documentary about the group on YouTube, which re-ignited my interest. In January 2019 – a mere thirty-nine years after first hearing them – I finally got to see OMD when they played Tucson, Arizona in support of an art exhibition about, of all things, dazzle camouflage.
And they were awesome, Andy McCluskey was as good a frontman as I've seen, despite approaching sixty. I'd forgotten how great OMD's songs are, in many cases taking very simple melodies and developing them to brilliant effect. We saw them again that August, supporting (and blowing away) The B-52's on their 40th anniversary tour, before COVID hit. When it was time for OMD belatedly to have their own 40th anniversary tour, it didn't come to this state, but when has that ever stopped us? Colorado was the nearest stop, and the show there was conveniently on a Sunday night, so let's make a weekend out of it, and enjoy a little of Denver. With the city over five thousand feet above sea-level, we wondered what we were getting into, with adverts for bottled oxygen greeting us on arrival at Denver Airport.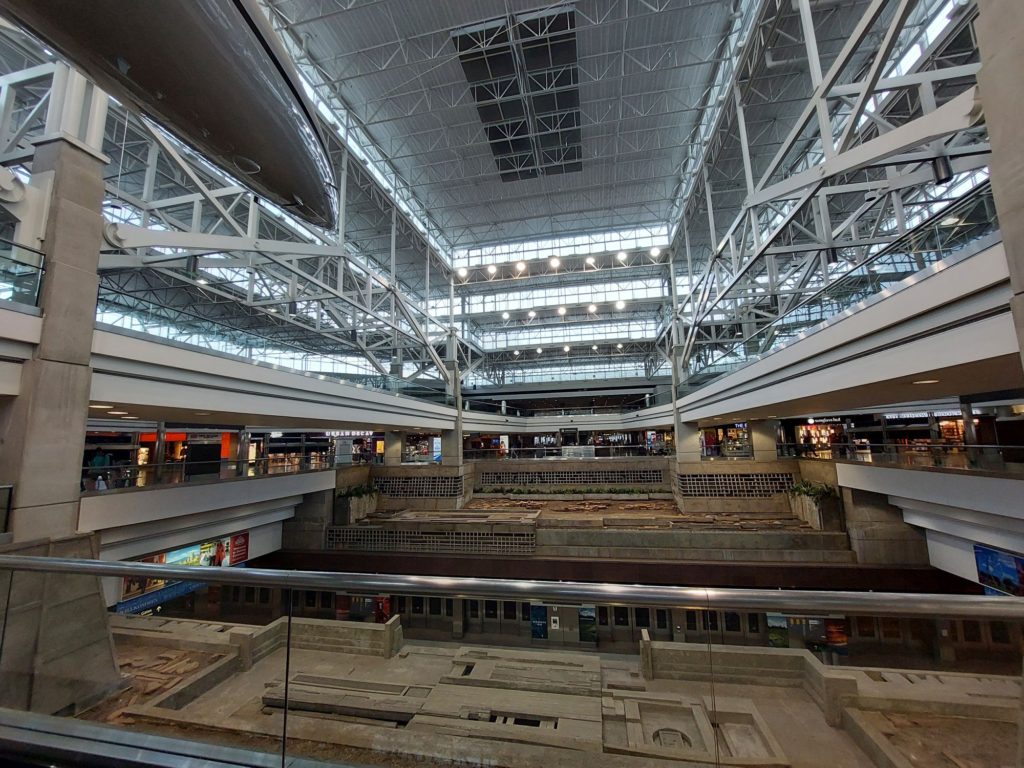 That, in itself, is an experience. It's the biggest airport in North America, twice the size of Manhattan, was arguably unnecessary, and finished 16 months late and $2 billion over budget. It has become the focus of conspiracy theories, with its dedication plaque listing a non-existent organization called "The New World Airport Commission," and some frankly disturbing examples of public art. There is a 32-foot blue mustang statue with glowing red eyes, known locally as "Blucifer". It killed its artist during construction when a piece fell on him, severing an artery. But most infamous are the airport murals, which certainly contain their share of freaky imagery. Sadly, the notorious "Children of the World Dream of Peace" piece was moved into storage for a terminal renovation project in June 2018. Or was it something more sinister?
As for Denver, we stayed downtown, and chose to walk everywhere, after discovering parking at the hotel was $56 a day, It's a little bland: the 16th Street Mall seems to have suffered terribly in the pandemic, and is now a mix of closed stores, franchise restaurants and tourist tat. There are a lot of banks. But there are a couple of gems, including the vintage Brown Palace, built in 1892, and one of the first atrium hotels. It's in beautiful condition, and even if you're not staying there, it's worth a wander around the lobby, and perhaps take tea there, or have a drink in one of its bars. We also strolled around the State Capitol, and discovered that, apparently, Razor Scooters are still very much A Thing in Denver. There was also a protest going on somewhere in the distance, though a cop we passed wasn't sure what was being protested. "Protest season," he said with a shrug. Might have been Palestine. Or abortion. Or Palestinian abortions.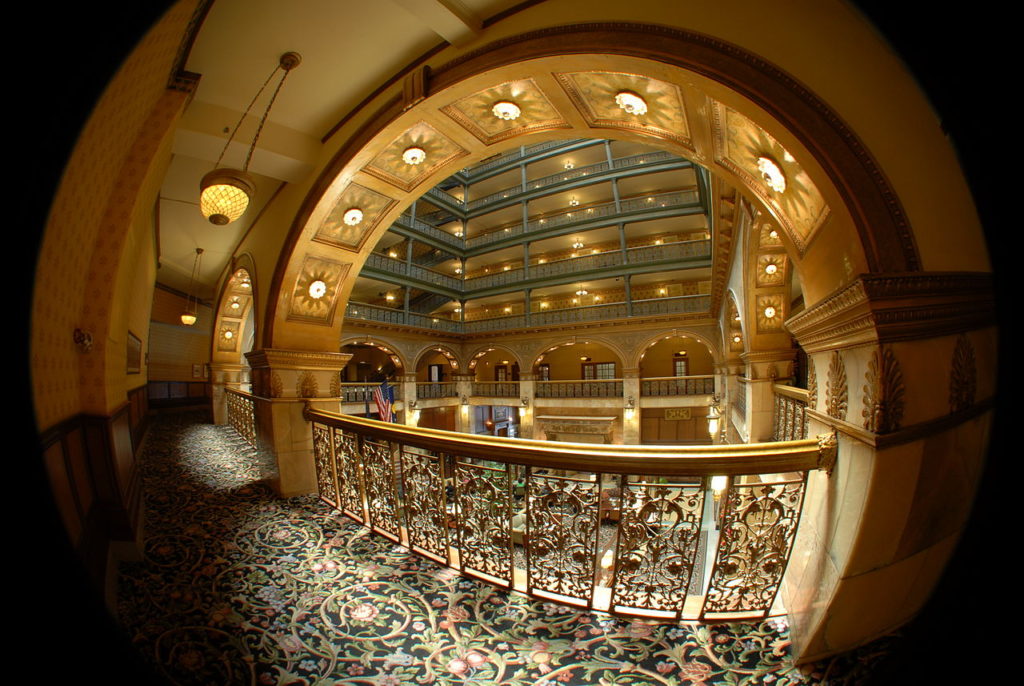 On to the show, in another somewhat vintage building, the Paramount dating back to 1930. In particular, it appears the air-conditioning dated back that far, with the place becoming unbearably hot before OMD were even half-way through, leading to an impromptu visit to the smoking section outside, simply for fresh air purposes. Originally a movie palace (it still has its Wurlitzer, one of only two of the kind in the US), it holds just shy of 1,900. It was a notably older crowd than the Sparks concert, perhaps due to the band's profile having been lower of late on this side of the pond. Still, the enthusiasm was there, at least once we got a forgettable opening set from… [/googles casually] In The Valley Below, a duo about whom I can remember absolutely nothing, except for them looking as if Nadja and Laszlo from What We Do In The Shadows had started a band.
But the main attraction lived up to expectations. There were none of the awkward "This is a new song" interludes, a combination of this being an anniversary tour, and OMD's last album having been released in 2017. What we got was basically a 'Greatest Hits' package, except for three or four more esoteric songs in the middle – which is when we got our air break, having checked the setlist for other dates on the tour. But the rest was a glorious procession of flat-out tunes, spanning close to four decades of top tier synth pop. Helping matters is that it was clear that Humphreys, McCluskey et al were genuinely happy to be there, and were enjoying the experience as much as the audience. It can't be over-stressed how much of a different that makes to a live show.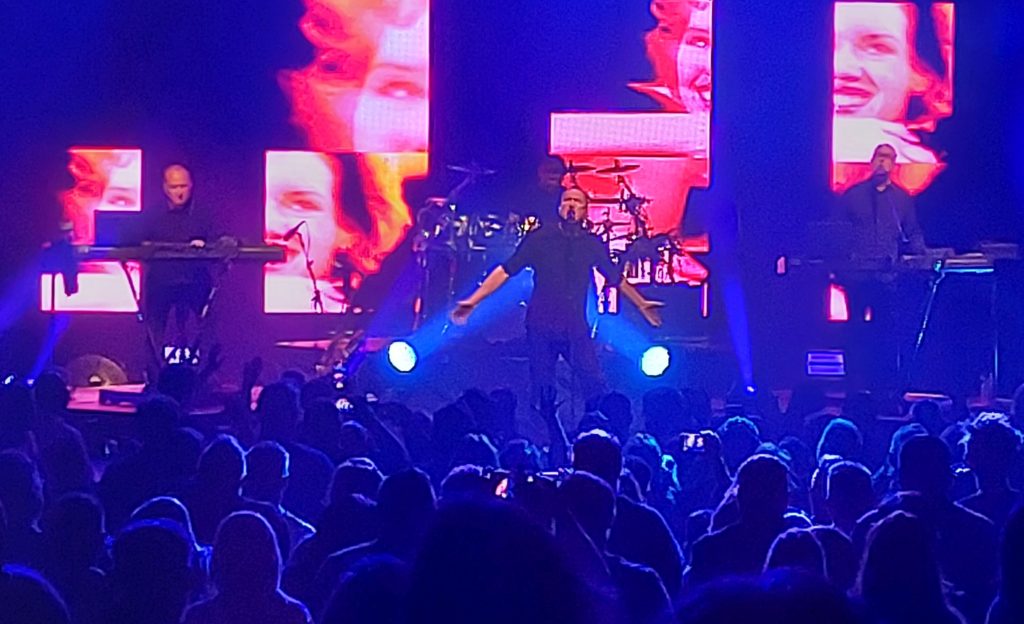 There were still songs I'd have liked to hear missing. No Genetic Engineering. No Locomotion. No Talking Loud and Clear. But such is the problem with such a lengthy career: omissions are inevitable, short of the band playing a four-hour set. I can't complain. The main body of the show ended with Enola Gay, which sounds as fresh as it did, back when it was my original introduction to the band's music. Naturally, there was an encore, ending with Electricity – basically OMD's first song, originally composed all the way back in 1976. That's considerably closer to the start of World War II than the present day. I just made myself feel very old. But as long as the band keep touring, I'm pretty sure we'll keep going to see them. Just hopefully, in a considerably less sweaty venue next time.
Setlist
Atomic Ranch
Stanlow
Isotype
Messages
Tesla Girls
History of Modern (Part 1)
(Forever) Live and Die
Souvenir
Joan of Arc
Maid of Orleans
Time Zones
Statues
Almost
Don't Go
So in Love
Dreaming
The Punishment of Luxury
Locomotion
Sailing on the Seven Seas
Enola Gay
If You Leave
Secret
Electricity