I remember seeing ABBA winning the Eurovision Song Contest in April 1974. I was only seven at the time, so wasn't particularly paying attention. But if you'd told my young Scottish self that, approaching half a century later, I'd be heading off to a casino in Arizona to see an ABBA tribute band, I'd certainly not have believed you. My affection for Sweden's finest export was a slow-brewing affair. While I was aware of them, my teenage years were more devoted to New Wave and New Romantic bands: Abba seemed… retro. Interest in them was largely limited to debates over whether you fancied the blonde or brunette. [For the record, I was on Team Agnetha] Besides, my parents liked Abba. By the rules of teenagerhood, I could not possibly do so.
They split up in 1983, and were largely forgotten – not least by me – for much of the decade that followed. But the nineties saw a resurgence: partly driven by Erasure covering their songs, partly by the phenomenal success of ABBA: Gold, a compilation which is arguably the greatest hits album of all time, and the second-biggest selling LP ever in the UK. But my "Come to Frida" moment was a little later in the decade. At the time, I was working in the City of London, at stockbrokers James Capel. For their Christmas party one year (1997 or thereabouts). they hired an ABBA tribute band as part of the entertainment. I was stunned to realize that I knew all the lyrics to all the songs they sang that night, despite not having thought about the band for 15 years.
Since then, I've been quietly but increasingly a fan. The sheer craftsmanship of the pop songs ABBA released is unsurpassed. The writing, performances and production come together into a seamless whole. But much like Sparks have reinvented themselves, the same goes for ABBA, who followed a remarkable trajectory over their decade together. You have positive, uplifting songs like Dancing Queen, a hymn to the sheer joy of movement and music. Even if – and it's not alone in their discography – skating close to the edge of inappropriate from a 21st-century POV: its 17-year-old subject being described thus: "You're a teaser, you turn 'em on.". See also: Does Your Mother Know, When I Kissed the Teacher, etc.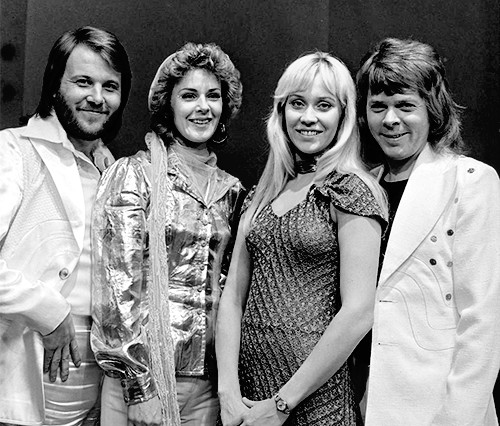 But the later stuff was recorded as the band's real-life relationships blew up, and beneath the same, lush production, is positively dark. Taken out of context, the lyrics of Knowing Me, Knowing You:
In these old familiar rooms
Children would play
Now there's only emptiness
Nothing to say
Feel like they could have been written by Ian Curtis, as an additional verse to Love Will Tear Us Apart. There is truly an ABBA song for every moment. I will be disappointed if one is not played at my funeral.
While other bands have soldiered on, I think ABBA's relatively short duration of activity has only sustained their myth. They were the pop equivalent of James Dean and Marilyn Monroe: a light snuffed out before its time. Their career did not end because we were tired of them; it was because they were tired of us. Hence, the ongoing popularity of ABBA tribute bands such as ABBAFab, the one we saw last night at the casino. They were very good – but, of course, they were not ABBA. But that's part of the joy of ABBA songs. They're simple enough that anyone can have a crack at them, and if you can carry a tune, the songs do all the heavy lifting for you.
That said, one aspect of the ABBAnaissance has passed me by. Sorry, Chris – but fuck Mamma Mia and its sequel. Maybe it works on stage better? Listening to Meryl Streep and, worse, Pierce Brosnan, honking their way through these classic songs feels like sacrilege. Even the divinity of ABBA are not immune to the hell which is bad karaoke. If you want a better tribute to the timelessness and broad appeal of the group, that would be members of the Sex Pistols confessing their affection. "We loved ABBA," said Johnny Rotten, and bassist Glen Matlock lifted part of the bass line on Pretty Vacant from S.O.S. There really cannot be many things on which I, my parents and the Sex Pistols agree…