Duran Duran + Nile Rodgers & Chic
Footprint Center, Phoenix
7th September, 2022
Another band gets crossed off the bucket list – more likely theirs than mine. Though it has to be said, Simon Le Bon is looking very impressive for someone who will start collecting his old age pension next year, after a long career of unrestrained debauchery. Well, I'm assuming there was debauchery involved. I'd be quite disappointed if he and his colleagues had spent the last forty years leading a monk-like life of aesthetic restraint and celibacy. Especially since, going by the audience at this event, I suspect quite a few women would still be willing to die on that particular hill. Maybe some men too. I don't judge.
We were not particularly fussed about whether or not we caught Chic. About the only song of theirs I could remember going in was Le Freak. However, virtually as soon as they started up, a couple of things became apparent. Now, I am certainly not a disco person, to put it mildly. Yet I can appreciate musical talent in any genre, from classical to metal, and there's absolutely no denying it: Nile Rodgers and his band could flat-out play. This applied wall to wall, obviously including Mr. Rodgers himself. But his bassist, drummer and the two female vocalists were also outstanding technically. It wasn't long before, to our surprise, we were up and delivering our best white people dance moves.
Secondly, we knew a lot more of their songs than we thought, even if only in a fragmentary way. Chic were, it appears, the band who sung that song with the bit in it that goes, "Yowza, yowza, yowza!" There was quite a bit of that: fragments had lodged in my brain four decades ago, and been forgotten until this evening. These got extended versions live, showcasing the band, and the funkocity – to quote Mr. Rodgers – was real. However, the genius move was Rodgers not limiting himself to Chic songs. The man is a legend among record producers, and worked with the likes of [deep breath] Diana Ross, Sister Sledge, Madonna, Blondie, INXS, the B-52s, David Bowie and Daft Punk. Oh, and some band called "Duran Duran". What a dumb name: they'll never amount to anything.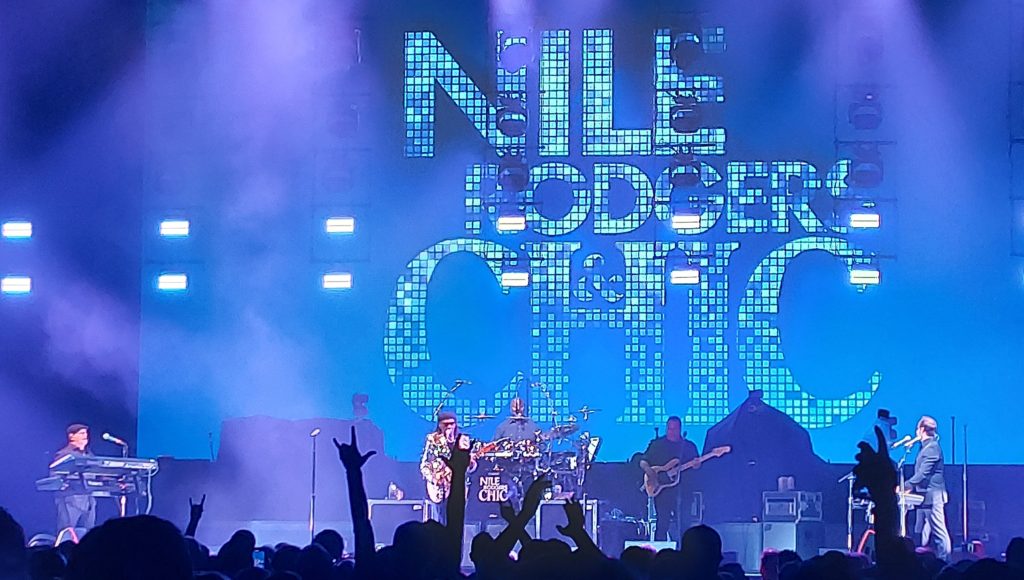 Songs from many of them were performed, sometimes in medleys, accompanied by Rodgers anecdotes. For instance, battling Madonna over whether Like a Virgin or Material Girl should be the first single. Madonna won that argument, but as Nile said, "It's my show tonight, so we get to play both." He had an easy, amiable presence on stage, and you very much got the sense he was there, purely for the fun of it. I mean, he's probably not in need of a buck or two. This helped energize the audience, and it's hard to go wrong when you are pumping out a series of all-time classic songs, with a top-notch team of musicians, giving it all they've got. It's not a stretch to say that their 75-minute set was among the finest support acts I've ever seen. The evening was already a success.
There was a brief interval, which included the most expensive bottle of soda I've ever bought ($8). Then Duran Duran took the stage – as mentioned above, looking surprisingly similar to the version from their prime in the eighties. This was billed as a combination "Future Past / 40th anniversary" tour, designed to promote both their new LP and the anniversary of the Rio album, arguably the peak of their fame. One of these things was, as far as we were concerned, rather more important than the other. I think the last album of theirs I possess is probably 1995's selection of covers, Thank You. The world as a whole seems to agree: Duran Duran haven't had a top 50 single on either side of the Atlantic since 2005's What Happens Tomorrow.
So, yeah: we were there for the hits. The new songs were fine, I guess, but we took the chance they provided for a seat, to recharge our energy, unexpected taxed early by Chic. Hey, we have to pace ourselves. Though we were still able to watch the show while sitting, through the phones of the people from the row in front. Welcome to concert going in 2022. That said, it's hard to think of a band who churned out more classics of that period. There wasn't even room in the set list on the night for 1983's Is There Something I Should Know, which reached #1 in the UK and went Top 5 in the US. After a brisk opening, with The Wild Boys (which may be the epitome of 80's music video excess, directed by Highlander helmer Russell Mulcahy), it felt like they held back most of the heavy hitters for the second half of the set.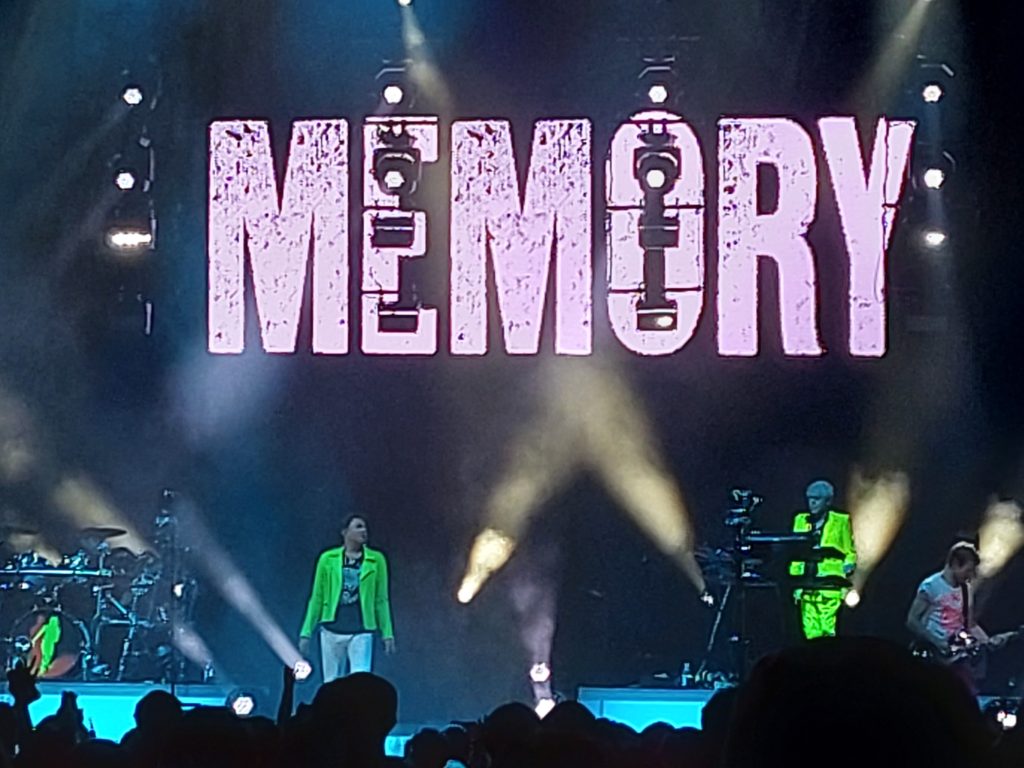 Certainly, things ramped up significantly with Careless Memories, which benefited from a great arrangement and presentation, the screen behind them pulsing with the lyrics (above). The band arguably saved the best for last, with the final four songs – two in the main set plus two encores – reaching peak levels of Duraniness (look, if "funkocity" is a word, I'm embracing this too), beginning with their cover of White Lines, surely the finest example of cultural appropriation ever to be recorded. Girls on Film followed, bringing back memories of that video. It included a tongue-in-cheek, apologetic interlude in the middle taken from Calvin Harris's song, with Simon singing, "It was acceptable in the eighties / It was acceptable at the time." I'd argue we were all better off for it.
Save a Prayer turned the Footprint Center into a fairy grotto, lit by the soft glow of fifteen thousand cellphone flashlights. [Again: welcome to concert going in 2022. I think our last show of this size was Depeche Mode back in September 2017, which seems an epoch ago.] Naturally, they finished with Rio. It could hardly be any other way, as the song which perhaps summarizes the entire Duran Duran experience in four minutes and forty seconds. Insanely catchy hook; lush over-production (albeit not Rodgers, but Colin Thurston) and lyrics that are simultaneously perfect and and completely incomprehensible: "Moving on the floor now, babe / You're a bird of paradise / Cherry ice cream smile / I suppose it's very nice" And I, for one, would not have it any other way.
Set List
The Wild Boys
Hungry Like the Wolf
Invisible
Anniversary
Notorious
A View to a Kill
Come Undone
Give it All Up
Union of the Snake
Friends of Mine
Careless Memories
Ordinary World
Tonight United
Planet Earth
Hold Back the Rain
The Reflex
White Lines (Don't Don't Do It)
Girls on Film / Acceptable in the 80's
Save a Prayer
Rio