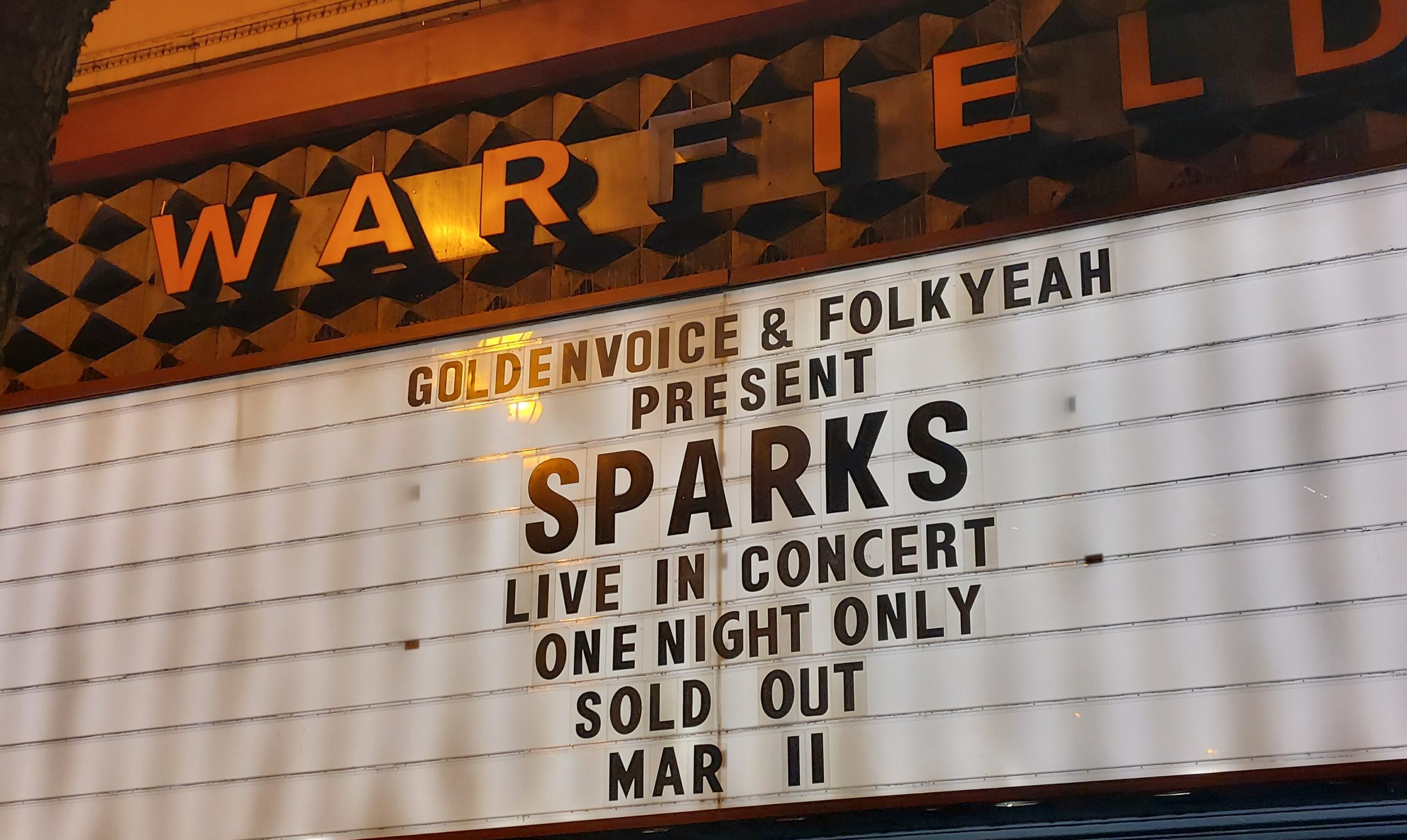 Warfield Theater, San Francisco
March 11th, 2022
After two days there, I am convinced San Francisco is a hell-hole. Chris's catchphrase on the trip was "I smell weed", while mine was "Insane homeless person or angry Bluetooth caller?" Even the iconic cable-cars are terrible. You spend 45 minutes waiting to get on, in frigid conditions, then the view you get as you bounce around like a bingo-ball is this, because it's so overpacked. It therefore says something about my love of Sparks that we were prepared to endure all of this and go there for the band – the first time I'd ever seen them live, after almost fifty years of liking them
Released in 1974, This Town Ain't Big Enough for the Both of Us is among the first songs I ever remember making an impression on me, in particular Russell Mael's falsetto range, unlike anything else I'd ever heard. But Sparks were never the kind of band to achieve lasting success; their chameleon-like ability to change styles guaranteed that they would forever drop in and out of the charts. They surfaced again during their Giorgio Moroder's synth-disco phase at the end of the seventies, but it was only on picking up the compilation Profile: The Ultimate Sparks Collection in the mid-nineties that I began to appreciate them. They are the prototype for every synth band with an extrovert lead signer and introvert keyboard player, from The Pet Shop Boys to Soft Cell, but have never stopped re-inventing themselves, caring not for popular acclaim.
That has recently happened anyway, with the band enjoying another upswing, courtesy of the Edgar Wright documentary The Sparks Brothers, and their role in writing the very strange movie, Annette, which won five Cesars just a few days before their tour started. The opening show on it was a sell-out of the 2,300 seat Warfield Theater, which is among San Francisco's oldest venues, having opened in 1922. It's next to the Crazy Horse strip club – which may well be cheaper, going by the seventeen dollars (not including tax) I was charged for a pint of Stella at the Warfield bar. #FuckCalifornia There was no support, but despite their age – Ron is 76 years old, and Russell 73 – they played for almost two hours. I hope to have their energy, or even the ability to pull off wearing yellow trousers, when I'm in my seventies. Which is closer than I'd like to admit.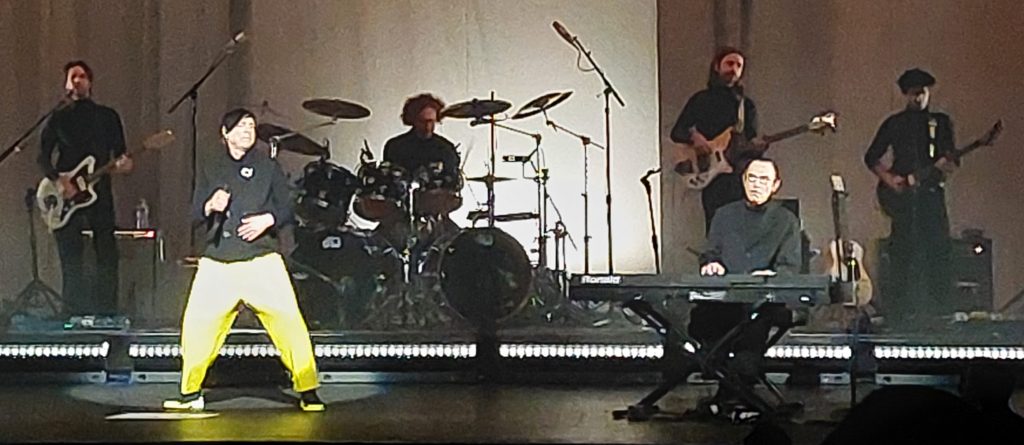 I was a little concerned my relatively casual fandom might be an issue: the last Sparks album I actually purchased was 1994's Gratuitous Sax & Senseless Violins. But there were a good number of songs with which I was familiar, and even the others were typically interesting. For instance, My Baby's Taking Me Home is an exercise in the hypnotic power of repetition, the song consisting almost entirely, save for a spoken-word interlude, of the title phrase. I must admit that some of the more… experimental entities didn't catch my ear in the same way, But songs like Suburban Homeboy, including lyrics like "I bought me cornrows on Amazon/I started listening to Farrakhan," prove the Maels haven't lost a cynical step over their six decades in the industry.
I would probably have liked Russell to be a little more interactive: I'm sure every tune comes with a story, and I'd love to have heard some of them. But that would likely have meant fewer songs, and as a tour of their career, there was a lot to cover. We got Wonder Girl, a song from their 1971 debut album, a couple from the Annette soundtrack, and stops at almost every style they've adopted along the way. Ron's songwriting skills were particularly apparent in things like Get in the Swing, which has far more tempo changes than any "pop" song should ever have. Truly not music that you can dance to. Russell's voice remains as unique as it was when I first heard it in 1974, capable of being playful or earnest, as required by the occasion.
It's getting to the stage where my childhood musical heroes are reaching the point in their lives where I want them to be placed in bubblewrap, for fear of losing them. With Sparks being among the earliest to make an impact on me, it's sad to realize the odds are they'll be among the first to depart. So the reality is, they may not have many more tours in them, which is why we went to the time and expense, when the opportunity finally presented itself to return to concert going for the first time since August 2019 [casino visits for Abba tribute bands not included] Sparks did not disappoint, and I'm glad I got the chance. The 48 years wait was worth it.

Setlist
So May We Start
Angst in My Pants
Tips for Teens
Under the Table With Her
Get in the Swing
I Married Myself
I Predict
Wonder Girl
Stravinsky's Only Hit
Shopping Mall of Love
Johnny Delusional
We Love Each Other So Much
Edith Piaf (Said It Better Than Me)
Lawnmower
Music That You Can Dance To
The Rhythm Thief
Never Turn Your Back on Mother Earth
When Do I Get to Sing "My Way"
My Baby's Taking Me Home
The Number One Song in Heaven
This Town Ain't Big Enough for Both of Us
Amateur Hour
Suburban Homeboy
All That