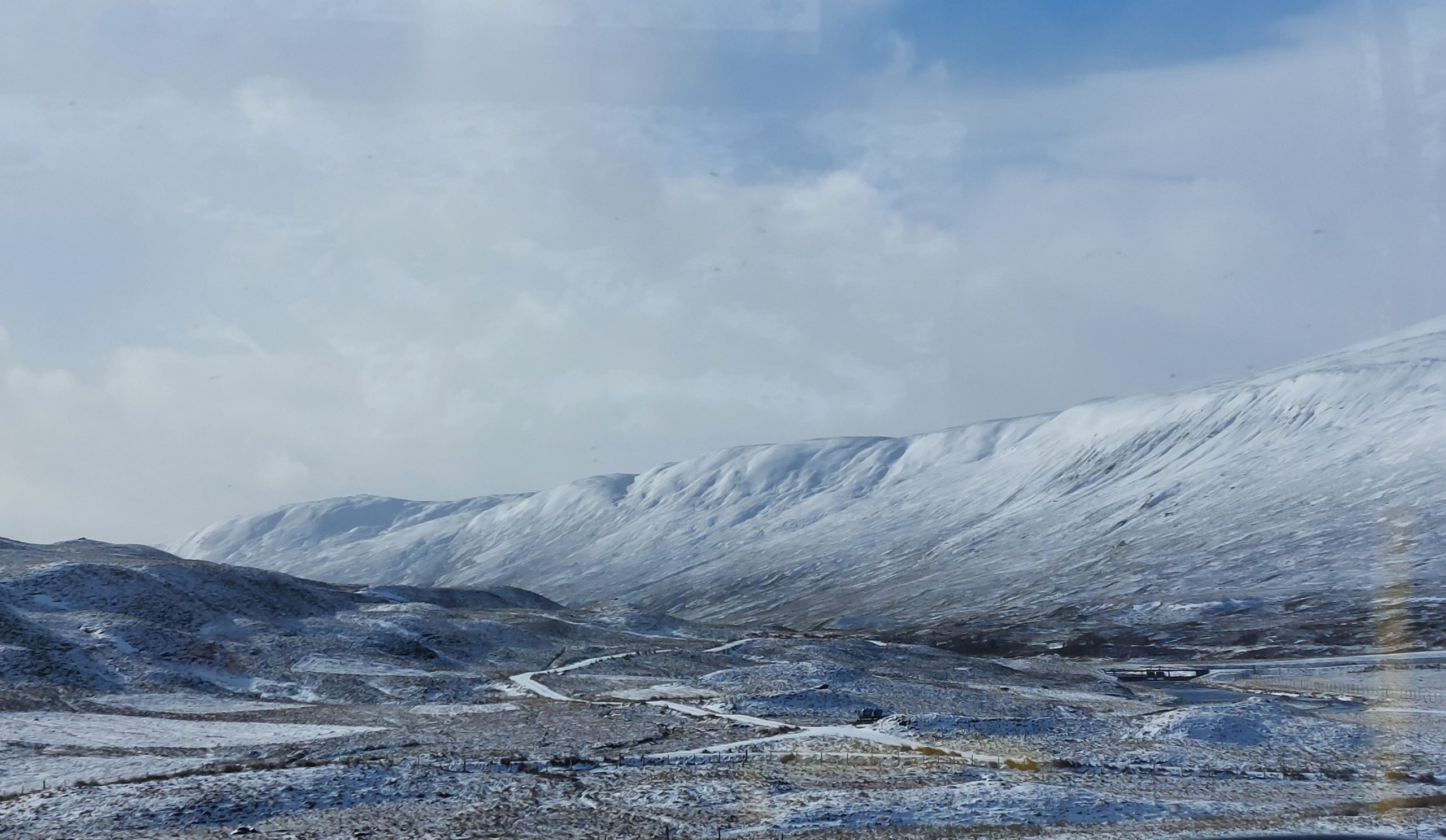 4th February. I'm not sure what I'm even doing here. I'm writing things down as much as a coping mechanism, as well as a record of my emotions. It's unexplored territory, because this will be the first funeral I've ever attended. There have been deaths, of course: aunts and grandparents, cousins and uncles, but for one reason or another, they were always distant enough to matter only in the abstract. I'm not even a person who feels particular sadness at celebrities passing. Death has been an almost entirely abstract concept, up until three hours ago, when my sister Pat called and told me my mother passed away today.
It still seems weird to write that. Obviously, I knew it was inevitable, but that doesn't make it any less of a shock. There was no pain involved, and it was quite quick. A couple of days of illness, from which it seemed at a couple of points like she was recovering, but then a downturn and she slipped away. At the age of 86, she had a good span, and up until suffering a stroke a few years ago, was sprightly and alert. Thereafter, she had gradually lost abilities such as coherent speech, to the point where "conversations" were almost entirely her – you'd just drop a "Oh, really?" in every now and again. It wasn't easy to see her decline like that, so in some ways, today is a kind release.
"Death is hardest on those who are left behind." So wrote Robert Fosse, and I think I'm now experiencing first hand what that means. Mortality is s scary thing, and something I have – as noted above – been rather good at avoiding. But even contemplating the prospect, as her final illness made me do, is going to cause me sleepless nights, thinking about the relentless approach of my own demise. But if that's true for me, it must be so much worse for my father, who was married to Mum for over sixty years. I can't imagine life without Chris, and that's after a "mere" twenty years together. He has been largely taking care of himself since she went into the care home, which is amazing given his age. But even though he's not the most emotionally outspoken of men, it's clear he misses her like anything. How he feels right now, I can't begin to imagine.
6th February. Things have calmed down considerably emotionally. Friday night, Chris and I cracked open a bottle of Scotch and I distracted myself with 80s music and the Winter Olympics opening ceremony. Saturday morning, I called and spoke to Pat and Dad, and that helped. It was just a brief chat to Dad, but he sounded better than I expected, stressing that Mum was now at peace, and how she had passed quietly, and without pan. Since then, things have progressed quickly. The funeral date has been set, at February 17, and I booked my flight back to Scotland.
Right now, there are no flights from Heathrow to Inverness, so I'm flying up to Glasgow, and taking the train from there. I'll have an overnight stay in Glasgow. I've never actually been to Scotland's biggest city – I drove through it in the middle of the night once, coming back from a LARPing trip while at uni. So that's going to be interesting. My prejudice tells me it's like Mad McMax, and I'll be lucky to escape alive. But I'm sure it's really very nice, with a warm, friendly population.
Today, I got a haircut and was pleased not to be offered – or even worse, unilaterally given – the senior discount. Also picked up a suit jacket to match my funereal trousers. This came from Goodwill, and cost the princely sum of… a dollar. Chris wondered if the previous owner had worn it at his own funeral… The low cost probably factors into us balking at Men's Warehouse and their fifty-dollar ties. This shit is why Amazon has become such a behemoth.
We're helping Pat assemble pics and music for the funeral. Some discussion over whether I or Pat should say a few words: she fears she wouldn't be able to get them out. I think I'd be fine in theory, but really have no clue in practice. As I said: first funeral. Maybe I'll just do five minutes of Yo Mamma jokes.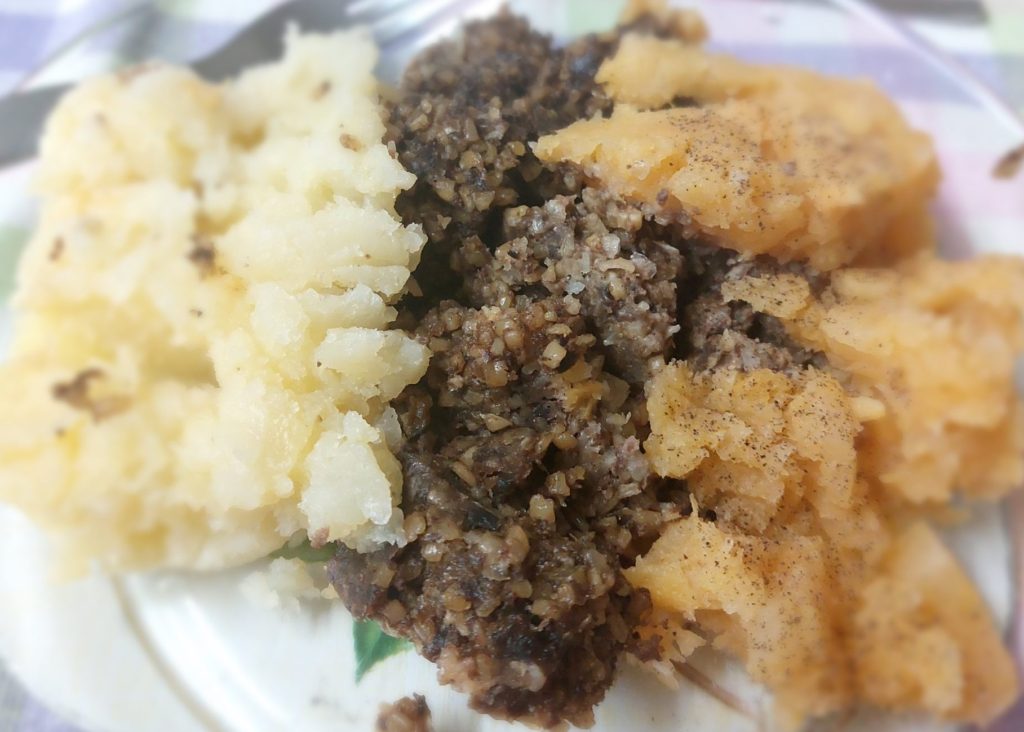 12th February. Flying back to Scotland tomorrow. It's going to be the first time I've left the state of Arizona since a September 2019 trip to San Diego. Indeed, outside of one night at a casino in Prescott, it's the first time I've left the city of Phoenix. Travel has become… more complex. I was used to just showing up at the airport and getting on the plane. Now? Well, as part of the travel process, I had to install five separate apps on my phone: two for COVID testing, the British Airways app, a Glasgow bus app and something called VeriFly. And all this, mind you, was after the British government ended the requirement for incoming visitors to take a COVID test on day 2. It's the one still needed to come back I'm worried about.
Funeral plans seem almost sorted. It's going to be streamed live online, which is good for those like Chris, who can't make it over. The music is going to be an eclectic mix, to put it mildly, probably reaching peak Mum with The Bare Necessities from The Jungle Book. It's not exactly your typical funeral song, but she loved it, and both my sister and I remember her affection for it. But the question with all this is: who is it for? Probably not so much the dead as the living. I still don't know if my mother's death has hit me fully. The day it happened, I was useless, but since then I've felt calm. Whether that'll last on the day of the funeral – or even seeing my sister and father – remains to be seen.
February 16th. While safely delivered to Scotland, the trip so far has largely consisted of a series of micro aggressions – albeit some of which are my own damn fault. These include:
Leaving all my toiletries in a Glasgow hotel
The Royal Bank of Scotland freezing my credit-card, apparently for the heinous crime of using it in Scotland.
Weather which couldn't be more Scottish if it tried, i.e. cold and miserable.
My father turning off the Internet at 11 pm, to save power, bless him. Right in the middle of my call to the Royal Bank of Scotland, to get my card reactivated.
Nothing DISASTROUS, but each slightly aggravating in their way. I suppose they are all welcome distractions from the business at hand. My sister has been a whirlwind of organization, but since she's a former assistant school principal, that's not too surprising. Hard to tell how my father is taking it. He is clearly sad, but is remaining as stoic as ever. We've likely talked more about football than the passing of his wife of 60 years. But I'm certainly not going to push it.
It has, however, been quite fascinating just to listen to his stories, whether of being stationed in Hong Kong with the RAF (when shipping home, they had to come via South Africa, because the Suez Canal had been bombed), the 1964 Aberdeen typhoid outbreak or attending the 1960 European Cup final at Hampden (a match Wikipedia says is "Widely regarded as one of the greatest football matches ever played"). Even little things like going to the local picture house (which closed before I was born), watching Tarzan movies, then going up the hill and imitating Tarzan. I think I feel compelled to pay more attention, Mum's death having brought home with a vengeance, the realization your parents won't be around forever.
Tomorrow is the funeral, which promises to be an emotional wringer. If the number of cards that have arrived are any guide, there could be a big turnout. But there are back to back storms set to hit the country over the next couple of days, which may make travel difficult. My main goal: not catching COVID. I've to be tested on Saturday, before being allowed back in to America. Because nobody there has the disease, I guess.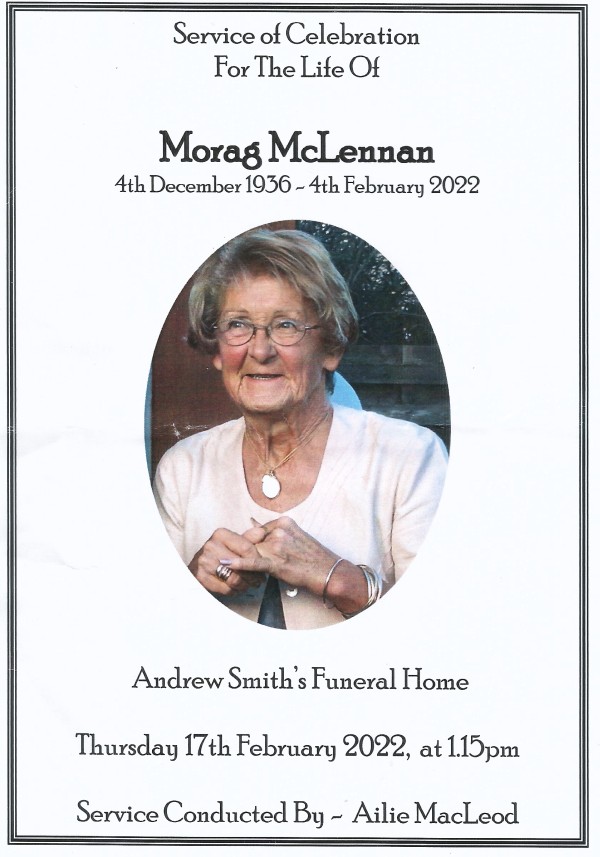 February 18th. And, exhale. I got through it, though there were a few moments where it was touch and go emotionally, I can assure you. Actually, not just emotionally. From a purely practical point of view, there were a few road-bumps too.
Realizing my dress shoes, dating back to the nineties(!), were extraordinarily crappy, the uppers flaking badly. Solution: buy a black marker, and colour in the missing bits
Popping the button on my trousers getting out of the car at the crematorium. Solution: emergency diversion to acquire a belt.
Sister Pat coming down with labyrinthitis on the day, leaving her barely able to move, and not able to open her eyes. Solution: welp, guess I'm definitely giving the family speech then.
Fortunately, this had been prewritten: still, the phrase "unaccustomed as I am to public speaking" comes to mind. But on the whole, it was a lovely ceremony. So many family and friends in attendance, there were points when it felt more like a wedding than a funeral. It was genuinely a dose of positive emotional medicine. I think it clicked when we were coming back to the funeral rooms from the crematorium, on a thoroughly dreich (to use a good Scottish word!) day. Suddenly, the clouds parted, and the sun broke through. I'm not going to say I felt my mother's presence or anything like that. But somehow, it did seem that everything was going to be alright.
Sadly, we never got to hear The Bare Necessities at the funeral…
February 20th. Time to come home to Phoenix.. Did my supervised COVID test. Negative, though the 15 mins waiting for the results seemed a lot longer. If I knew I was positive, seems it probably would not have been hard to swap out the swab for a "clean" sample. Seems like pure pandemic theatre to me. The train from Aberdeen to Glasgow was an ordeal. The wifi wasn't working, and at Montrose, the carriage suddenly turned into party central. A pack of the NE Scotland equivalent of Essex Girls and Boys boarded, playing their music, drinking and whooping. Mercifully, they left at Dundee… Only to be replaced by the one thing worse: a family with multiple kids. 28 rounds of "I spy with my little eye…" later, I reached for my headphones.
I survived the night in the blasted hellscape of Glasgow with minimal interruptions from the packs of mutants roaming the streets. OK, there was none of that, but I've got no intention of damaging Glasgow's worldwide reputation by telling anyone it was a peaceful night. However, the next morning, I got a text telling me my flight to Heathrow (and thus, back to Arizona) had been cancelled. Apparently, British Airways had some major staffing issues, and had basically canned most short-haul flights for the day.
Hopefully, things will be back to normal tomorrow, and I can return without any further delays. I no longer have a day off before having to return to work, so jetlag will be coped with on company time…
February 22nd. And, back, so time to draw a line under this experience. There were no further problems on the flight front, at least for me – BA were still having their share of cancellations. The rebooked flight came into London City Airport, which meant a tube journey across to Heathrow. Amazing how quickly you get back into the mindset of not making eye-contact with anyone and just trancing out to your music. It's like I had never left the city. The best bit of the trip home was coming through immigration, and the officer asked me, "What was the purpose of your trip?". "Burying my mother." No further questions were asked.
I'll just leave you with this, which was on a decoration in the house, clearly hung there at some point in years past by Mum. It's maudlin, sentimental and trite. But, dammit, if it isn't true…