"In October of 1998, four sorority sisters disappeared in the woods near Bareasseville, Delaware while shooting a documentary. A week later, their footage was found."
The Blair Witch Project was a gift to low-budget film-makers, not just as inspiration, but a target for parody by anyone with a camcorder and a convenient forest. The closest and probably best is The Bare Wench Project, from B-movie luminary, Jim Wynorski. Long a TC fave for delightful trash like Not of This Earth and Deathstalker II, he cast some babe friends in the students-making-a-film roles, chucked in Julie Strain as the Bare Wench, added an immensely annoying guy for no apparent reason and, I strongly suspect, knocked this off over a weekend.
"Gosh, your titties are so sweaty."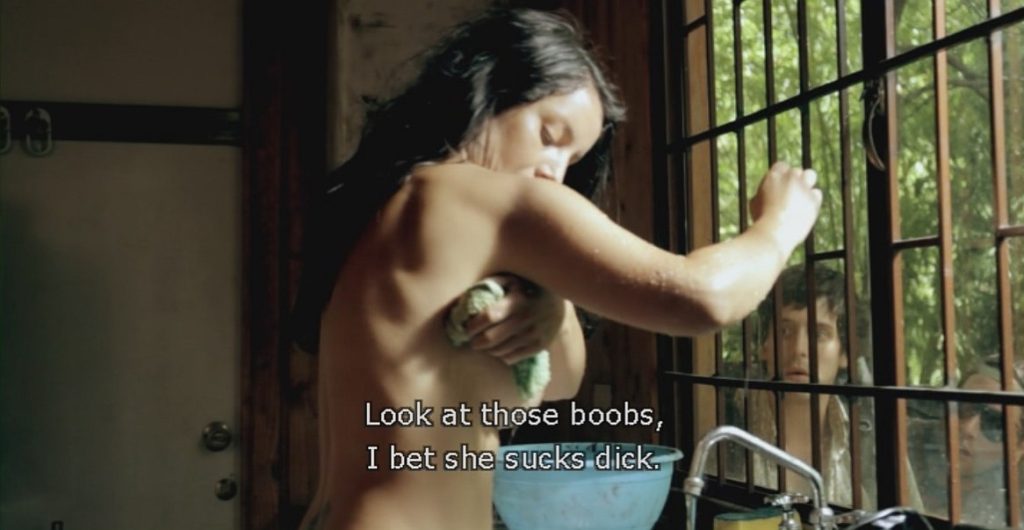 You must have seen (and ideally, disliked) the original in order to appreciate this on any level beyond the mammorial. The set-up is the same, many plot elements and scenes are direct references and the dialogue is skewed appropriately. There's even a Bare Wench mythology: a miners' prostitute hounded out of town now haunts the woods, driving all those who encounter her into a sexual frenzy which, from the film's point of view, is very convenient. Our heroines start by talking to local residents, such as Dick Bigdickian who runs the local magic shop (an uncredited cameo by another exploito-guru, Andy Sidaris), before heading into the forest, meeting the Bare Wench, and taking their tops off. A lot.
The parodic elements include blow-up dolls hanging in the trees, dildos arranged into mysterious shapes on the ground, a crucial sheet of paper labelled "BAD MAP", mysterious noises (even if they sound like a donkey in heat) and, last but not least, the bitchy squabbling between the participants. Lorissa McComas and Nikki Fritz are every bit as good actors as their Blair counterparts, although Antonia Dorian and Julie Smith are bland blondes with no obvious acting ability – in particular, the out-takes show Dorian struggling desperately with the simplest line. Nice tits though.
"C'mon! Give us your top!"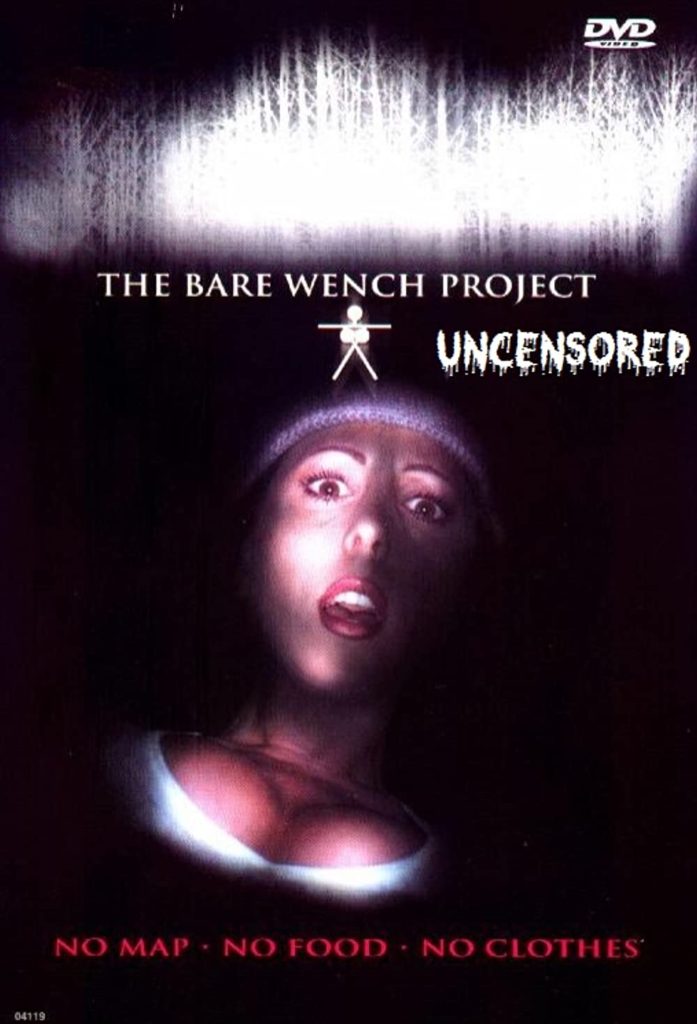 And after all, those, rather than frights, are the purpose of the film. So there's much jiggling, in particular from McComas who shows great potential. Her and Fritz' character appear to be "close personal friends" (a situation not too far from real – or at least Internet – life, where they do naughty webcam shows together), plus topless dancing round a camp-fire, skinny dipping, erotic ghost stories and Julie Strain in a blond wig and furry boots doing a dance number to a truly dreadful song in what looks like someone's garden. This last-mentioned is problematic: by adding things like background music, the film becomes Z-grade dreck with no production values, rather than a parody of Z-grade dreck with no production values. Luckily, it doesn't last long, and Wynorski drives on to a deliberately ludicrous climax involving hopscotch in a motel room.
"I insisted that we go without bras…
That we French kiss…
That we shave down south…And now this is where we've ended up.
It's because of me that we're here now.
I'm scared.
I'm scared to close my legs.
And I'm scared to open them…"
Wynorski, along with Fred Olen Ray, is a past master of low-budget nonsense, more entertaining and fun than many Hollywood productions. At his best when not taking things seriously, for the most part, The Bare Wench Project makes no such slip. With the aid of lingerie, silicone and torches, he's made something of a minor gem in 81 minutes, which is likely to be far more enjoyable than Blair Witch 2.