A Timely Message from Heaven: The End of the Present Times
All of you living on the planet, listen to what I'm going to say: When the year 2000 is completed, the year that will follow will not be year 2001. The year that will follow shall be called Year One in a generation that will follow the present generation; the generation that will follow will have few or many people depending on who will repent.
The Lord told me that hurricanes of fire would rain forth from heaven and spread over all those who would not have repented. They would burn them but would not die immediately… This fire will also reach inside the buildings; there is no way one can escape. Those who had repented were told to go in hiding to the houses they had built for this purpose. These houses are called 'Ark' or 'Ship.'
We are definitely taking you to Jesus through the Blessed Virgin Mary, who have (sic) commissioned us, and through the Pope. Since the Ten Commandments of God have been abandoned and are being broken, those who go to hell are very many…Those going to heaven are few. Ours is not a religion but a movement that endeavors to make the people aware of the fact that the Commandments of God have been abandoned, and it gives what should be done for their observance.
A great number of youths now move about more or less naked. They move about putting on slit-skirts, see-through dresses without any under-clothing. Some move about half-naked putting on back-show dresses. Girls prefer wearing men's trousers to wearing their own dresses…All these are symptoms of an urge to violate the Sixth Commandment. Our Blessed Mother Mary says that we, the youths, are like simpletons or fools because of having allowed Satan to dwell in us and make us do all sorts of shameful actions
AIDS … is a disaster that has befallen the world. AIDS is a punishment that has been released to the world due to its disobedience. The sole cure is repenting our disobedience, and the restoration of the Ten Commandments of God.
---
"Body no. 47, infant, gender unidentified, with rope round neck". The naked, decomposed body of a baby is dumped on a growing pile of month-old corpses. After a cursory examination by a doctor, an entry is added in his colleague's notebook. Moments later the tiny corpse, one of many discovered in the garden of Father Dominic Kataribabo, a leader of the Movement for the Restoration of the Ten Commandments of God, is thrown into a fresh grave, another victim of the biggest cult-related disaster since Jonestown.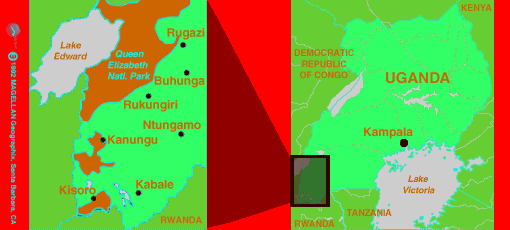 Even in recent times, Uganda's history of grinding poverty, rampant AIDS and regional conflicts make fertile soil for fanatical or extreme religious sects. Perhaps the most famous was Alice Lakwena's Holy Spirit Movement which sprung up in northern Uganda in 1987. While her own bodyguards preferred AK-47s, hundreds of her followers marched to their deaths believing magic cooking oil would protect them from bullets. While eventually suppressed by cutting off supplies of weapons – and cooking oil – her cousin Joseph Kony still fights on as the Lord's Resistance Army, saying he wants to run the country on the basis of eleven Commandments: Moses's ten plus "Thou shalt not ride a bicycle" (on the grounds that cyclists might speed into town and warn Ugandan forces that Kony's men are around). More recently, the government raided an illegal camp in the Sambabule district run by a prophetess said to eat nothing but honey, while leaders of another doomsday sect, the 1,000-member World Message Last Warning, were charged with rape, kidnapping and illegal confinement when police broke it up in September 1999.
Joseph Kibwetere, the 68-year old self-styled bishop of the "Movement for the Restoration of the Ten Commandments of God", had been a prominent member of the Catholic-based Democratic Party in the 1960s and 70s. When his political career ended abruptly after a controversial general election in 1980, Kibwetere took refuge with an Anglican bishop in Kabale; seven years later, at a time when many people reported seeing visions in the area, he claimed to have overheard a conversation between Jesus Christ and the Virgin Mary, and recorded it on tape. "There is a lady's voice on the tape which says the world is suffering because the people are not following the Ten Commandments," said Sister Stella Maris, a Catholic nun living near Kanungu. "She says the commandments must be enforced or the world will end."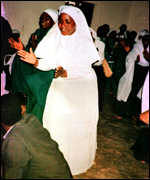 Was the "lady" ex-barmaid and prostitute Gredonia Mwerinda? She teamed up with Kibwetere in 1987 after allegedly also receiving a calling from the Virgin Mary. Along with excommunicated Catholic priest Dominic Kataribabo, they moved to Kanungu, in Uganda's south-western hills. Father Paul Ikazire, who claimed he was among the sect's leaders before leaving in 1994, said Mwerinda was the power behind the throne. "She used to bring in messages from the Virgin Mary and the Archangel Michael…things like, the Virgin Mary wants you to bring more money." Cult members were required to sell their possessions and hand the proceeds to the church. "They gave all their money to the leaders who filled sacks with banana fibres in imitation of currency notes and burned them," claimed local government official Paul Kwesigabo. It's not clear where the money went, but her uncle, Marsiali Baryeihahwenki, said Mwerinda travelled frequently around Africa, as well as owning a huge farm, vehicles and several shops.
"Those who forget the past are doomed to repeat it."
       – sign over the altar at Jonestown
November 18, 1978 – U.S. pastor Reverend Jim Jones, leads 914 followers to their deaths at Jonestown, Guyana, by drinking a cyanide-laced fruit drink. Cult members who refuse to swallow the liquid are shot.
December 1991 – Mexican police blame a minister's fervent belief in God for his death and that of 29 followers who suffocate when he tells them to keep praying and ignore toxic fumes filling their church.
April 19, 1993 – At least 70 Branch Davidian cult members die after fire and a shoot-out with police and federal agents end a 51-day siege of the compound near Waco, Texas.
October 1993 – 53 hill tribe villagers in a remote Vietnamese hamlet commit mass suicide with flintlock guns and other primitive weapons in the belief they would go straight to heaven. Officials say they were victims of a scam devised by a blind local man Ca Van Liem, who received big cash donations in return for promising a speedy road to paradise.
October 1994 – Police find the burned bodies of 48 members of the Solar Temple, an international sect that believes death by ritualized suicide leads to rebirth near Sirius, in a farmhouse and three chalets in Switzerland. At the same time in Quebec, five bodies, including that of an infant, are discovered in a chalet in Morin Heights, north of Montreal. In December the following year, 16 members are found dead in a burned house outside Grenoble, in the French Alps. Two French police officers were among the dead. In March 1997, police in Saint Casimir, Quebec, find the bodies of three women and two men inside a house owned by a sect member. Death toll (for now): 74.
March 20, 1995 – The Aum Shinri Kyo (Supreme Truth) doomsday cult disperse nerve gas in the Tokyo subway, leaving 12 dead and injuring thousands.
March 26, 1997 – Police find the bodies of 39 men and women in a mansion outside San Diego. The victims, who belonged to the Heaven's Gate cult, committed suicide in the belief that a UFO, shielded behind comet Halle-Bopp, would take them to heaven.
---
This lifestyle was in marked contrast to the austerity and depressingly-familiar brainwashing techniques enforced on followers, who were told to live strictly by the commandments; disobedience was punished with canings or food deprivation. Dressed in robes which designated rank (white for leaders, green for those who gave generously on recruitment, black for the rest), they toiled in fields and workshops without payment, communicating with each other only by gestures. Men and women, including married couples, slept in separate dormitories, and no children were ever born to any members of the 13-year-old cult. According to Baryeihahwenki, families were split up when they joined the cult and members were shifted frequently between several different sites in the impoverished region to stop them forming attachments. "They would come with a pick-up and tell people to get in with no warning," he said. "They were moved around all the time." Any children that new recruits brought in were also put to work, fetching water and firewood. A primary school run by cult leaders was closed down in 1998 by local authorities, who said in a report that children were malnourished and made to sleep on the floor without mattresses or blankets.
Grace Kibanja of Makerere University's Institute of Psychology said, "These people were poor with no hope and saw salvation. Attaching themselves to a man who promised a better life has to be understood in this context." Murindwa Rutanga, political science lecturer at Kampala's Makerere University and an authority on cults in this region, agrees: "these were desperate people – landless, unemployed and probably sick. The community provided a home and some basic services like medicine that the state and church had failed to provide."
Some blame reputable religions. "Anglican and Catholic churches have to admit their past mistakes", Pastor Alex Mitala, Ugandan representative for the Christian Men's Network stated. "When ordinary Ugandans question religious doctrines taught by foreign pastors they often turn to the question: Which way to God? In such situations they fall prey to charlatans and other such misguided individuals." Driving his point home, Mitala pointed out that until recently, mainstream churches taught rural Ugandans that if you touch a woman's breasts outside of wedlock, they will fall off. "Once this is patently not so, Ugandans begin to doubt the sincerity of all religious teachings," he adds, rather unnecessarily.
Cult members were told the world would end at the beginning of the new Millennium, and they would be delivered to heaven only if they gave up all their earthly goods and followed the cult. One theory suggests that when Kibwetere's prediction of December for the end of the world proved wrong, he and his associates came under increasing pressure from a now destitute congregation to repay their money. "All along they had said that this (church) is the boat of Noah," alleged a local villager. "This is the ark and they were told that at the time of calamity they would come here. They were told that at a certain time this year, the world would end and so the leaders made it happen and perhaps the people there believed it had happened," she said.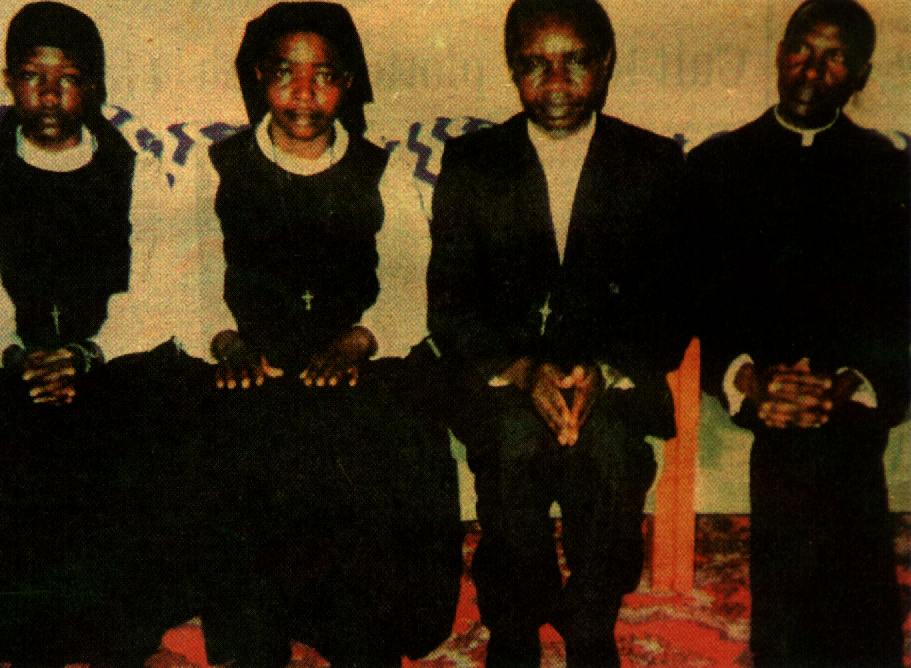 For several days before the carnage on March 17th, members made their way to the compound, in buses, pick-ups and lorries. Only those in the church would be saved, they were told; the rest of the world would face God's wrath. Local officials said the cultists slaughtered a cow and ordered 70 crates of soda the night before – in a nearby dormitory, chicken bones and millet bread bore witness to the last supper. Meanwhile, police believe Kataribabo purchased 40 litres of sulphuric acid days before the tragedy, telling a local storekeeper he wanted to use it in car batteries. While these were not found in the church compound, the acid would be highly inflammable and explosive if mixed with petrol, as well as forming a poisonous vapour when burnt.
With the doors and windows nailed shut, they sang and chanted for hours, wearing their finest robes, before the fire was lit. By dawn, hundreds of charred corpses lay in the burned-out shell of the church as rain fell through the collapsed iron roof of the building. Some of the bodies, with hair and clothes burnt away and features obliterated, stretched out their arms in what looked like an appeal for help while others lay face down or balanced on their elbows with their heads back. Still more seemed to be huddling together against the flames. One baby was curled up like a foetus on the ground.
Yet the horror was only beginning. Investigators found several pit latrines covered in fresh cement and, when they opened the first one, discovered new corpses. "We found five bodies on the surface and when we shone a torch there were more underneath," said public health officer Richard Opira on March 20th. "They haven't been wounded so we think they were strangled or maybe poisoned," he said. In the end, 153 cadavers were found buried under a house used by the cult in the village of Buhunga, a further 155 corpses in the house and garden of Dominic Kataribabo in Rugazi, 81 more in Rushojwa and 55 in the capital, Kampala. The final death toll, announced on July 20th, was 780. It was apparent that the fire was merely the climax to an orgy of slaughter; most of the dead appeared to have been murdered less than a month ago, and some still had ropes around their necks, indicating they had been strangled.
Setting new records for monumental ignorance, neighbours said they knew Kataribabo had been digging in his back garden, but never suspected the purpose of his exertions. "He was a good man, good to his followers, good to his family and good to people in general," Kataribabo's nephew Bagambe Apex said. "There is no way we ever expected something like this could happen." According to Ugandan president Yoweri Museveni, the group's religious nature explained why authorities in the heavily populated area did not notice the disappearance of hundreds of their followers, which also falls into the category of dubious explanations. Completing the turning-a-blind-eye trilogy is local police official James Byaruhanga. "These people were very good taxpayers. They had permission to operate from the authorities, so we had no reason to stop them."
On the other hand, some people claim to have had suspicions, although this could be mere hindsight. "As time went on we started getting more and more scared of them," said Kisembo Didas, a farmer in Rugazi. "We thought they were dangerous, a cult of Satan. They used to behave abnormally, suddenly becoming paralysed in the street and then talking nonsense." Those of a conspiratorial bent may also wish to note that an assistant district commissioner in south-west Uganda was arrested for allegedly suppressing an intelligence report that suggested the cult posed a threat.
Alternatively, ex-President Milton Obote of the banned Uganda Peoples Congress claims that the bodies are not cult members at all, but government political enemies, killed in large-scale, extra-judicial massacres by the Ugandan security services. "How can five people kill over 900 persons without some escaping?" he questions, while pointing out that many government critics have mysteriously disappeared in recent months. In a strident e-mail message sent from Kampala to various reporters, opposition supporter Yoswa Nkalubo (claiming to be on the run from government security agents) states that more bodies are buried in latrines all over the Ankole and Kigezi districts and that these are opposition members eliminated under the guise of having been killed by the cult leaders Whatever the truth in such theories, few families have come forward to report missing relatives.
Nor is anyone sure what happened to the leaders. Uganda's New Vision newspaper said Kibwetere sent a letter – his first in three years – and several books to his wife, Theresa, so that she should go on "with what we have been doing because we are going to perish." But a young member of the cult, a 17-year-old named Ahimbisibwe, told the paper he had seen two of the leaders leave the compound before dawn on the day of the fire carrying small bags. "Kibwetere and Gredonia prayed for us on Thursday night and they left the camp," said the boy, whose mother and sister were among the victims. The area's member of parliament, Amama Mbabazi, said he believed the leaders had survived. "My gut feeling is that Kibwetere and his colleagues are on the run," he told New Vision. While Kataribabo's and Mwerinda's bodies were at first officially identified by police at the site, they later admitted they had not been able to recognise them. and issued arrest warrants for six leaders, including Kataribabo. With the remaining corpses bulldozed into a mass grave, destroying any remaining evidence, it seems the truth will never be known…
This kind of thing is disturbingly common. Across in Kenya, a different brand of religious fanaticism is on the rise. Tens of thousands are joining a new wave of born-again Christians, whose leaders claim to speak in tongues and deliver miracle cures to cancer, AIDS or deafness. Some may be run by genuine believers, yet others are shaped by opportunists who seek power and financial reward by manipulating the hopes and fears of the region's poor. In Uganga, the results were more lethal than usual, yet it's scarcely unique, or even rare. For example, on July 2nd, seven Peruvian family members were found dead with Bibles by their sides after poisoning themselves in a religiously motivated suicide at their shantytown home. What happened in Kanungu may have been larger in scale, but it's sadly common: just another case of the lives of ordinary people getting screwed up in the name of organised religion.
References:
African Business, May 2000
http://atheism.about.com
http://www.cesnur.org/testi/uganda_updates.htm
The Cult That Couldn't Stop Killing, C4 documentary, 11/6/2000
Daily Mail And Guardian, Johannesburg, 10/1/1997
Fortean Times: #100 (p41), #135 (p34)
Reuters agency news reports, 19/3-20/7/2000.
Movement for the Restoration of the Ten Commandments of God. Timely Message from Heaven: The End of the Present Times. 3rd ed. Karuhinda, Rukungiri and Rubiziri, Bushenyi (Uganda,) 1996.