TC 23 – November 2000
| | | | |
| --- | --- | --- | --- |
| Welcome to the Videodrome | 4 | Reasons to be Fearful: Part Three | 52 |
| Against Subtlety | 6 | David Icke, Duran Duran and the Reptoids | 54 |
| The Beeb Watch Project | 7 | Tom, Jerry and the Nazi Connection | 56 |
| The Bare Wench Project | 8 | The Art of the Sickie | 58 |
| Film Blitz | 10 | Long live the Queen | 61 |
| Garden Party | 14 | The Incredibly Bad Film Show: Tammy and the T.Rex | 66 |
| The Tale of the Raven: Part 2 | 17 | Killing for Cult-ure | 69 |
| High Weirdness By Mail | 21 | Of Tomatoes and Home Shopping | 74 |
| Night of the Lovelies | 24 | Bug Wars | 77 |
| On Her Majesty's Schilthorn Sojourn | 26 | The Top 10 Real Warrior Princesses | 78 |
| Kaiju Big Battel | 28 | Daughter of The Last Action Heroine | 80 |
| American Psychos | 32 | Non-Stop Violence | 89 |
| "Follow the rules and nobody gets hurt…" | 36 | Postcards from California | 90 |
| Hungary Like the Wolf | 41 | Twinkie ®, Twinkie ® Little Star… | 92 |
| Lino's 'Zine Reviews | 44 | | |
This is TC 23, a pop culture time-capsule whose future is cloudy – see the editorial for details – and so, subscriptions to future issues are not currently being accepted. Feel free to keep sending me money though. Some old TCs (16/17, 20/21, 22) are available; buying now is wise, in case I can't be arsed to ship them to America with me. For British readers, they're £2.50 each including p&p; everyone else should get in touch for the correct rate, which depends as much on where I am, as where you are…

For similar reasons, getting in touch with me might be tricky, but email to jmclennan@trashcity.org should work, regardless of my location. For old-fashioned post, Trash City, PO Box 8353, Scottsdale, AZ 85252, USA becomes effective at the end of November. Updates will be posted on the web site, http://www.trshcity.demon.co.uk, as and when appropriate. The site is also a haven for more of this kind of thing: reviews, articles, rants, strip-club info and more. With colour pictures…
Credits/Blame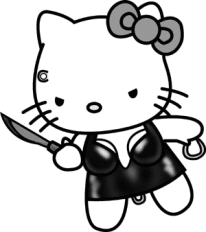 Editor: Jim McLennan – and all texts not otherwise labelled.
Queen of Trash: Chris Fata.
High-Priestess of Layout: Vanessa Wells.
Pope of Covers: Rik Rawling.
Consumer of Twinkies (and additional layout): John Spencer.
Toreadors of Text: Andy Collins, Chris Fata (+ Leo & Amy), Marc Lewes, DF Lewis, Lino Raffa
Printers: Juma, 44 Wellington Street, Sheffield, S1 4HD.