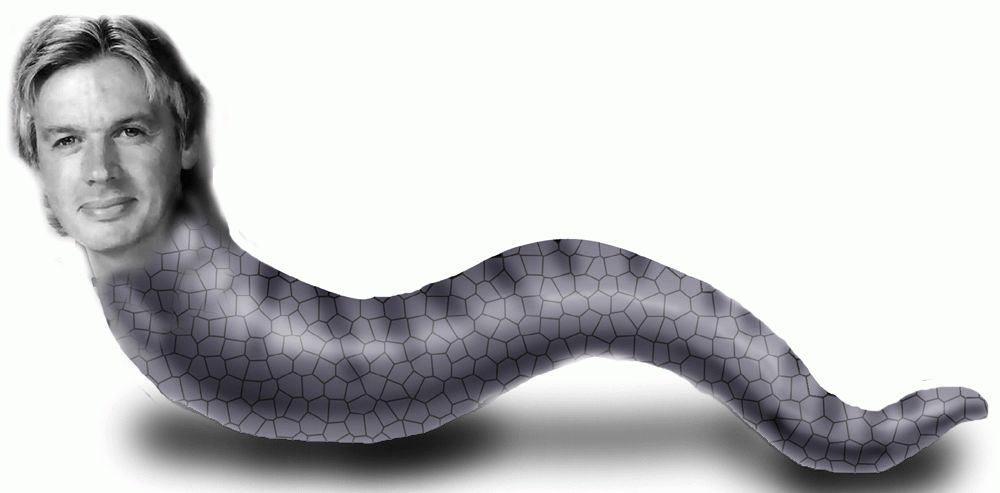 David Icke, Duran Duran and the Reptoids
There is an enormous amount of challenging information in this book. Please do not continue if you are dependent on your present belief system, or if you feel you cannot cope emotionally with what is really happening in this world."
               – David Icke, The Biggest Secret
Okay. Hold onto your hats: you are now leaving reality and entering – literally – a parallel world of shape-shifting reptiles from the Nth dimension. This all started when a pile of photocopied material on mind control technology which I'd sent, went AWOL in the post – it did eventually turn up (five days for first-class post?), but while waiting, I was listening to Duran Duran and my paranoia latched on to the line: "Voices in your body coming through on the radio". Here are the full lyrics:
Telegram force and ready
I knew this was a big mistake
There's a fine line drawing my senses together
And I think it's about to break

If I listen close, I can hear them singers
Voices in your body coming through on the radio
The Union of the Snake is on the climb
Moving up, it's gonna race,
It's gonna break through the borderline
Night shades on a warning
Give me strength, at least give me a light
Give me anything, even sympathy
There's a chance you could be right
The Union of the Snake is on the climb
It's gonna race, it's gonna break
Gonna move up to the borderline
I sat up, since one of the things discussed in the mind control material was implants, and the use of radio by the CIA and others to make targets hear internal voices. That this reference came in a song called Union of the Snake was even more interesting: I had long been aware of underground reports in mysterious and anonymous documents, which posit that a reptilian alien race were controlling things from bases below the surface of the Earth.
Looking at the lyrics (right), it's certainly possible to read them in a conspiratorial light. "I knew this was a big mistake" is an odd line, and "Give me anything, even sympathy, there's a chance you could be right" is too – if even 5% of the reptoid theories are anywhere near true, we are fucked. But perhaps most interestingly, the chorus goes "The Union of the Snake is on the climb/Moving up, it's gonna race, it's gonna break through the borderline." William Bramley, in his book Gods of Eden, describes a secret organisation called the Brotherhood of the Snake, which is just too close for comfort. Does talk of "moving up" and "on the climb" refer to its increasing influence, until it crashes "through the borderline" to trans-national government? New World Order, here we come.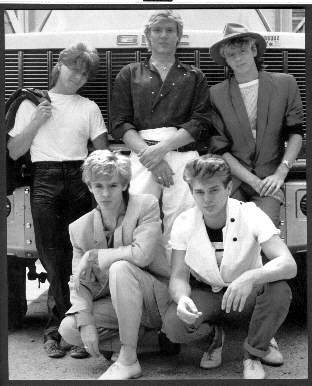 The video, directed by Simon Milne, shows the hero descending into an underground city, a relic of an advanced civilization – one reviewer described it as "reminiscent of H.P.Lovecraft's classic SF tale, The Nameless City." This ties in with "night shades on a warning", since one meaning of "shades" is the underground realm of the dead, as in Hades. With all this, I think it's fair to say that Duran Duran – a name taken from a humanoid alien in Barbarella – have moved on from mud-wrestling totty.
To see the reptoid stuff in full effect, get hold of a copy of David Icke's book, The Biggest Secret. The former TV commentator turned New Age guru has turned in one of the most fabulously loony works I've ever read. It starts with him churning out rehashed Velikovsky, where the planet Venus careers around the solar system like a pinball, triggering floods, etc. on Earth. From here it moves into vanilla-flavour conspiracy, in which all history from the birth of civilization is controlled by a secret group, the Babylonian Brotherhood. Almost all Earth's leaders – Nelson Mandela gets a grudging exemption – are part of this. "So what?", you yawn. Ah, Icke's angle is different: this lot aren't actually human…
Yes, our controllers are reptiles from the lower reaches of the fourth dimension, who are merely occupying human vessels, though they occasionally "glitch" and reveal their true forms. For example, here's an eye-witness description of one such transformation. Which world leader do you reckon:
"…began to transform into a reptile. He eventually became a full-bodied Reptiloid, growing in size by some two feet. He was 'slightly scaly' and 'spoke fairly naturally'".
That was Edward Heath, our former Prime Minister, taking part in a Satanic ritual near Chequers.
Overseeing this vast conspiracy is our Royal Family, who are near the top of the cold-blooded heap, being pure-blood snakes involved in human sacrifice and black magic, as well as the drug-running beloved of Lyndon La Rouche. Phil, Liz, Charlie-boy: they're all at it. Here's one of Icke's sources, talking about the Queen:
"I have seen her sacrifice people and eat their flesh and drink their blood. One time she got so excited with blood lust that she…just went crazy, stabbing and ripping at the flesh after she'd shape-shifted into a reptilian…She has a long reptile face, almost like a beak, and she's an off-white colour. The Queen Mother looks basically the same"
Reading this, I had a sudden image of the Queen Mum, forked tongue flicking in & out of a large gin…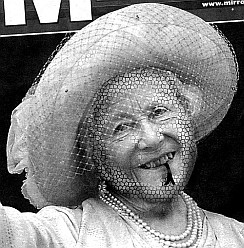 The further one gets in, the more berserk Icke's theories get, and they start spinning off all over the place. "I have no doubt from the evidence I have seen that the Earth is hollow", he says. Princess Diana wasn't just murdered, she was ritually sacrificed, the time and place of her death planned years in advance. And so on. But Icke seems to suffer from a disbelief bypass: he accepts the much-discredited Protocols of Zion, and takes the wild Trance Formation of America at face value. The latter – conveniently available from the same publisher – is written by Cathy O'Brien, who claims to have been sexually assaulted over a 25-year period by more or less everyone who is anyone in American politics, business or entertainment, including the evil paedophile, Boxcar Willie. While Trance is certainly worthy of a salacious read (I assume libel laws are less strict in America), as a credible source, it leaves a great deal to be desired.
Never mind 5%, if any of Icke's theories are true, we are completely up the proverbial creek. Fortunately, I have my doubts – even if it all does add an entirely new meaning to another Duran Duran lyric, "Please, please tell me now, is there something I should know…"
David Icke, The Biggest Secret, Bridge of Love, £15
Cathy O'Brien & Mark Phillips, The Trance Formation of America, Bridge of Love, £12.95
Duran Duran, Seven and the Ragged Tiger, Parlophone, £7.99