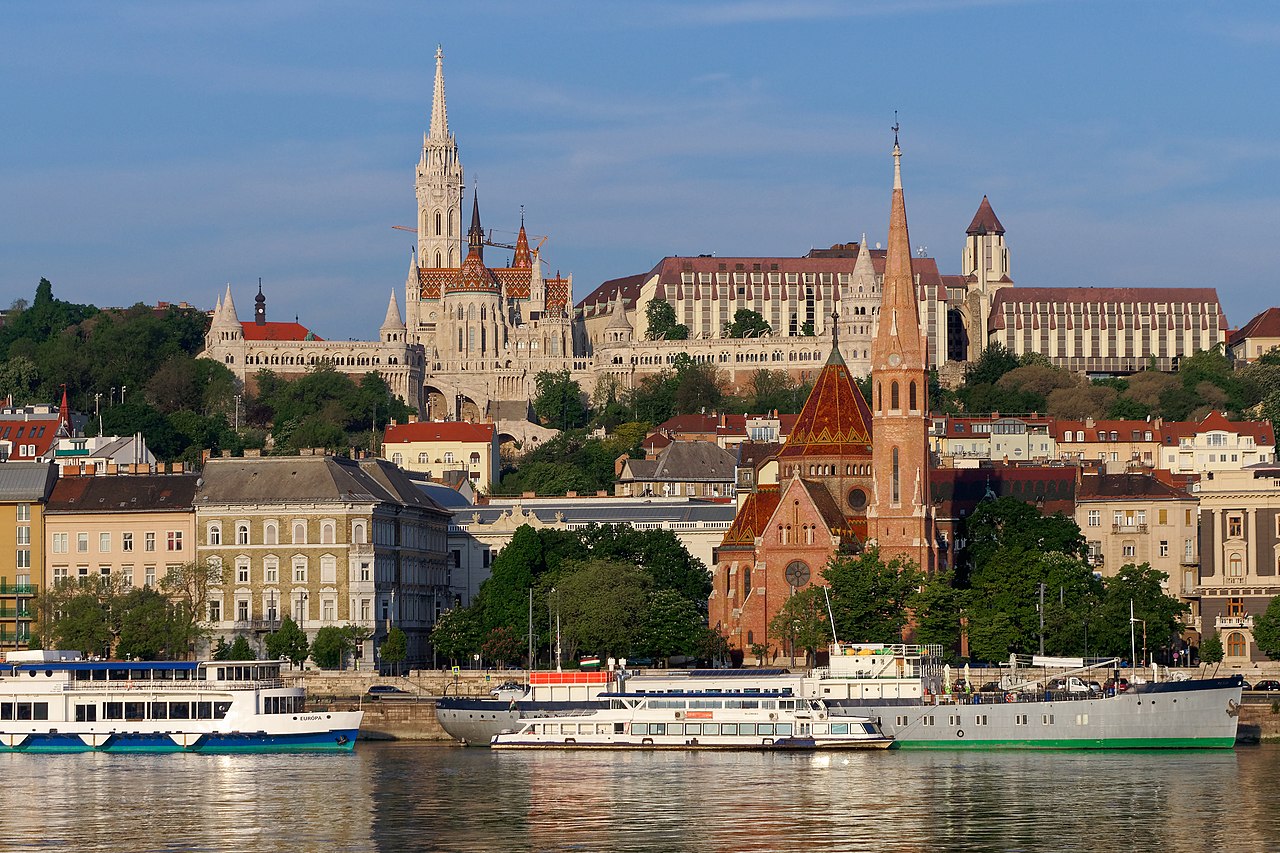 TC Travel #1: Hungary like the Wolf
Following up on last year's ultra-successful Prague spring, the 2000 TC Eurojaunt was given to Budapest. It was picked from a shortlist of possibles including Helsinki, St. Petersburg, Berlin and Vienna, largely because it was deemed to be the most "Prague-like" of the options, though its reputation as the European capital of pornography did no harm either. Having gone for the city largely because we wanted Prague II, what we really got was something significantly different, but no less appealing. While the Czech capital was love at first sight, Budapest is like a mildly pretty girl with a great personality, whom you gradually come to like more and more.
The town is split in two by the Danube, into Buda and Pest (by this method, I would commute into Lon from my home in Don), with the former the older, hillier part, while the latter has all the bars and nightlife. [Guess which we saw more of?] It's bigger, more sprawling and less pedestrian-friendly than Prague, but the public transport puts London to shame: buses, trams, Metro, and trolleybus all fit together to make no journey a chore. This is a good thing, given the local taxi drivers' international reputation for chicanery, up to and including the extraction of "fares" at gunpoint. Strange, therefore, that the city centre was so utterly quiet, even on Friday + Saturday nights. Perhaps the concept of "going uptown" doesn't apply: the main street, Váci utca, was spookily quiet almost every time we went there. On Sunday night, we were the only people on the central square of Vörösmarty Ter, which was as unexpected as finding oneself the sole inhabitant of Piccadilly Circus.
Or maybe all the locals were all in restaurants, for this was one way in which Budapest surpassed even Prague: the food was astonishing. We tried everything we knew – starter, main course, beers, dessert, liqueur, coffee – and were still clinically unable to get the bill up above nine quid a head. Though I'd be hard pushed to name any recognisable national cuisine beyond goulash, the Hungarians had enthusiastically adopted other nations' ways of cooking dead animal, including bits even I wasn't prepared to tackle: "lung in sour sauce", anyone? Thought not. But even discarding such questionable entrees, the appropriately named Fatal restaurant (at Váci utca 67 – and it's actually Hungarian for "wooden platter") was sheer carnal delight. Better yet was the Haxen Király Sörhaz (Király utca 100), a Germanic-themed establishment that delivered a feast ranking among the best meals I've ever had. The waiters cheerfully reject your choice of side dishes if he reckons it won't work: take the advice, they know their stuff.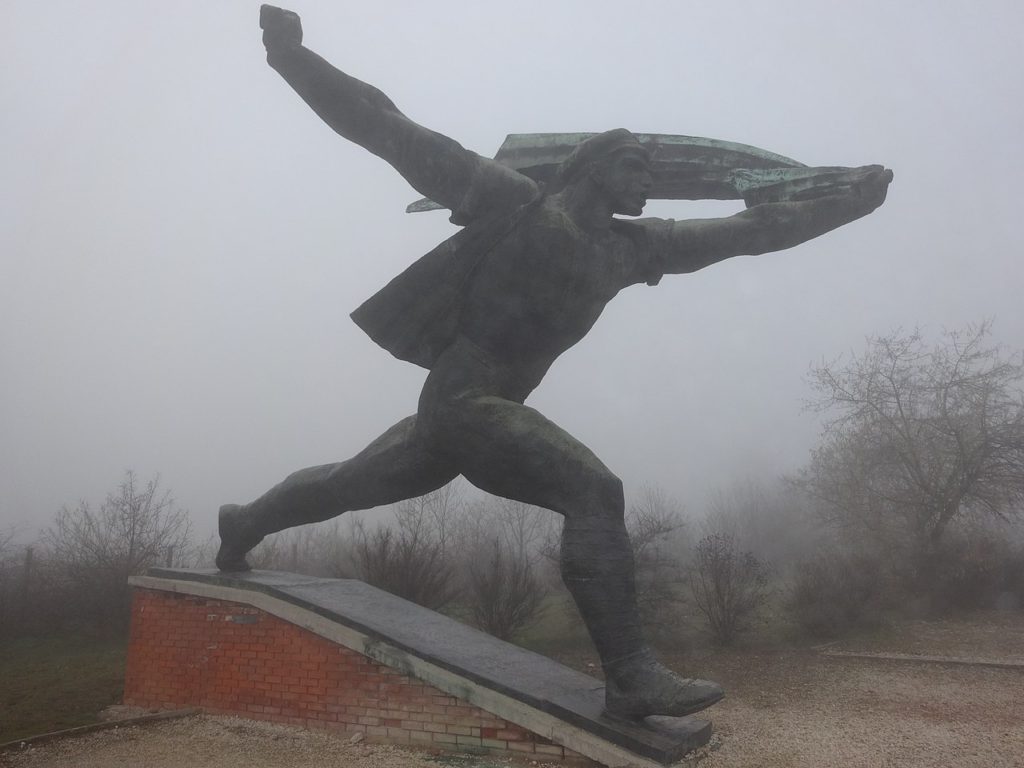 As is now tradition, had a local kebab as well: pretty good (B-), if a little on the small side, with chilli sauce and yoghurt, it came in a pitta and tin foil, almost like one of those trendy wraps. And while Austria and Hungary have had their differences, national rivalries are overcome by a mutual appreciation of cakes and pastries: "world unity through gateaux". Hungary is better known for its wine, such as Bulls' Blood and Tokai, than the beer, yet there are competent local brews like Dreher, and a wide variety of places in which to consume them, often alongside the aforementioned slabs of dead animal. While a little short of Prague on the brewing front, it was still far more chilled-out than London. You could always get a seat, waitress service meant you never needed to go to the bar, and "closing time" was an unknown concept, with some places simply rolling their stuff around the clock. This means that things tend to kick off later than in Britain, with places tending to be eerily empty before 10pm.
The second area in which Budapest beat Prague – and this was agreed upon by everyone in our party, from newly-single to happily-married – is babes. With hair that went beyond black, to a bluish tinge capable of sucking light in from the surrounding area, we were often reduced to awed gawping. At times it seemed like Hungarian women needed to have competed in a major beauty pageant, simply to be let out on the streets, with winning one a prerequisite for a job as a waitress. The Miro café (Úri utca 30) almost saw fights breaking out over one such beauty – "No, it was me she smiled at!" It's easy to see why the place has become a mecca for artistic film-makers, and unlike this country, where "looking" now appears to be a form of sexual harassment, in Budapest they meet your gaze unflinchingly. Although this was at first un-nerving (in London, it'll soon be possible to have an entire relationship without eye-contact), eventually you get used to it. Though it does make the tube journey back from Heathrow a bit tricky.
Walking down Váci utca, you will (at least, if "you" are male) be accosted by smartly-dressed thugs offering "drink-bar-striptease", in a variety of different languages. In one of the tourist brochure's elegantly flowery discouragements, "we cannot say not to go, but close friends might want to dissuade you", for these venues are adept at distracting you with stunning female company and selling you very expensive cocktails. However, unlike Soho clip-joints, you can actually buy sex as well, since a lot of them are just as much brothel as strip-club. Either way, best not argue over the bill, since the various East European mafiosi have a hand therein, and no aversion to violence – in 1998, four bystanders were killed by a car-bomb. So, despite Budapest's reputation, Prague is generally a more relaxed and laid-back place in which to appreciate the unclad female form.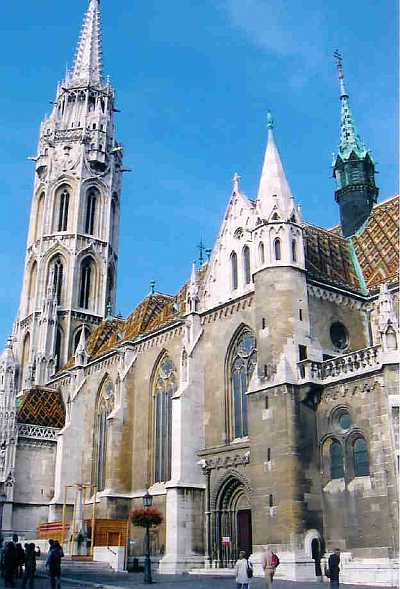 Not that we spent all our time there indulging in pleasures of the flesh (eating or watching it). Buda offers a lot of old buildings to explore, along Várhegy, though not that old, since the site has been ravaged and rebuilt 86 times over the past seven centuries, a total surpassed only by Cher's face. The main attraction is Mátyás Church (below), which is largely a 19th-century remake, yet has a breath-taking interior, and is still in use, as we found out when the rear doors swung open unexpectedly and a bride and groom swept in for their wedding. The Japanese coach party went "Waaaaahh!", in a reverent tone previously only heard during barbed-wire death-matches, and an explosion of flash bulbs gave the bride the show-business wedding she'd always craved. But no-one could deny the impact of a genuinely overwhelming moment, one of those experiences that make travel rewarding.
The Hungarian language is a law unto itself. To quote one melancholy guidebook, "The Hungarian language belongs to the Finno-Ugric family. We do not understand our European relatives the Finns and Estonians either." Interesting to note that those countries are the only ones in Europe whose suicide rate surpasses Hungary's. Mere coincidence, or the natural result of having to cope with sentences like Camilla egyszerü, hétköznapi lány, egyedülálló nö, aki ellen összeesküdött a világ? It sounds like it reads – on the flight out, when we first heard it spoken over the intercom, we thought there was a fault with the PA.
All we managed to learn, between the five of us, was "Thank you". The Hungarians seemed impressed we even bothered with that, ­perhaps because, by the end of the holiday, we had perfected saying it in a shy, not-sure-if-we-are-right kind of way. English and pointing are enough to get by in Budapest itself, though I wouldn't fancy your chances in more rural areas. It definitely helped that menus were bilingual, even if when shopping, we were lucky not to end up with cartons of lard instead of milk, since we largely had to trust in the picture of a cow on the packaging.
The apartment we stayed in was cheap (£10/night each), overlooking a central courtyard that was a feature of many city blocks. You could spend hours exploring all the little side alleys that open up off the main street, if you could avoid being mown down by the cars which had a propensity to whizz out from them at high speed. Well, highish speed, anyway – given the number of Trabants on the road, you had a fighting chance of walking away from a collision with less damage than the offending vehicle. Didn't spend much time in the flat, since the only leisure pursuit there was a black-and-white television, and our tolerance for MTV in monochrome was heavily limited by the discovery it was Backstreet Boys weekend.

We opted for the delightfully bad (unless you're a big water-polo fan) Hungarian channel, with its stupendously poor, extremely cheap variety programmes. Improbable highlights were someone who looked like Michael Berryman doing modern dance while a blind pianist – shades of Suspiria – played Mussorgsky, and a children's choir, whose nervous glances off-camera suggested they'd been abducted and were being forced to perform at gunpoint. Far better to stroll the streets and contemplate bringing home souvenirs, such as the wild boar skin complete with hooves, seen hanging on a market stall by its nostrils, from a meat-hook. Ft 16,000, forty-five quid – meat-hook not included.
In tourist terms, Hungary has reached the gawky teenage years – not innocent enough to be unspoilt, yet not quite aware enough of its responsibilities. A recent story illustrates this: a party of four Danes wandered into the Halászcsárda restaurant on Ferenciek tere, ate a modest meal, and wound up with a bill of around £4,300. To quote the owner, "As far as I'm concerned, we can charge tourists anything we like." This attitude is unfortunately all too prevalent, and while it continues, Budapest is a city of great potential, which requires more than average care on the part of the visitor to prevent unpleasant experiences. But as a destination, it's certainly worth that additional effort.
Handy Hungo-Holiday Hints
Don't clink your glass when toasting. Back in history, Austrians did that after executing some Hungarians, and since then, it's been a no-no.
Change money out there. The rate is much better for Forints, which look like Monopoly money, but are slightly less valuable. Ideal for a game of Who Wants to Be a Hungarian Millionaire though.
On the Metro, the clocks show the time, not until the next train arrives, but how long it has been since the last one. Unlike London, these "tube minutes" do not last three times as long as real ones.
The local liqueur called Unicum is made from herbs, and the bottle has a cross on the side for good reason: it smells like medicine and tastes ten times worse. Avoid.
Arriving tourists beware: Hungarian customs' list of acceptable personal property includes "1 kayak or canoe…1 hot-air balloon, 1 parachute". So avoid importing those multiple dirigibles.
Don't bother shopping round the Váci utca street traders for the best deal on souvenirs. There's a cartel redolent of past Socialist glories, and they all charge exactly the same.
Each Budapest district has one day in which everyone chucks out large junk for free browsing and selection by passers-by, like a Communist garage sale. Tourists can join in by barking their shins on the many pieces of broken furniture, which litter the streets.
Bring your own carrier to Hungarian supermarkets. Re-use of them is not just encouraged; it's compulsory, unless you fancy the charade version of "May I purchase a plastic bag please?"
Memorable Budapest attractions include the Hungarian Museum of Electrotechnics, with its famous collection of electricity meters, and the Capital Sewerage Works Museum.
Ten famous natural-born Hungarians: Bela Bartok, Cicciolina, Joe Eszterhas, Harry Houdini, Alexander Korda, Franz Liszt, Bela Lugosi, Emeric Pressburger, Joseph Pulitzer, Ferenc Puskas.