Postcards from California
Hollywood Boulevard
What are the rules governing who gets a star on the Hollywood Walk of Fame? Is it purely a commercial, pay-for-play decision, or are certain artistic considerations also taken into account? There were long stretches of sidewalk where I'd never heard of the people commemorated, though Chris assures me they are quite famous in America. This may explain why Paula Abdul has a star, yet neither Rutger Hauer nor Chow Yun-Fat does. But why was Big Bird's star all but destroyed? It's not because he isn't "real" (The Simpsons have a star nearby) – was he caught masturbating in a cinema or something?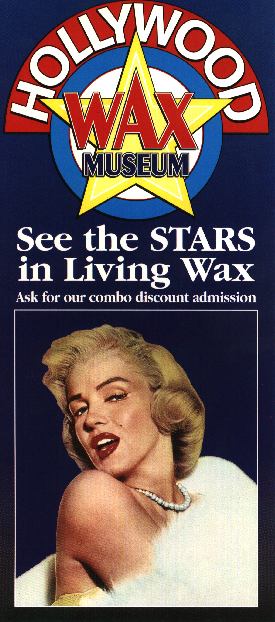 Highway 1
Heading North from LA, this road takes you along the coast, with any number of interesting little side-routes to pert down, and towns to explore (Ventura) or drive through at top speed (Oxnard). There is something intrinsically American about cruising down the freeway, the top of your convertible down, stereo pumping. There is something intrinsically British, however, about the scarlet red colour you turn by evening, because the cool breeze blowing through your hair makes you forget that the sun is bearing down as relentlessly as ever on your chalky-white European skin…
International House of Pancakes
Despite its name, this chain only appears to operate inside America. Go figure. It definitely appears to be a case of them keeping the best for themselves, and comes highly recommended to seekers of an artery-clogging breakfast experience. The pancakes are perhaps the highlight, but you can't ignore the omelettes, sausages, gravy or hash browns. The diet-conscious can opt for sugar-free maple syrup if they want – personally, I'll be forced to severely restrict visits when I move out there, or else it won't be long before I can no longer reach the keyboard.
The Olympics
The 18-hour time difference between LA and Sydney meant hardly anything was shown live, defusing much of the tension. Add in competition with the climax of the baseball season, and early NFL games (both going on here and now), and you had a struggle to overcome apathy. Still, none of this was going to stop a startling degree of favouritism being shown by the American commentators. I watched one 110m hurdles race which went from preview, through the event itself, to post-sprint interviews, without once mentioning the seven non-American competitors.
Baseball
Though I'm an Arizona Diamondbacks fan (as above – their stadium has not only a retractable roof, it also has air-conditioning), I enjoy watching it even as a neutral, hence the trip to see the LA Dodgers play San Diego. LA won 2-1 – if they had stopped San Diego from scoring altogether, every fan could have swapped their ticket for half a dozen donuts. Given the crowd (40,000 for a meaningless game between two out-of-contention sides), that's a lot of donuts. Still, they can afford it: the Dodgers pitcher that night, Kevin Brown, only plays one game in five, yet still makes $15 million a year. It works out at about four thousand bucks for every time he throws the ball.
Shirt shocks
One night, as we headed out for a drink, I wore a hockey jersey I picked up while visiting Montreal for FantAsia in 1998. The results were startling: inside twenty minutes, a guy driving on Sunset Boulevard had stopped to congratulate me on my choice of shirt; two complete strangers in the bar struck up conversation as a result of it, and drinks mysteriously appeared on our table from another, still unknown, source. Is there a tight-knit community of Canadians located in Southern California? While the attention was all entirely friendly, I was somewhat freaked out: leaving the pub, I took the shirt off and didn't wear it for the rest of the trip.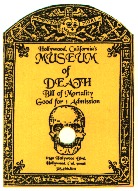 The Museum of Death
Despite the cheerful, tattooed attendant, this was an infinitely depressing place which proves, beyond all doubt, that no amount of cinematic violence will desensitise you to the real thing. I think the crime scene photos were the grimmest – the Black Dahlia pics probably surpassed the Manson ones, the only saving grace being that the former were in b&w. Possibly worse still was the Traces of Death video playing in one room, showing people leaping from burning buildings, and being hacked apart. Much-needed light relief came from the Dr. Jack Kevorkian gift-certificate, and the black humour with which the Heaven's Gate suicides were depicted. However, it was an undeniable relief to escape out into the bright light of a sunny September afternoon…