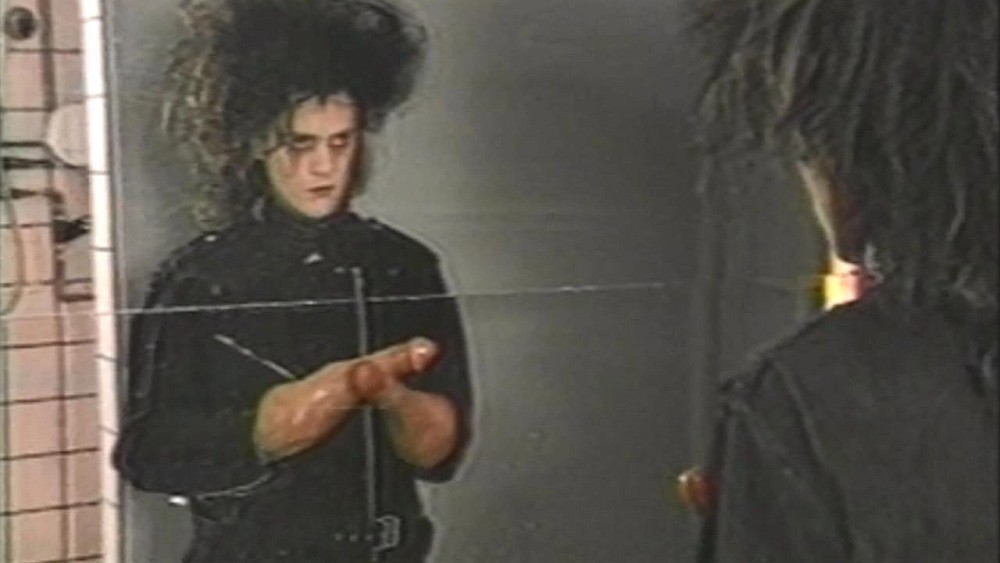 On the other hand… The Edward Penishands trilogy
Most porno rip-offs of Hollywood films usually have nothing to do with the movies they're based on, except for utilizing a humorous title (take CAPE REAR or MAD JACK: BEYOND THUNDERBONE for example) to link together a group of generic sex scenes. But Paul Norman's EDWARD PENISHANDS (and its two sequels) definitely proves to be the exception to this, as not only does it "generously borrow" the entire plot of EDWARD SCISSORHANDS, it's also one of the most perverse, twisted, and original porno films ever made.
EDWARD PENISHANDS opens with Patricia (Trinity Loren), a "door-to-door marital aid representative" (or in other words, a dildo saleswoman), going to a dilapidated castle and discovering a scared young man hiding from her. But Edward (Sikki Nixx) is not your normal lad, for he has penises for hands! Suddenly his 'hands' are feeling her up ("They have a mind of their own," he says) and Patricia eagerly takes them on, delivering a wild and demented sex scene. She decides to take Edward home, and this piques the interest of her neighbours, Margaret (Ashley Nicole) and Louise (Dominique Simone). In his new home, Ed finds a picture of Patricia's daughter, Susan (Jeanna Fine) and instantly falls in love with her.
Susan and her friend Karen (Jamie Lee) come home and decide to try out mom's vibrator samples, first on themselves, then on each other. Meanwhile, Edward is in the bathroom, staring at himself in the mirror and crying (he's having a flashback to when he was created. A woman is looking at a dildo and says "If only you were real"). Susan discovers him and freaks out, but Patricia intervenes and introduces their new houseguest to Susan and her husband Carl (Jon Dough). While attempting to eat chinese noodles at dinner, Ed is called disgusting by Susan and Carl suggest a career in proctology. Margaret and Louise arrive and have a three-way with Edward in the bathroom. Karen shows up looking for Susan (who's not there) so Patricia has sex with her on the kitchen table.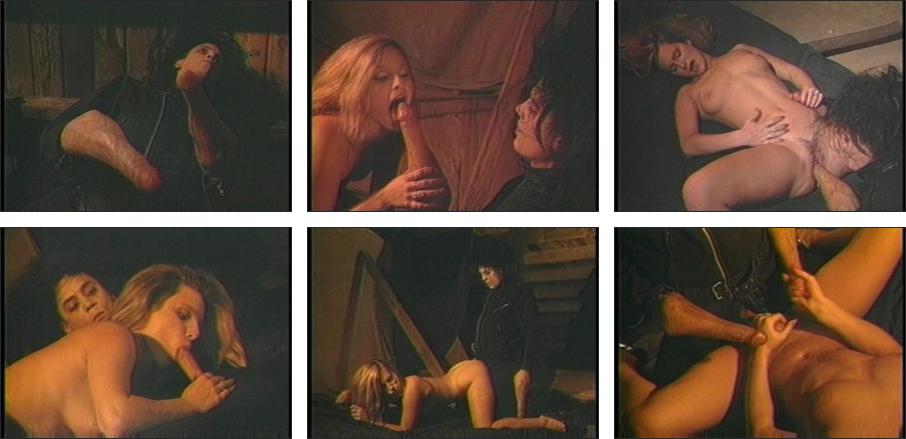 Edward is masturbating his hands over Susan's picture; she catches him in the act, and he runs away. Susan realises "Maybe he could be fun," and goes to him in his castle. She finds him and asks him to hold her. Ed's reply: "I can't. I'll squirt." But Susan hugs him anyway, and soon his hands are spraying like a fountain! In the film's funniest scene, Susan dances majestically under Edward's rain of semen (much like Winona Ryder's dance under the snow from SCISSORHANDS). Then they make love by the fireplace.
Paul Norman has created a near masterpiece of porn. The make-up FX (courtesy of Mark Garbarino) for Edward's penis hands is incredibly realistic, just as good as anything seen in a regular film. Sikki Nixx is the stand-out among the cast, bearing a minor resemblance to and possessing many of the mannerisms of Johnny Depp's Scissorhands character. Budgetary reasons obviously caused Norman to shoot this classic on video, which is a shame, since a movie of this calibre should've been shot on film.
The first instalment had to be re-edited with new footage featuring Trinity Loren, as underage porn princess Alexandria Quinn originally had the Patricia role. Loren actually makes a better mother than Quinn; she's older than a lot of the cast, while Quinn was younger than Jeanna Fine, who played her daughter! Because this new footage was shot some time after the original's release, Jamie Lee experienced a "second puberty"; she sports a new pair of siliconed tits in her lesbo scene with Loren, yet had her small, original pair during her liaison with Fine.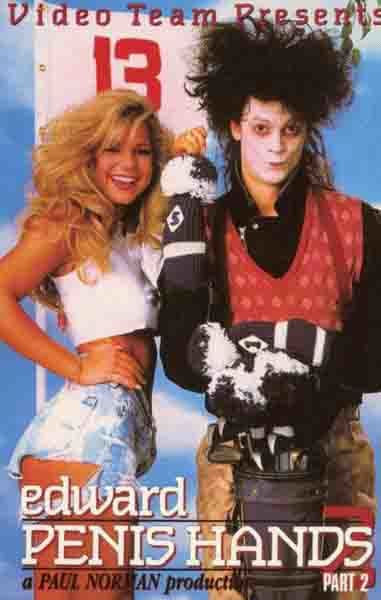 The second chapter picks up six months later after Susan has left Edward ("My mother says it'll only be a year" she says in a voice-over during the credits). He's sad and alone in his castle when Hollywood super-agent April Rayne arrives and promises to "make him a star". Rayne takes him back to her place to see if he's got what it takes (and he does, with all three of his appendages). A cover shot on PEEPLE magazine (proclaiming him as "America's Newest Sensation") profiles Ed's rise to fame. But one of April's other clients, Mercedez Lynn, is losing a lot of work to Edward, so she (and boyfriend Chris Stock) plot to get rid of him by "Showing him the other side of fame!" They arrange for Edward to visit Angela Summers and Jamie Lee, who practically rape him when he arrives and get him addicted to cocaine! Soon, Ed's a coke-head, missing all his acting jobs (DAILY VAPIETY reports "Edward Fired From Picture"), losing his recording contract, and spending all of his money. No one cares about him anymore as his penis hands have gone limp from all the coke he did!
So with no money and a promising career flushed down the toilet, Edward is forced to become a park trash picker, with the cleaning pole strapped to his right hand. After a gratuitous fuck between T.T. Boy and K.C. Williams, Ed returns home to his castle, limp and virtually useless. Then Susan's friend Madison (sporting a pierced tongue!) shows up and tells him "Susan can't see you like this when she gets back", so she manages to bring his hands to erection and fucks him.
PART 3, subtitled "THE NEXT GENERATION" (for no apparent reason other than to have a subtitle), takes place years later, with Edward (played by porn director Fred Lincoln) now old, gray, and limp. "Yes, I'm older" he says directly to the camera, "but I still have my memories", and the majority of this instalment tells of Ed's sexual adventures when he was younger (again played by Sikki Nixx). After brief flashbacks to the first two films, Edward begins remembering his old girlfriends, beginning with Linda (Monique Hall), who has sex with him on a pool table. Next up are Laura (Teri Diver) and Mara (Bionca Trump), two women who reject him and instead take on each other by the pool. Joanna (Samantha York) is some one who Ed lovingly remembers as "The first who could take all of me" as he delivers a double vaginal penetration to her.
The old Edward tells us that even though he had lots of women, he never found love (except for Susan) and that wherever he went, he saw people in love. Cut to Ed spying on Buck Adams and K.C. Williams screwing their brains out. In the end, Edward concludes that he may not have found love, but he has lots of great memories, and every time he "turns around, more. More. MORE!" he says as Jamie Lee and Madison (showing off her two new siliconed melons) shows up to bring his aged hands to erection. As he gives new meaning to the term "hand-job", Mona Lisa masturbates on a couch. Edward climaxes with a rain of jism shooting from his hands, as well as smoke and semen popping out of his ears!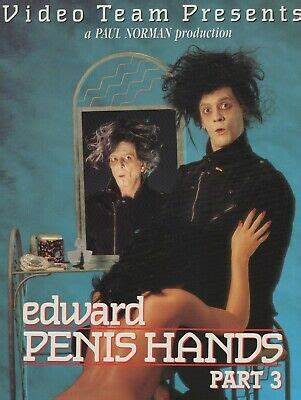 These two follow-ups to EDWARD PENISHANDS are inferior to the original, but are better than most of the smut being released today. When viewed together, the three films make up an erotic, entertaining, and original trilogy. PART 2 offers an interesting plot (the "rise to and fall from fame" is actually kind of sad!) and Norman has the balls to show drug use in a porno film. PART 3 is the weakest of the trilogy, falling to porn's conventions and is basically a plotless sexvid. There's only so much that can be done with this concept, and by the third film it's gotten stale. But it's not a total failure, Fred Lincoln's manic, demented performance as the old-and-gray Edward makes it worth seeing. Lincoln's obviously having a lot of fun with the role, and it shows in his wild performance and in the monologues he gives.
This series could not have been made without Paul Norman, porn's most original director. Before becoming such a creative force, Norman began his career directing gay porno movies, and encountered great success making the first bi-sexual video, THE BIG SWITCH. More success came with a series of lesbian films starring Raquel and Saber (such as LACE, LEATHER. and LEATHER AND LACE), and he also starred Tori Welles (whom he would later marry) in her first porno film. He began utilizing decent make-up FX and his films began to take on twisted and demented aspects, but most of all they were highly original. Some of his first bizarre films include THE OFFERING (about a woman with no vagina). JOINED (Saber and Raquel play siamese twins) and it's sequel, SEPARATED.
Being a director of gay and lesbian features came in handy when Norman did the 131 AND BEYOND series about hermaphrodites. Some of his recent achievements include CYRANO (three guesses…), HUNCHBACK OF NOTRE DAME (Buck Adams gives a great performance under layers of make-up), and a new series, D.P. MAN (about a man with two penises). Norman continues to alternate between regular porn vids and these original features. But despite being porn's most creative director, he's certainly not the "best". He's sort of like the "Paul Naschy of Porn"; though his heart's into it, the film execution sometimes leaves a bit to be desired. However, with time (and a decent budget), one day Paul Norman could very well be one of porn's greatest directors.