Help! I'm trapped in a snow-bound suburb of London, with a rapidly diminishing supply of Guinness and no crisps at all. Which is why I've lashed myself to the typewriter, in readiness to review this quarter's pile of 'zines, before using them to build a warming bonfire… Well, this was true when I started writing the piece, it's not quite accurate any longer: April 7th! This long time gap means a lot to get through, as a good number of 'zines have put out two issues – where this is true, there's a slash between the numbers.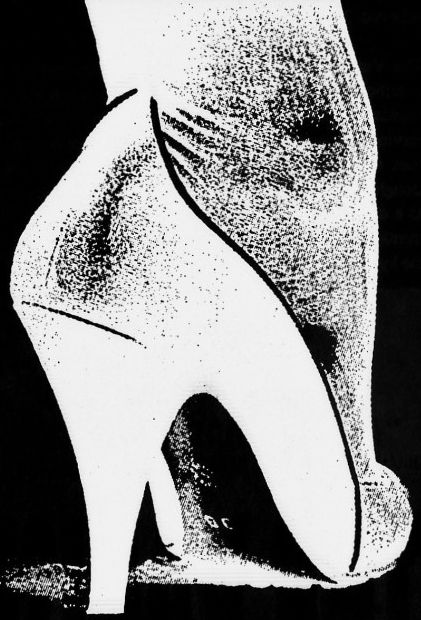 From a long time back we have Anti Clock Wise 9 (12 A4, 40p), probably the first politizine to be mentioned here. Flag-burning in the States, anti-Fascist action, football hooliganism: a pretty mixed bag as you can tell, generally anarchic in tone. Needless to say, I disagreed with a lot of it! Subterrene 3/4/5 (26,30,30 A4, 50p) is one of the most frequent 'zines I get; given this, the rough-hewn feel is to be expected, and in fact nicely fits most of the films reviewed – no 'Bambi' pieces here! No doubting Anthony's commitment to the genre, who else but a fan would list, and time, the differences between the 126- and 140-minute versions of 'Dawn of the Dead'? Dementia 13 No. 5/6 (52 A4 for 1.75 – lots of calorific value there!) is a fiction 'zine; I don't read much genre stuff, but most of this was interesting and challenging – perhaps a little too difficult occasionally, though I'm not really qualified to tell since the last book I bought was 'The Railway Children' (I'm not kidding!).
Even thicker is Factsheet Five 40/41 (136/104 A4ish, $7 inc p&p), and the price reflects this and postage costs – if you're in no hurry you can get a surface mail version for $4. Alternatively, get in touch with me, as Tower Records here in London stock it and I'll happily buy copies for you if I can; it'll be about £2 or so. Anyway, it's a monumental listing of every 'zine, comic and tape the editor gets sent (and that's a lot – 1000+ I'd guess), from porno comics to earnest, political theory magazines all with capsule reviews. An awesome amount of work goes into this, and it shows. The same is true of Little Shop of Horrors 10/11 (double issue, 172 A4, £6.95) – with my usual chauvinism, I think most 'zines I trade with are getting the better side of the deal, but this is quite the opposite and at the moment I feel very guilty about trading for it. It's not a 'zine about Hammer, it's a book with more information about the company than anything else I've ever read. Fortunately (for my guilt complex) it's irregularly published (No.9 appeared in 1986), but it'll take me about five more years to read it all!
Slipping out into left field, away from the horror scene, we find Mektek 4 (60 A5, 1.50), a glossy little number, mainly about Battle Suit Warfare (seems to be part wargame, part role-playing). I found those bits incomprehensible (but intriguing), and took refuge in the other sections: manga and anime reviews and a handy review of the Panasonic NVL 28B, a video capable of playing unconverted NTSC format videos. Also in the same area (at least, in the box marked "Miscellaneous") is Green Goblin 15 (48 A5 including the subzine, 50p). Mostly SF-ish though like TC, the editor is willing to write about what he damn well pleases – everything from music to books to computers – which makes for a pleasant ambience since the areas of interest are similar to mine, even if the specifics aren't.
Arglebargle 23 (36 A5, 70p) is in the same vein, though with slightly less chat and more postal games instead: I was impressed with the rules for one called 'International Terrorism', which I'll probably try to take part in. I'll let you know how I get on! Sliding gently back towards the horror genre, on the way we see Rattler's Tale 10/11 (40 A5, 1.00?), a green horror 'zine? Odd combination, you might think – it's a mix of ecology, the paranormal and short horror/mystery fiction, favouring bite-size chunks rather than hefty articles. Again, while I might disagree with much of it, I still find it interesting stuff.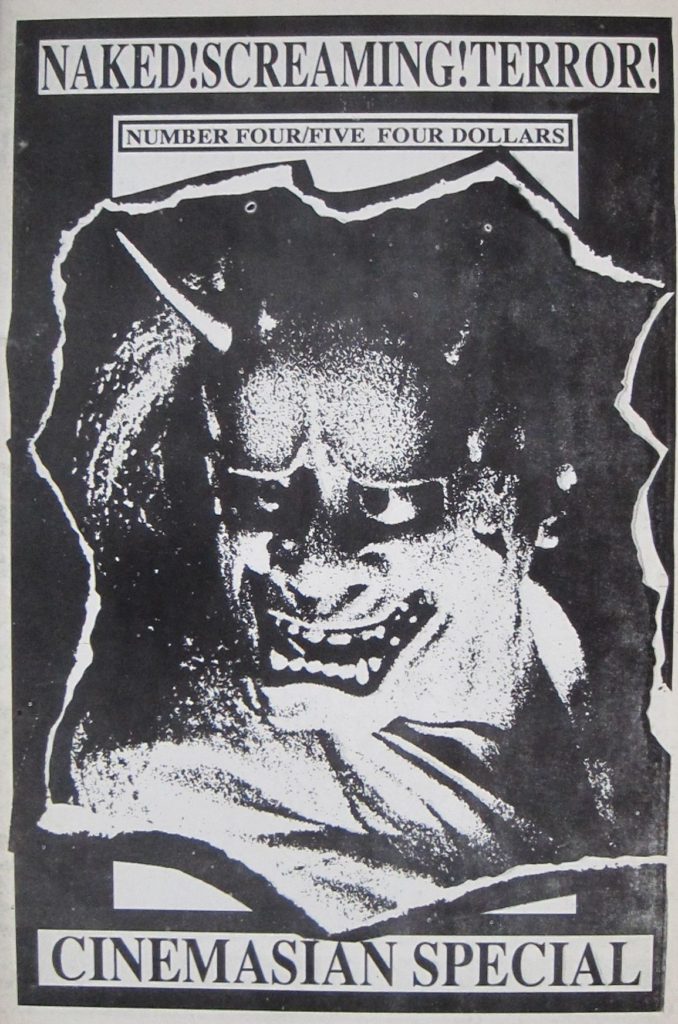 Most essential US 'zine comes from Tim Paxton, who has produced that rare beast, a 'zine likely to be of lasting use. Naked!Screaming!Terror! 4/5 (double issue, 48 A5, $4 + p&p) contains reviews and ratings of about 150 Oriental horror/action movies, from 'A Better Tomorrow' to 'Zu Warriors' plus some truly bizarre stuff in between. A definite must-have for anyone interested in the genre. He also publishes Monster 45-49 (variable, normally 8 A5, $1?) which reviews only monster movies, though his definition is wide enough to take in more than Godzilla and Frankenstein. Scareaphanalia 96-99 (8 A5,$1) heads smoothly on towards its century with more literate, intelligent reviews of films that won't arrive here for ages yet (though oddly 'Warlock' is only just out in the States – the death of New World Pictures strikes again!). The new Stephen King adaption, 'Misery', gets the front cover this time.
ETC Vol.2 No.1 (I think: the inside says "welcome to the first issue" so you pays your $3 [+ p&p] and takes your 32 A5 pages) is devoted to European Trash Cinema: Fulci, d'Amato, Almodovar, etc. And while I might quibble about the subject matter (though I admire the effort in a Joe d'Amato filmography, the point eludes me!), the writing is lucid, there's a good range of contributors and it's very professionally done. Gore Gazette 103 (9 A4, $2) celebrates ten years in business by devoting room to the delightful tale of how the Rev.Rick Sullivan got to meet Pres.George Bush, which just about nails the claims-to-fame game played in the letter column here on occasion. Oh, and some film reviews too, naturally. To finish off the foreign 'zines section, we have Black 5 (according to the cover it's #7, in any case, it's 20 A4, $6/four issues). Mikael reckons I'm "possessed by" Nastassja Kinski: does he mean "obsessed by", or does he know something…? Lots of reviews, music, comics and an interesting bit about a trip to Denmark, all written in English, or a close relation thereof!
Strange Adventures 23-27 (20-24 A4, 90p-£1) continues to publish issues at a rapid rate. Guess there's nothing else to do on the Isle of Wight! If it happens in the fantasy genre, there's a good chance it'll be reviewed in this 'zine, which retains it's friendly atmosphere. From Beyond 2 (28 A4, 50p) is a new one on me, with a striking cover of Leatherface. An all review 'zine, be interesting to see whether it'll find a niche to live in and what personality it'll develop: such things take time. Personality is something Headcheese and Chainsaws 6 (20 A5, 70p+SAE) certainly possesses in abundance. Also, a Peter Atkins interview, an article on telling the difference between original tapes and copies, reviews of films, book, comics and a bizarre Christmassy comic strip. "Bah, humbug" seems to be the message. Creeping Unknown 16 (36 A5, 95p) virtually avoids mentioning the subject of Xmas altogether preferring, understandably, to concentrate on film & festival reviews, a major (and informative) piece on 'Revenge of Billy the Kid' and four pages of weirdness from Lino, who seems to be under the impression that I have a thing about 'Gwendoline'. Well, only when it's Winona Ryder's night off… 17 is also out, but has yet to be unpacked so I can't give details, but it was certainly as good as ever.
TC9's most essential UK zine is Anime UK 3/4 (24 A4, £6/6 issues, no samples): at last someone is providing news, reviews and information for us fans of Japanese animation, and is doing a good job of it too. It looks pretty good, too, especially #4. Own-up time: the Midnight in Hell reviewed in TC8 was issue 4, not 5. This was brought home by the real arrival of issue 5 (20 A4, œ1), including an interview with Nick Park – with neat timing, it arrived in my hands the day Mr.Park was awarded his Oscar for best animation! Nora K 3 (44 A5, œ1.50) has arrived; that's no misprint as the title's changed from Norma K. The subject matter is the same: Traci Lords, both her recent mainstream pictures and the other ones, which of course I know nothing about – Steve makes even them sound interesting. A labour of lust?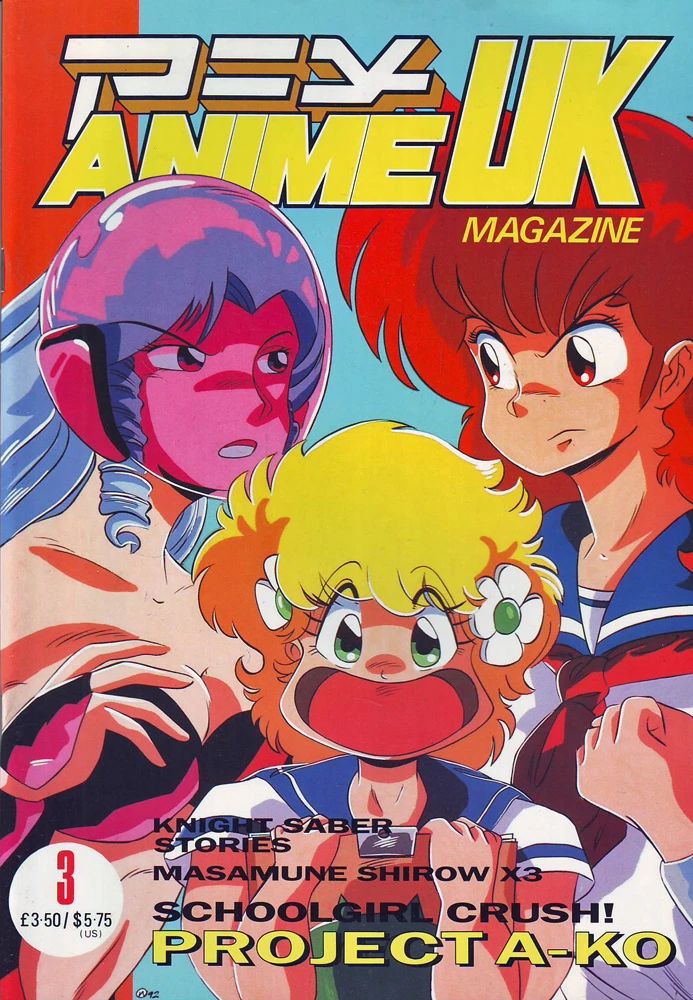 And finally, Samhain. Last time out, I slagged them off something rotten so a sense of fairness forces me to admit that their latest issues are an awful lot better (for some strange reason, I wasn't sent a freebie copy as normal!) . Rather than writing about films that have been done to death in the mainstream press (like 'Flatliners'), this issue concentrates on movies that you won't read much about in Q/Empire/Sky. The result is much more interesting, and it does suggest that the preceding issue was an aberration (I stand by my review – it didn't get any better on rereading) rather than a change in direction.
Anime UK – Helen McCarthy, 147 Francis Road, Leyton, London E10 6NT.
Anti Clock Wise – PO Box 175, Liverpool, L69 8DX.
Black – Mikael Bomark, Aspv.28, 14141 Huddinge, Sweden.
Creeping Unknown – Nick Cairns, 33 Maltby Road, Mansfield, Notts, NG18 3BN.
Dementia 13 – Pam Creais, 17 Pinewood Avenue, Sidcup, Kent, DA15 8BB.
Factsheet Five – Mike Gunderloy, 6 Arizona Ave, Rensellaer, NY 12144-4502, USA.
From Beyond – G.W.Sherratt, 'Brimstree', 1 Greenway, Ashbourne, Derbyshire, DE6 1EF.
Gore Gazette – c/o Sullivan, 469 Hazel St, Clifton, N.J. 07011, USA.
Green Goblin – John Breakwell, 170 Caversham Road, Reading, Berkshire, RG1 8AZ.
Headcheese & Chainsaws – Rob Bewick, 33 Ernwill Ave, Castletown, Sunderland, SR5 3EB.
Little Shop of Horrors – Dick Klemensen, PO Box 3107, Des Moines, Iowa 50316, USA.
Mektek – Ashley Watkins, 62 May Rd, Brighton, E.Sussex, BN2 3EB.
Midnight in Hell – The Cottage, Smithy Brae, Kilmalcolm, Renfrewshire, PA13 4EN.
N!S!T + Monster – Kronos Productions, MPO Box 67, Oberlin, Ohio 44074-0067, USA.
Nora K – Steve Rag, 118 High Street, Eastleigh, Hants, S05 5LR.
Rattler's Tale – Anthony North Enterprises, BCM Keyhole, London, WC1N 3XX.
Samhain – John Gullidge, 19 Elm Grove Road, Topsham, Exeter, Devon, EX3 0EQ.
Scareaphanalia – Michael Gingold, 55 Nordica Drive, Croton-on-Hudson, NY 10520, USA.
Strange Adventures – Tony Lee, 13 Hazely Combe, Arreton, Isle of Wight, PO30 3AJ.
Subterrene – Anthony Cawood, 6 Daleside Avenue, Pudsey, Leeds, LS28 8HD.