San Futuro Chronicles – Sex & Comics
Initial Waffle
Beyond the realms of superheroes and supervillains, comics contain many interesting corners. Providing more adult entertainment, sex often plays a role (although, it must be admitted, it also plays a role in some of the less mature "for mature readers" titles)… and a very pleasant one at that.Personally, I find two things can make sex in comics particularly interesting to me: the at and the characters involved.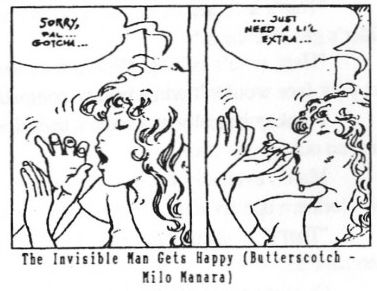 Art-wise, the (Continental) Europeans seem to win hands down – the British & the Americans are seemingly too set in the D.C./Marvel/D.C. Thompson school(s) of comic-art to allow truly beautiful pen & ink work (like that of Milo Manara or Guido Crepax) into their titles, then again, maybe it's the content that we & the Americans find difficult to cope with… look in any comic shop (or even any newsagent) and you'll find plenty of violent/funny comic titles there, but the nearest you'll find to sex & comics is the odd strip in a top-shelf mag.
In fact, in general the chance of the British readers out there finding many of the titles reviewed below (even in specialist comic shops) are minimal.
Yes… last year wasn't just a year for clampdowns on videos, the comics shops got hit too. Comics were seized in police raids on places like Nostalgia & Comics in Birmingham & Fantasy Inn in London – and this was on top of shipments of comics being seized by H.M. Customs. Unfortunately, seizure by H.M.C.6, E. has a nasty side-effect – if one "obscene" comic is spotted in a shipment, the whole shipment gets seized and no retailer wants to end up lumbered with 200 copies of last months "X-Men" six-months++ down the line when they finally release them back to the importers… hence the importers got scared and all the extremely-pleasant-but-vaguely-dodgy titles disappeared from the shelves. Another worrying fact is that Customs seem to catch the "liberal" titles but allow bigoted crap out freely. How come comics in sealed bags on the top-shelf in a shop are judged as being "freely available to minors" – it's embarrassing enough reaching for the top-shelf at 24, never mind the added problem of "What-if-they-don't-believe-I'm-old-enough-to-buy-it". Anyway, enough idle waffle on the desperate state of our "liberal", "democratic" country and back to the idle waffle on Sex & Comics…

Character-wise, I probably find Anglo-American comics better – whether this has to do with cultural background I dunno. Best of the lot for characters are Love & Rockets (where sex features regularly, but is definitely not the staple content) and Omaha the Cat Dancer (where sex occurs every half dozen pages or so, and the characters are all cute animals with reasonably human bodies).
The Vaguely Informative Stuff
Eleuteri Serpieri
As far as I've seen, the main Serpieri stuff about is Morbus Gravis – a fun tale set in your average post-holocaust world with a plague turning folks into mutants. Asa sucker for "the world's going down the drain & look where it might end" plots, that's great by me, but the main attraction of this particular tale is it's star – Druuna. Druuna is beautiful continental (i.e. French/Spanish style European) nymphette in an ugly run-down world. I like Morbus Gravis a lot, but wish that the remaining parts of Druuna's tale would appear over here in an understandable form. Morbus Gravis I is out as a Catalan Communications paper-back; book two is available as a French hardback book or in the Spring 1988 issue of Heavy Metal; book three is meant to be out on the continent, but no sign yet in the UK. However, a French hardback Serpieri sketchbook entitled OBSESSION –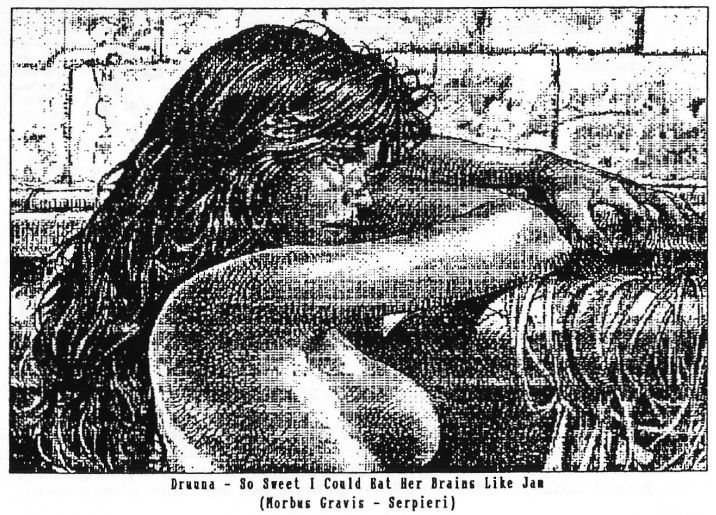 A is recherche de Druuna was published last November and was in Forbidden Planet (London) for 4.95. Its full of gorgeous (if a mite sexist) pictures of Druuna and this is currently making the wait for book III bearable. The only other Serpieri I've seen was in the Summer 1988 Heavy Metal: a pen & ink tale of weirdness in the Wild West; another Druuna tale also featured in that issue, by Sicomoro it shows what happened to Druuna after Morbus Gravis… no sex in either of those bits though.
Guido Crepax
As far as I've seen, Crepax's specialty is pen & ink work which is incredibly detailed (taken to the individual pubic hair level!!). His women are very much the "Vogue model" type (tall, thin, not overly well endowed up-top), and are most definitely sexually liberated… In 1965 in the Italian comic "Linus", Crepax started one of the first erotic series in comics – Valentina. Unfortunately, there isn't much sign at all of this work being available in this country beyond the Fall 1988 issue of Heavy Metal (which features a Valentina Rediscovered tale giving no Valentina 23 years on).
Similarly, the Crepax adaptations of erotic literature (such as tales by De Sade & "The Story Of O" seem to be basically unavailable to the British reader. In fact, all that I've seen around is Emmanuelle 1 (published in New York on the Eurotica imprint, after being turned down by some 30 other US printers!!) which gives us an adaptation of the original Emmanuelle book (or at least the first part of it). In here, we have sex on planes, shower scenes, female masturbation, assorted sexual positions, tennis matches followed by sweaty lesbian lust, weirdly symbolic pictures of Emmanuelle entwined with snakes & other wildlife and assorted piccies of Concorde looking particularly thrusting.
Milo Manara
As I mentioned above, Manara's art is beautiful. His stories are generally fairly laid back affairs, bits of action to keep the scene changing, but the main purpose of the tale is purely to tie in the artwork. Most of the available stuff is in Catalan paperbacks – but here & there, copies of Butterscotch in "proper" comic format have been spotted (published by Eros comics).
The "available" Manara that I've spotted is: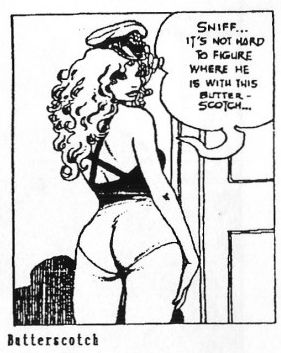 Butterscotch
This is most definitely a sex comic. A scientist invents a cream that allows him to become invisible… unfortunately it leaves a tell-tale smell of butterscotch in the air. Our heroine, "Honey", finds his in the room of Beatrice D'Altavilla, a prima ballerina and a complete bitch. Not being able to have his clothes invisible, "Butterscotch" is nude & Honey soon gets his "sitting up & barking" (accidentally of course). Scenes follow of Honey trying to convince Bea of Butterscotch's existence… culminating in the marvellous sight of the invisible man getting a blow-job. And there ends the first of the comic-books.
The Adventures of Guiseppe Bergman (Dies Irae, Great Adventure, Perchance to Dream)
Three books based around "Guiseppe Bergman", and his employment by H.P. (supposedly inspired by Hugo Pratt) as a "hero". G.B. then gets to spend the three books wandering around doing his damnedest to be a hero and ending up in (very) unlikely situations. Not too much sex in here, but very nice when present.
Trip to Tulum
Based on a film idea by Federico Fellini, and therefore pretty weird. Trip is being serialised in the back of the Butterscotch comics, but is also available in a separate Catalan paperback and an Italian hardback – the paperback version includes an assortment of waffle by F.F., plus some other strips & piccies by M.M. Weird people, nude swimming & battling witches. It's odd. Enjoyable. But Odd.
Hidden Camera
Honey (the heroine of Butterscotch) is working with a camera-crew on a voyeuristic version of Candid Camera (which was actually the original Italian title for this book)… So, in here we have: backstage at a beauty contest; sadomasochism in the suburbs; public reaction to green three-breasted alien women; and a wacko priest attempting to exorcise a "witch"… somehow nudity creeps into all this lot and Manara's art is every bit as marvellous as ever. Sex-wise, I guess only the S&M sequence counts, but so what.
There are three other books of Manara's work that I've seen out (Shorts, Click!, and The Ape) but unfortunately I've yet to get them… Of the three I believe Shorts & Click! contain a plentiful supply of nudity, and regular doses of sex, and I think The Ape is basically sex free… mebbe I'll get to read them before next time, and I'll let you know then.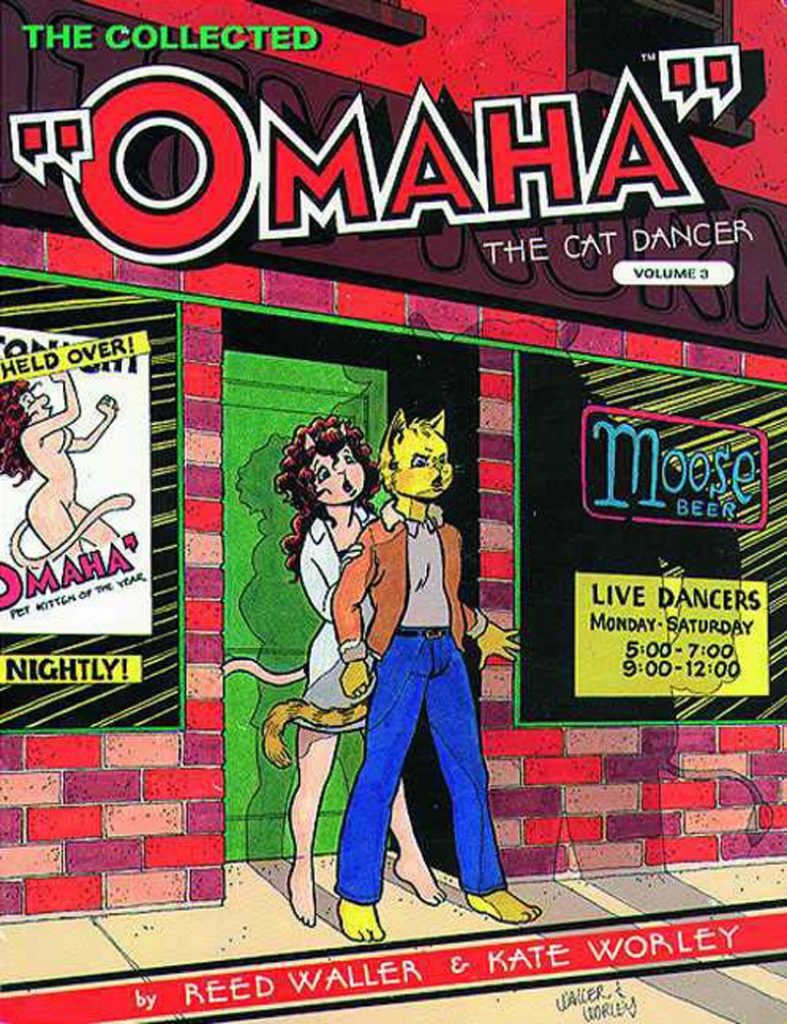 Reed Waller & Kate Worley – Omaha The Cat Dancer
Here we have the cute-animal sex. What can be said… it's an everyday tale of humans with animal-heads'n'tails. Omaha, the heroine, is an "exotic dancer" (i.e. stripper) and Chuck is the nearest thing we have to a hero. He's heir to a fortune, and falls for Omaha. Cue mayhem as the system tries to ruin their romance. It's a fairly "open" relationship… threesomes etc. are fairly natural in this (if cute-animal sex can ever be "natural"). Then there're Omaha's friends & their relationships. Yeah, a loada screwing but I still find the characters (& the story) interesting too. Sex-wise there's probably something for everyone: straight male/female cute-animal sex; male/Male homosexual cute-animal sex… etc. There are three collections of Omaha out, plus the actual comic books. This is definitely one of the more generally available items (give or take the issues that Customs got their grubby paws on).
Heavy Metal
I'll mention this on its own, as it has featured a fair amount of work by the folks mentioned above. It's included… Druuna (Serpieri), Valentina (Crepax), stories by Manara, and plenty of other fantasy tales (in the best possible meaning of fantasy). Heavy Metal began life as the American counterpart to the French Metal Hurlant: – a showcase comic for European strips. These days Metal Hurlant has passed on, but Heavy Metal survives. The covers are always stunning (postcards of some of the Olivia covers are available) and the majority of the content is usually worth a read (some of the content is certainly not my cup of tea, but there's usually sufficient content to make it worth a couple of quid). General format these days appears to be one large strip (about 40 pages or so) plus an assortment of smaller ones. (As examples of the longer strips, consider Serpieri's Morbus Gravis II & Mills & Bisley's Slaine & The Horned God I. Like I said… usually worth a look. P.S. It's bimonthly!!
Hmmm… bad news here. It's the old ten lines to the end of page 4 problem. Time for a very quick list or two here then…
Other good sex comics: Little Ego (Giardino); The Survivor (Gillon); Liaisons Delicieuses (Forg); Precious Metal (Arts Industria).
Current Comics Scene: Toxic; Starsstruck – The Expanding Universe; Dark Horse -Fifth Anniversary Special; Airwaves; Nature Of The Beast
Back Issue Frenzy: Grendel; God's Hammer; Rust