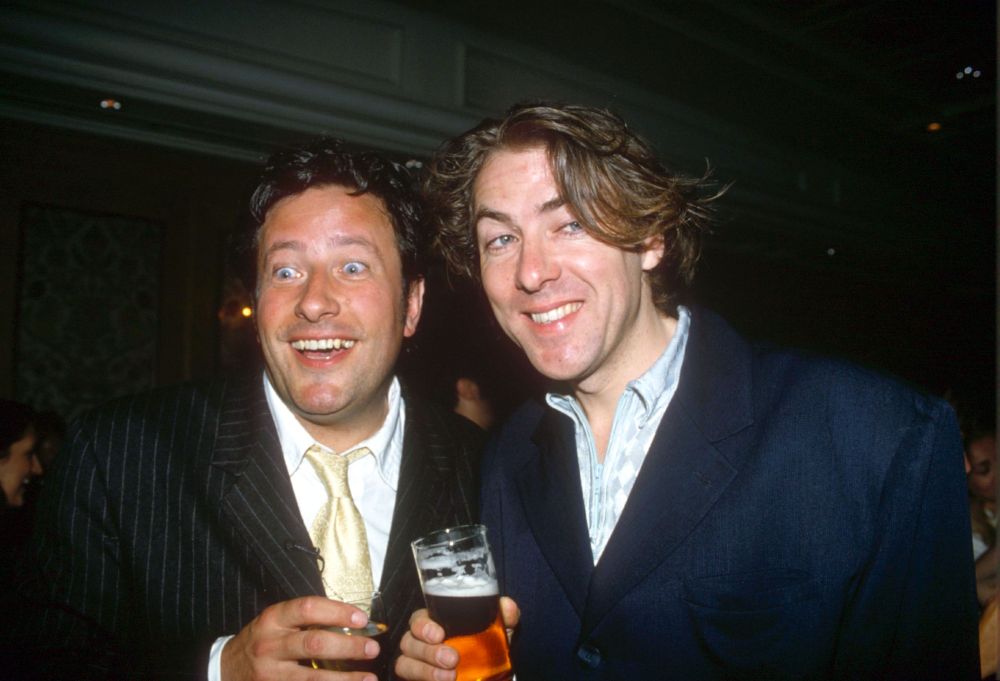 Trash TV: The Unsung Genius of Rowland Rivron
Most people at sometime or other will have come across some obscure item which they feel they have discovered. They will then expose their friends to it, in the hope that they will acquire the same devotion for the subject as themselves. In this way, a cult following is eventually built up around it. One of three things can then happen: it can fade into obscurity, sustain it's cult/underground following or, worst of all, become popular! In the last case, it doesn't matter whether it gains it's success from selling out or not, to a cultist his 'find' will no longer be what it was and he will abandon it to the masses.
And so to Rowland Rivron, a man of extreme greatness who has appeared in some of the best trash television ever, and has a dedicated cult following. Unless I've missed anything (in which case – bother!), he's been quiet (very quiet) of late; except for his small but beautifully formed appearance in one of the recent re-runs of 'The Young Ones' he hasn't been on the box since his series 'Rivron' finished around May. Is it obscurity for the man of gin? I think (and bloody hope) not. What follows is how I became acquainted with RR, and his career as I know it.
We start on a Saturday morning, some two & a bit years ago, at around 1.00 am. I stagger home to my parents' house after a heavy session. I scale the stairs to my room and unearth a four-pack from the cupboard. I then rewind the tape that's waiting in the video : that night's episode of 'The Last Resort'. I lie back on my bed, start the four pack and begin to enjoy the show. It's not long before my first encounter with the man himself, in his legendary first appearance as Dr. Martin Scrote and his awe-inspiring "Bag o' fun" from which he produces various human organs and gives alternative suggestions for their use.
The next day I ask my mates if they saw this joker called Dr. Scrote on "The Last Resort" but they hadn't. A quick visit to my house rectified the situation and after a screening, some were impressed while others weren't. I couldn't get enough and on Fridays, I'd eagerly return from the pub in the hope that he would appear on the show. He often did, and those episodes I remember most fondly are: him trying to stop cars for an interview by standing in the middle of a busy road (but to no avail); one where he has invented a safety device to stop you from being beaten up or falling over when you're down the pub – it was in fact a large cardboard box; one where he described the benefits of swimming pools for pregnant women, including his pregnancy surf-board and one from the London Palladium where Harry Dean Stanton, upon seeing Dr Scrote dressed as a clown and stuck in a trap door in the middle of the stage, said "Who the fuck's that chap?". Nice one, Harry. Best of all, however, was the show broadcast from somebody's house in which he handed out tips on safety in the kitchen, during which he is stabbed and set on fire.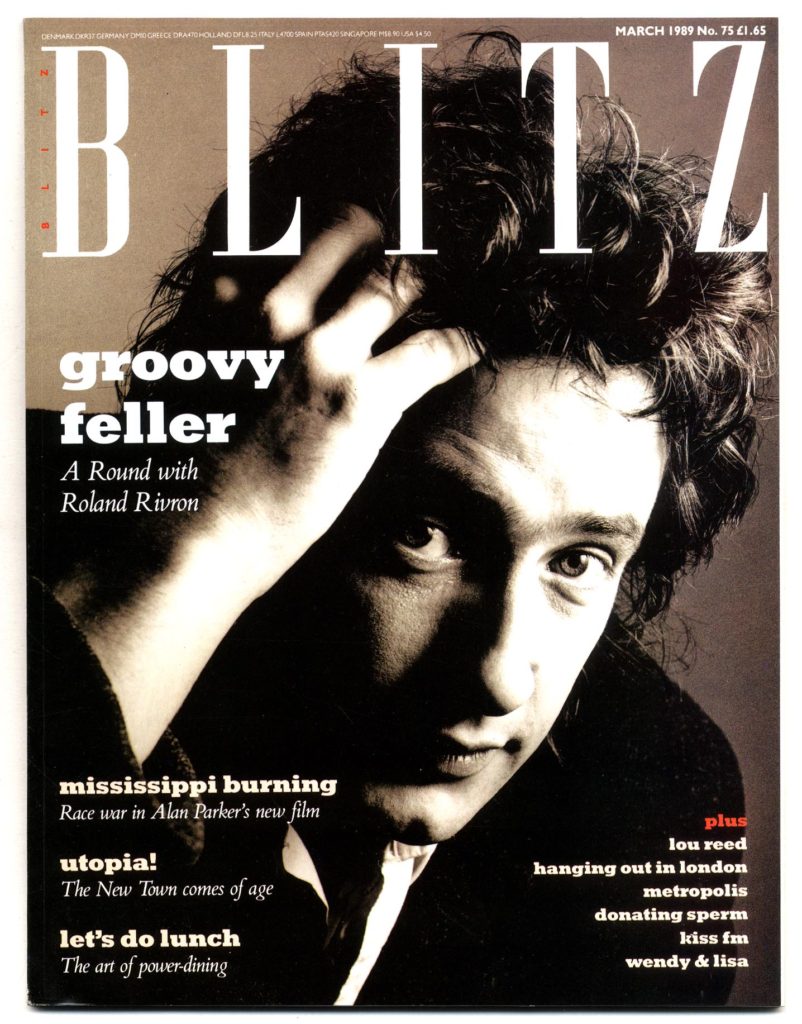 Aware of him at this time only in his Dr Scrote incarnation, I nearly gave both my parents a heart attack when I cried out "IT'S HIM!" upon seeing him on 'French & Saunders" one night. He appeared as Dwayne Bishop, drummer of a two-piece band called 'Raw Sex'. As I was to later learn, it was with Raw Sex that Rivron had started his career, touring with the likes of French & Saunders and Nigel Planer. In fact, he and his Raw Sex partner, Simon Brint, had been knocking out quite a few TV signature tunes including the aforementioned F & S, "London's Burning" and most of "The Comic Strip Presents".
But then in August '88, it was college for me. There I met a guy who shared my interest in Dr. Scrote and one night while he was watching "Night Network", they had a trailer for the following night, which included the start of "The Bunker Show". So we sat through 'Video Vote', etc until the magic moment. It's arrival was not disappointing – it must rank in the top three all time greatest TV programmes.
"The Bunker Show" is a chat show where RR is the host, conducting an interview with a guest celebrity down in a bunker after the bomb has gone off. During it, much alcohol (and on one occasion, meths!) is drunk, mostly by RR, and a vast amount of gibberish is talked, never more so than on the first show. In this incredible moment of television history, Danny Peacock discusses with RR such things as why Norman Wisdom wasn't in "Ghandi", the motorbike stunt cut from the same film (and how the bike was smuggled into the country in a turban), how to annoy Michael Caine by beating him at pool, what happened to the original UB40 before the likes of Mick Jagger & The Beatles left and Danny's first sexual experience with a girl called Cathy while she was unconscious after being hit on the back of the head by an apple that he had thrown! A well dodgy confession.
The rest of the shows featured Freddie Starr, Derek Jameson, the lead singer of Fairground Attraction, Spike Milligan and Cleo Rocos. Whilst none were as funny as the first, the final one of these was particularly funny, ending with Rowland posing the offer "I'll give you a quid if you show me your gusset!!".
It wasn't until this show that I became aware that Rowland Rivron was my idol's name, and the man's greatness was to be confirmed one night during a screening of the all-time-greatest-no-discussion-on-this-matter-thank-you-very-much programme ever made, "Mr Jolly Lives Next Door". Up flashes the credit, "Written by Rik Mayall Ade Edmondson & Rowland Rivron". If you haven't seen this classic Comic Strip episode, then consider your life meaningless and hope, no, pray that Channel 4 repeat it soon. If I ever see a programme funnier than this, I fear my head will fall off.
It wasn't long after "The Bunker Show had finished" before Rowland had a new show on the telly, Again, it was a winner, the likes of which had never been seen before. 'Groovy Fellers' starts with Jools Holland and Tom, the cameraman, standing in a pub waiting for something to happen so they can make a documentary around it, when in walks a naked man who it transpires is The Martian (RR). For the next six weeks, they drive around the country in a Rolls explaining to the Martian what we Earth people do.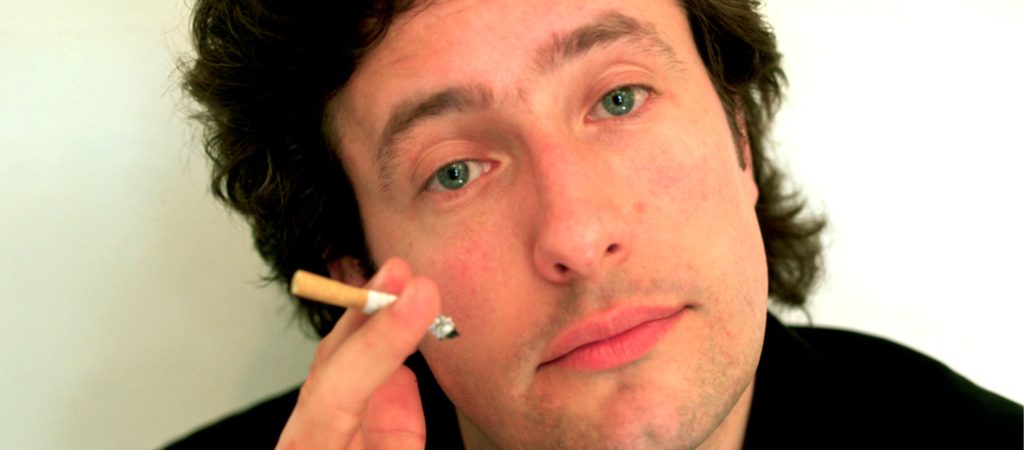 Largely improvised, it makes for a very odd piece of TV – there were four incredible highlights to the series : i) In the second episode, they visit the house of Dave Sullivan where RR, indulges in a spot of skinny-dipping with a couple of the "Sunday Sport" girls. ii) In the fourth programme, they go to a night-club in Deptford where RR ends up very well-oiled, starts kissing everyone (male AND female), gets in a fight, falls down a flight of very steep stairs, and ends up in the ladies toilet where he revels in a spot of "wrestling toilet women". iii) The 5th episode has an excellent birth by Caesarian section but best of all iv) The part in programme 3 where they drop in on an upper-class dinner party. During the dinner, RR again gets canned but the funniest aspect is a bird in her forties who is constantly trying to chat him up. You begin to squirm in your seat at the come-ons she gives him!
Again, after 'Groovy Fellers' had finished it wasn't long before he had another new series. Going under the name of 'Rivron', it was simply 'The Bunker Show' relocated IN the Thames. Originally made for 'Night Network', when that ceased to be, Channel 4 came to the rescue and put them out as programmes in their own right. It was from this show that his romance with that talented girl [ and well known antithesis of everything bimbo-ish ] Wendy James sprung.
The show was certainly 'wacky', and RR is in great form. However, it lacks the alcohol content of 'The Bunker Show' and after a while, the novelty of them being in the river wears off. The best show is the one with Tony Blackburn, in which RR subtly takes the piss out of him.
But what's happened to him since? Maybe he was working on his relationship, but seeing how he's now split up with that talentless bimbo [You don't mean Wendy??], he'll maybe be making a return to the telly. He's meant to have written a series about Dr. Scrote and his five brother who are a boxer, a tramp, a farmer, etc. Whether this has been made or ever will be, I don't know. I guess I'll just have to "keep 'em peeled"…
**** 6. "While everybody else is opening up their presents, they're opening up their wrists."
**** 7. "Couldn't enjoy it any more, Mum. Mmmm-mm-mmmmm."