Start off with a story I read, but unfortunately didn't clip. The rough details concerned a teenaged boy with a personality disorder which caused him to have periodic fits of depression. During one of these, he tried to commit suicide by shooting himself in the head with a gun – he didn't kill himself but the bullet destroyed the area of brain responsible for his illness. He's now leading a normal and happy life.
Technological cock-up of 1989, according to the Weekly World News – a computer that was supposed to issue fines for traffic citations went haywire and charged 41,000 people with murder, extortion and organised prostitution, reported police in Paris.
HUMAN BRAIN TRANSPLANTED INTO CHIMP – A team of surgeons at Humbolt University Medical Centre in East Berlin removed the brain of a clinically dead teenage boy and placed it into the skull of an adult female chimp. "To our great surprise, the chimp is not only alive…but she is already trying to talk like a human". Apart from sounding not dissimilar to "Bad Taste", the question uppermost in my mind is 'which member of parliament got the chimp's one?'
CYCLOPS SKULL FOUND – Japanese scientists claim to have found the skull of a Cyclops on an island in the South Pacific and there is evidence to suggest it didn't die until WW II. This is accompanied by a photo of it, which I showed to a zoologist friend of mine – he thought it was probably two skulls cut and joined together, the lower half of a 'normal' skull with the upper half being another skull rotated so that the hole where the spinal column entered became the 'eye'. Ingenious, huh? Though what a Cyclops was doing on a Pacific island is uncertain.
DINOSAUR WIPES OUT AFRICAN VILLAGE – The WWN works on the principle of if you can't get a picture, draw it; the picture on the next page demonstrates this technique in action. The story tells how the village of Mokokou, in the north-east of the Congo, was almost wiped out by a creature that left foot-prints measuring nearly 12 feet across and 'bigger than 10 elephants'. 175 people were slaughtered by the beast, according to a radio ham who'd just returned from the area. Meanwhile, whatever size feet the creature depicted might have, they certainly are nowhere near twelve foot across (unless the people fighting it are forty foot high or thereabouts – could this be a future story in the making? ) and the dinosaur itself looks very like a brontosaurus, or similar VEGETARIAN dinosaur, admittedly with a malevolent sneer on it's face. The editor clearly chose the other accompanying picture (not shown ) at random from a box marked 'African Natives' as the background is desert, rather than the swamplands where this creature is said to live. Jeez, I don't mind them making stories up – a little more consistency wouldn't go amiss.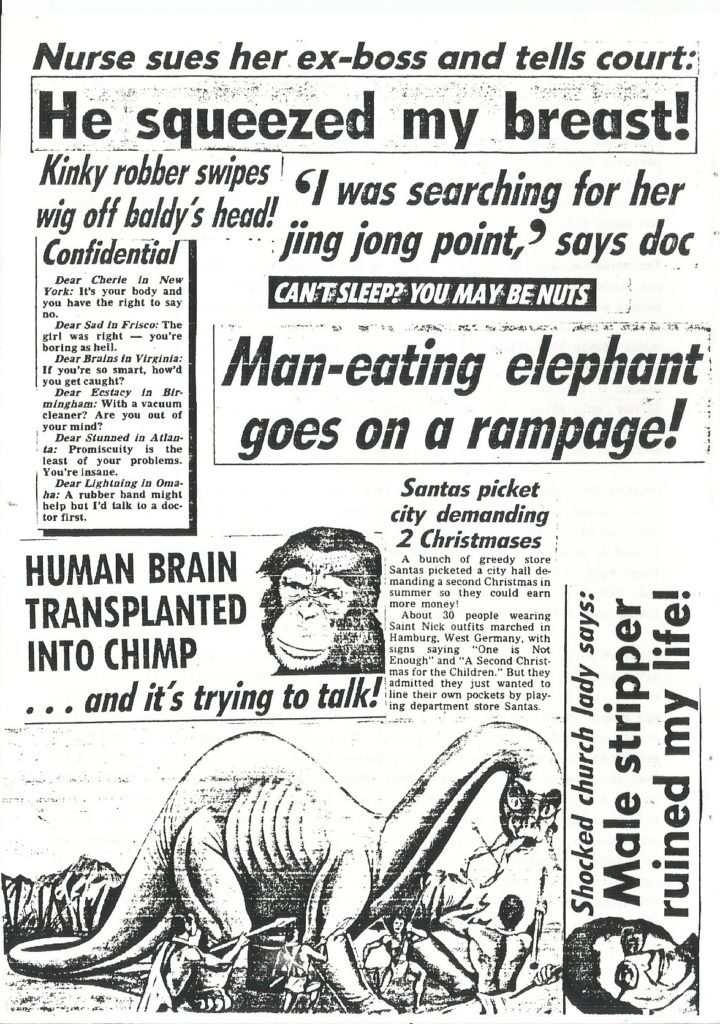 More evidence that drug-abuse screws you up comes from the imbecile in Alabama who went out to buy crack cocaine. He was well swindled and was sold soap instead – this lunkhead then went and complained about it to the police…
An idea to consider as a present for that special someone this Christmas, or to drop hints for perhaps, is the collection of stories from the Sunday Sport: 'Bus Found at South Pole'. It's only when you see the stories extracted from the sex adverts and presented in undiluted form that you realise just how nonsensical the entire paper is. Little wonder that other papers regard it as beneath contempt, since if people realise the "Sunday Sport" is quite capable of making stories up, they might start wondering what's to stop the other newspapers from doing the same, in a slightly more subtle fashion? That would never do, though of course I realise that our papers are ALWAYS truthful and NEVER fabricate, lie or distort the facts. Except with respect to people rich enough to be able to sue them for libel…
SHOCKED COPS FIND CHILD'S MUMMY IN APARTMENT – Er, that's mummy as in corpse…
A historical tale: Robert Liston was a 19th century surgeon renowned for being a lightning fast worker in the days before anaesthetics. Unfortunately, in his haste he was often a little careless. Once, he amputated a man's leg at the thigh in just 2 1/2 minutes – it was only later he realised the patient's testicles were gone too. On another occasion, he was even quicker, though the patient died of gangrene, his assistant also had three fingers sawn off causing his death too, and Liston cut through the coat and tails of a spectator, who was so worried his manhood had gone, that he dropped dead of fright. This operation thus became the only one in medical history with a 300% mortality rate.
I'll finish with a WWN exclusive. I make no comment, & just print it as it appeared.
QUEEN FLIPS HER LID OVER FORGOTTEN POTTY SEAT – 'Cranky old Queen Elizabeth was in a royal tizzy during a recent visit to Kenya, snapping and sniffing at everyone in sight – because some ignoramus forgot to pack her favorite goatskin toilet seat! "Her Majesty was a holy terror the whole time she was here" said an employee at Treetops, a ritzy game-viewing lodge in the African bush. "She snarled at the help, she grumbled at Prince Philip – she even growled at a buffalo. Everyone was shocked because all this ranting and raving was out of character for her. Then word leaked out that she was mad as hell because she didn't have her Billy Goat." Billy Goat is the name palace staffers have given the fancy white-kid toilet seat the Queen normally hauls with her on foreign trips. "Elizabeth has become very attached to the thing", said one insider. "After all, a queen doesn't want to plant her royal bottom on just any old throne. Somebody's head is going to roll when they figure out who left the billy behind"…"That's what happens", said a royal escort, "when the Queen comes to town – and leaves the seat of power at home"'.