Dark Star 5 (36 A4, 1.50) – So there was SOMEONE who liked 'Batman'! This issue is mainly devoted to said movie, and is a fair digest of all the previous hyper-hype – interviews with FX men, previous 'Batman' films, comics, etc. Interesting, even if like me, you thought Jack Nicholson was it's only saving grace. Otherwise, broad ranging – Sherlock Holmes, cinema going in Greece, James Bond and a good few film reviews. Rob Dyer, Publishing House, 50 Wrotham Road, Gravesend, Kent DA11 0QF.
Death Bane 2 (22 pages A5, 1.00) – Some good ideas here; the foldout middle and (at least on my copy) a colour pic stuck to the front cover. Spoilt rather by the execution; the layout is VERY messy & unclear, and someone ought to buy the editor a dictionary! Just, 77 Crystal Palace Park Road, London, SE26 6UT.
Fantasynopsis 2 (80 A5, 1.70) – After a lengthy wait, another issue rises from the grave. An appropriate simile, for this 'Zombie Special' features pieces on 'Dawn of the Dead' and 'Plague of the Zombies', a history of undead cinema and a prize cross- word. Dear, but well-produced with good photographs and a 'classy' feel make this just about a coffee-table fanzine! Paul J. Brown, 1 Bascraft Way, Godmanchester, Cambs. PE18 8EG.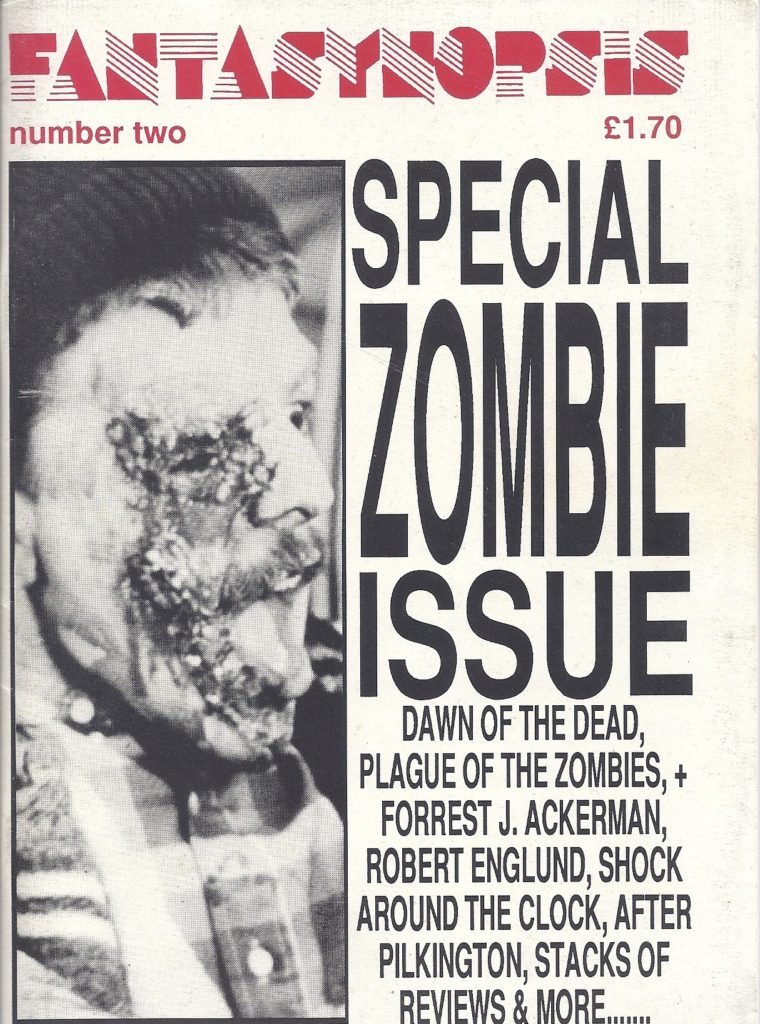 Gore Gazette 100 (4 pages tabloid, Special freebie, send an IRC?) – Now been going for nine years and it's general couldn't-give-a-toss attitude is getting endearing. This special freebie has a list of all horror(ish) films issued theatrically in New York this decade; 641 in all, ranging from the known to the totally obscure. And any 'zine has class that reviews de Palma's 'Casualties of War' with "If you ever got your kicks out of torturing some nerd in gym class, should be pleasantly nostalgic"! c/o Rick Sullivan, 469 Hazel St, Clifton, New Jersey, NJ 07011 U.S.A.
Samhain: An index to Issues 1-17 (39 pages A4, 1.00 including p&p) – One of those "now, why didn't I think of that?" ideas, essential for anyone who reads Samhain. It lists all the films, books, soundtracks, authors and people that have been written about in Britain's premier 'zine, and will save endless hours trying to track down that bit on Jess Franco. Only minor complaint – the 'authors' section sends you to 'books' rather than to the piece direct, which'd have been as easy. Otherwise, invaluable. Glyn Williams, 219 Ladybank Road, Mickleover, Derby, DE3 5RR.
Strange Adventures 10 (12 A4, 50p) – From the Isle of Wight we have this varied selection of reviews – videos, films, comics & books are all covered, concentrating on mainstream product with a fantasy content. A bit too 'normal' for me perhaps, though I enjoyed Tony Lee's list of "Horrible Things", ranging from grouting tiles to Russell Grant! Stephen & Tony Lee, 13 Hazely Combe, Arreton, Isle of Wight, PO30 3AJ.