Imaginator 6 (36 A4, £1.95): if TC grows up, I'd happily look like this glossy, well-produced item. There's a section on Hong Kong films, complementing TC6's Japanese section, and interviews with Ray Harryhausen, Patty Mullen & Steve Apostolof among others. Next is a two-in-one 'zine. Headcheese & Chainsaws 5 with Sludgefeast 1 (each 24 A5), not forgetting a pair of comics. The entire package is yours for a quid or so: the doubling up means some duplication of coverage but where this occurs, the editors' opinions differ so markedly it's a miracle they ever produced a joint issue! Both are well laid out and have an informal, friendly style. Strange Adventures 17-19 (16, 20, 20 A4, 95p) will soon catch up Samhain in number of issues. Continues it's massive task of trying to cover the all fantastic media; I especially liked a 'Cat People' piece by some guy called Jim McLennan…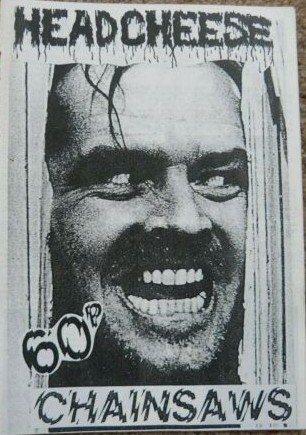 Down at the bottom end in cost terms, we have Neros (28 A5, send an SSAE). Plenty of exercise to be had here – you have to keep turning the damn thing as every page seems to be at a different angle! Very funny piece discussing the uncut Tom & Jerry cartoons is the highlight, hidden deep in impenetrable layout. Also free is Psychotic Reaction 1 (12 A4, SSAE again), all reviews in this issue. Plain and sparing with the artwork, but early days yet – as ever, I dislike commenting on first issues! No such problems with Creeping Unknown 14 (36 A5, 85p) – some editors sweat over covers, Nick just bleeds on it. Very artistic, and hopefully free from any blood-borne diseases… Distressingly, they've started printing page numbers, but this is offset by the ploy of having two page 2's, one after page 34. Joking apart, it's good as usual, concentrating on loads of reviews.
Black 6 (20 A4, 60p) is here, with a Cicciolina poster in it, some favourite Zombie movies and enough sleaze to keep you going until Dave Flint produces the next Sheer Filth… Pardon me while I drool over the layout (and the poster!). Eyeball 2 (28 A4, £2) has taken a long while to get here; more reviews of highly obscure European i.e. Italian movies. Almost like a telephone directory and thus tough to read, but worth the effort and a Barbara Steele paper doll adds a welcome note of levity to things. Bloody Hell 1 (21 A4, £1.50) is an interesting if expensive read (Fulci, censorship, etc) but needs to improve it's appearance; TC0 was better, to give you some idea: at least we were double sided!
Slightly away from the film scene is Green Goblin 14 (28 A5, 50p). Superbly clear print, a Call of Cthulhu scenario (must get back into FRP one of these days!), bits about computers, an infuriating spot-the-lyrics quiz and a neat 'ghost' (for want of a better word) story. Across the Atlantic now, title of the month goes to Cadavers, Fruit & Government Forms 1 (36 A5, $2.50?), more of a music 'zine, with lots of reviews of records by mostly thrash metal bands (tho' since I've not heard of them, I may be maligning them seriously!) but also films, computer games, TV and some chat, plus a handful of flyers, etc. Another editor who likes to rotate alternate pages, pah! Runner-up in the title stakes is another TC, Trash Compactor Vol 2, #4 (36 A4, $3.50). This one is a celebration of gay films – did you spot the homosexual subtext in 'The Hitcher'? No, me neither – read 'em and worry… Midnight In Hell 2 (16 A4, ???) is a Lovecraft special – a bibliography, some film reviews and five pieces of fiction, which vary in quality from good down to fairly pointless, as such things do. Finally, two American slimzines I must mention; Monster 30-40 (8 A5, $1?) is hyper-frequent (fortnightly!) and specialises in monster movies, tho' this is loosely defined (more on this one next time, no space here!) + Scareaphanalia 90-92 (8 A5, $1), definitely recommended for reviews of hot new product.
Black – Mikael Bomark, Aspv. 28, 14141 Huddinge, Sweden.
Bloody Hell – David Prothero, 11 Clos-Yr-Wenallt, Rhiwbina, Cardiff, CF4 6TW.
Cadavers, Fruit & Governmnt Forms – Jeff Dworak, 442 Route 146, Clifton Park, NY 12065, USA
Creeping Unknown – c/o 33 Maltby Road, Mansfield, Notts, NG18 3BN.
Eyeball – 20 Kintyre Court, New Park Road, Brixton Hill, London SW2 4DY.
Green Goblin – John Breakwell, 170 Caversham Road, Reading, Berkshire, RG1 8AZ.
Headcheese & Chainsaws – Rob Bewick, 33 Ernwill Ave, Castletown, Sunderland, SR5 3EB.
Imaginator – Unit 1, Hawk House, Peregrine Park, Gomm Rd, High Wycombe, Bucks, HP13 7DL.
Midnight in Hell – G.N.Houston, The Cottage, Smithy Brae, Kilmalcolm, Renfrewshire, PA13 4EN.
Monster – Kronos Productions, MPO Box 67, Oberlin, Ohio 44074-0067, USA.
Neros – 57 Chedworth, Kingsbury Park, Yate, Bristol BS17 4RY.
Psychotic Reaction – Spencer Hickman, 50 Wingfield Road, Great Barr, Birmingham B42 2QD.
Sludgefeast – Paul Mallinson, 12 Daneshill Road, Leicester, LE3 6AL.
Strange Adventures – Tony Lee, 13 Hazely Combe, Arreton, Isle of Wight, PO30 3AJ
Trash Compactor – 253 College St, Suite #108, Toronto, Ontario, Canada, M5T 1R5.