DEEP RED HORROR HANDBOOK – Chas Balun, Fantaco, 11.95
I have, to be honest, to declare a bit of a vested interest in this one, since TC gets a mention in the list of fanzines, even if it's at the old address and if many Americans expect 48 pages air-mailed for a dollar, I'm heading rapidly towards bankruptcy. Do you realise how much a kick there is to be had from seeing YOUR name in a BOOK? Not a 'zine, but a real, printed, book! I'll try and be objective…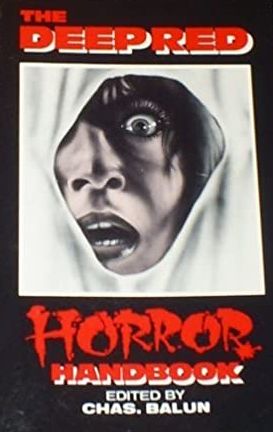 Nearly 320 pages, roughly A5 sized. The first 2/3 is a collection of essays on the genre by various figures, some known (Chas. Balun), others not. The topics of these are wide and varied, ranging from Dario Argento (wince!) through to the British horror scene (which contains the obligatory standard rant against the censors), via cannibal pics, eco-hazard movies, an Incredibly Bad Film section and numerous short bits/filmographies of people like Tobe Hooper, Fred Olen Ray and Sean S. Cunningham. I found it mainly interesting stuff, although fewer obscure European directors and unsubtle digs at Shock Xpress (we're all in it together, guys!) would have helped. Graham Rae, author of the British section, might show a bit more tolerance all round – describing non horror fans as 'unanointed, self-righteous, pretentious clowns', or the BBFC as 'idiots' does nothing to convince people of the validity of the genre.
The final third is an update of 'The Gore Score' – almost every messy movie made in the last ten years, with brief, well-written reviews and marks for both 'artistic' and 'body fluid' content. As ever with American books, titles change and censors cut, which explain some of the apparent differences – I agree with most of the marks for splatter, but 'Cannibal Ferox' a better film than 'Cat People'? Come on…
Add to this a list of recommended reading, the aforementioned 'zine list and some interesting, if useless to us Brits, adverts and you have good value for money. As an up-to-datish (oddly, many films are mentioned in the essays yet ignored in the Gore Score) guide to the scene, it's probably the best around.
---
NEXT ISSUE
Which might, or might not, come out before Xmas; there's a whole heap of stuff which I've had to cut out of previous issues due solely to a lack of space, so I quite like the idea of using them up. Otherwise, who knows what'll be in it? Fred Olen Ray's "The Tomb" will be dissected in 'Incredibly Bad Films'; there'll be a piece on the cartoon equivalent of 'The Evil Dead', Tom & Jerry; for all contact lens wearers there'll be 20 great moments of eye violence and if I find myself with not enough other stuff, there's a good chance you'll get the 1989 'what-I-did-on-my-holidays'. You have been warned…