Seduction of the Innocent
Difficult though it may be to credit, there are people out there, who have never seen a Sybil Danning film. I regard it as my mission in life to bring some succour to these poor, deprived people, and introduce them to the delights of trash films. Missionary work, you could call it. So, for those who are novices, here are a few films they might care to try.
First, however, a few words on the films included. All of them should be legally and ( more or less ) easily obtainable from your local video store. I've avoided the more extreme films, so there's no "Re-Animator" and no "Evil Dead 2" – I think they are both great films, but having been put off horror films for four years by seeing 'Cannibal Holocaust' at age 14, I can appreciate the risks of going off the deep end TOO early!
Trash films generally come into three categories: sex, violence and humour. 'Sex' covers a wide range of sins, from the schoolboy smut of 'Carry On' films, through the bimbos-in-lingerie pic, up to completely gratuitous nudity such as seen in 'Gwendoline'. Violence, too, is a many-splendoured thing – at the lower end is the cartoon, knockabout style of Schwarzenegger while at the other is the merciless, totally OTT approach of 'Bad Taste', The third category, humour, is perhaps the most vital, and is simultaneously the most difficult to pin down. Although everyone knows sex when they see it, there is no such agreement on what is funny. Bearing this in mind, here are ten recommendations, with brief (even by our standards!) reviews, rated for each of the three categories. If you watch these and enjoy them, you'll have a good foundation on which to base further choices. Those marked (@) are especially recommended for beginners.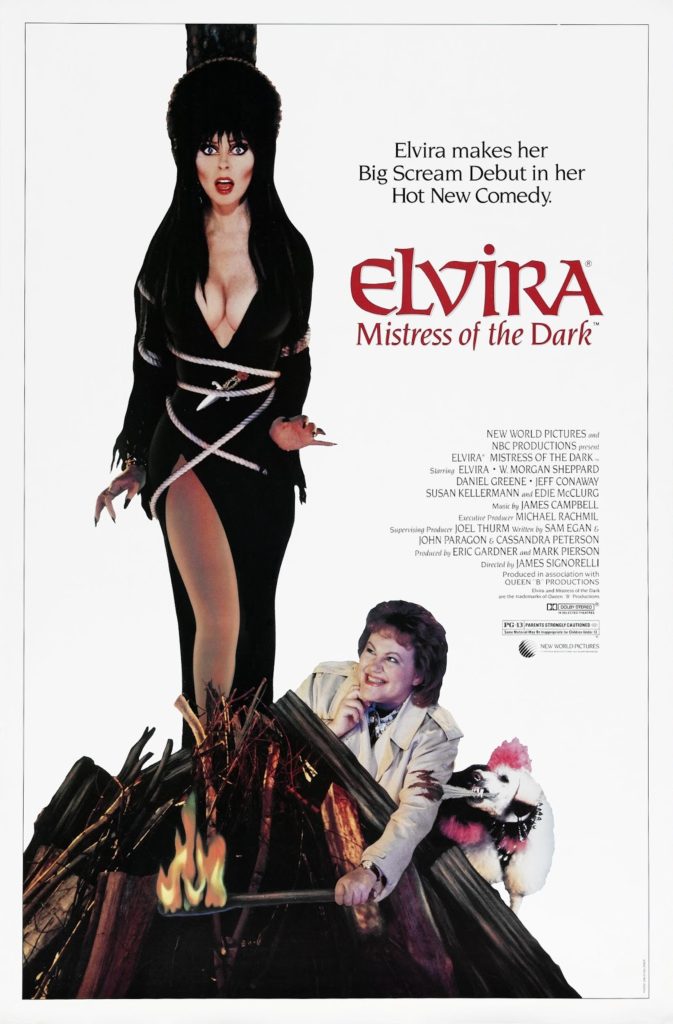 AN AMERICAN WEREWOLF IN LONDON – The best in the early 80's were-revival, updating lycanthropy to it's obvious conclusions. S: *** V: **** H: **** (@)
BAD TASTE – Due out November 17th I think, possibly the messiest film to get a BBFC certificate. Colonial splatter. S: NONE! V: * H: ***
ELVIRA, MISTRESS OF THE DARK – The only '15' rated film, relying equally on double- entendre and Cassanda Peterson's cleavage. S: **** V: ** H: *
GWENDOLINE – See TC1. French silliness, with actresses' clothes falling off at the slightest opportunity. S: * V: ** H: **** (@)
THE HIDDEN – Starts by writing off a Ferrari and never lets up. Part sci-fi, part cop pic, all action, to steal a quote. Great fun. S: NONE! V: **** H: **** (@)
THE HITCHER – Hauer's finest hour, what it lacks in laughs it more than makes up for with it's delight in slaughter. S: * V: **** H: *
REFORM SCHOOL GIRLS – See TC2. Sheer exploitation, NOT to be taken seriously and very, very silly. S: * V: **** H: ****
RETURN OF THE LIVING DEAD – Great fun, whether you've seen the original or not. Loud music, non-stop action and Linnea Quigley. S: *** V: **** H: **** (@)
ROBOCOP – Ultra-violent, comic book satire with sharp social comment and pantomime heroes/villains. S: NONE V: * H: *** (@)
SALOME'S LAST DANCE – (see Film Blitz) Ken Russell has got very odd in his old age – this will do until 'Lair of the White Worm' appears! S: **** V: * H: ***
---
A Double-helping of the Dinner Party Game
Mark Stevens (editor, 'Squirm')
Male
Female
Ray Dennis Steckler
Arthur Bostrom (of"'Allo 'Allo" – he went to the same-school as I do!)
Andy Warhol
Jonathan Ross
Herschell Gordon Lewis
Dario Argento
Seka (hardore starlet + one of the sexiest people alive)
Dyanne Thorne (as above, last six words)
Jerry Hall (so I could insult her)
Mandy Smith (phenomenally tasty)
Inbetween – The hermaphrodites from "Shocking Asia
Just (editor, "Death Bane")
Male
Female
Me
Dario Argento
Dave Freeman (Britain's greatest pornographer)
Andy Warhol
Bryon [??]
Salvador Dali
Gail McKenna (page 3 sex goddess!)
Elvira
Joan Collins
Jennifer Connolly
Joanne Conway (ice-skater)
Cicciolina
[Hmmm… Not 100% sure about some of the females here – they may be pretty, are they good dinner guests? Mandy Smith isn't exactly noted for her conversation! ]