Most of the 'zine editors must have been out sun-bathing and sipping long, cool drinks for the past three months rather than sitting inside sweating over a word- processor or video, since it's been a rather quiet quarter. Still, those received :
CREEPING UNKNOWN – 24 pages A4, 50p + SAE. Nick & Cath join the slim band of 'zines to make it to 10 issues. This one is occasionally a little illegible, yet it's worth the effort – a nice, informal style and a good mix of the obscure and well-known.
DARK STAR – 28 pages A4, 1.50. Strange how this one seems to get 'missed', since it's also in the amateur/pro grey area inhabited by Samhain and Shock Xpress. Like TC, a wide range of subjects – Sherlock Holmes, Roger Rabbit, comics – written in a variety of styles. A touch uneven due to this variety, still worth a look.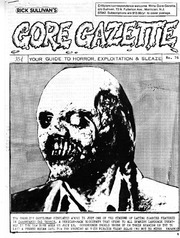 THE DOGS HEAD BARKS – 8 pages A5 for an SAE. Idiosyncratic personal-zine, comes out VERY irregularly; 18 months since the last one! The man's interests seem to be comics, films and Dr. Who, thus if these appeal ( and at least one of them should do to TC readers! ), so should DHB!
GORE GAZETTE – 12 pages A4, $2.00. I must admit to enjoying this more than the last issue. It's "News of the World" style mix of fact and totally unsubstantiated rumour (Robert Englund, aka Freddy Krueger, having a drug problem) makes fun reading, even if he totally misunderstood the point of 'Nekromantik'. Still, he liked 'Edge of Sanity' a lot, which shows his heart's in the right place.
Creeping Unknown – Nick and Cath, 29 Westland Ave, Hucknall, NOTTINGHAM, NG15 6FW.
Dark Star – Publishing House, 50 Wrotham Road, GRAVESEND, Kent, DA11 0QF.
The Dogs Head Barks – Douglas Angel, 69 Chestnut Ave, Bradwell, GT. YARMOUTH, Norfolk, NR31 8PL.
Gore Gazette – Stefan Kwiatkowski, 2A The Mount, Erdington, BIRMINGHAM B23 7NG.
---
More about Black Sunday 1990; as you may be aware, it looks as if the second section of it, in Glasgow, clashes with the planned 'Samhain' splatter fest down here in London. With 52 weekends in the year to choose from, this is, shall we say, a little unfortunate. I don't know how many other people would like to go to both and now have to decide which to miss – let's just hope the people involved come to some agreement to switch one date. Both groups seem sensible adults so I'd like to think that neither would be childish and refuse to consider an alteration, for the benefit of all concerned.