Slightly different format this time, as we concentrate on some peculiarly nasty accidents that people have managed to survive and give a special round of applause to the careless people who have proven beyond all shadow of doubt that they are not vampires…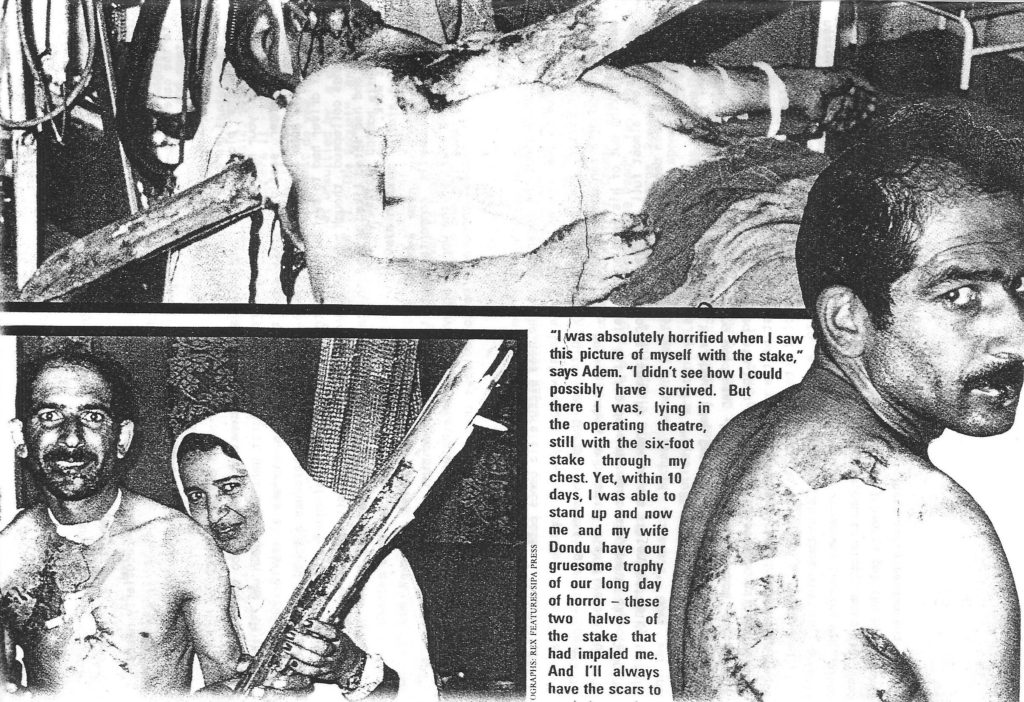 Or maybe the pictures accompanying this article demonstrate that jumbo tooth-picks can damage your health if used incorrectly. The first gentleman shown was in the front passenger seat of a taxi when it pulled out to overtake a trailer carrying tree trunks, some sharpened into stakes. Unfortunately, there was a lorry coming and the taxi driver had to swerve back, straight into the back of the trailer… One of his lungs collapsed, though miraculously the stake had missed all major arteries and organs and had acted like a swab to prevent the bleeding. Three weeks later he was back at work.
Given earlier caustic comments about it, I ought to mention that this story, too, comes from the News of the World. However, the sheer POINTLESSNESS of making it up and faking the piccie encourages me to believe that it was that week's grain of truth.
No such doubts about the spear-gun in the head picture (a bonus point for each film you can name to use one as an ABOVE sea-level weapon!), which appeared in several papers over Easter. The imbecile was trying to load the gun by pressing on the spear with the end of a can when it went off. He was rushed to hospital with five foot of metal sticking out of his head and a fair bit inside – miraculously, he is expected to make an almost full recovery. Reports that he now enjoys listening to Kylie Minogue have been denied…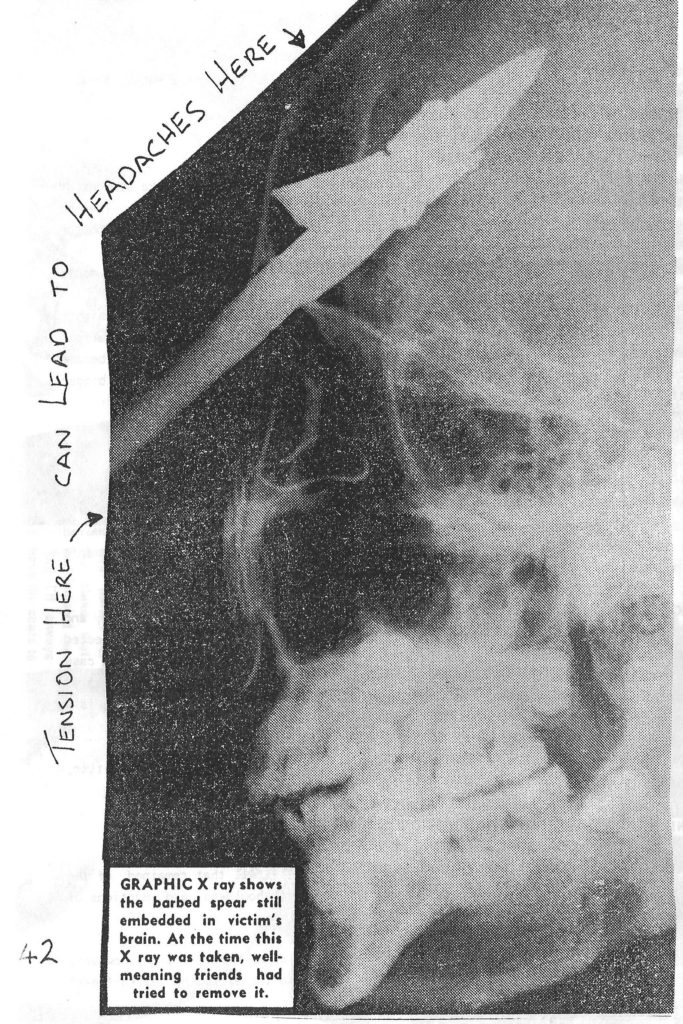 Chainsaws. There, that made you sit up. How about "Man Cuts Throat with Chainsaw and Lives"? Forthman Murff, 74, was cutting wood near his home in Mississippi when a large branch fell from a tree and knocked him into a ditch on top of the chainsaw he was using. It severed his windpipe, most of the neck muscles and three major blood vessels, leaving only his spine and carotid artery intact. Astonishingly, he crawled to his truck and drove several miles to a neighbour's who then took him to the nearest hospital, a further hour away. The blood for the cut veins was pouring into his lungs all the time which meant that every so often, he had to stop, hold his head way over and let the blood run out of his lungs. "I knew I had to get the blood out so I could breathe", said Murff later. "The Lord left me here for a reason and I can tell you that it wasn't to chase widow women".
Room now for a brief sweep through some odd stories from the Weekly World News; I think we'll start off with a few more messy ones:
BARBER SNEEZES – AND SLITS CUSTOMER'S THROAT.
KILLER WHO ATE GIRL GOES FREE
A truly international one this. Japanese student of literature in Paris, shot his Dutch girlfriend after she rejected him. Then he "flayed Renee's flesh into long, thin strips, stopping from time to time to photo- graph hos horrible handiwork". This was back in 1981 – he spent three years in a French jail, five more in a Japanese insane asylum, and is now "a changed man".
HEALTH FOOD NUT EATS SO MUCH FIBER – HIS STOMACH EXPLODES!
"It was an awful sight" according to the policeman who found him. "There was blood and half-digested food splattered all over the room". Doctors speculated that his intestines somehow became blocked. As he continued to eat high fiber foods, his stomach got bigger and bigger until it popped.
ANIMAL LOVERS OUTRAGED AT HORSE – THAT EATS CATS!
FLY LAYS EGGS IN WOMANS'S THROAT!
A 38-year old woman who accidentally swallowed a floy almost choked to death after it laid eggs in her throat and clogged it with maggots. Dr. Okulov, in a letter to the Soviet journal "Pathology" said he removed the equivalent of a heaped tablespoonful of squirming maggots from the woman's oesophagus.
SPACE SHUTTLE ATTACKED BY 200-FT. UFO!
"Bug-eyed aliens invaded Discovery and terrified crew" is how this one starts. The WWN gets this story from "a respected London newspaper" with a circulation of 1.3 million (it's the Daily Star, in case you were wondering), based on a tape of an exchange between Houston and Discovery. An astronaut supposedly says "Houston, we have a fire" – "fire", it seems, is a code word for a UFO…
ATLANTIS FOUND ON MOON!
Well, makes a change from World War II bombers, Hitler, Elvis Presley or Marilyn Monroe, I suppose.
WARNING SHOT KILLS 2 PEOPLE
Not, oddly enough, in Peking…
KARATE FANATIC TAKES ON 4 LIONS – AND IS EATEN ALIVE!
"All that remained of the man were his black karate pants and belt, his head, his shoulders, and portions of his arms, one hand and one leg."
EVIL STEPMOM GIVES TOT BOILING WATER ENEMA
There's sick and there's sick; however, this beats the lot. Perhaps she should have given one to the exploding health-freak?