It Must Be True: Criminal Negligence
Improbable Excuses and Self-Incrimination
A man suspected of holding up a jewelery store in Liege, Belgium told police he couldn't have done it because at the time of the robbery he was busy breaking into a school…
Gregory Rosa of Rhode Island was charged with a series of vending machine robberies after trying to run away from police who saw him acting suspiciously near a machine. He tried to post his $400 bail in nickels and dimes…
Michael Leonard Jackson escaped from the courthouse while the jury were deliberating their verdict on charges of burglary and theft. Five minutes after he'd gone, the jury came back and found him Not Guilty, as well as Not Present…
Christopher Plovic, on trial for possessing drugs, claimed to have been searched without a warrant but the police claimed reasonable grounds for suspicion, namely a bulge in his jacket. By chance, Plovic was wearing it that day and handed it to the judge for examination. He saw no bulges, but did find a bag of cocaine in one of the pockets…
Herbert Freels was found guilty of rape despite producing a note from the victim saying "I was not raped. I did it under my own free will". Freels claimed he always got his sexual partners to write such notes…
Kevin L.Jones was arrested in a Richmond, Virginia police station after going to post bail for a friend and staring just a little TOO long at the wanted poster of Kevin L.Jones…
"Well, officer, the money was in this bag marked SWAG". Anthony Colella of Brooklyn made a clean getaway after robbing a New York bank of $1,300. Unfortunately, a passer-by stopped him and mugged him of the cash so what did Colella do? Go straight to the nearest police station to report the mugging…
Another bungling bank robber was Elwood Nolden of Pittsburgh. Again, the robbery went smoothly but he left behind the note demanding the money, which he'd written on the back of a sub-poena addressed to him, ordering him to appear in court on another charge…
According to the Weekly World News, an un-named suspect in an identification parade was caught after he blew his cover. The candidates were asked to say "Gave me all your money – and I need some change in quarters and dimes", a phrase used in the crime. The first two said it ok, but the third blurted out, "That isn't what I said!"…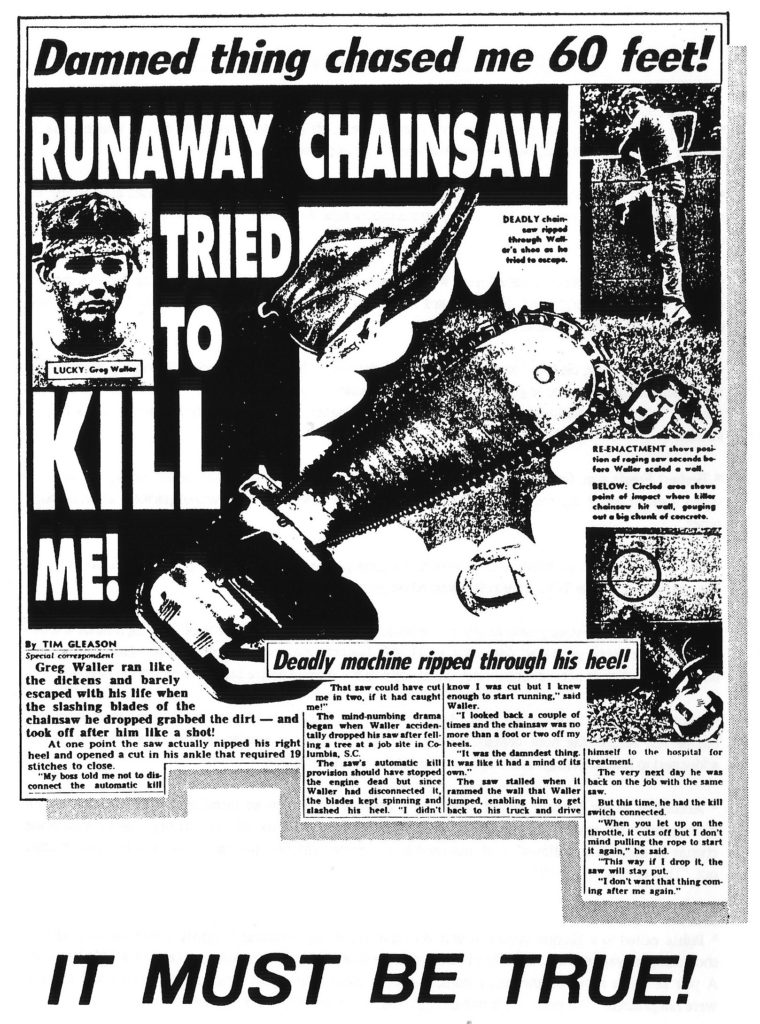 Sheer Stupidity!
Police called to a Boston suburb found Winston Treadway writhing in agony down an alley after a shoplifting attempt went wrong. The live lobsters he'd stuffed into his trouser pockets got a little nervous. A pair of pliers removed the crustaceans, surgeons spent three hours limiting the damage and charges were not pressed – "the poor guy's had enough trouble for one day" said the store owner…
In Mexico City, Luis Medina was arrested carrying a stolen TV down a street in the middle of the night. When he returned with the officers to the place from which he'd taken it, they discovered Medina had burgled his own house. He had planned to rob his next door neighbour but got confused because "it was a moonless night and very, very dark…My flashlight batteries went dead". Obviously, no burglary charge was possible but he was hit with "going equipped to commit a felony" instead…
Two 15-year old boys from Kansas City were charged with stealing cars after stopping off to make a phone call at a police station, which they'd mistaken for a convenience store. Due to the icy conditions, the boys' attempted getaway was at the sedate pace of 10 mph.
Donald Thomas faces up to 20 years in prison after escaping from a Rhode Island jail on day 89 of a 90 day sentence for disorderly conduct…
Police charged Kenneth Lang with the robbery of a 7-11 store in Maine earlier this year. Lang initially entered the store in a stocking mask but took it off when he found he couldn't see. He then forced the shop assistant to put money into a paper bag, but the bottom dropped out of the bag. Lang ordered the assistant to pick up all the coins. They then argued about whether the store safe could be opened. While this was going on, Lang also told the till attendant to serve the queue of customers carrying purchases which had built up. When told he had all the store's change, Lang gave several customers the right money from his bag. On leaving the store, he took a wrong turning and eventually ended up back in front of it, where he was arrested…
Earl Latham escaped from prison in Maryland, and went straight to his mother's house. This was the first place the police looked. Earl answered the door and when told he was busted, replied "You've got the wrong guy, I'm not Earl Latham, I'm Earl…Smith". Police arrested him anyway after he was unable to spell 'Smith'…
Our (Un)lucky Day…
Stephen Baker of Vancouver, Washington was hospitalised with a gun-shot wound in January this year – eye-witnesses said Baker had hit s man's car with a snowball from a bridge. The man got out of his car, fired one shot at Baker from a rifle, got back into his car and drove off…
Minnesotan police officer Angus Perkins arrested a 23-year old woman in a bar after she tried to pass stolen cheques belonging to her "boyfriend", one Angus Perkins…
A similar story is that of Raymond Snyder, who stole a blank payroll cheque and selected the name 'Miles F.Huml' from the local telephone directory to fill the space. Unfortunately, the clerk in the bank where he went to cash it was MRS Miles F.Huml…
Leslie Steven Slovak was sentenced to a year in jail for aiding a felony despite having given police a perfect description of the man who held up the bank where Slovak was standing in line. He just forgot to mention that (purely by chance, I should add) it happened to be his brother…
Ten Least Justifiable Homicides
Victim didn't want the fan on in their apartment.
13-year old girl had squirted him in the face with a water-pistol.
Someone accidentally stepped on his toe at a disco
(when asked about the murder, the suspect said "which murder?").
Victim took too long using a payphone.
3 year-old daughter wouldn't finish her portion of chocolate cake
(so her mother forced the entire gateau, piece by piece, down the girl's throat!).
Argument over which pots and pans restaurant cooks use.
Neighbour had failed to clean up after her kittens.
Garage didn't service BMWs.
Who got the larger portion of a plate of chips.
The correct way to serve a roasted pig
(Papua New Guinea: 2,000 warriors battled for four days leaving five dead and dozens injured. The pig was due to have been served at a peace ceremony…).