It is one of those interesting, but probably meaningless, coincidences that the two Austrian-born actors to have achieved international renown are both best known for movies where they kick ass first, and ask questions later. Though thinking about it, given that perhaps the best known Austrian in history was also known for something similar, albeit in a far worse scale, perhaps there is something about the Austrian nation that breeds 'hard cases'.
Mr Hitler is not the subject of this article, however, and neither is former Mr. Universe Arnold Schwarzenegger. The person we are interested in here has carved a niche for herself in the 'women-with-weapons' genre, and time and again has shown herself capable of single-handedly taking an otherwise tedious & dull movie and licking it into shape. Who can it be, except for Sybille Johanna Danninger?
Born in Wels, Austria in 1950, her father was an American GI and she was educated in New Jersey at a Catholic school before returning to Austria to work as a dental assistant in Salzburg [ I know this sounds implausible, but it's the only way to fit together the different life-stories discovered in my research! ]. It was here that her movie career began with a series of soft porn flicks, which seem to be totally unavailable – she's better at suppressing her early embarrassing moments than Nastassja is! 'The Three Musketeers' in 1973 marked the start of her rise from obscurity – since then she's been perpetually busy, at least 30 films have included her 5 foot 7 inch tall, 125 pound figure ( and either a 36- or 40-inch bust, depending on which magazine you read! ), though these include a lot of cameo roles such as 'The Tomb' ( cf TC4 ).
Sybil is at her best when playing her cool, silent types up against scenery chewing of the highest order. Thus, in "L.A. Bounty" (which she came up with the story for and co-produced, as well as doing a lot of her own stunts), she says exactly 30 words in the whole film, balancing Wings Hauser's voluble psychopathic drugs dealer nicely. Similarly, "Reform School Girls" has everyone carving up the ham bar Sybil. On the other hand, where she is forced into 'out of character' roles, she remains competent, but totally unremarkable. Witness "The Prince and the Pauper" – hidden behind a frumpy costume as the cowering wife of a thief wasn't our Sybil at all.
As an example of her ability to carry a movie on her own, you need look no further than "The Howling II", one of the worst sequels it has been my misfortune to see (though III-V are apparently worse – I haven't bothered with them!). With only Christopher Lee giving any assistance, she strolls through the appalling plot and hideous acting with a dignity and style that almost made the whole thing worth while. In "Phantom Empire" (top), she does much the same job, and also stakes her claim as a contender for Cleavage of the Century – the word "statuesque" comes easily to mind!
FILMOGRAPHY
The sheer quantity of work she's been in is impressive – 60 films is a rough total though with her early work, things get hazy since she doesn't talk about them, and titles vary. The list below may contain some that are also appear under a different name, though I've weeded these out as far as possible – I assume "The Long, Swift Sword of Siegfried" and "The Erotic Adventures of Siegfried" are the same movie!
1971 – Come, My Dear Little Bird
The Long, Swift Sword of Siegfried
– AKA The Erotic Adventures of Siegfried
Freedom For Love
Blood
Naughty Nymphs
Only In Denmark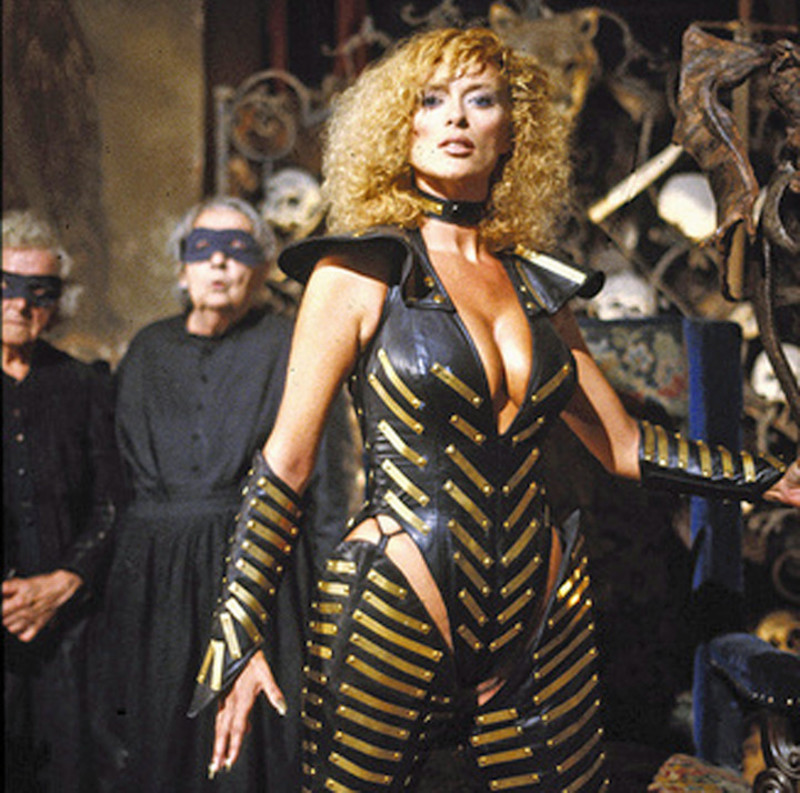 1972 – Bluebeard
Run, Run, Joe
The Immigrants
Fire of Love
The Secret Carrier
The Stewardess Report
The Housewife Report
The Vacation Report
Pharmacist's Daughters
– AKA Swedish Love Games
– AKA Passion Pill Swingers
Bed Career
The Loves of a French Pussycat
The Eye of the Labyrinth
The Love of the Great Bear
Sam's Song
Loreli
1973 – What is Hard is Good
Porcelain Wedding
Operation Lady Marlene
The Three Musketeers
The Four Musketeers
The Odessa File (European version only)
1974 – The Twist
1975 – God's Gun
Albino
– AKA Whispering Death
– AKA Night of the Askari
Death In The Sun
1976 – Operation Thunderbolt
– AKA Entebbe: Operation Thunderbolt
1977 – The Prince and the Pauper
– AKA Crossed Swords
1978 – Meteor
Airport '79 – The Concorde
– AKA Airport '80 [!!]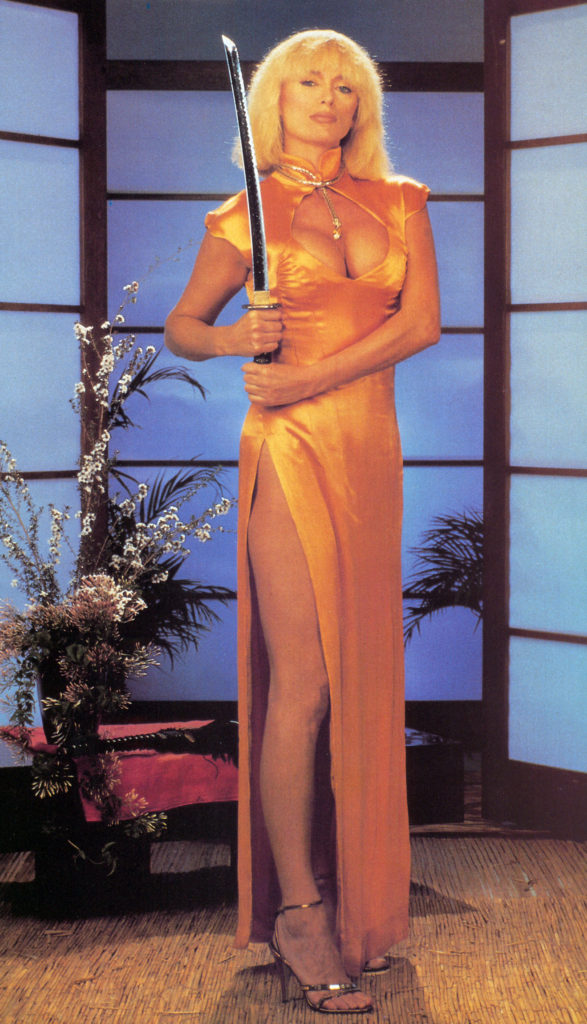 1979 – Cuba Crossing
– AKA Kill Castro!
– AKA The Mercenaries
Cat in the Cage
The Swap
Separate Ways
Nightkill
The Man With Bogart's Face
Battle Beyond The Stars
1980 – Day of the Cobra
The Salamander
How to Beat the High Cost of Living
1981 – Julie, Darling
1982 – The Seven Magnificent Gladiators
SAS: San Salvador
Hercules
Chained Heat
1983 – Jungle Warriors
Private Passions
– AKA Claire
They're Playing With Fire
The Immoral Minority Picture Show
Malibu Express
1984 – Young Lady Chatterly II
Panther Squad
The Howling II
– AKA Your Sister is a Werewolf
The Tomb
1985 – Warrior Queen
Black Diamond
The Wild Life
1986 – Reform School Girls
Amazon Women of the Moon
Phantom Empire
1987 – Pompeii
1988 – The Talking Walls
1989 – L.A. Bounty