Our esteemed editor's article last TC performed a valuable service in praising the merits of Brown's, a pub which holds a special, warm, slightly moist place in my heart. But it only scratched the surface, both in terms of venues and philosophy: this sequel attempts to expand further on the topic which, after all, is one of almost unlimited interest.
Firstly, venues. While I can't argue that Brown's is to London strip-pubs what the San Siro is to football, there are other places which offer similar entertainment and are not quite so well known. For my first example, take the Lord Nelson. Situated down a side road just north of Old Street, from the outside it looks absolutely normal; the first time we visited it, my friends insisted I go in alone and check whether we had the right place! We did, and it has now become a regular stop on the circuit, thanks mostly to the relaxed and laid-back atmosphere. While Brown's is very new and modern, with a lot of chrome and glass, in the Lord Nelson the pub grub is limited to dodgy-looking rolls and positively lethal pork pies, the toilets resemble a swamp, and the bar staff are surly and uncommunicative. In other words, it's a traditional British pub, and as such, can only be loved. The most novel feature is a "wall of business cards", which shows that the place is a favourite of people from companies as diverse as Harrods', the Bank of England and Italian 'Vogue'.
The stage is low, perhaps knee height, with mirrored backdrops and a few chairs for favoured punters. On the plus side, there are none of the topless-only "dance" routines, every act delivers the full bacon sandwich. On the other hand, they are spaced further apart, which can make it slightly tedious, but this depends on the company you keep, just as in any pub! At least some of the girls also appear at Brown's, and generally they're entirely acceptable, with one or two stunners randomly present (Anastasia will ensure that Pulp's 'Common People' never sounds quite the same again).  It's usually a lot less crowded  than the Big  B. On occasion the audience has been single figures, and that was before we left. You tend to find one girl on early evening, with two alternating from about 8:30.  For some reason or other, this place appears to be mostly staffed by Brazilian girls. Not that I'm complaining, as they are utterly wonderful, but the question does arise; if these are the ones that are deemed worthy of exporti, what are the ones they keep in Brazil like?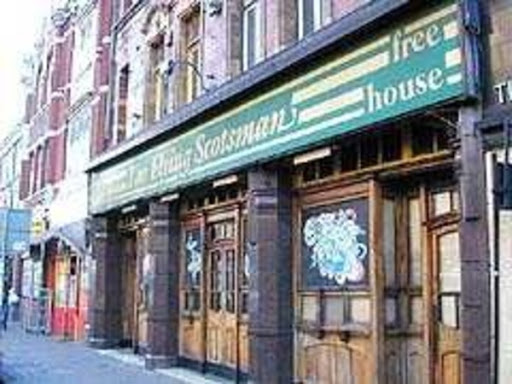 Continuing our descent down the quality scale, we come to the Flying Scotsman, which is conveniently located two minutes walk from King's Cross — though maybe the best way to describe its location to TC readers is to reveal that it's virtually opposite the legendary Scala!
This place is the McDonald's of stripping: fast, cheap, and with the quality you'd expect at the price (I mean, have you tried those 49p hamburgers? Does anyone know what they taste of? It certainly isn't ham — or indeed any animal native to this planet). Perfect for a half-an-hour visit while waiting for your train home, but not the sort of place you'd want to spend an entire evening. It would in any case be damn expensive — not because this is a clip joint, but just down to the sheer pace of the action. At the Nelson, it's maybe one girl in 15-20 minutes. In the Flying Scotsman, you'll see four or more in that time, which of course means the same number of pint jugs circulating, though 50p is acceptable here when it would get you a Hard Stare at Brown's (and not a hard anything else). You leave, feeling like a horse that's just been lowered into the Amazon.
These little piranhas obviously rate a little lower on the lust scale: you won't find many supermodels in this venue, but if you like the slightly sleazy type — tattoos and piercing are common — you'll have no complaints. With its sawdust on the floor, and generally questionable location, it's not for the faint-hearted (while I may have criticised the Nelson for its toilets, the ones in the Scotsman simply defy description — I'm sure they inspired 'Trainspotting'), but the clientele is varied enough: dodgy blokes with mobile phones and half of South Africa's annual gold output round their neck, mix with suited commuters. Amazing what a common interest will do, though for the former group of customers, it's more likely a financial interest in the girls than an aesthetic one!
And then there's the Nag's Head, at Aldgate East — coincidentally, near KVJ Fairdeal, probably the cheapest place in Britain to buy video tapes. Not technically as sordid as the Flying Scotsman, it could probably stand accused of "moral turpitude", since the audience there consists almost solely of  people pretending to read newspapers. Between acts, with none of the buzz of conversation you find in a normal pub — or even in the ones reviewed previously — the atmosphere is that of a public library. Gentlemen sit at rows of tables, studiously ignoring each other, pretending to be there for a quiet pint, nothing to do with the imminent spreadeagled pussy, good heavens, no. The stage is hardly six foot square, and the girls deserve better, as they have included some of the best seen. However, the morgue-like atmosphere means this is only really interesting as an example of how sad things can get. It does have a place in my heart, as it was the first I ever found, but after discovering Brown's, you, like I, will probably be less keen to return. Not even a 'News of the World' expose could save this place….
---
There are probably some of you out there wondering, "Yeah, but is anything more available at these places?".
Can't say I've ever been offered anything myself, but if you believe the News of the World (which I'm sure you all do), then in 1992 at the Nag's Head (see overleaf), the pub menu didn't stop at dry roasted peanuts…
"In an upstairs room of a seedy backstreet pub, leering punters queue up for Britain's most depraved bar room 'entertainment' …Male customers lie in rows on the beer-stained carpet as four strippers perform disgusting sex acts on them [They mean 'hand relief', in case you wanted to know] …Some have saved their dole momey for the monthly show – two even walked from a Salvation army centre a mile away for the afternoon of wicked welfare…A Salvation Army spokesman said 'People using our hostels are allowed to come & go as they please'."
The piece was about a 'private party' — albeit one where anyone (even a NotW reporter!) could buy a ticket for £12.50.
Unquestionably such events do offer a significant bit more, as anyone who's ever been to a stag party will corroborate! Also somewhere out in the realms of darker dubiety, beyond the pubs, there are uncorroborated rumours of 'members-only' places, where performances also go further than those establishments which are open to the public.
Hunting these down is roughly comparable to trying to join the Mafia. Membership is open only if you know the right people, and know enough about the 'regular' places to prove you're not a cop (or, indeed, a reporter…). This behaviour, without doubt understandable, just makes them more intriguing. As a quest for next time, I'll be working on getting into one such group, and have got to the 'friend knows someone who might be involved' level. If I have any success, I'll let you know. There'll be none of this "made our excuses and left" nonsense here!
---
Right at the other end of the spectrum is Metropolis, at the opposite end of Hackney Road to Brown's. This place seems to have been custom built as an exotic dancing venue. with a circular, central stage upon which there are two vertical poles for feats of gymnastic excellence. There's a little roped-off area where the dancers relax between sets, and video monitors scattered around which show soft-porn at these times. They switch to showing the dancers themselves when they're performing, which is very convenient, as the odds favour a basketball player standing in front of you.
Or maybe it just seems that way, the 'seeing' is perhaps the worst in all of these places, thanks to the low stage, the flashing disco lights, and the gushes of dry ice sprayed in at intervals, all of which combine to make a pair of sniper's night-sight goggles almost an essential. Personally, I find there to be something far sleazier about staring down at a girl with no clothes on, rather than gazing up at her. There's perhaps a psychological reason for this, some kind of pedestal effect, but it is part of the reason why I don't rate Metropolis as highly as many of my colleagues; it's just a bit too artificial, glossy and superficial. However, I certainly can't argue that the girls are of uniformly good quality.
Enough of the travelogue — a few thoughts on the logistics of these places. They all seem to operate almost entirely by word of mouth. Metropolis is the only one I've seen advertised anywhere, in 'What's On in London', and many don't even seem to be in the phone book, a discretion which may be related to licensing laws. Brown's now has a little gilded sign claiming to be London's #1 strip pub, a title which I can't dispute, the Flying Scotsman has a hand lettered sheet in a window saying "Exotic Dancers 1-11pm", and the Griffon (a rather disappointing Brown's offshoot near Chancery Lane) has a notice warning people about the strippers, asking them not to enter if they'll be offended. Chance would be a fine thing, but it's a nice example of negative advertising, as if Tennant's Super Strength had the slogan "Don't drink this unless you want to get pissed". The Lord Nelson is even more subdued, and positioned down a side-street, isn't the sort of place you'd stumble across accidentally. Still, it seems to survive.
The girls appear to operate on circuits: you may see the same babe in the Lord Nelson and Browns, or the Nag's Head and the Flying Scotsman, but there seems to be limited overlap. Maybe there's promotion and relegation instead, with the best from Circuit B getting promoted to Circuit A. The turnover can be quite high, any outing is likely to spot at least one newcomer, though you will find yourself recognising, ah, faces if you return on any basis. And babes such as Jennifer are difficult to forget — not that you'd want to, anyway. My personal bête noire is Rebecca, whom at one point I was fated to see on every strip-pub­crawl I attended. She's not bad, but after seeing her do the same moves thirty, forty or fifty times, I get the feeling I know her better than her gynaecologist.
Another intriguing factor is the occasional presence of women in the audience, albeit inevitably accompanied by men. I personally find it a slightly disturbing exercise, possibly because while the woman on stage is acting as the focus for a great deal of lust, there is inevitably some seepage. Witness the tube journey home, when thoughts drift onto what that pretty girl opposite would look like up on stage. It also restricts the candid expression of opinion somewhat, but perhaps most importantly, the presence of "normal" woman hinders the suspension of disbelief, by reminding you that (sadly?), it's still a world where not every girl is a sex-kitten. Reality is something best kept as far away as possible from strip-clubs.
Flying Scotsman – Caledonian Road (King's Cross)
Lord Nelson – 17 Mora Street, City Road (Old Street)
Metropolis – 234 Cambridge Heath Rd. (Beth. Green)
Nag's Head – 17/19 Whitechapel Road (Aldgate East)