Somehow, describing Roni Raye as an amateur porn star doesn't seem appropriate. Perhaps 'independent' is closer to the truth, as she has become a veritable cottage industry of adult entertainment, doing everything from phone sex to videos to custom letters to used underwear, plus appearances in Velvet, Cheri and Hustler, all on her own terms and with no 'exploitation' apparent. Recently, she recruited sister Tamara into the fold — next stop, the world!?
Tell me a little bit about your background — was there anything in your upbringing to suggest you'd become a glamour model?
My father was in the military, so we moved around a lot – we were basically raised on army bases. My high-school years, we lived in a town of 45,000: there was enough going on, we kept ourselves busy. I was raised in a big family, five girls, one boy, therefore I was constantly fighting for attention, and modelling filled that need. I loved being able to show off and getting all the attention, it's the perfect way for me to get it out of my system! I did some regular modelling with a photographer in the town I was living, put together a portfolio, and had talked to an agency, but nothing had actually progressed with it. He started the idea with me, about doing the posing, and I thought, "Well, I don't know if I could do that or not", so I did some with my husband first, and then went to another town and did some with a lady photographer. After I had become comfortable with it, I went back to him and did some nude stuff with him. I didn't think I'd like it at first, but when the pictures came back I learned that you can do a lot with photography! Not like on video: the video-camera doesn't lie. That's one good thing about amateur — I think I was probably a little bit insecure, because I had all these expectations of what people might think I should look like. Amateur is so different from 'Playboy'. Guys would much rather speak to somebody like myself who is not 'perfect', because I'm more approachable.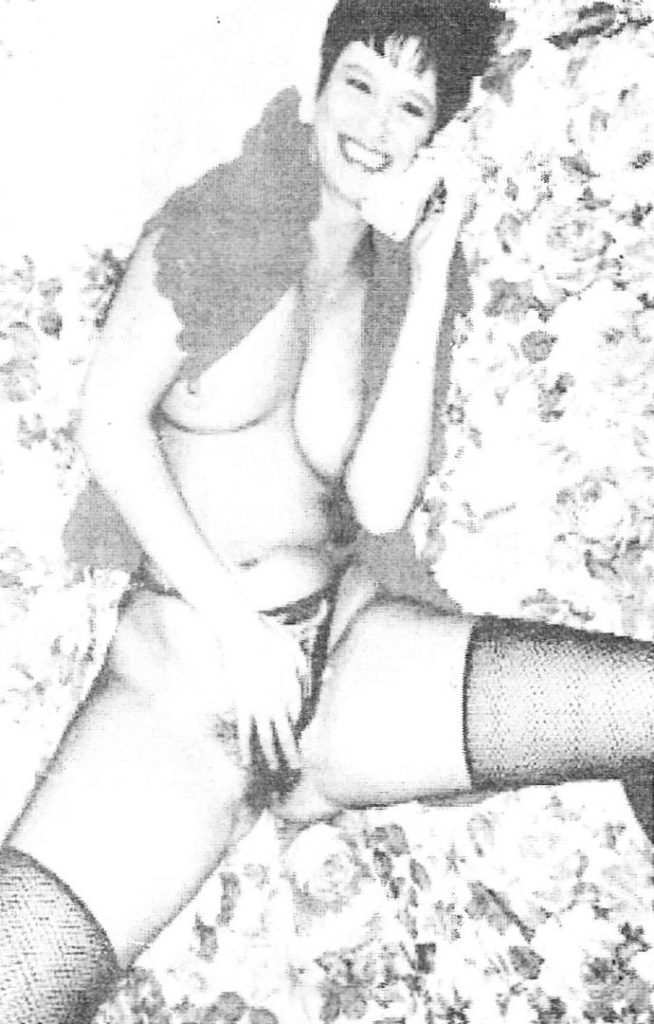 When did you first become interested in adult entertainment, and what made you want to get involved?
I lost some weight and thought it would be fun to pose nude in a magazine, so I posed for pics and sent them in, and here we are! After I did that, I thought it would be fun to do some home made amateur vids. I loved it, the feeling of all those men watching me, it really gets me turned on, even to this day. I love that so much, it really is the best part.I do the phone calls from home, right in my bed, and I do have a lover every now and then and we do live sex calls on the phone – whether it's a blow job or me really being fucked, it's great!!
How do people react when you tell them what you do? What do your family think? How did your sister get started?
Those that I do tell — very few — think that I don't look the part and are surprised. It's not like "Hi, I'm Roni Raye and I do porn movies". I am a real down to earth person, I do normal things like everyone else, I put my pants on one leg at a time just like everyone else. My family thinks that as long as I'm happy, it's ok. My sister wanted to earn some extra money and likes showing off as much as I do, and started doing phone sex, then tried doing a vid or two and really enjoyed herself. My family doesn't know that she's done vids or the phone lines.
Though you did lose your job in a dentist's, as a result of your first appearance in a magazine.
I was the only full-time dental assistant in the office and we had just hired a girl to fill in. There was a mutual friend — a bit of a trouble-maker — when I told him I had posed in the magazine, he went and got a copy and thought it would be funny to show it to the boss's wife, because he didn't much like her and wanted to make her jealous. When she found out, she wasn't too happy about me working with her husband. She said, "We don't have enough hours to support you", and the part-time girl got my job. That's when everything started going full-force with me in the business. I'd started doing the posing because I was kinda burned-out with my job. I didn't want to quit, but thought if I did something else on the side, it would make it a little bit more exciting.
How much control do you exercise over your output? Do you get to choose the specific pictures, etc?
The only actual layout that I've posed for somebody else, was the one in 'Velvet', where I went to New York. All the other ones, basically I've just sent my pictures in, and won different contests. During this whole business, I've been in control of everything. It's full time, because I'm constantly filling orders from the catalogue, and I have a phone sex line, and I set my own hours on that, but it's how I want to set everything up. I don't have to go and pose for all these different men, or do talk shows. Since it's me up there, I have total control over when and how much of me they get to see. If not, then it wouldn't be me would it? I am the product of their fantasies — and judging by the response to what I've done, I can't imagine how many wet dreams I've been part of! I have 3 PO boxes just to keep up with the mail I get, sometimes over 100 pieces a week. I get letters from all over the world and I've been featured in many magazines.
Born: July 3, 1967 – Elkhart, Indiana.
Stats: 5'11", 150 lbs, 38D-26-36.
Hair: Brunette (originally a blonde!).
Eyes: Brown.
Turn-ons: Long, slow sensual massages, oral sex, role-playing, being dominant,  hugs and kisses! Lots of attention!
Turn-offs: Close-minded hypocrites who try to force their beliefs on you, egotistical males.
Favourite Movies: Rainman, Terms Of Endearment, any comedy.
Favourite Tunes: Anything alternative, any dance tunes.
Age When I "Lost" My Virginity: Age 16 (and I haven't gone looking for it since!).
Favourite Sex Position: Doggy-style.
Favourite Sexual Act: Giving blow jobs and finishing it to completion by swallowing every drop.
What One Word Best Describes You: Exhibitionist – I love to show off, and to have sex in a public place.
Favorite Clothes: Sexy, provocative, lingerie such as garterbelt with stockings, teddies, matching bra and panty sets.
Hobbies: Lifting Weights, Aerobics, Dancing, Writing and Traveling.
Do you see what you do as business, pleasure, public service or what?
All of the above, a little bit of everything combined. Doing the vids has nothing to do with profit, and selling them has nothing to do with sex — unless you're being fucked out of some money! And I do like pleasing men, so there's the public service part.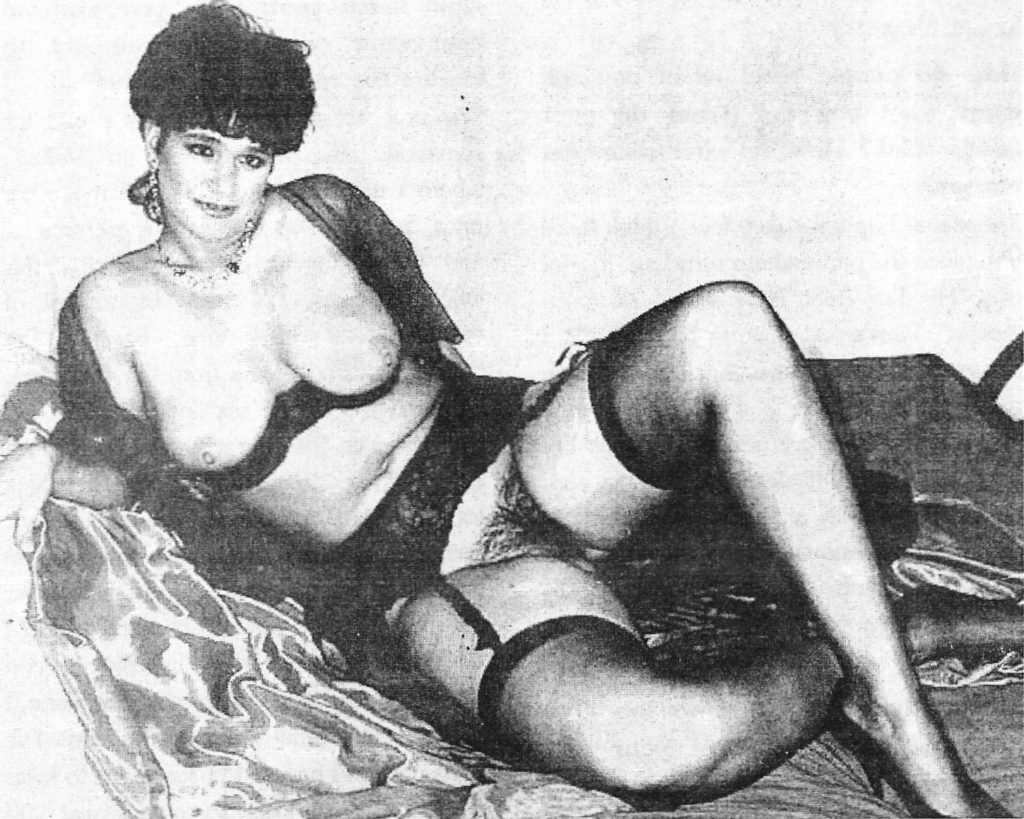 What part of work do you enjoy most?
Number one, I enjoy the phone calls. I get to talk to so many different guys, in so many different lifestyles, and they don't always talk to me about sex, they talk to me about their families and their life, and their problems. Things that they need a second opinion about, that they can't talk to their friends or wives about. I'm kind of a sounding board, this phone friend — a little bit mysterious because they've never met me — but that's my favourite part. The second part, I enjoy any writing that I do, immensely, I've started writing columns for different publications and eventually, I'd like to write some short stories and books. But I like the photos and videos as well, especially when I get feedback; "this turns me on", "I like this", that makes it all worthwhile.
On your phone line, do you get many repeat callers?
I got a lot of regular callers, some guys call me eight times a night! Very few call once and then never call again. I have a clientele, basically. It's just like they're talking to a doctor about therapy; I hear all kinds of stories!
What's the weirdest request you've ever had?
When I first started this, everything to me was, like, "Whoa!" because I'd never heard of it before — I was raised in a strict Baptist family, we went to church twice a week, so when I first started to hear guys wanting pictures of me going to the bathroom… Or I have this one particular customer that likes me to fart, on audio-cassette, and now he wants me to do it on video. I have one guy that has a fetish for women who are missing toes, he sends me money and has me tape my big toe back and take pictures of it. A lot of them on the phone lines have their different fantasies. some of them like the little cheerleader, or nurse. There are some that are kind of risqué: I've had guys call me and talk about wanting to rape little girls. And I'm like "I don't want you to do this in real life". Should you analyse this? I'm not a doctor, but if I think somebody is a little bit bizarre, I'm going to tell them, "call someone else, you sicko"!
In some ways, you could say it's better for them to get it out over a phone line than to go out and do it, but are they getting rid of the feeling or are you just building it up?
And I'm the one that has to draw the line there. I have guys that have specific fantasies about younger girls, which they would never go out and do, and they always specify that. I feel in my heart that it's just a fantasy, it's nothing they'd ever do, but they get turned on by it. I can handle doing a call with someone like that. One never can tell, but I imagine I have a little bit of experience under my belt, I've done it for three years, so I think by talking to someone for a while, you can get a feel for what kind of person they are.
What do you say to people who claim pornography is a bad thing, or is degrading to women?
That's usually said by men who don't get enough at home from their wives, or women who are anal retentive, or by your local congressman! Anyway, I look at it this way: I'm not forcing any one to watch my vids, so don't bother me. I mean, there are a lot worse things going on in this world than sex vids, don't you think?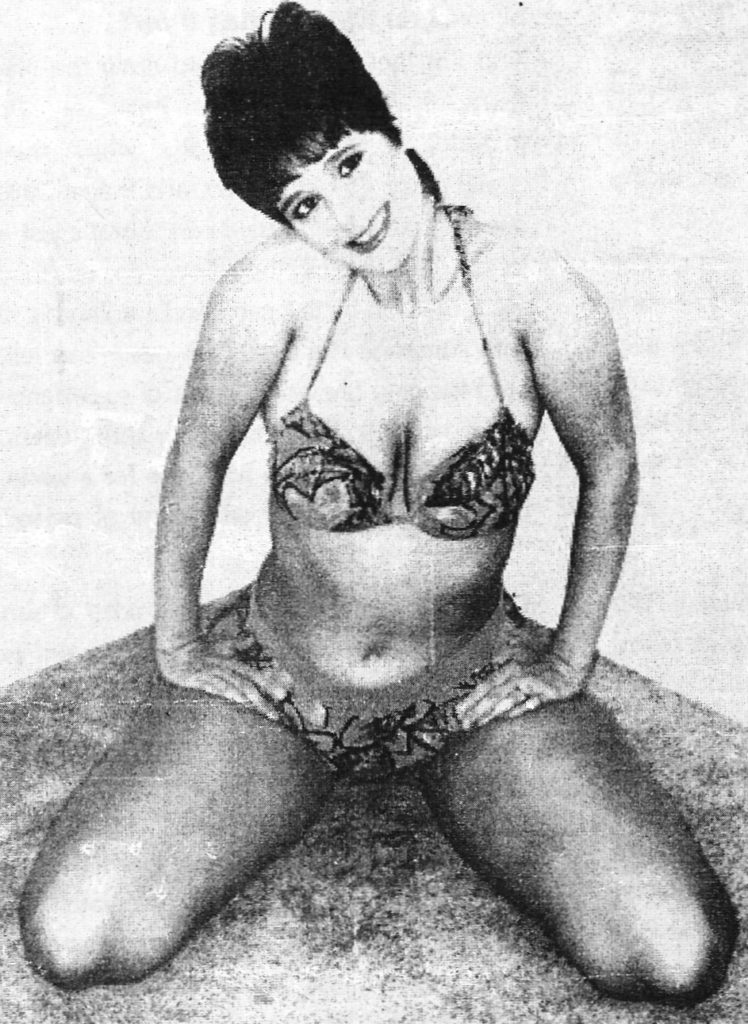 You're planning to retire and write a book – have you a fixed time scale for that?
I always say this; I'm probably going to do the phone lines till I die. There's gonna be a certain point in life where my body doesn't hold up — photos and videos aren't going to go on forever. I'm going to take time out to have children, but as far as the phone lines do, I can't see why I can't go on doing that forever. I really don't want to write a book right away because I feel I should get a couple of years more experience under my belt before I go and try to be an expert on anything. It would probably be 'fiction-based-on-true-stories', because I know a lot of people won't want their names mentioned. Every day is a new chapter! Just the letters that I have, that guys write to me, would be a book in themselves. We're all to a certain extent voyeurs. If people could read through a book of these letters, they would just be amazed.
How would you like to be remembered? What epitaph would you like to see carved onto the Roni Raye monument?
I came…we fucked…and you came first! Really? That I'm an honest Midwest girl, who had some fun while she was here — and left no dick dry before it's time!
For more information on the wonderful world of Roni, send $10 for her illustrated catalogue to:
Roni Raye,
P.O. BOX 502210,
Indianapolis, IN 46250,
USA
[The editors of this magazine accept absolutely no resposibility for any resulting hassle from HM Customs, which is strictly, absolutely and completely your own problem! Though I guess you should probably be okay if all you've done is send off for some of Roni's underwear. But with these Customs geezers, who can say? Anyway, you're on your own…]
2021 update. Roni is still going strong, more than twenty years after the above was written, in an industry notorious for chewing up and spitting out its participants. She's now in the MILF business. 🙂
Roni-ography
| | | | |
| --- | --- | --- | --- |
| Title | Distributor | Year | Notes |
| 1-900-RONI | Roni Raye Productions | 93 | s |
| Balcony Bliss | Roni Raye Productions | 95 | s |
| Bedroom Window 51 | Homegrown Video | 93 | q [1] |
| Bush League Volume 20 | Pearl Necklace Video | 93 | f |
| Bush League Volume 22 | Pearl Necklace Video | 93 | f [1] |
| Bush League Volume 23 | Pearl Necklace Video | 93 | f [1] |
| Cousin Bubba's Country Corn Porn | Visual Images | 93 | q |
| Gorilla-Gram | Video Alternatives | 93 | f [2] |
| Homegrown Video Volume 402 | Homegrown Video | 93 | q [1] |
| Honeymoon Hottub | Roni Raye Productions | 95 | s |
| Images Of Roni | Roni Raye Productions | 95 | s |
| Looking At You | Video Alternatives | 93 | f |
| Mistress Roni Reigns | Roni Raye Productions | 95 | s |
| Nurse Roni: Nasty Fuckin Movies | Rumpus Video | 93 | s [1] |
| Oral Cum Fun | Roni Raye Productions | 94 | s |
| Peek-A-Boo | Roni Raye Productions | 93 | s |
| Roni and Private Parts | LBO Entertainment | .. | q [1] |
| Roni and the Peeping Tom | SVE | 93 | s |
| Roni At Play: Up the Skirt | Roni Raye Productions | 93 | s |
| Roni Blind Date | Rumpus Video | 93 | s |
| Roni Cooks | Samuel's Company | 93 | s |
| Roni Does It Good | Samuel's Company | 93 | s |
| Roni Flashes | Roni Raye Productions | 93 | s |
| Roni Gets Wet | Roni Raye Productions | 94 | s |
| Roni's Treasure Hunt | Roni Raye Productions | 93 | s |
| Slippery Sex 1 | Roni Raye Productions | 94 | s |
| Slippery Sex 2 | Roni Raye Productions | 94 | s |
| Voodoo Doll | Video Alternatives | 93 | f |
Key: s-Starring role, f-Featured (more than 1 scene but didn't star) q-Quickie: compilation in which she appears in one scene, [1]-Pictured on the Box [2]-Nominated for award
| | | |
| --- | --- | --- |
| Magazine | Month/Year | Notes |
| Velvet | May 1993 | P |
| Gallery | Jul 1993 | P |
| Amateuir Hours | Aug 1993 | P |
| Cheri | Sep 1993 | P |
| Hustler's Busty Beauties | Dec 1993 | P |
| Amateur Adult Videos | May 1994 | P |
| Naughty Amateurs | Jul 1994 | P |
| Adams Amateur Porn | v1#4 1994 | P |
| Adult Video News Directory | 1994 | |
| Amateur Hours | Jan 1995 | P |
| Rocky Mountain Oyster #958 | Mar 1995 | I page 5 |
| Amateur Hours | Jul 1995 | P |
| Homefront, The | v1#4 | IC |
Key: A – Article, B – Back Cover, C – Cover, F – Centerfold, I – Interview, P – Pictorial, R – Movie Review