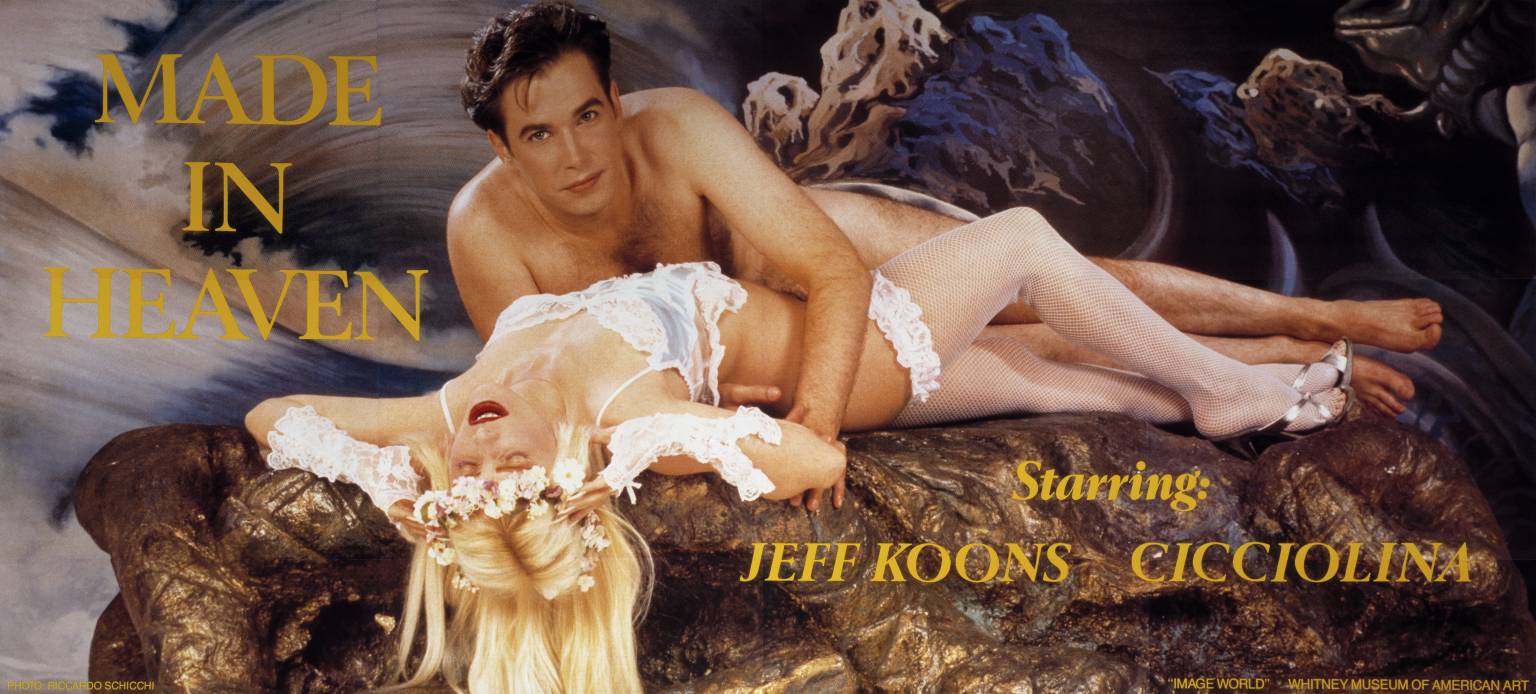 Jeff Koons & others. Anthony d'Offay gallery – October 1992.
Modern art is, to a large extent, an area of minimal interest to me. Splodges of paint, concrete blocks and the pretentious ramblings of art critics are not my cup of tea, perhaps because I prefer an aesthetic beauty sadly lacking from much modern art, most of which is about as pleasing to the eye as a mis-inserted contact lens.
However, the prospect of seeing some of Jeff Koons' work was sufficient to drag me, dressed in a suit and tie to make it clear I was a connoisseur rather than a perv, into a gallery just off New Bond Street. Embarrassment meant I had to endure the rest of the exhibition first, but this did let me play 'pin-the-bollocks-on-the-artwork', trying to match the hyperbole of the press release to the actual pieces. That showroom dummy with added genitalia, has it "plunged beneath the surface to explore the demons of sexual abuse and erotic nightmares that underlie the foundations of a contemporary woman's self identity"? Or maybe it "reflects the strange combination of eroticism, self-degredation (sic) and everyday practicality that can infuse even the most ordinary episode of housework".
About the only piece of any appeal at all was a 3D paper-and-ink figure of a woman hanging herself, suspended from the ceiling. It did at least have a nice "let's throw ourselves in the abyss" sort of quality, and looked as if someone had spent more than five minutes creating it, though I confess having to resist a temptation to look up the figure's skirt.
Then, literally in the final corner, I saw two very large – maybe eight foot by ten – photographic quality screenprints of Koons and Cicciolina. Had they appeared in a magazine rather than hanging on a gallery wall, both would have been pounced upon with glee by the Obscene Publications Squad, One was entitled 'Jeff on Top, Pulling Out', the other 'Butt Red'. Neither really require much more elaboration, except perhaps that the latter had Cicciolina in a fetching set of lacy red lingerie.
But is anal sex art? Personally, I have doubts. Porn works on a personal level, not as an object of artistic veneration, and displayed, shorn of context in a gallery (rather than a bedroom?), it loses much of whatever power it might otherwise have had. Definitely Schwing Factor Zero.
To a certain degree, Jeff Koons can be accused of exploiting Cicciolina; few people had heard of him before his relationship with her began. And who is the real pop artist? Koons' work starts at 65 grand, while Cicciolina's "art" is available – at least, in more civilized countries than this one – for a few quid. But it does have one positive feature; after you've been confronted by eighty square foot of Italian MP getting screwed up the ass, it makes the fuss over Madonna's book (Zzzzz…) seem pretty small beer!