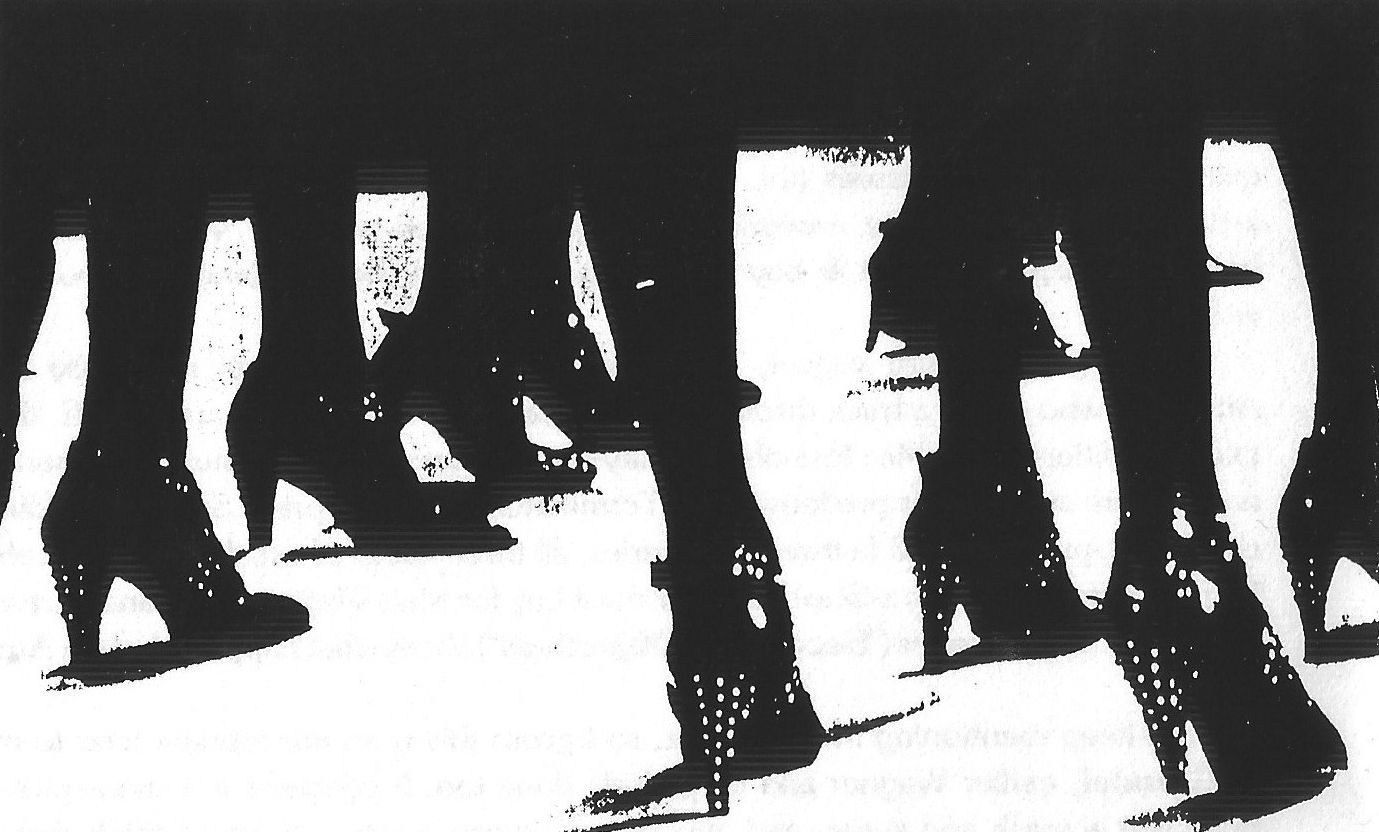 Trick or Treat, run by Alun Fairburn, sells (mail-order only) ex-rental and other videos cheap, imports foreign 'zines and deals in all manner of genre stuff (he may be the only person with back issues of TC to sell!). I've bought a fair amount of things from there so can recommend it.
So where can you get all this Oriental stuff from? Well, for the Hong Kong action pics, the Jackie Chan Fan Club is the best source of information. They publish Eastern Heroes, an excellent bi-monthly publication with news, reviews and articles on all Hong Kong films, not just Jackie's ones (they also sell video-tapes, albeit at rather a high price!). For anime, If you're looking for merchandise i.e. books, magazines, cels from 'Akira' (I suggest using someone else's credit card for them!), then try the Sheffield Space Centre. They do mail-order, so send a couple of stamps and ask for a catalogue.
To the 'zines – here seems as good a place to mention Anime UK 4-6 (22/20/24 A4, £6/six issues), since this 'zine is easily THE place to contact other fans and learn about Japanes animation. The people who run it, Helen and Steve (the Lovely Angels of British fandom?) are always willing to help new fans.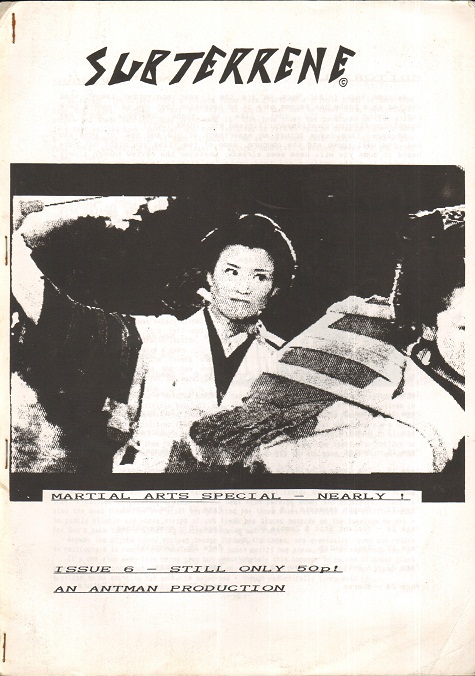 One 'zine I got a flyer for but haven't seen is Twisted Souls – issue 1 promises film reviews and articles on John Waters, necrophilia and "the sound of horror". No idea of price or size yet. Subterrene 6 (30 A4, 50p) is almost 100% reviews, mostly but not exclusively horror films: editor Anthony digs up a lot of obscure stuff you won't find elsewhere, as well as covering the classics. Pretty Poison 1-3 (20 A4, £1) worships vids, drugs and rock 'n' roll, reviewing films, music and illicit pharmaceuticals (#3 has ecstacy getting a big thumbs down). Odd and obscure movies get most of the space in a fast, loose and cool style.
The most interesting thing for me in Samhain 27 (40 A4, 1.75) was, you'll not be surprised to hear, the Winona Ryder piece, despite qualms about what Britain's leading horror-zine is doing! Coming soon, a Julia Roberts interview? Pah, jealousy will get me NOWHERE! Speaking of lust, scraping in on the deadline is Nora K 4 (44 A4, 1.50?), Steve Rag's latest review of the activities of everyone's favourite jailbait. Reviews, more droolworthy pictures and even a Traci Lords Trivia quiz. Creeping Unknown 18 (40 A5, 95p) looks distressingly cool, with new DTP technology making it easier to read. What's still the same is the chatty, informal feel as Nick, Cath & Lino seek out all that's best (& worst), on film and video. '
Dementia 13 (52 A4, 1.75) reaches it's 6th issue, and has a couple of real good stories in it – one best described as 'A Clockwork Vampire' and another, "Omadhaun's Ink", that might push the boundaries of taste for some. Critical Wave 21 (32 A4, £1.50) also deals with fiction, but it's SF rather than horror and is mostly articles ABOUT the subject. Not for the novice, it's well-produced and seems to know what it's talking about. The Wild Places 2 (36 A5, £2) is a Fortean-ish 'zine with articles on corn circles, the extreme Christian press, alien conspiracies and spiritualism. Sceptical without being cynical, I enjoyed it.
Actions of Rebirth (20 A4, £1) is from Greece, but is (thankfully!) in English. It crams in more words per inch than most 'zines, on subjects ranging from the far Right to band interviews plus film & music reviews. Black 8 (20 A4, 60p) is from Sweden and is ALMOST in English! Definitely a zine I like getting, as Mikael and friends rant about Swedish TV and review art-house stuff like "Seduced at a party by mother-in-law"! ,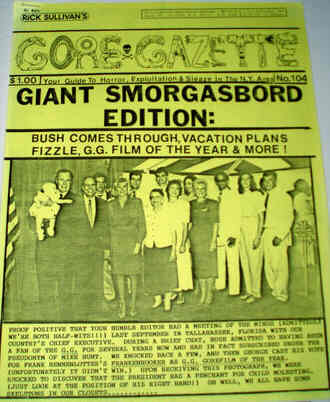 Gore Gazette 104 (10 A4, $1.50?) has a cover the shade of yellow seen only near nuclear plants. This issue has April Fool's humour, with phone calls to people like Tobe Hooper. Puerile, childish & funny. Congratulations to Michael Gingold for following GG to 3 figures with Scareaphanalia 100 (14 A5, $1), which proves Americans ARE capable of writing proper English! Subhuman 18 (16 A5, $2) is almost like an trans-Atlantic 'Sheer Filth' in content. perhaps not so sleazy, with the highlight being a scary piece on seeing someone you know in a pomo film.
Mortal Remains (20 A4, $3) has a clear, open layout that's highly legible, and articles on David Lynch, the Fangoria Weekend of Horrors and films that the editor reckons deserve a second chance. Monster 57-58 (16 A5, $1) continues Tim Paxton's love affair with creature features, though occasionally other things slither in. The man who really loves the films he writes about. Best new issue this time round is Brutarian 1 (72 A4, 2.50). Startlingly entertaining and well produced, it's wide range of subject matter makes it look like a glossy American version of TC (that IS a compliment!). I got may copy through Trick or Treat (see above).
A typical page of Factsheet Five 42 (136 A4, $5) might have a 'zine for interracial couples, a gay literary quarterly, the self-explanatory Kansas City Flying Disk Club Newsletter and a "bioregional journal of ecology, economy and living in harmony with the earth". Vital reading for the weird at heart. Generation X (24 A4, 75p) is aiming to do the same task in Britain, cataloguing everything from records to 'zines, with articles to vary the tone.
Actions of Rebirth: Bill, Apostolopolou 51, Halanori 15231, Athens, Greece.
Anime UK: Helen McCarthy, 147 Francis Rd, Leyton, LONDON, E10 6NT.
Black: Mikael Bomark, ASPV.28, 14141 Huddinge, Sweden. )
Creeping Unknown: Nick Cairns, c/o 33 Maltby Rd, Mansfield, Notts NG18 3BN.
Critical Wave: Martin Tudor, 845 Alum Rock Road, Ward End, Birmingham, B8 2AG
Dementia 13: Pam Creais, 17, Pinewood Avenue, Sidcup, Kent, DA15 8BB.
Generation X: 1 South View, Main Street, Mexborough, S.Yorks, S64 ONE.
Gore Gazette: c/o Sullivan, 469 Hazel St., Clifton, NJ 07011, USA.
Jackie Chan Fan Club: Eastern Heroes, PO Box 409, London, SE18 3DW.
Monster: Tim Paxton, MPO Box 67, Oberlin, OH 44074-0067, USA.
Mortal Remains: Kevin V.Lewis, 1835 Centre City Pkwy, #145, Escondido, CA.92025, USA
Nora K: Steve Rag, 118 High Street, Eastleigh, Hants, SO5 5LR.
Pretty Poison: Gary Gittings, c/o 307, Bloxwich Road, Leamore, Walsall, WS2 7BD.
Samhain: 77 Exeter Road. Topsham, Exeter, Devon, EX3 OLX.
Scareaphanaiia: Michael Gingold, PO Box 489, Murray Hill Station, New York, NY 10156-0489, USA.
Sheffield Space Centre:33 The Wicker, Sheffield, S3 8HS.
Subhuman: PO Box 53735, Lafayette, LA. 70505-3735, USA.
Subterrene: Anthony Coward, 6 Daleside Ave, Pudsey, Leeds, LS28 6HD
Trick or Treat: 69 Pontamman Road, Ammanford, Dyfed, SA18 2HT.
Twisted Souls: Lorraine Sinnott, Flat 0/1, 35 Summertown Rd, Ibrox, Glasgow, G51 2QA.
The Wild Places: Kevin McLure, 42 Victoria Rd, Mount Charles, St.Austell, Cornwall PL25 4QD.