The San Futuro Chronicles
Welcome back. In the time since the last issue, two-thirds of the TC household popped to France for a silly weekend (unfortunately, our dear editor was transportless at the time & thus unable to join us… hence a trip to the Anime-con in California was deemed necessary in an attempt to tear him briefly away from TC). Plenty of silliness & alcohol was had by all, but that has nothing to do with comics, so I'll skip it.
What is relevant, is that the newsagent at St. Malo ferry terminus had various "comics" available… including L'Echo Des Savanes, and several BD adultes (BD are Bandes Dessines, French comics… just in case you didn't know!!). L'Echo is a bit like an adult version of Deadline – included in the issue I picked up were: Manara's Declic 2; a variation on the old 'Thirty-six and you still believe in fairies" joke (fully illustrated of course); articles on virtual reality, the history of the bikini, Meet The Feebles, Antoines "Rapido" De Caunes, & the current choice bimbettes (Samantha Janus, Winona Ryder, Naomi Watts & Lisa Matthew); a "readers'-wives" striptease; a slice of Paul Gillon's The Survivor; and an article on motorway pile-ups. Not bad, eh?
T'other purchase was a pressy for the Ed – a copy of Video 7, possibly the finest video magazine in the world. Again French, this covered Lova Moor; Emmanuelle Beart; the latest cute American actresses (Lara Flynn Boyle, Uma Thurman, our Winona, Courteney Cox, Kelly Lynch, Robin Wright & Robin Givens); plus loads of film reviews (induding a Cahier X section, dealing purely with the latest porn releases… and judging by the adverts, there are plenty of those). To return to the wingeing of last issue, why isn't good stuff like this allowed over here.
Beyond that comic-wise, I was stunned to hear of a shop over here that had a couple of BD Adultes in. On further investigation, these turned out to be Le Declic & Nouvelles Coquines, both by Manara, and all that should be expected of Manara's work (see last issue for further details…). The first of these two is Click!, if you manage to find it over here ever, and is fun, sexy & every-so-slightly warped; I couldn't say what the other is (maybe Shorts ?) but it's cute & probably even better if you understand French, & hence the plot (aside: this is merely a humourous quip, as Manara's plots are not overly complex… then again, maybe they've just lost something in the translation). Anyway, onto the stuff our editor expects…

Personally, I've only really been "into" comics for about four years… okay, so when I was a kid, I read Dandy, Beano et al, then was there at the start of 2000AD, but for about a seven year gap, I bought nigh on zero comics. Since my recent return to comics though, I've noticed various changes come about (maybe changes in perception, but I'd like to think it's really the comic-buying public & publishers that have caused it). The middle-ground between the mainstream comic megaliths & the underground comics has blurred greatly, with the independent publishers forming a more & more important slice of the marketplace. Companies such as Now!, Dark Horse, Innovation, and a whole load of smaller fish are producing challenging, interesting, different comics for mature readers (not "adult"…. mature) – maybe it's often without the professional gloss that the DC & Marvel big-boys have, but since when were TC readers bothered by minor details like that! Anyway, of the 23 comics I'd been considering reviewing in here, 19 were from indie-land so I'll dub this an indie-scene SFC (even though Jim was willing to let me off topic-free this time) and set off into that strange and wonderful place.
(Cue theme from the Twilight Zone).
So.. what's to say ? Well, the Indies have one major opportunity that the Marvel/DC "universes" lack – the freedom to experiment. There are very few rules to which the independents must adhere, and those are basically only there to ensure sales. There're the nice-art-shame-about-the-story sort, the nice-story-shame-about-the-art sort, the shame-about-the-art-shame-about-the-story sort (a.k.a. "crap" or "supporting budding artists"), and the dunno-what-it-is-but-I-like-it brand. The most immediately grabbing ones are (fairly obviously) those with the art. There is some stunning art out there, and it ranges through the whole spectrum of styles. A lot of indies are black-and-white, but colour is creeping in gradually – as more comics get sold, more companies can break out of the monochrome mold (or should that be mould… never can tell). So, time to name some indies…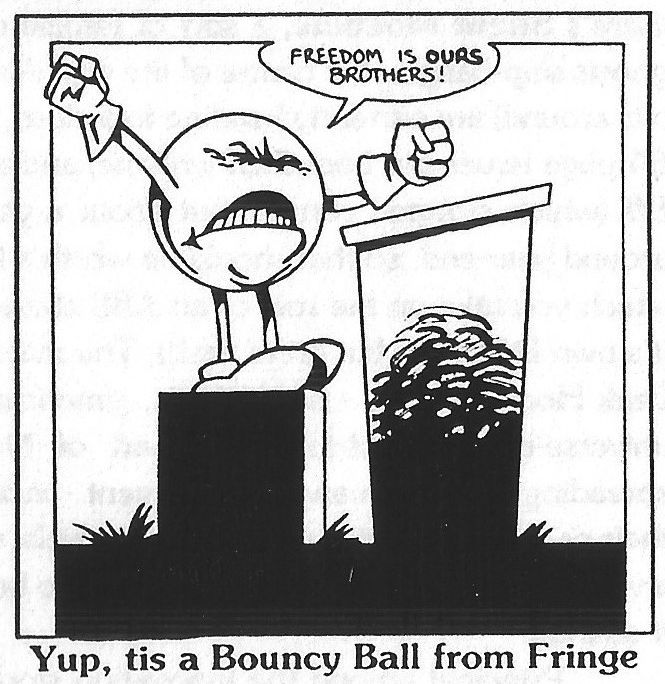 Well, I guess I can start with Fringe (Caliber Press, currently on issue 6), a personal favourite with a completely off-the-wall cyberpunk-meets-Wile-E-Coyote sort of attitude. The artwork is fairly minimalist B-&-W, the story concerns: a group of folks (principally Fringe himself and a Nun-like character going by the name of Chernobyll Red) who can alter other folk's perception of reality; a totalitarian set of bosses; and lots of bouncy balls (seriously). Fringe is anti-establishment, CR is most definitely part of the establishment. Personally I'm not really sure what's going on, but it's fun, nicely drawn & written… so give it a go.
Next… Airwaves (again, Caliber, issue 4 just out). More totalitarian governments, more minimalist artwork, this time with music as an interesting aside. In Airwaves, the future of muzak is realized as the masses are kept anaesthetized by the all-pervading dross (bit like THX 1138, but not so antiseptic!), so it's up to Jon Pure & his rock-band (aided by Paisley a Radio DJ less-than-loved by the authorities, punx and so forth) to beat the bad-guys. So far it's just really getting going – but so far, so (very) good.
Now for a few at once… Cry For Dawn (A true indie… from Cry for Dawn publications, issue 5 (Spring 1991) just out on British shores), DHP a.k.a. Dark Horse Presents (Not surprisingly from Dark Horse, up to issue 53 these days), and Cheval Noir (Again, from DH, heading for issue 22 Stateside). So, what connects them? Well, they're all B'n'W anthology sort of titles… DHP & Cheval Noir are very similar in style – half a dozen unrelated strips, generally across a few issues per storyline – the main difference being that CN is European based rather than being States based. DHP has lately included Sin City (Frank Miller's latest, both written & drawn by him), Homicide (a police thriller style strip) and The Aerialist, a tale by Matt Wagner [Father of Mage & Grendel] set in a homosexual, drug-taking future where the main sport involves hanging off blimps by bungee cords (the exact details of the sport are a little vague…). All good stuff, and definitely worth a peek (or two).
Cry For Dawn is somewhat different. This is a horror anthology, initially based around Michael Linsner's artwork with a few writers to keep him busy, but which has broadened its scope to include other artists (issue 4 was a bit of a let-down as it severely lacked Linsner bits apart from the cover). The stories have been completed in single issues, generally 3 stories per issue. Great artwork, some really creepy tales, a sense of humour, and you can even get Cry For Dawn T-Shirts (something on the list of to-be-sought's for the California trip!!).
Other black and whites include assorted manga: Justy was an eight parter about psychic space-cops; Venus Wars is a current series about war between conflicting cities (on Venus of course), which features lots of big, weird battle-bikes; Golgo 13 is about a highly-skilled assassin and his "jobs" (actually this has been coloured in the Anglicized edition, but the black and white original stuff looks a load better!); then there's Silent Moebius, a sort of female oriental ghost busters with the traditional oriental style ghosts slap-bang in the centre of the city. Also manga-wise, Akira and Outlanders (two of the best bits around) are currently heading to a close, but Akira is being reprinted in "bookshelf" format (three 64 page issues per bookshelf wolume) and also in one of the new Marvel mags (Meltdown ?). Area 88 (which stopped coming out about a year ago over here) is meant to be getting going again around year-end, so that should be worth a look (there's a U.N. Squadron arcade game around in which you take on the role of an A88 character and earn money to equip your plane… tasteless in its own little way, but great fun!!).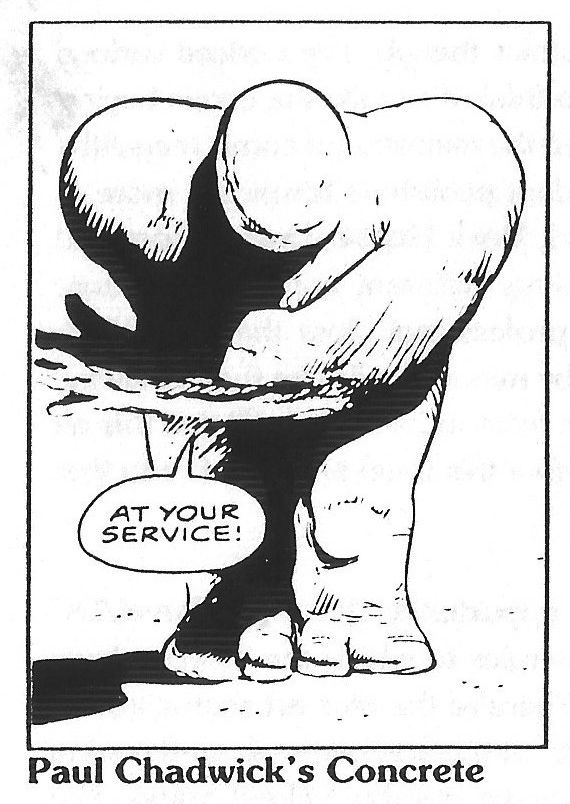 The majority of the manga that's in English has crept out of the Dark Horse and Viz – not UK Viz, American Viz – stables, plus bits from Epic (the not-part-of-our-universe-but-we-want-to-print-it part of Marvel). However, other companies have lately been spreading into the manga department – including Innovation, a company probably best known for their painted adaptations of modem novels, who have started producing 3×3 Eyes over here… about a vampiric 3-eyed schoolgirl who wants to be human (and it's a lot more worthwhile than that makes it sound!).
Principal among the Innovation stock is probably The Vampire Lestat, a nicely-adapted, prettily-painted adaptation of the second of "the current three volumes in Anne Rice's vampire chronicles. Currently heading for issue 12 (of 12!) it's due to appear in a single 300+ page volume fairly soon. Just out last week (or that's when I first saw it) is issue one of Interview With The Vampire, the book that precedes Vampire Lestat (odd publishing sequence you may think, but the Vampire Chronicles do actually improve as they go on!), it's the first of another 12 part series. Coming soon is Queen of the Damned (the third book, again split into 12 issues) and The Master Of Rampling Gate, a one-off of one of Anne Rice's shorter vampire tales. Other Innovation bits include: a 4 issue adaptation of Terry Pratchett's The Colour Of Magic (recently finished); a couple of Elm Street style bits; and recently painted adaptations of Piers Anthony's On A Pale Horse and Gene Wolfe's The Shadow Of The Torturer have been started.
"Coming soon" includes a limited series version of Psycho and a 76 page "graphic novel" of Phantom of the Opera. Innovation stuff has so far been remarkably faithful to the originals but there can be quite a wait between issues (this is fairly common among all comic companies, Marvel & DC included, especially if the artwork is high quality… however, the Vampire Lestat series got me hooked enough to go out & buy the novels to read in the wait (and I still bought the comics as well!!)).
Dragon Chiang vaguely continues the oriental theme, but is actually about a Chinese-American who drives a truck through post-apocalypse America. A mere one-off, this is a nicely told tale in traditional Mad Max loss-of-humanity-through-war style. Nice stuff all the same. Other current nasty-future style stuff is predominantly Terminator based (Surprise! Surprise!) including: the Marvel comics adaptation of T2 (a three issue series, all three issues of which are around already); the Dark Horse Terminator One-Shot (another must-buy for Matt Wagner fans); and a new four-issue Dark Horse Terminator series ("Secondary Objectives") about what happened when Arnie missed Sarah Connor.
I keep mentioning Matt Wagner, so I guess this is an appropriate time to mention my love of Grendel, earlier Wagner and very nicely done too. It concerns a demon-spirit ("Grendel") that possesses a mask and spear, and anyone who wears them… at least I think that's the basic line. However, this isn't a mindless-violence-until-exorcised style demon, this one is anti-establishment (why do I like anti-establishment comics…), anarchic and generally a crazy guy to have around. The Grendel series goes from roughly "now" to the distant future, where the Church has taken over the world, and Grendel is a sort of cult-religion figure that the Church wants to stamp out. Unfortunately, I'm currently suffering gaps all through my Grendels, and don't have about the last ten, so details as to what's really going on are lacking (maybe I'll pick up the rest in America… they must have them there).
Another marvellous creation of MW's is Mage, sort of a King-Arthur-meets-the-little-green-men tale, collected in three volumes and a must-buy for anyone who thinks Frank Miller & Dark Knight redefined the comic-book hero (he just took the nice indie style and showed it was commercially viable to the big boys).
More oldies now!! Rust tells of a horribly disfigured man trying to maintain his humanity and protect his friends (vaguely like the Concrete stuff, but painted rather than line drawings and with fewer green-ities!!). Shatter's, an early cyberpunk comic with computer generated art from the man who brought the world MacPlaymate (an icon-driven interactive sex game for the Apple Macintosh, featuring a prone figure, draggable dildoes, marvellous (if sick!) graphics, and assorted sound effects). Note that Shatter's art is somewhat earlier than Digital Justice, and it shows in the size of the printed dots… God's Hammer covers the tale of an ordinary guy from the future whisked off into adventures beyond his understanding. This has nice fine pen-and-ink stuff, 'tis good.
The Crow is another Caliber title, telling of a man who turns psycho-vigilante to avenge the murderers/rapists who killed his girlfriend. Very nice story, definitely nice art, dedicated to Ian Curtis, and a marvellous picture of a man who has just slipped over the edge… the rights to this are apparently now in the hands of Dark Horse, so there's still a chance of an anthology version of this – buy it if you see it!!
Well, that's definitely most of what I had littered around to cover, and if I'm not careful there'll be no room for any pictures (not that they're really much use in a marvel like TC), so this is me signing off. Now, back to the newsroom.