Welcome to the Videodrome
18 months. I suppose this is a small improvement over the nineteen that it took to produce the previous issue; is TC heading back towards being a quarterly? Don't hold your breath. Not that I've been idle: well, actually, I *have* been idle, for quite long periods. But in between times, things have on occasion happened. Some of them have been enjoyable, others have been….oh, let's say, like having the eyes of your favourite posters gouged out by a small, mildly psychopathic Japanese woman. [Any similarity in this editorial to real people is, of course, purely coincidental.]
But, returning to areas less painful. Firstly, there is now a TC Web Site: www.trshcity.demon.co.uk. This contains a steadily growing archive of articles from past issues, as well as new, exclusive reviews, plus additional items such as a weekly rant on the world in general, our top ten babes, and a major guide to strip-pubs in London. Go visit.
There is also, at long last, the long anticipated next generation of TC-shirts. Readers with long memories may recall the fabled "Nekkid Nastassja wielding a blood-spattered chainsaw" design (a shirt which, funnily enough, I can't find any more – I suspect it suffered the same fate as my posters). This time, we've gone for a b/w design featuring the covers of 16/17 or 18/19 — see the illos at left and right respectively if you've forgotten what they looked like. On the back is an A-Z of TC-approved films: to give you some idea, it begins "Aliens, Blade Runner, Cat People…". Shirts are available in XL only, and cost a mere eight quid including postage. Orders to the usual addresses, I've only got a limited quantity so get your skates on.
Finally on the merchandising front, after selling out of Trevor Brown's postcards last issue, we've got an all-new set. This time, there are five full-colour cards, and the price is £3, again including p&p; a sample may be found on the back cover — yes, the one that the granny sitting opposite you on the bus is staring at, mouth agape. Believe me, the colour version is much more…arresting. And it's not our fault if you do get arrested. Ladies and gentlemen, that brings us to the end of the gratuitous plugs.
Obscure technical department. In our never-ceasing effort to bring you even more, we've cut down the gap between lines. This should not impact the legibility, and gives you roughly another dozen pages of content. Let us know if you feel the strain though.
Interesting to note the sudden proliferation of movie magazines, following last issue's "expression of dissatisfaction", shall we say, with Empire. This is good. What's not so good is that Neon, Total Film and the rest seem to be little more than wanna-be Empire clones, by and large clamped on the teat of the Hollywood publicity machine. There remains a gap in the market for a film magazine which is aware that there is much more to cinema than Jackie Brown, yet doesn't disappear up its own posterior in a cloud of mise-en-scene.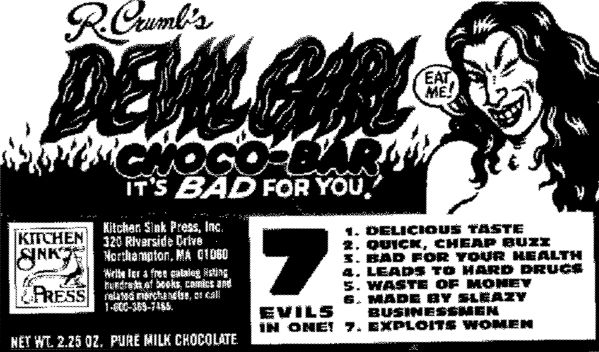 Subscribers will (hopefully) have noticed the presence of a Mansplat in the envelopes, being this issue's freebie. I think I should probably have a few copies of this fine magazine left over (barring an inconceivably large rush of last-minute subscriptions), so if anyone else wants one, write me a nice letter and we'll see what can be done. Get it while you can, as rumours suggest that, sadly, t'Splat may not be around for very much longer – unless, perhaps, the editor is deluged with letters from Britain telling him what a fine job he is doing. Hint, hint…
TC cover-god Rik Rawling has unleashed another blast from his unfettered imagination – and believe me, he exercises restraint for us – in the shape of Hog #3. Hardcore violence and brutal sex (or is it the other way round?) combine in epic tales of apocalyptic noir-ishness. £2 from Rik Rawling, 4A Hardy Avenue, Churwell, Morley, Lancs, LS27 7SJ.
This issue's thanks go first and foremost to Chris Fata for flogging TCs in America, as well as a perpetual supply of distractions, without whom… And while thanking Chris's, of one kind or another: Chris W (last-minute scanner help), Chris P and Christine H (anime). Of those not called Chris, John Spencer deserves especial praise for his layout work — he'll regret it when next issue sidles up ("Hello, John, fancy doing all 100 pages this time round?"). And also, in no particular order of non-Chrisness: Steve W, Rob D, Nicolas B, Miles W, Martin D, Brian B, Rik R, Trevor B, Steve L & Mike C, the gentlemen at the Cinema Store, Psychotronik Video and Media Publications, Michael G, Andy W, Gary C, Pam C, Ian A, Jim S. And that's quite enough initials – I'd better stop before this begins to sound like an Alcoholics Anonymous meeting.
Distractions
Favoured liquid this issue is Kriek cherry beer, a startling Belgian concoction which cleans the floor with your average alcopop. Chug it back to accompany your microwave popcorn (US only – the British stuff sucks), while watching Channel 5. Despite a cheapskate approach, it's the TC channel of choice, thanks to Lexx + baseball — weirdo SF with people like Rutger Hauer, and the ultimate sport for stats freaks. About the only other thing worth watching has been on BBC2: Louis Theroux's Weird Weekends; a Michael Moore spin-off with the best dead-pan comedy since Brass Eye. But keep an eye out for the imminent arrival of South Park, which will leave your jaw on the floor in shock: "That's sick, dude!". For slightly better quality animation, hunt down Beast Wars, easily the best computer-animated show yet screened, leaving Reboot far behind. Though I suppose Final Fantasy VII probably also counts, and has wasted far more of my time than I like to contemplate.
If you want to take in a movie, Starship Troopers will do nicely – if you don't, why not spend your time baiting Titanic fans. Cuddle up with Marilyn Manson's The Long, Hard Road out of Hell – likely to be the most amusing book of 1998 – while listening to Lords of Acid and tucking into the very pinnacle of Western civilization: low-fat condensed milk. This is what 4000 years of progress has been working towards. That and Hamburg, a great place to spend all those weekends when I should really be writing the next issue of Trash City…