Jim's been telling me there's more to life than Quake2. As if! In a desperate attempt to convince, he gave me these zines to review. So – is there life after gibs?
First up is Anime Angels, a straight fiction zine. As co-creator of Tales from the Cajun Sushi Bar, how could I resist a mag that cited CSB as its inspiration? Quite easily, actually, if it wasn't any good. Luckily, it's not bad at all. Written by David Trevett, what you get is two stories: The Angels of Persuasion starring the Dirty Pair, which after a shaky start settles down into a highly readable account of Kei and Yuri's adventures retreving an emotion manipulation device from a con man and sundry terrorists. Plenty of action, and, of course, it's not their fault! The second story, Fireball Hex File Five features a couple of his own spin-off characters, Chrissis Starz and Lissa Moon in a time travel romp also featuring two FBI agents, Mullard and Skelly (geddit?) which is somewhat less successful – the plot is quite clever, but there's far too much of it, with the characters standing round while it's explained, and the new characters not quite strong enough to hold my interest. Nice try though, and I look forward to his next effort.
Next up, and the worst of the bunch is British Manga, which has reached issue 8 – surpris-ing, because it's total cack. With a pseudo Jack Kirby/Barry Smith cover (what's this got to do with Manga?) and printing that manages to lose page edges and several stories that are amateurish, incomprehensible and in some parts, plain illegible. On the plus side, Paul Simmons shows promise, and Laura Watton surely deserves better than this.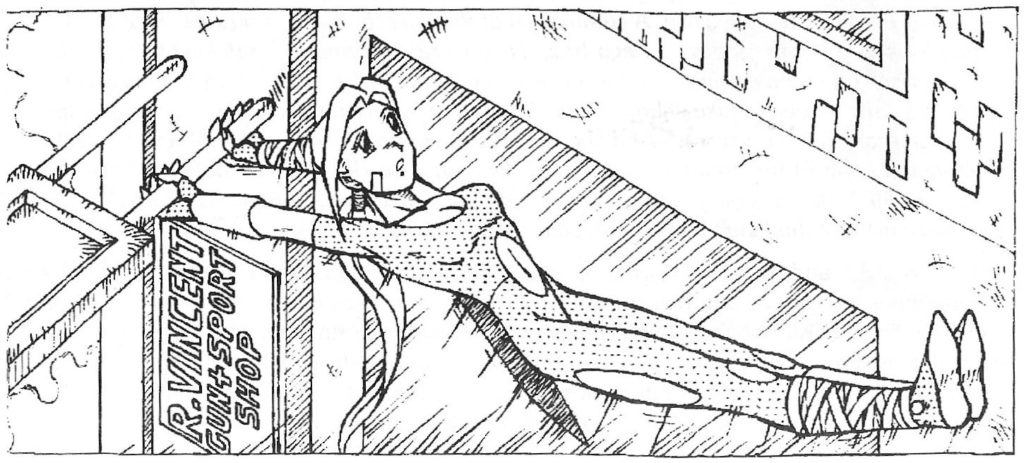 However, it was a real pleasure to reach Jean Chamary's Manganese (#2 and #3). With only a couple of pages of reviews, the main attractions are the two strips. Heavily influenced by Toriyama's later Dragonball Z style, Jean has it down to a 'T' (!). Dragonball T is an alternate story featuring Trunks, and while I prefer the earlier Dragonball style myself (DBZ looks as if it's been stripped down for faster drawing – not surprising considering how much of it there is), Jean's homage works well – the panels flow well and the art is confident and assured. If there's any criticism, it's that Dragonball has a vast array of charac-ters – you've got to be a real addict to know who the hell everybody is. My favourite is his other strip, Babes and Blades, which started out as a straight adventure and has now turned into more of a parody. It features warrior princess Lea, who falls through a por-tal into our world and learns about credit cards… It's a lot of fun, but rather too complex for a series which only has a dozen pages a year. That said, I'd love to see more, and I think Jean should go far.

Wild Side #1 is ostensibly an anthro-pomorphic 'furry' zine, but the pro-duction values are pro quality. The sto-ries are a cut above the norm too. The King of Han's Bride by Paul Kidd and American artist T.A.B. is a pseudo mystic fable about a King's search for a bride, but the artwork is terrific – not so much furry, more Deedlit from Lodoss Wars. Zen Zebras by Talis Kim-berley and Fox is also something spe-cial, about the adventures of a hip group of zebras in an interstellar rock band, with crisp artwork and a nice line in dialogue. Lark and Key is more like routine furry adventures, which didn't appeal to me much at all, and Third Eye had such a cluttered art style that it was difficult to work out (or care) what was going on. Furry aficionados might disagree… But with two good stories, and a Steve Kyte cover, this is definitely recommended, even if you don't like furries.
And now to a familiar male obsession, with Too Close #1 and #2. Yup, it's weapon statistics. Written and drawn by Ian Waugh, this features the exploits of team 2 of the UN 1st Motorsuit Bat-talion on peacekeeping operations in Paris 2011. Plundering territory familiar to Shirow fans, issue 1 looks rather cramped at A5 size but issue 2 goes to A4 format (both with with colour covers) and really takes advantage of the extra space. There is also a marked art improvement and, while he still needs to work on his anatomy, there is plenty of the complexity and technobabble beloved of Shirow him-self. It'll be interesting to see where this goes.
After all those male obsessions, it's nice to get a female point of view – and this seems to involve plenty of wallowing as the hero suffers. Enter Cyberage #1, a zine for fans of Cyber City Oedo 808, and this time it's Benten who gets to stagger around half dead, refusing all help because a man's godda do what a… something or other. Vanessa Wells writes and draws Open Circuit, and while the writing needs tightening up, the art-work is in a class of its own. She's gonna go far! If any of her heroes survive long enough… The zine also contains other short fiction pieces, a take on Kawajiri's chara designs, and mix-n-match hairstyles, plus the usual reviews and fan art.

And now, JAMM #6, one of the best of the European fanzines, with the added bonus of being in English. Published in Belgium, with Emmanuel Van Melkebeke as Editor in Chief, this is rather an old issue – like 1996 al-ready! It also puts many professional magazines to shame, with full colour cover and quality printing. Issue 6 has features on Otomo's 'Memories', Ippongi Bang's 'Amazing Strip', Anime toys, Urotsuki Doji IV, French translated manga, Teach yourself Japanese, and reviews of Crying Free-man live action, Tezuka's 'Adolf', The Silent Service and much more. I quite liked the spoof science article on anime 'gravity'. Well, I'm sure you've been wondering why anime charas all had such big hair, large breasts, and can leap tall buildings in a single bound… While the writing can be long winded, you'd be hard put to find so much (and so much obscure) information in a Brit Zine.
And finally, Cute Attack #1 from Mark Routledge. This is exactly what it says on the tin: 'a mix of girl-art and humour' and is actually not at all bad. Plenty of anime-style babes, in varying stages of undress as they spend an exciting day… shopping. What can I say? It's made up of short individual scenes, each with a punch line, and while I didn't fall over it was quite amusing and readable. The artwork is basic but adequate, the only drawback being that all the girls look the same. Like absolutely identical except for their hairstyles! A bit more variety would go down well. And there's a 'how to draw babes' bit at the back too.
Reviews by John Spencer and now…
Good night.
CONTACT ZoNE
Wild Side, United Publications, 85 Croydon Road, Keston, Kent BR2 8HU
Anime Angels (£1.00 plus), David Trevett, 26 Aspen Close, Staines, Middx TW18 4SW
Cyberage, (£2.50 plus), Vanessa Wells, 95 Rosemary Ave, Braintree, Essex CM7 2TB
JAMM, (215 BFr inc), Emmanuel Van Melkebeke, Parkplein 5, B-9000, Gent,
Belgium Manganese (E3.00 inc), Jean-Vincent Chamary, 43 Burrator Drive, Exwick, Exeter, Devon EX4 2EW
Cute Attack (£1.50 plus), Mark Routledge, 15 Royston Way, Burnham, Slough, Berkshire SL1 6EP
British Manga (£1.00 plus), James Taylor, 95 Waverley Road, Harrow
Too Close (£2.50 inc), Ian Waugh, 3 Swallow Hill, Thurlby, Bourne, Lincolnshire PE10 OJB