'Brand New Cherry Flavour'
Todd Grimson, Quartet, £9.00
"Dear Jim,
On a number of levels, I would think the success of Brand New Cherry Flavour might be of some interest to you. Therefore I was disappointed it wasn't mentioned in the latest TC.


Wake up. Smell the…uh, let's not dwell on that one, all right? Walk to your local fucking bookshop & pay the fucking 9 pounds, & PROSELYTISE, encourage your friends to BUY a copy, contribute to the sales, & so on.


YOUR NAME'S on the fucking dedication page — for Kinski material, etc. This is a fucking BESTSELLER, more or less, & as well as being a free advertisment for TC, it's a wanker's DREAM, being an incredibly sexy sleazy teasy Alice in BloodyFuckingWonderland trip STARRING none other than NASTASSJA KINSKI, or as good as, or actually quite a bit better when you stop to consider would NK wear a thong-bikini or submit to the included tattoos, piercing, etc.


In other words, bro, check it out, and put down some of your HARD-EARNED ______ [illegible…] on the way in or out, too. Every bit helps!

All the best
Todd."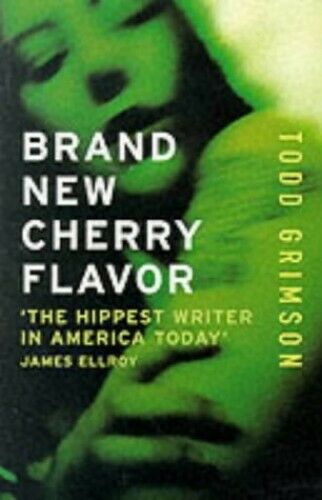 [TC: the magazine that lets authors review their own books. At least no-one can accuse us of hidden prejudice; our biases are right out there in the open. But it is great. Go buy: I did, though one could think I might have been sent a copy… To forestall another savaging from Todd, I'd better also say that his vampire novel Stainless is now also available from the same publisher.]
2021 update: In November 2019, Netflix commissioned an eight-part series based on the book, starring Rosa Salazar (Battle Angel). Things seem quiet since – I would imagine things probably got delayed due to the whole "global pandemic" thing. But there is a page for it on the Netflix site, so it presumably is still in the "coming soon" category,..
---
'Slaughtermatic'
Steve Aylett, Four Walls Eight Windows, $13.95
It's always a pleasure to see a new Steve Aylett book, even if he produces them with a regularity that TC can only wildly envy. He would appear to have cracked the American market, though his latest won't be out here in Britain until the autumn. The good news is that he's returned to Beerlight, scene of The Crime Studio, for more adventures in excessive violence.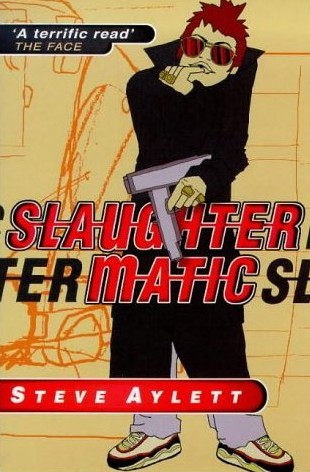 The main difference is that, rather than a collection, Slaughtermatic is a single story – plots, subplots and gratuitous diversions notwithstanding – detailing the commission, execution and aftermath of a daring crime. Hero Dante Cubit robs a bank, then goes back in time and shoots himself: what better alibi than being dead? Of course, this does cause certain problems, not least that his 'suicide' bid fails, leaving two Dantes running from cops, enthusiastic hitman Brute Parker (a survivor from 'The Crime Studio') and, to be on the safe side, anyone else who knows him.
The results are occasionally tough going. Here's a sample paragraph:
"Corey breathed deep a while. A commotion of slaying echoed from outside. That Danny guy looked a hypnotised as a Sega brat. They were surrounded by inflatable bastards. She wasn't any virtual puppet, but this wasn't any virtual heist, so the peril level was even stevens. She'd have to take charge. "Kid. You and me get outta here we're happy as pups in a sidecar. Tell ya a secret." And she drew up a pantleg on an ankle-holstered Hitachi 20-gauge, one of the countless untraceable one-off guns designed on desktop since the Crime Bill. "Life's a geology of precaution. You pal's knee-deep in himself. You hold up a a place without thinking? What if everyone acted that way?"
This is page 30, and the novel does drop you in at the deep end. Some sections need to be read several times to squeeze out their meaning, perhaps partly because you've got to squint past the high-velocity English, whose beauty threatens to cremate the unwary. The body count is huge, even if most are cybercorpses, and the plot flips through realities with facile sureness. Aylett is clearly at home in the world of future carnage, and by the end of the book, so was I. If they ever want anyone to script a Dirty Pair movie, Aylett could be the man.