One of the nice things about being a 'zine editor is all the other 'zines that you get sent to you in exchange for yours. The following is a listing of these, plus most of those I subscribe to [Couldn't be bothered thinking of a witty title for this bit, like "Zine and Heard"…]
Films
Fantasynopsis – Professionally printed 'zine, I think, with longer articles on fewer films than most others. As ever, these vary depending on the film, but there tends to be enough behind-the-scenes trivia to make even dull films readable. Interesting bit on being an extra in 'Indiana Jones III'.
Samhain – This 'zine and Shock Xpress have a hate-hate relationship – Sam thinks SX is snobby & patronising and loses no opportunity to slag it off! A nice example of a fanzine grown up to near-pro standards, with colour covers, photos and some 'exclusive' interviews.
Shock Xpress – Meanwhile, SX considers Samhain amateur and ignores it totally! Deals with more obscure areas, and minimal illustration, save the front cover which is worth the price by itself. Text is intelligent, if perhaps a little TOO deep occasionally. Letters column is the best I've seen, with editor Stefan possessing a vicious streak of sarcasm.
Slash Hits – Small, cheap 'zine, basically a big bag of film reviews, plus a few other bits and pieces. Suffers much as TC does from artwork problems, but the text is clear and the writing style is agreeable to read.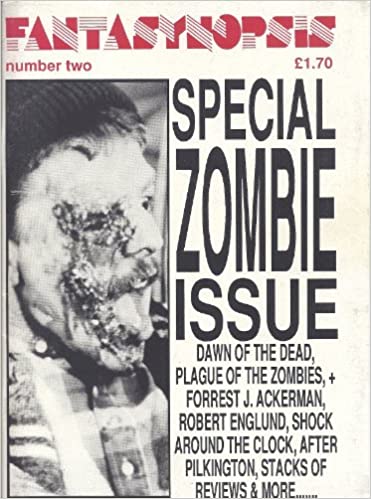 Games
The two games 'zines I get are designed mainly for playing games by mail; diplomacy, role-playing, soccer, etc. You'll get most fun if you join in with these, both editors mentioned below have the patience to deal with beginners!
Prisoners of War – General game-playing 'zine, plus odd bits on beer, motor-bikes and other things. Games include a highly professional American football and a game of 'En Garde!' (role-playing in 17th century France), the report on which is a real treat to read.
Sensation – Mainly sports simulations, but with bits on wargaming, books, etc. Also Games range from athletics (I kid you not) through soccer to American football.
Weird Stuff
Fortean Times – Now past it's 50th issue, this is a digest of all the remarkable stories from around the world's newspapers, together with articles on sea monsters, Yetis, ghosts and anything strange. Highly recommended, probably the 'zine I look forward most to getting.
Quest – Much the same situation in the wacky world of British UFOlogy as in British horror. This lot ( the Yorkshire UFO Society ) and BUFORA ( British UFO Research Association ) spend as much time insulting each other as investigating UFO's. Quest is a mix of paranoia & research, always entertaining. Read with tongue in cheek.
Odds and Ends
Vague – Strange publication, mix of art and text, produced by Tom Vague, an anarcho-situationalist. Varies from incomprehensible to superb, often in the same sentence. Issue 21 isn't as good as some – ask for Issue 20, and learn all about the Baader- Meinhof gang. Expensive, but worthwhile.
Addresses, etc.
FANTASYNOPSIS – Paul J. Brown, 1 Bascraft Way, Godmanchester, Cambs, PE18 8EG (52 A5, 1.25)
FORTEAN TIMES – 96 Mansfield Road, London, NW3 2HK (84 A5, 2.50)
PRISONERS OF WAR – Wallace Nicoll, 48 Broughton Road, Broughton, Edinburgh EH7 4EK (52 A5, 50p)
QUEST – 15 Pickard Court, Temple Newsam, Leeds LS15 9AY (56 A4, 10.00/year, 6 iss)
SAMHAIN – 19 Elm Grove Road, Topsham, Exeter, EX3 OEQ.
SENSATION – Ellis Simpson, 95 Ormonde Cres, Glasgow, G44 3SW (64 A5, 50p)
SHOCK XPRESS – 26 Stanley Road, Chingford, London, E4 7DB.
SLASH HITS – Rob, 61 Queen St, Brimington, nr Chesterfield, Derbyshire S43 1HS (16 A5, 40p)
VAGUE – BCM BOX 7207, LONDON WC1N 3XX (116 A4, 4.00)
Since there's a little room left, one more I'd like to recommend is "Network Video", a professional magazine, and thus outside the bounds of this area to be strict, but with a charming style all it's own. Reading your first issue is a confusing mixture of in-jokes, references to other members of staff and pure irrelevancies – it's worth persevering with until you suss these out because it does have a lot of interesting stuff and, being published fortnightly, is up to date. Plenty of genre stuff, cinema reviews, etc, all done in an informal style that makes it 65p well spent. If you can find it, that is!