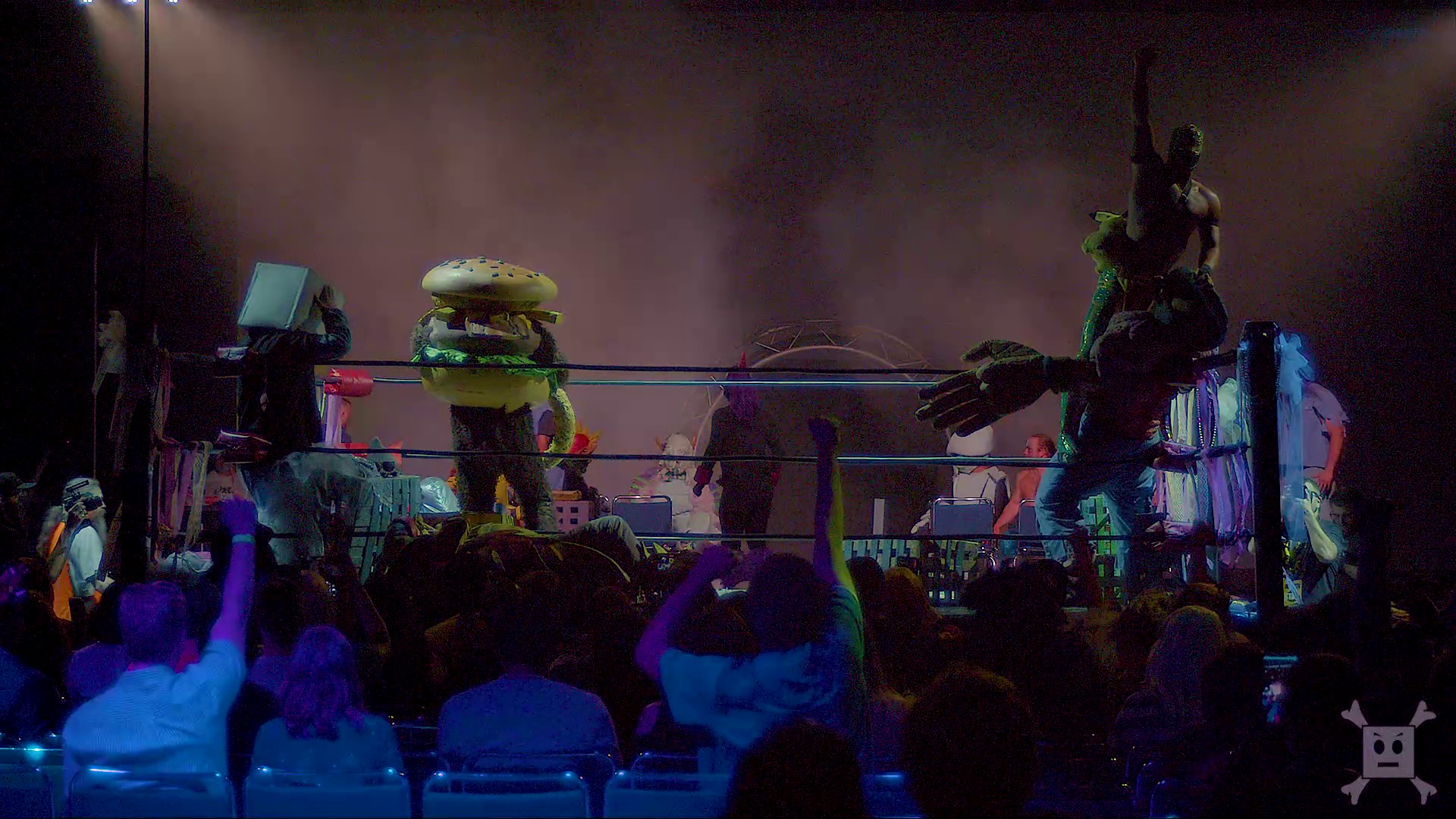 Kaiju Big Battel: Love is a Danger of a Different Kind
Back in 2000, in the final printed issue of Trash City, I wrote about a strange form of entertainment which has been spawned out of Boston. Kaiju Big Battel was the unholy spawn resulting from a late-night booty call between pro wrestling and Japanese superhero/monster shows. We fell in love with it immediately, naturally. On our bucket list is getting to see one of their shows live. It hasn't happened yet, due to KBB largely sticking to the East Coast for shows. This is for obvious logistical reasons: transporting giant dust bunnies, silver potatoes and all the other characters is not a trivial task.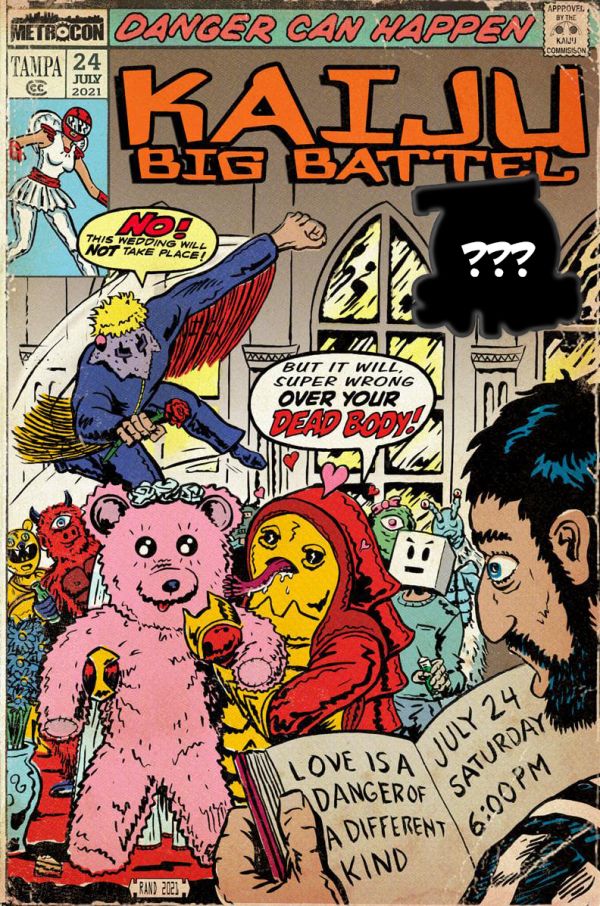 Not helping matters, of course, the pandemic which has hampered any kind of social gathering. It has been 21 months since we last went to the cinema, folks. Be ironic if our last ever theatrical experience was Terminator: Dark Fate – truly, not with a bang, but a whimper. This has affected KBB as much as anyone else, and the federation had to go on hiatus for over a year. But what does not kill Kaiju makes them stronger. And so, Dr. Cube and henchmen, enemies and allies, returned for a show last month, as part of METROCON in Tamps,. Florida's largest anime convention, before a large and enthusiastic (if slightly bemused) crowd.
It was nice to see some things have not, apparently changed. Mad scientist Dr. Cube is still the main antagoinist, using his skills for evil, to churn out all manner of bizarre creatures to fight for his (and, let's be honest, our) amusement. This may involve cross-breeding existing species, with the only apparent limit his deranged imagination. Want to see what a toucan crossed with a gerbil would look like? You can, thanks to Kaiju Big Battel. Or a bear crossed with a hamburger? That'll be the imaginatively-named Burgerbear. Who comes complete with onion rings (you can see him top).
Part of the joy is that KBB is as much a parody (albeit a very affectionate one) of wrestling as much as Japanese tokusatsu shows. Here, the featured story was a wedding between two of the Kaiju: Hunninaught and Jeremiah the Pink Bear (as shown above right). This was every bit as bizarre as you might expect, unfolding despite the disdain shown by Dr. Cube for inter-species relationships, and over his protests. In the traditional manner of wrestling heels, Cube roundly and broadly insulted the audience and the city. Also in the traditional manner of wrestling weddings, things did not go smoothly. It's not a real in-ring marriage, until someone goes through the cake, and Love is a Danger… did not disappoint there.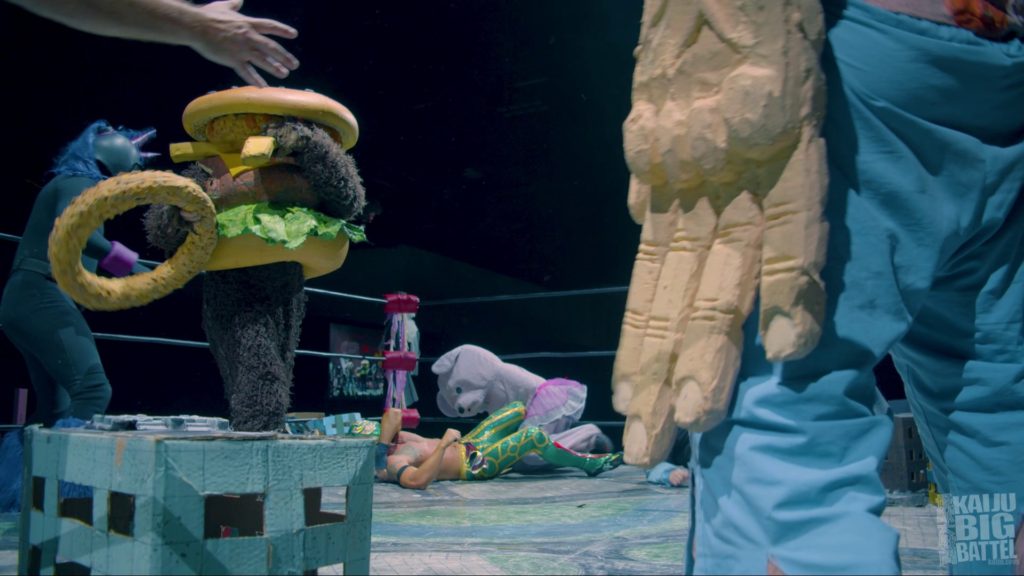 The rest of the matches were appropriately themed, opening with a "Bouquet on a pole match" between Powa Ranjuru [just far enough off to avoid a cease-and-desist from Saban] and Bear Ranger, to decide who'd be the Maid of Honor. Similarly, we got a 'Best Man Brouhaha' and a 'Bachelor Party Tag', while after the actual ceremony was the Reception Throwdown, where American Beetle, Blanco Loco and Burgerbear took on Dr. Cube, Monger King and Double Unicorn Dark. Some of the characters were familiar from twenty-plus years ago, such as Silver Potato. We do wonder whether it's the same person under the mask, or like Mexican luchadores, the same characters can be played by multiple people over the decades.
The wrestling was… well, let's be honest, a bit of a mixed bag. You do have be tolerant of the fact that the costumes inhibit mobility and vision, and this played into the action on occasion, best described as "slow and cautious". The quote from the Kaiju founder at the top of our previous article bears repeating: "A moonsault is harder than you think, especially when wearing a 30 pound rubber suit." But given this, there were still times when the moves were genuinely impressive, such as the Canadian Destroyer performed by the groom, Hunninaught, on Super Wrong. In any case, technical flaws were largely made up for by frantic selling, combatants dropping like swatted flies, after being whacked with one of the cardboard buildings littering the ring.
There's really nothing like Kaiju Big Battel, even though they've been operating for more than a quarter century. This shows both the lunacy of the underlying idea and the brilliance with which it is executed, from the costumes through to the merchandising. We're re-invigorated in our desire to get to one of their events. Just maybe not in Florida right now. We're kinda with Dr. Cube in regard to the merits of the state…
You can buy Love is a Danger… and other Kaiju Big Battel shows, through their streaming store on Gumroad.