The Spike and Mike Sick and Twisted Animation Festival grew out of an animation festival run by Craig 'Spike' Decker and Mike Gribble, which started in California in 1977.  The "twisted" side started in 1990 with a screening of the adult content animations in the Wheeler Auditorium at UC Berkeley, and grew from there to such an extent that by the start of the new millennium, the original festival was phased out entirely.  In the early days, Spike and Mike – sometimes along with their Scottie dog – would act as "ring-masters" for the show, and would also tour with the films round rep cinemas.
Many notable animators shown at these events would go on to greater fame, notably Bill Plympton and Mike Judge, as well as Trey Parker + Matt Stone. Although Mike died of cancer in 1994, Spike continued with the festival, which lives on to this day [though according to the website, the latest version "contains less monocle-spinning gross-out gags than S&T, and rather focuses on the flat-out best and funniest animated shorts that the world has to offer."
To some extent, the purpose of the event has been removed, as the Internet now makes it a lot easier for aspiring animators to get their work out there. But below, you'll see reviews of the four festivals we attended in Arizona, from 1998-2004.
1998
This American Ambassador is writing to inform her European and American fans of Trash City that there is life outside of the pub and strip clubs. That out there you will find what you are looking for. That there is meaning to our dull and dreary existences. And we can find this in trying to put reason or rhyme behind what I just witnessed tonight.
Anyone with a penchant for the sick and twisted, the rude and the offensive will certainly have their needs satisfied after witnessing the Animation Festival I just attended in the small dreary little college town of Tempe Arizona, home of the Arizona Diamondbacks, the Cardinals, the Rattlers and the Coyotes.. And now the dwelling for the next 10 days of Spike and Mike's Sick and Twisted Animation Festival..
Let's start with the announcement.. "Anyone who is offended by sick, twisted, rude and offensive material can just get the fuck out and we will be happy to give you a refund"
In the meanwhile, let's take a peek at what we saw tonight, that might have been misconstrued as such by some — or should I say most? I have never laughed so hard in my life. 24 short cartoons were shown depicting everything from "A to Zits" including such delights as: bestiality, pedophilia, gaseous bodily functions, oral sex, religious offenses. and full penetration (shown for the first time here) along with a South Park episode on the big screen that will stay in my mind forever.
All the cartoons were 5 minutes or less with a 15 minute intermission And although there were a couple of shorts that were extraordinarily offensive (and I mean "gagging to death"), they were mostly very funny and entertaining and I recommend Spike and Mike to anyone who is not:
a.) squeamish
b.) religious
c.) easily offended
d.) dead
e.) legless
Following are short synopses of the cartoons shown on this tour:
"Use Instructions" Does anyone like butts? Asses? Backsides? Anus(es)? (Or is it "Ani" ?), and all manner of things that emerge from them? This is the ultimate butt selective video I have ever seen.. Every imaginable type of ass in all manner of conceivable situations…
"Jurassic Fart" No description necessary. The sound effects will keep me up for weeks.. It was great.
"Dirdy Birdy" Ah… the adventures of Dirdy Birdy and Fergurina the Cat in a tree.. This one is excellent.
"Illusions of Life" Very strange look at the life of a man who totally hates his mother.. Interesting if nothing else.
"Finger Food" The phrase "Calgon, take me away" will take on a totally different meaning after viewing this one…as well as ever eating at a fast food restaurant ever again… Let's say zits and french fries in one breath and leave the rest to your imagination…
"Smoking" Their version of an anti smoking ad and pretty effective if not completely gruesome… also very good
"Barflies" I thoroughly enjoyed this one.. but I am a Claymation fan from way back in the Davey and Goliath days.. so it may not count, but these barflies were funny as shit and very many of us can completely relate to the antics of two drunk-out- of-their-skins assholes who will do anything for a laugh…
"Booby Trap" Set in a strip club, it is a complete parody of the general Japan anime genre including the wonderful way the Japanese make us talk in their cartoons and thankfully including a cat fight between a stripper and…I dare not say WHAT she is fighting because it is too gross. But it is worth the watch..
"Big Top Asshole" No description necessary, except that it is full of gore and I loved the Lion Tamer getting stuck in the Lion's cage with catnip in the seat of his pants.. hehehehe
"Little Rude Riding Hood" Yes, the old story with a new twist. No, she won't swallow and you'll find out why they call her "red". Really great and disgusting all in one.
"Ah L'Amour" This is an excellent pencil drawing animation that is very graphic in it's depiction of what women want from men. The phrase "I have Money" will take on new meanings… I want this T-Shirt!
"Hut Sluts" Summer and Tiffany are two California babes with partying in mind and they get it worse than they ever imagined. "yes, I got this tattoo in prison". I will say no more…except maybe "blueballs" and I loved the fact that the asshole wore a condom (just to promote safe sex).
"Fast Driver" "Drive, Fast Racer, drive Fast Racer, Drive" This was my favorite I think. Based on a parody of the cartoon "Speed Racer" (I used to love to watch Speed Racer when I was a kid and had the theme song memorized) This cartoon depicted him as a total queer with an even queerer family (or friends.. whatever they were) and the portrayal was excellent in its severe overplaying of the emotions and action typical in anime.
"Home, Honey, I'm High" Yep, just what you think it is. Donna Reed's family hooked on drugs. It was great.
"Sea Slugs" What do you do with a drunken sailor slug? Send him out to sea.. Then watch what happens… Very short, very funny
"Yes Timmy, There is a Santa Claus" Although my daughter was extremely offended by this piece, it shows how sick and twisted I am cause I was rolling in the aisles laughing at the irony of it all… Poor Timmy… Talk about melancholy and tortured…
"Baby's New Formula" This one has everything.. Cats, babies, blowjobs, alien faces, drama. Don't miss it.
"HornDog" Anyone who owns a dog understands the dilemma surrounding a dog that is *coming* of age…
"Sloaches FunHouse" This has to be in my opinion, the sickest, most offensive, incredibly gross piece of claymation I have ever witnessed in my entire life. It was crowned "The Sickest Film Ever Made" and I have to quietly agree with it. It contained almost every possible offensive bodily function you could ever imagine a clay figure doing. Even I was grossed out completely. And that, my friends, is a difficult task.
"Devil Went Down to Georgia" Action created by the same geniuses (geniiii??) who did "Nightmare Before Christmas" This short was great including performances by Les Claypool and the music of Charlie Daniels. Very reminiscent of "Nightmare" and very entertaining.
"Lloyd's LunchBox" This has to be the alltime disgusting animation. Several shorts showing Lloyd doing gross things to himself that I can't even describe without gagging. The Zit was the worst… or maybe it was the nose pick… I can't decide, but believe me, it was gross beyond description and definitely worth watching on an empty stomach.
"No Neck Joe" Just listening to the audience screaming at the top of their lungs "NO NECK JOE" at the beginning of each nailbiting episode of No Neck Joe was worth the time spent trying to figure out why he has no fucking neck in the first place.
"Spirit of Christmas" The never-meant-to-be-seen episode of South Park, that spawned this killer animated series. Yes, folks, it's Jesus vs. Santa Claus in a knock-out, drag-out wrestling match to determine who is the true mascot of Christmas. It was great and the fact that it was completely uncensored had me roaring listening to a bunch of primary school children using language that would make a truck driver blush.
I had to get the T-Shirt and bought a couple of the videos they had on sale. Discussed animation politics with the Em-Cee who politely told me that Wallace and Gromit were very big in England and did I know that? (no-duh) But all in all a worthwhile effort and one of the most memorable times I have had in a long time, with the exclusion of the time I almost forgot to "mind the bottle" in London. But that is another story…
[Chris Fata]
2000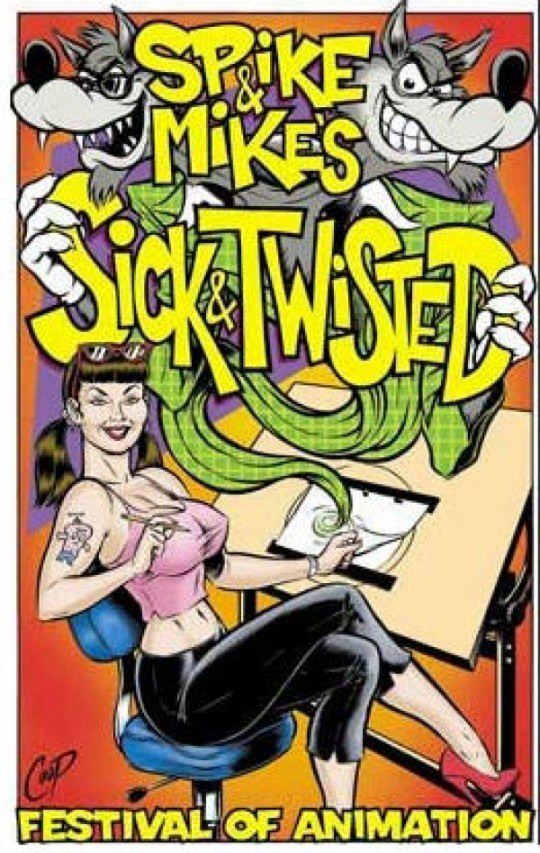 Yes, they're back, bearing another selection of definitely Disney-free dubiety, both old favourites and new candidates — these reprobates screened South Park and Beavis + Butthead well before the mainstream took them on board. The styles on offer are wide and varied, from computer animation to stick figures and Claymation, and the results are equally diverse. Highlights included Die Hard in Under Two Minutes (80 seconds, to be precise), a super-condensation of Bruce's best from Konstantin Bronzit, and Bowlin' Fer Souls by Supergenius, an express elevator to hell. The Squirm-Inducing Oscar was tied between Horned Grandma – pretty much what it sounds like – and Tongue Twister, whose moral is best summarised as "don't lick lamp-posts".
Most of the films were by unknowns, though Powerpuff Girls creator Craig McCracken weighed in with some (rather disappointing) No Neck Joe ultra-shorts. More satisfactory was Bill Plympton's Surprise Cinema, a fine showcase for a variety of cruel pranks. Similarly vicious was Billy's Balloon, an official selection from Cannes last year, whose sparse animation was countered by the inventive psychopathy of the titular inflatable. Overall, there were more hits than misses, and with the longest film coming in at a mere six minutes, you were never far away from something amusing or memorable. Perhaps less 'sick' than I anticipated, yet there's no denying that 'twisted' is a highly applicable word.
2002
Spike and Mike return, with another selection of outrageous animation – except, it seems a little tame this year, with few real "Ewwwwww!" moments for the crowd to savour (though discovering why old ladies drive so slowly, will take quite some getting over…). As ever, the range and style on view was unsurpassed. And, as usual, the quality too varied hugely. Especially lame were heavy.com's Behind the Music That Sucks – oh, my, slagging off Eminem and Britney Spears, how dangerous – which should have been retitled, "Behind the Animation That Sucks". At the other end, Spumco's Fuck Her Gently was lushly animated, and S&M regular Bill Plympton's Eat was his usual elegant yet weird self, but lacked a decent punch-line. At the opposite end, technically, were Don Hertzfeldt's A Bitter Tale and Rejected, getting a well-deserved repeat runout. Little more than stick-figures, they still raise fabulous observations on love, life and advertising – the line "My anus is bleeding!" has now entered the TC vocabulary. Also worthy of praise: Timmy's Lessons in Nature from Mark Simon & T.J, and Radar Films' When Chickens Attack, the shortest film on the program. But as this show proves, animation is truly a medium where size doesn't matter – not when you have imagination.
Rating: C
2004
TC's fourth return to the world of S&M, and as ever, it runs the total range from the sublime to the ridiculous (in both good and bad ways), mixing new entries with old "favourites". Quotes used advisedly: let's be honest, it's time for No Neck Joe and Hut Sluts to retire gracefully. While at the crap end of the spectrum, Sickcom proved it is possible for a 3-minute short to over-stay its welcome, Mama, I'm a Thug managed to be even less amusing, and Ninjews took the one joke of its title and stretched it thinly across a lengthy sequence of poor-quality claymation.
Fortunately, among general mediocrity, a few gems stood out – that's why we keep going. Here are the TC medal-winners among the new entries (Billy's Balloon remains a favourite otherwise), and a few other worthy contenders.
Tip of the TC hat: Cane Toad, Peepshow, Stubble Trouble.
Bronze. Big Abandoned Refrigerator Adventure. Two evil dolls go on a crime spree before meeting their nemesis in the shape of the titular appliance. Imagine Bride of Chucky: The Wonder Years.
Silver. Happy Tree Friends. A merchandising juggernaut now available at Hot Topic (the screaming pinata particularly appeals…), the shorts depict cute, furry critters meeting death in a variety of brutal ways. Heh-heh.
Gold. Here Comes Dr. Tran. A fabulous satire on cinematic consumerism, transforming an unwitting Vietnamese kid into the ultimate action hero (right); the 3D sequence alone is worth the admission price. I liked this so much, Dr. Tran now graces my desktop. What higher praise is possible?
Rating: A-E+
Feb 2004