French starlets tend to the longevity of may-flies. They rise, make a film, appear on the cover of 'Sky' magazine, then evaporate like dew. After 'Betty Blue', Beatrice Dalle turned in a whole series of movies deemed too awful to be let out of France – then blew her street-cred totally thanks to the dire Mercury ads. Mathilde May, acclaimed the best thing about 'Lifeforce', vanished from our screens for years, until the even more wonderfully tacky 'Naked Tango' slithered into view (though she did record a nice jazz-funk LP). The only one to buck this trend is Emmanuelle Beart: she's appeared in several highly-regarded films and picked up a string of Cesar nominations, yet a poll in 'Paris Match' still named her sexiest French woman alive (see side-bar overleaf).
French director Claude Chabrol once said Beart had "a face in total contradiction with her body". Further light on this came from Beart herself, who explained "Chabrol thinks I have the body of a whore and the face of an angel"; this seems to be a view accepted by others, as in her career she has played both angels and whores.
The former was her only Hollywood movie so far, the vacuous yet highly watchable 'Date With an Angel', which she steals despite her angelic dialogue being limited to barely three sentences. Director Tom McLoughlin has a cameo, as someone so entranced by Beart that he sets himself on fire without noticing. This sums up the tone of the film; it's heart-warming stuff, surprising because McLoughlin's previous movie was, er, "Friday the 13th Part 6". Phoebe Cates goes charmingly psychotic as her boyfriend falls for Beart; though she tried hard, she's totally overshadowed.
The whore was in "J'Embrasse Pas", probably also the most annoying film she's yet made. As I complained at the time (TC12), while poster and title imply heady amounts of Beart, it is a heinous lie. What we get is a not exactly cheerful story of a male prostitute, with Beart playing the only sympathetic character in the movie, who turns up now and again in the second half. It can, and should, be ignored, despite Emmanuelle's effusive praise for it's director: "like every actress who has worked with Techine, I fell head over heels in love with the way in which this guy handles the players. He works with extraordinary finesse and gentleness…During filming I realised that at a point, if you're tuned in, trusting in the director, you can truly metamorphose and the scene clicks together." (Premiere [France], July 1991)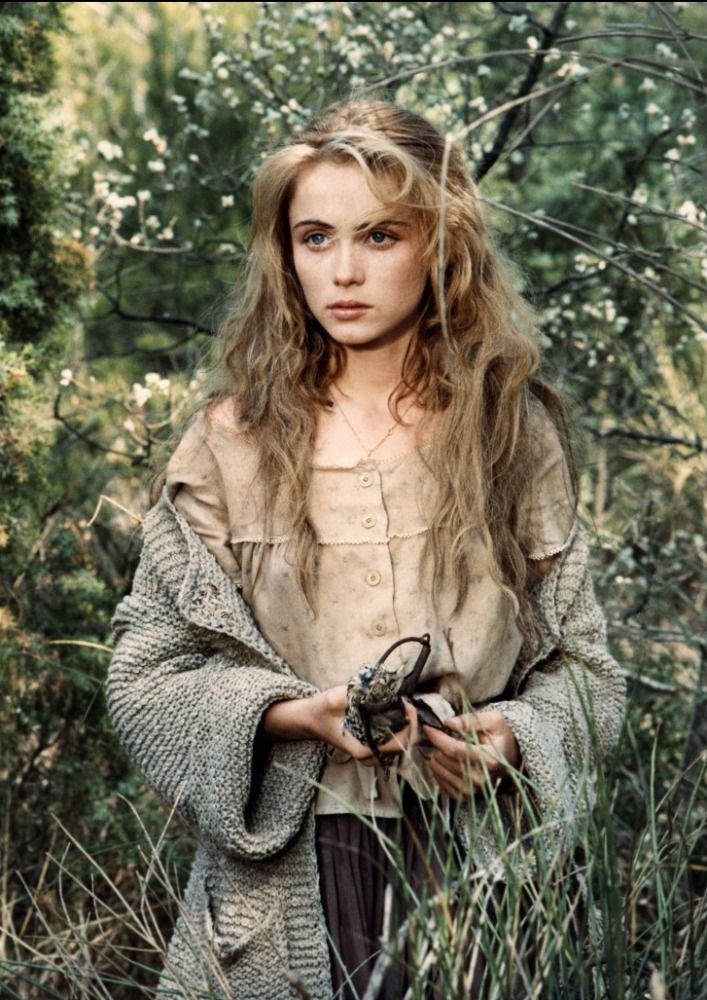 Most people will have first seen Beart in "Manon des Sources", the second part of Claude Berri's international hit, following on from "Jean de Florette". An understandably drooling Sunday Times feature on Beart was the first I'd heard of her, and was sufficient to get me to lose my virginity with respect to subtitled movies. The two are effectively a single entity; "Jean de Florette" works away at the body, leaving the viewer open for the sucker blow at the end of "Manon des Sources". The result is reminiscent of Polanski's "Tess", which Berri produced – and of course, it starred another rather pretty girl… Note that "Manon des Sources" is a PG, despite full-frontal Emmanuelle and body piercing; maybe Quentin Tarantino should take heed if he ever wants to get "Reservoir Dogs" released? Yet even after being seen by seventeen million movie-goers in France, she's managed to avoid becoming too typecast. While Beart's career has been limited slightly by her beauty, in that most of her roles have been as an object of desire, she usually manages to be highly effective, even when (as often) she's given little to do with her acting skills.
In 'Un Coeur En Hiver' she once more plays opposite Daniel Auteuil, and this movie would seem to have "Art Film" written across the top of every script page. Long, meaningful glances are the order of the day, but as a whole it isn't too bad, thanks to strong performances from everyone involved (at least, when they get the chance between long, meaningful glances). This picked up no less than nine Cesar nominations, including one for Beart: her devotion to the job was such that she spent 18 months with a tutor learned to play the violin for her role as a concert musician. My mind inexorably wonders how she prepared for "J'Embrasse Pas"…
…or "La Belle Noiseuse" – plenty of nude sunbathing needed there, as much of this tale of artistic obsession is real-time painting of Beart's unclad form. And never mind wimpy stuff like "Schindler's List" or "Dances With Wolves", "Noiseuse" comes in at just under four hours. It does provoke a faint suspicion that someone is taking the piss, when you spend ten minutes watching a sketch being drawn, only for the creator to crumple it up and bin it. However, the whole effect is insidiously engrossing: as scrawls and smudges gradually become a painting (to paraphrase Rolf, "Can you see what it is yet? It's a nekkid French babe…"), it is possible to get so into these sequences that it's annoying when they end and the acting re-starts. For the limited attention spanned, there's a two-hour remix, but the 'PG' rating suggests most of the footage removed is to do with Beart's body. Which there is a lot of in the full version, but it's Art, so I guess that's alright.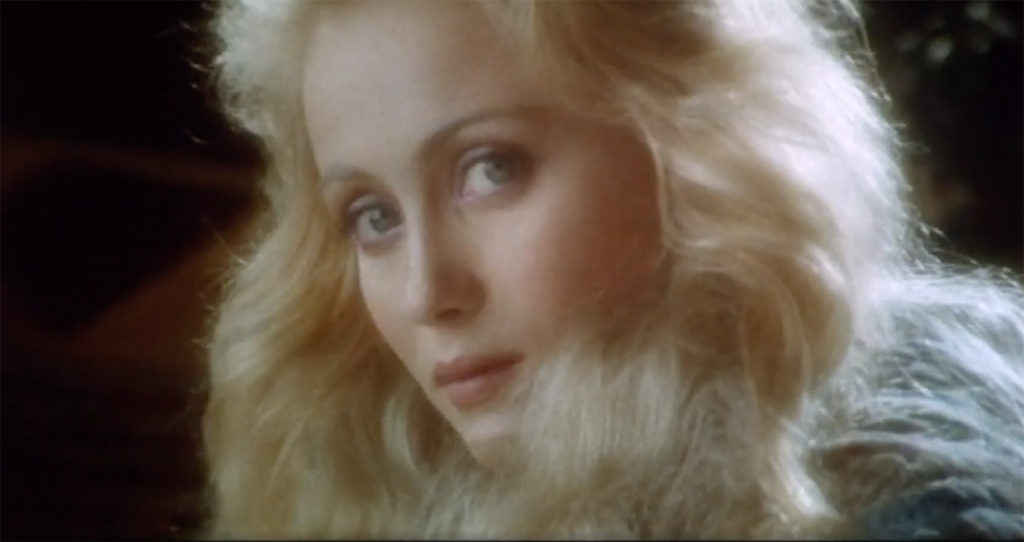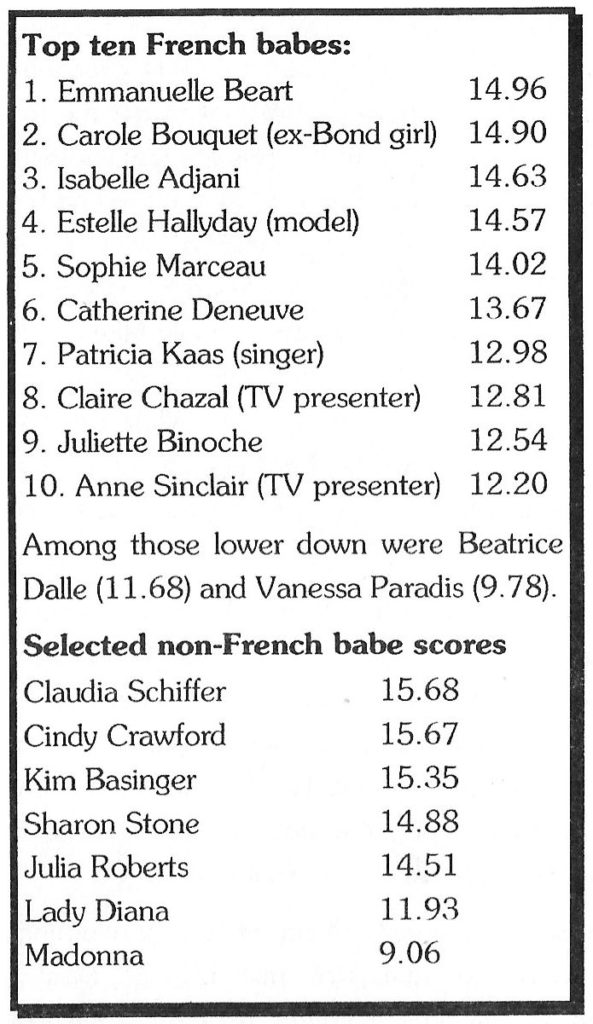 Is Emmanuelle Beart the sexiest Frenchwoman alive?
In September last year, the magazine 'Paris Match' published the results of a poll to find out who the French thought were the sexiest people in the world. A representative sample were asked to mark candidates from 0 to 20: topping the female section was Claudia Schiffer, closely followed – 1/100 of a point behind – by Cindy Crawford, actually the No.1 choice for men. Third came Kim Basinger, again scoring notably higher with men than women. And what fine taste these French people have: the top score for a Frenchwoman went to (dramatic pause) Emmanuelle Beart!
So as not to be too sexist I'll add that top man was Paul Newman, Vincent Perez led the French (Perez is only really known here for having been involved with Jacqueline Bisset) and Gerard Depardieu limped in 24th. With a 69-year old winner, and the average age of the top seven over 55, it does perhaps tend to suggest that more "mature" male TC readers might consider moving to France…
---
Her latest movie is "L'Enfer" (literally, 'Hell', though translated on the poster as 'Torment'), directed by the aforementioned Claude Chabrol, one of the few members of the French New Wave still active. In this psychological thriller, she is the wife of a hotelier who suspects her of infidelity; starting off just a tad jealous, he eventually ends up utterly paranoid, psychotic and possibly murderous – it's deliberately left open. The problem is that once this central theme is established, not much more needs to be said.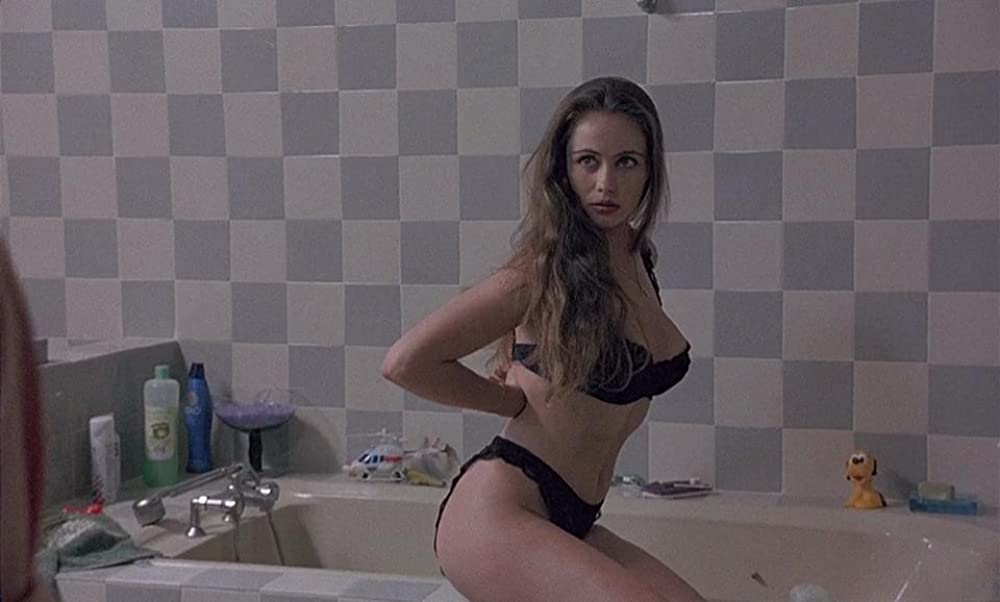 Still, Francois Cluzet is excellent as the tortured husband and Beart again really doesn't have to do much, but she's suitably sparky (and wears some very sexy costumes!). It's a remake of an uncompleted film from 1964 – in the original, her role was played by Romy Schneider, who is one of Beart's heroines, and the person most responsible for making her want to go into cinema. Imagine the 'Psychiatrists' episode of 'Fawlty Towers' directed by Hitchcock, and you'll be heading in the right direction.
In addition to these six, there have been many Beart-films that have not been officially released here. This is kinda suspicious, given the quality of certain French movies that do get across, but there are probably good enough reasons somewhere. Her appearance in the title role of 'Marie Antoinette', a French TV movie, while entirely satisfactory in a let-them-­eat-cake sort of way, would probably not be interesting to British audiences, much as a film about the English Civil War would be unlikely to get a release in France. [Note that Yanks no longer do 1776-movies ­since Limey Hugh Hudson, screwed up 'Revolution'. Now, any chance of a 'Nam pic, Hugh?!].
At time of writing, she's filming 'Une Femme Francaise', which reunites her for a third time with Daniel Auteuil, so going on past record, this probably has a reasonable chance of getting a UK release. Whatever the future might hold for Ms. Beart, she has already managed to prove that it is possible for a French actress to possess both ability and watchable breasts.
"One day I shall probably stop being an actress. At the moment I'm in a state of real happiness. Perhaps making movies is my way of driving at 200 km/h; this desire for danger which in fact everybody has. But at the bottom of it all, I'd rather save my characters"
Emmanuelle Beart – Filmography
Born 14th August, 1963 in St.Tropez, daughter of singer-songwriter Guy Beart.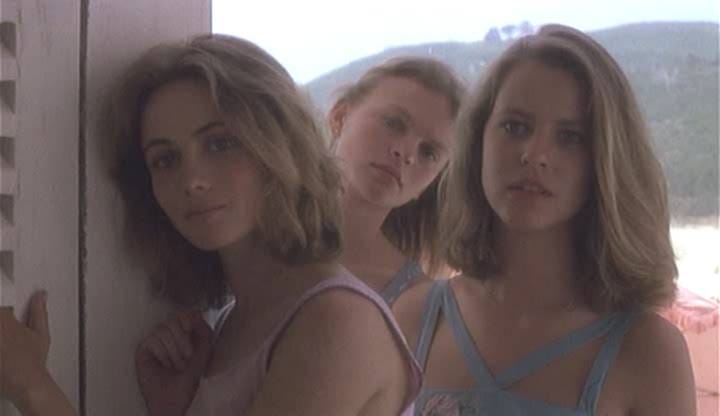 Films:
1976 – Demain Le Momes (Jean Pourtale)
1983 – Premier Desirs (David Hamilton)
1984 – Un Amour Interdit (Jean-Pierre Dougnac) – Cesar nom. best newcomer.
1985 – L'Amour en Douce (Edouard Molinaro) – Cesar nom. best newcomer.
1986 – Manon des Sources (Claude Berri) – Cesar, best supporting actress.
1987 – Date With an Angel (Tom McLoughlin)
1988 – A Gauche En Sortant de L'Ascenseur (Edouard Molinaro)
1989 – Les Enfants du Desordre (Yannick Bellon) – Cesar nom. best actress
1991 – Le Voyage du Capitaine Fracasse (Ettore Scola)
La Belle Noiseuse (Jacques Rivette)
J'Embrasse Pas (Andre Techine)
1992 – Un Coeur en Hiver (Claude Sautet) – Cesar nom. best actress
Contre L'Oublie (documentary)
1993 – L'Enfer (Claude Chabrol)
Ruptures (Christine Citti)
1994 – Une Femme Francaise (Regis Warnier)
TV Work:
1983 – Raison Perdue (Michel Favert)
1984 – Et Demain Viendra Le Jour (Jean-Louis Lorenzi)
La Femme De Sa Vie (Michel Favert)
1989 – Marie Antoinette (Caroline Huppert)
Theatre:
1986 – La Repetition
1988 – Double Inconstance
1989 – Le Misanthrope