Radical Desire
by Housk Randall and Mark Ramsden
Published by Serpent's Tail, £16.99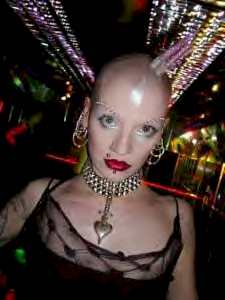 Got to give Serpent's Tail big kudos for this one. Sub-titled Exploring The Cutting Edge of Western Sexual Experience, this baby rocks! The biggest clue to the fact that Radical Desire will be a worthwhile "experience" are the names of the book's compilers, Housk Randall and Mark Ramsden. Ramsden is the author of two novels (one of which, The Dungeon Master's Apprentice, I've read and really enjoyed), plays the sax and is justly proud of his tattoos and piercings. Randall spends his days working as a sex counsellor, but is better known for his award-winning erotic photography – he's also the man behind the very well-received books, Rituals of Love and the stunning The Customised Body. So, it really goes without saying that putting these two together is going to produce something pretty special.
Radical Desire is a large-sized, 106 page paperback that just oozes high-class production. Combining the vision and genius of Housk Randall's photos with the wit and wisdom of Mark Ramsden's illuminating and lucid text, it delivers a rich and gripping journey through a rich seam of extreme sexual expression. The trip – magic mushrooms, anybody? – comprehensively covers a number of so-call radical desires, including tantric sex, sex magic, fetishism, occult practices, bondage and erotic piercing and performance art. Cynics might thing, "Oh, the usual subjects then?"…maybe so, but it's the way that the authors approach their subject matter that makes this volume so interesting. The main point being that they both know the score; they're on "the inside" looking out, which is of great benefit when trying to present their case.
Mark Ramsden makes a very valid point of stating that as fetishism (for example) becomes more mainstream, at the same time, tolerance towards people classes as "sexual outlaws" continues to decline. A strange paradox indeed! The media, of course, is a two-edged sword. Positive press is far outweighed by the attention given to the pathetic sensation-seeking so-(self)christened moral guardians. This basically is the drive and motivation behind the book; as a healthy dose of very welcome encouragement to those people out there with the courage to defy convention. The photos depict some of these people in all their proud glory, black and white masterpieces of graphic and sensitive design which are a pleasure to absorb.
Read this book, enjoy this book – at least you'll discover what the magic mushroom reference is all about – for it deserves your utmost attention. Over 40? Fat? The style gurus say you're not sexy, not horny – this book says "Bollocks!" An essential reference work…and bloody good fun too.
Whispering John Carter