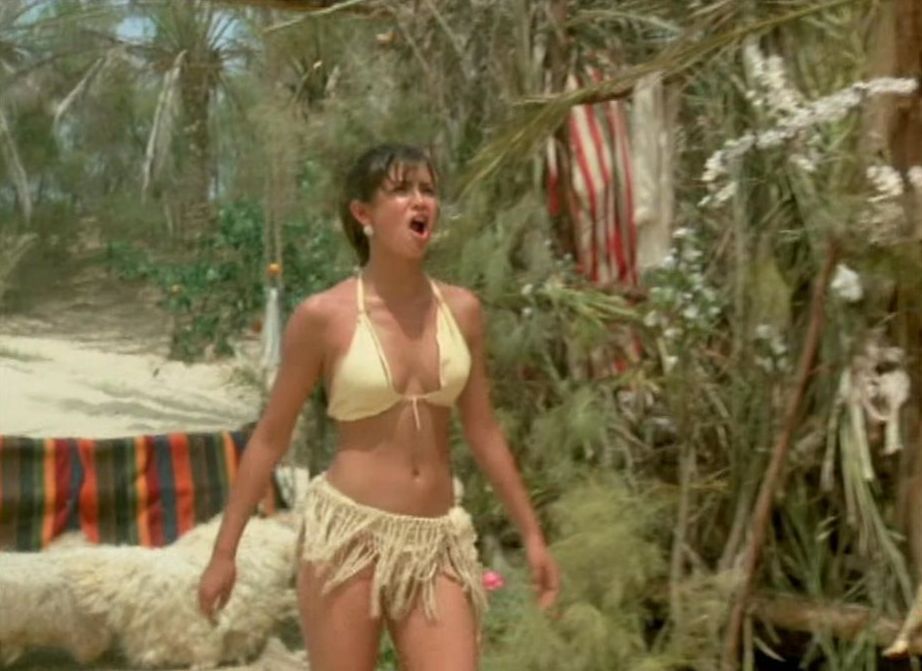 Dir: Stuart Gillard
Star: Phoebe Cates, Willie Aames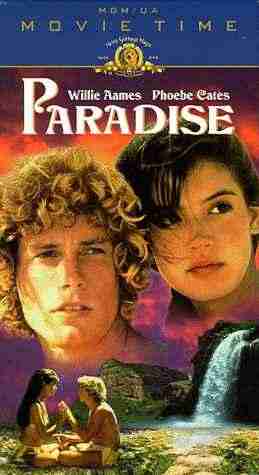 This takes almost all the best elements from The Blue Lagoon and Walkabout…and chucks them out of the window. Fortunately, the one that remains is Cates, following the footsteps of Brooke and Jenny into the "guilty pleasure" hall of fame. She teams up with Willie Aames, the straitlaced son of a preacher, as they wander across a desert conveniently supplied with a surprising number of oases, pursued by a feelthy Arab called The Jackal in lacklustre fashion (he seems to forget about them for months on end) who carries a British flag around with him for no readily apparent reason. It's supposedly set in the 1820's, but possesses absolutely no period atmosphere at all: going by the frequency with which Cates de-kits, it's more like the late 1960's.
Due to this, we'll cut her some slack, and say she copes well with a role which would tax no-one's acting ability. Aames, on the other hand is expected to be heroic, fighting off the Jackal, rescuing his pubescent squeeze and taking care of business. He is utterly unconvincing at any of this, admittedly hampered by direction so limp, you feel nothing at all when his parents are slaughtered ("Vengeance is mine, sayeth the Lord", shouts his father – immediately before being kebabed. Oops). Since he also wrote the script, Gillard must also take blame for utterly laughable anachronisms. For example, there's the totally fabulous house the pair knock up, complete with a verandah and all other mod cons. And if it really is "paradise", why is no-one else living there – the Jackal and his gang know about it, since they visit repeatedly. There are also the long periods when nothing happens, save for the supposedly comedic antics of a pair of monkeys.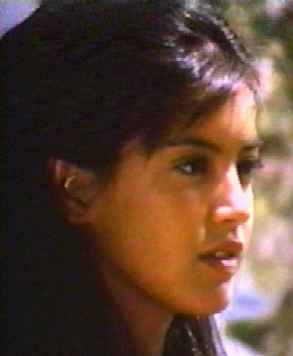 These are particularly irritating, since they're a waste of perfectly good naked Phoebe time. The lack of head shots and some other strange quirks suggest that a body double was used for some of these. But that's odd as it's only some – other sequences are very obviously 100% for real, most notably a shower scene under a conveniently-warm waterfall that is both far too long, and not long enough, if you see what I mean. The scene appears on the sleeve of one British edition, with a little bra and panties painted onto her, which is kinda sweet. [I also don't recall there being quite so much skin in that version…oh, dear, looks like I've just found an excuse to watch the film once more.] Moments like this are what provide the film with a reason for existing, crucial since we are left with no reason to care about the characters in the slightest.
So, where are the perpetrators of this waste of celluloid to be found now? Phoebe, as you should know, had a fine career, and made some 20-odd movies before retiring to becomes Mrs. Kevin Kline. Sadly, she was never again quite as revealing as here, save for one glorious moment in Fast Times at Ridgemont High. The director went on to do Teenage Mutant Ninja Turtles III – presumably, the one in which the turtles throw off their shells and frolic in the surf – while Willie Aames…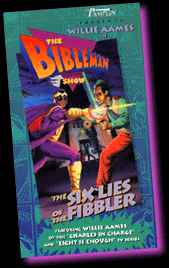 Ah, yes, Willie Aames. I was going to say that he vanished into obscurity, reaching the dizzy heights of voicing one of the characters in the Dungeons & Dragons cartoon show. But the story doesn't end there. After a John Belushi-style binge, he found God, and he can now be seen playing Christian superhero Bibleman in a range of videos (click on the picture on the right for a beautifully straight-faced news story about him), as well as touring the States in a bizarre-sounding live shows designed to brainwash kids into accepting Christ as their Lord and Saviour. There's something oddly satisfying about the way he has gone from playing the son of a preacher in a weird movie, to being a weird preacher himself.