Previously: The Hills are Alive…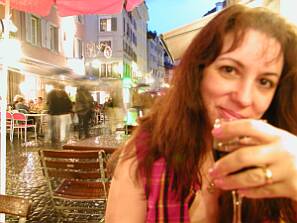 The journey from Munich to Zurich was phenomenal. Never, in my wildest dreams, had I ever imagined a train with seat-back televisions showing "in-flight" movies. Der Deutsche Bundesbahn rules! I have, however, grown horribly used to this first-class travel thing, and am extremely glad I now longer have to deal with Thameslink on a daily basis. Or, indeed, any basis.
The train sneaks around the edge of a lake, and pops its head into Austria, meaning that a) we needn't have bother going to Salzburg to tick that country off, and b) in the space of 30 minutes, we've been in Austria, Germany and Switzerland. Chris is impressed, coming from a land where you can drive for six hours and still be in the same state.
We arrive in Zurich and for the first time since leaving home, have to change money, since the gnomes aren't part of economic union. Though Switzerland being Switzerland, they would probably accept any form of currency: diamonds, unwanted kidneys, gold teeth pried from the heads of Holocaust victims, etc. They have a refreshingly up-front approach to capitalism, and wandering down Bahnhofstrasse, the main street, we notice there are probably as many banks as department stores.
We also notice in the supermarket, that prices are significantly higher than the rest of Europe. I recall that in my backpacker days, I largely survived visiting Switzerland on a subsistence diet of bread and chocolate. Thankfully, the budget is not so restricted on this trip, but anyone planning to stay any length of time in the country should bring a big bank-roll.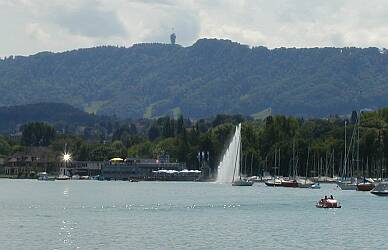 There isn't actually that much to do in Zurich, though we are impressed by the massive underground shopping complex by the train station. The only place we've seen anything similar is Montreal, presumably serving a similar purpose, saving consumers from having to brave the winter snows. We relax on a boat cruise round the lake, which is remarkably cheap and passes the time nicely. I have another flashback to backpacker days, having to consume rapidly a box of chocolate wafer things, in order to prevent serious meltage. All I needed to complete the picture was a bottle of Orangina and I'd have been right back there in 1986.
Our hotel is at one end of the Niederdorfstrasse which is, effectively, Zurich's nightlife. Bars, restaurants, strip-clubs, cinemas, discos and venues of uncertain but likely highly-dubious purpose line the pedestrianised street for about half-a-mile on both sides. We settle on a Swiss restaurant, and discover the national cuisine doesn't stop at fondue. There's also raclette – though this also involves cheese and a similar do-it-yourself approach to cooking. You get a little grill on your table, for you to melt your own cheese, then chuck it on top of potatoes or other vegetables. With a diet apparently consisting of dairy products, quite how the Swiss have half the heart-disease rate the British do, escapes me. Must be all that yodelling.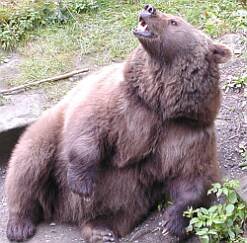 Having more or less exhausted the entertainment potential of Zurich, we opt to spend the next day – the last "proper" one of the holiday – in Bern, capital of Switzerland, and home of the famous bear-pits. Readers of a certain age may, like me, fondly remember the Mary Plain books from their youth, about a bear who lived there. The reality is slightly different – they don't talk, for starters – but they're still undeniably cute, nonetheless.
You can buy bags of fruit to lob at them, and these large, slow-moving creatures are remarkably adept at plucking them out of the air, like furry goalkeepers. Beside the pits is a gift-shop selling plush versions in every conceivable size and pose. More interestingly to us, there is also a micro-brewery in an old tram garage. Despite what seems to me an obvious opportunity, it is not called the Beer Pit. 🙂
Swaying slightly, we make our way back through town. It is a very pretty place, with a lot of 16th century, etc. buildings and most of the pavements are covered galleries – presumably a medieval version of Zurich's underground malls. We are particularly grateful for this, when it starts to chuck it down with the sort of intense work-ethic you only find in Swiss precipitation.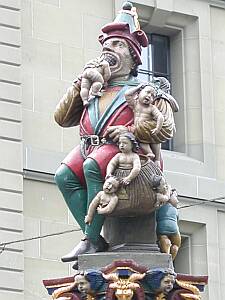 One lowlight is the clock near the town square, built up by the guidebooks as a major attraction and masterpiece of mechanised art. Come the hour, and the streets are thronged with tourists and you can hardly hear for the whirring of camcorders. A ring of small statues circles briefly, and a figure at the top rings a bell. The crowd wait excitedly for the main event. And wait. And wait. You can hear "Was that it?" in twelve different languages. Ten minutes later, the more optimistic tourists are still hanging round. It may have been cutting-edge stuff in the 16th century, but that was when stoning lepers was the main competition as far as entertainment goes.
On the up side, the city does have a fabulous range of statues dotted around, depicting various figures of myth, legend and history. Our favourite was the Kindlifresserbrunnen, an ogre shown stuffing a baby in its mouth as a light snack, with further courses dangling from its belt. Whatever the story is behind that one, it is unlikely to be turned into a Disney cartoon anytime soon.
We return to Zurich for a final meal, sitting outdoors at a quite superb Italian restaurant. It's a somewhat nomadic existence, as we refuse to surrender to the pouring rain which begins almost immediately we sit down. It's a constant battle involving umbrellas, canopies and our occupying four different tables over two courses, but nothing can spoil the mood. The waitress probably thought we were utterly mad, as we giggled hysterically and built dams of napkins to direct the water away from our plates.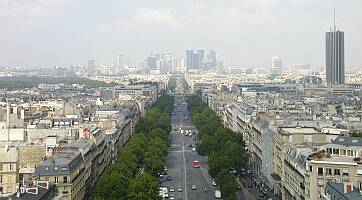 But it's time to go home. We take the night-train to Paris, and kill a few hours there – emphasis on "kill", as that's what the 384 steps at the Arc De Triomphe almost do to us. The views from the top are quite magnificent, however. Once the pink mist has cleared from our eyes, anyway. Then, it's back to London and (after one last British curry!) a flight back to Phoenix. On the way across, we'd been upgraded to Club World after "subtly" mentioning we were getting married [I think wearing "Jim + Chris – The Wedding Tour" T-shirts may have helped here]. No such luck on the way back; crammed into "World Traveller" with the rest of the economy scum, really brought home that the holiday was over…
The honeymoon, on the other hand, is only just beginning…