Tucson, 24th July 2004. In the vacant lot behind a bar in downtown Tucson, a makeshift ring is set up. The heat lingers, even though the sun has gone down – illumination is supplied by three cars, parked with their headlights shining into the arena. Lightning crackles on the horizon. Chaos is fighting for the HIW World Heavyweight title, against reigning champion Ricky Flash. Both men are bleeding. Chaos has $50 on his forehead; it was staple-gunned there by Flash earlier in the bout. Chaos slams the title holder down outside the ring, on a board covered with barbed-wire. He picks up a bunch of fluorescent light tubes located conveniently nearby, and does a leg-drop on his opponent, simultaneously spearing him in the chest with the tubes.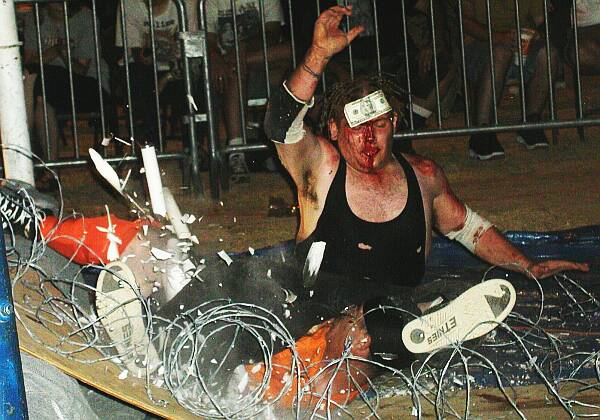 They shatter into a thousand pieces; even though I'm standing 15-20 feet back, behind a barrier, a splinter of shrapnel pings off my forearm. Welcome to HIW.
High Impact Wrestling began over ten years ago, when teenage friends Ryan Van Horn and Jon Johnson started their own federation: they built a ring in Ryan's yard, and performed for the benefit of their schoolmates. However, things took a decidedly hardcore turn when they saw a tape of the 1995 IWA King of the Deathmatch Japanese wrestling tournament, won by Mick Foley, who defeated Terry Funk in a "No-Rope Explosive Barbed Wire Board Timebomb Deathmatch". Things, it's safe to say, would never be the same again for the two schoolfriends. Ryan – or 'Chaos', as he's called inside the ring – has survived the decade since relatively unscathed, even if about the only bout he ever refused was on the edge of a cliff. "I got injured worse playing baseball, than I ever have in the ring," he says. And it's true, that perhaps his most impressive scar comes from an operation to repair his shoulder, damaged diving back into base, that ended his chances of playing professionally.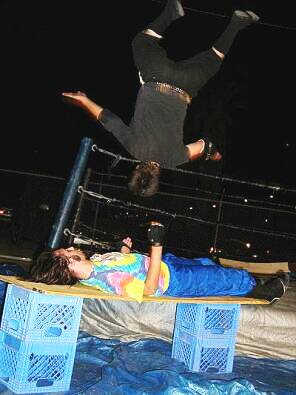 Despite being perhaps the best known "backyard" federation, having been featured on the likes of 20/20, as well as Paul Hough's documentary, The Backyard, HIW are cutting their ties to that scene. They've discarded the backyard label, now calling themselves "independent", and the increased involvement of 'Soju' has helped move them in a different direction. He was originally their sound guy, but when cash input was required, he stepped up, and now keeps things running, leaving Ryan and the other wrestlers free to work on what happens inside the ring. Sessions have become more organised and focused; says HIW chairman, Adam Lujan, "The biggest myth is that we're not trained, but all of us practice at least once a week." Ryan spent six months learning under Ron 'Section 8' Sutherland, and now passes this on, though certain observers outside HIW question Sutherland's qualifications for the job. However, neutral and casual observers would be hard-pushed to tell, and Ryan and Jon undeniably have more hours of in-ring experience than most.
In the end, HIW has a fundamental difference in approach and philosophy to other Arizona federations which seems almost irreconcilable. This is partly why some view it with a disdain that borders on loathing, even though it's easily the longest-running organization in the state. The other active group is Impact Zone Wrestling, and the two groups have an intense distrust of each other. Said one HIW member of IZW, "Their shit is so boring, I can't even watch it – they do the same moves over and over and over again." Conversely, one IZW member yearned for the "good old days" when they would simply have driven down to Tucson and physically stopped HIW from putting on shows.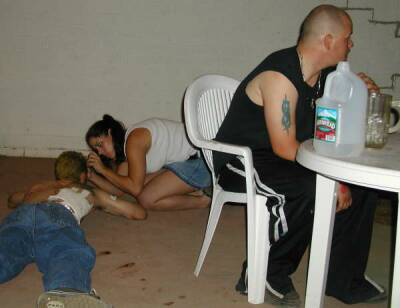 It's enlightening, in that it shows that pro wrestling is not a single unified sport with a common code, but covers a range of styles and approaches. Rather than aspiring to the WWE, HIW have more in common with ECW, a federation run out of Philadelphia from 1992-2001, who are still fondly remembered for their anything-goes attitude. HIW also care less about the psychology of wrestling – yes, it has psychology. Former Minnesota governor Jesse Ventura tells of a bout where he didn't touch his opponent for the first ten minutes, but had the crowd out of their seats three times. In HIW, this is impossible to imagine, and would probably bore their crowd to tears: only "refined Southern gentleman" Doc Fairday seems capable of getting an audience reaction with mere words. Ryan disdains the more showy side of wrestling, and has no apparent interest in working for the WWE – rather than play to the crowd, he prefers to get in the ring and let his actions do the talking.
What is clear, is that those involved with HIW do know there's more to pro wrestling than getting hit with barbed wire bats or tubes. Ask Ryan his advice for anyone interested in joining him, and his response is straightforward: "Get pro training or don't wrestle at all. I made that mistake, and I still get shit for it." Most other HIW members say something similar: "Go to a school and get professionally trained," according to Louie DeFreitas. Injuries are an inevitable part of the hardcore action, but like Ryan, many say they've been hurt worse in organized sport: no matter how hardcore, there's not the deliberate intent to injure often seen, for example, on the gridiron. And as in all wrestling, acts that often look almost-murderous, are designed for show, rather than to cause damage.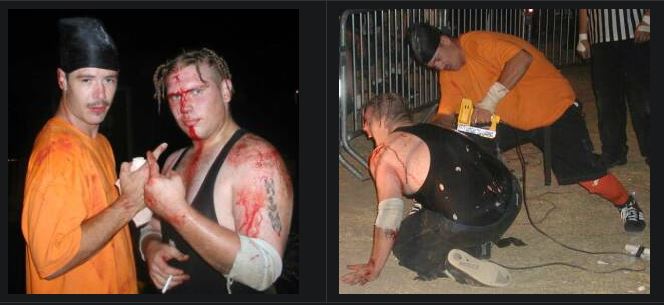 Still, it's often highly-convincing, making it almost surreal to see one wrestler attack another with a weed-whacker, knowing that after the show, they'll chill out and eat burgers together. It's also fair to say that the media has blown the dangers out of proportion: I've been unable to find a single verified incident where any participant in a "backyard" federation has died – and that's more than can be said for most sports. For example, around 75 people in North America die every year while scuba-diving, and calls for it to be 'banned' are uncommon. And while there are no available figures for wrestling, again, we need to note that each year, around 3.5 to 4 million Americans suffer sports injuries serious enough to get them an emergency room visit.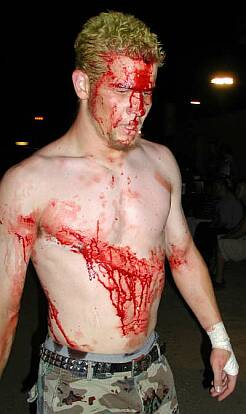 When it comes to those, few people are more experienced than Matt Haugen, a.k.a. Scar, HIW's "King of Hurt". Matt's spent his first seven weeks in intensive care, and his early years were one long series of operations and recuperation. As a result, he has no spleen, leaving him with a limited immune system, is partially-deaf, and broke his back when a move went wrong during another (non-HIW) wrestling show. While he was recuperating, we got to know him, and his love for the sport remains undiminished by his injury. It was he who invited us down to Tucson for our first HIW event in July, headlined by the Ricky Flash/Chaos bout described above. "You gotta see it," he insisted – and he was right. An HIW show is an intense spectacle unlike anything else we've experienced – if wrestling was staged in the third circle of hell, it'd probably look like this. It's easy to see why HIW provokes such extreme reactions; those who dislike it, tend to loathe it, but its supporters love the federation with passion and intensity.
Take Scar. Even though his back injury kept him out of the ring, and despite having left hospital only a couple of days before – he was still wearing the wristband – he still let another HIW veteran, Puck, hit him across the face with a glass picture frame before the first bout. "Breakaway glass," we thought. Nope, as with all the bouts, this was the 100% genuine article: Scar wore his BandAid the rest of the day like a badge of honour. Yet before the event, when we were asking Scar who we should talk to, Puck was one of the first names he mentioned. The same Puck who'd smash glass over Scar's head, kick him to the ground and leave him bleeding. Like so much about HIW, it's an oddly-appealing contradiction.
The big question is, of course, why? And everyone seems to have their own reason: "Self-esteem, self-discipline and a chance to be known for doing what I love," says Corey Curran. "It's the most physical sport you can play," is the view of Keith Cosewehr, "No rules. No penalties." There's a similar range of opinions with regard to the future, and whether they aim to make wrestling a career. Ryan does – his eventual goal is to wrestle in Japan – but for others, it's a hobby: Lujan intends to go to college and "maybe become a teacher or a writer". Rory Adams is keeping his options open: "I'm going to college right now – hopefully I can keep wrestling, but I'd be okay with being a psychologist."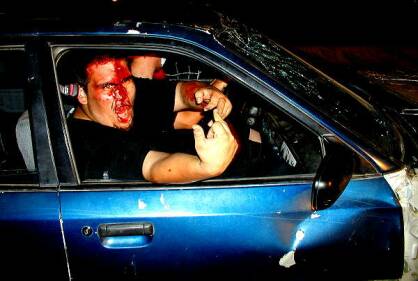 If friendships are often forged, families and those outside of HIW can be rather less understanding – if they know about it, because some participants prefer to be discreet. Lujan used to try and hide his barb-wire slices: "Now that I'm 18, they can't really ground me, but my parents still hate it." "Oh, my God!" says Gil Gilbert, describing his family's reaction, "but they could tell that I wanted to do this." A certain pragmatism tends to set in eventually for most parents (and is probably wise; with two teenage kids, we've learned that freaking out is rarely productive).
HIW aims to move forward, says Soju; every show brings new lessons learned. The August event started later, avoiding the worst heat of the day, and this time, lighting was on hand once the sun went down. The first step is to get a new ring – a considerable expense, running into thousands of dollars. But it's probably a wise move, given the current one is eight years old and showing its age, with the ropes loose and the footing uncertain. A building is another goal; eventually, HIW wants to put on shows in cities other than Tucson. Soju also struggles to keep Chaos in check – HIW's deathmatch champion wants his next bout to be barefoot on broken glass, something Soju has qualms about. He's probably wise, given the currently primitive nature of HIW's first-aid kit – something better than paper towels should be high on the equipment list.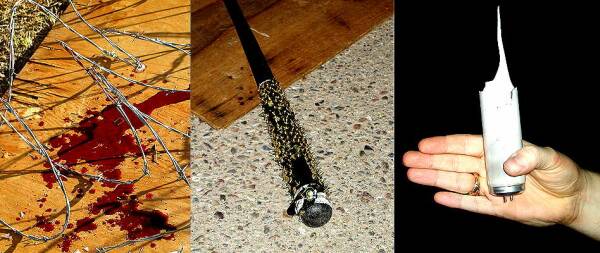 The road on for HIW promises to be interesting. Already, the numbers attending their monthly shows in Tucson are credible by Arizona standards, and for almost all those involved, the best is likely yet to come (Ryan, for example, is only 21). But it's a struggle to find appropriate venues, and breaking out may be a challenge. The spectators at HIW respond almost solely to the bloodier elements, anything else tends to be met with an eerie silence. There is a limit to how far you can go in this direction; to achieve a broader success, HIW may need to attract a different crowd, or educate the existing one to enjoy and appreciate other aspects, beyond the hardcore approach at which they are undeniably skilled.