Previously: Drowning in Berlin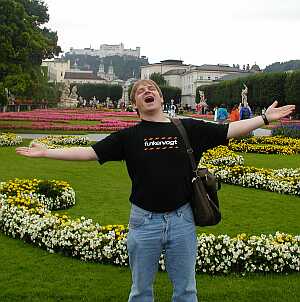 We may not appreciate the finer point of Munich at 7am on a Saturday morning, after about four hours of sleep – hey, they give us a sleeping car with all mod cons, we're going to take the time to use them. This is way before our friendly tourist information hotel reservation office opens, but we find a hotel virtually across the street. We crash out there, catching up on what we missed on the train. The hotel seems to be full of Japanese tourists. Indeed, most of Europe seems to be this summer.
It is also next door to a Beate Uhse sex shop – one of three on the main street. Uhse herself, who flew the last plane out of Berlin in the final days of WW2, was something of a German institution until her death last year. Her name is still known to 98% of the population, and the company is in the top hundred public German companies, with a turnover 5 times that of Ann Summers (whose founder was inspired by Uhse). It's listed on the Frankfurt stock exchange, and the initial offering was 63 times oversubscribed. Sex sells – even shares.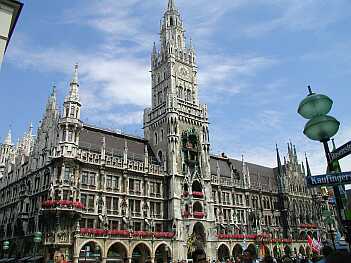 Unlike Berlin, Munich is compact enough that we don't feel the need for a bus tour, and just saunter around town looking at stuff. We find another branch of World of Music. Our rucksacks become even heavier. The center, around Marienplatz, has a lot of old buildings, including some nice tall ones which provide decent viewing platforms – but there are equally many modern shops, which gives the place a sense of being a living town, rather than just a museum for tourists.
We find ourselves in the Englischer Garten, a beautifully-kept series of gardens, pathways and architecture – there's apparently also nude sunbathing in some areas, but we don't see anything untoward. By the duck-pond, I talk Chris into a photo opportunity with a swan – I snap the photo at left, and urge her to get closer. When she does, the swan is distinctly unimpressed, and emits a sound somewhere between an amphetamine-crazed kettle and a punctured balloon. I remember that, allegedly, swans can break your arm with their wing, but Chris is saved by the timely arrival of a small yappy dog which draws the swan's ire. The insurance company would never have believed us.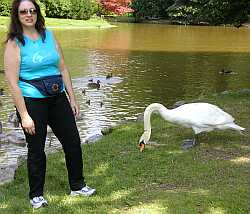 To recover, we head to the Hofbrauhaus, one of the most famous pubs in the world. Hard to see why; presumably because it caters to tourists and doesn't need repeat business, the service sucks. Though we don't discover till later, it was one of Hitler's favourite hangouts, too. We were much more impressed by the Augustiner Grossgaststatten, which had great food, excellent waiters, and was so good we ate there two nights in a row. There's definitely a knack to drinking out of those huge glasses though – I vow to practice more. My only regret is I don't get to order any Black Forest Gateau here, simply because "Schwarzwalder Kirschtorte" is my all-time favourite German phrase.
We eventually roll back to our room, and watch Euro MTV for a a bit. There's been a gradual decrease in the number of TV channels available to us on the trip; in Belgium, you could still watch the BBC, and in Amsterdam, there was an English-language Euronews channel, but now, it's MTV or nothing. The most disturbing thing is the volume of techno cover versions; occasionally, the results aren't bad, e.g. Mike Oldfield's Moonlight Shadow, but they really should have left Patti Smith's Because the Night alone. There are some things with which mankind was not meant to meddle.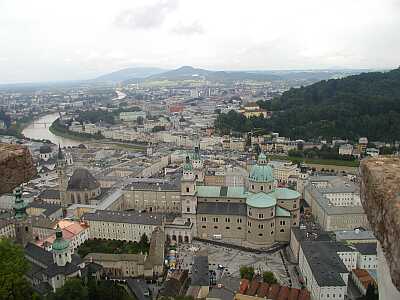 The next day, we opt to hop across the border and do Salzburg, ticking Austria off the list. If Munich is a living city, Salzburg (or at least the center of it) is a tourist slut, peddling herself relentlessly and lacking in personality. Everything is packaged with either Mozart (born there) or The Sound of Music, which was filmed around the area. Chocolates, music-boxes, little plastic busts, you name it, you can get it with Wolfgang Amadeus on it.
Despite this, Salzburg is very beautiful, with fabulous gardens (the Do-Re-Mi sequence was shot in one), a broad river running through the centre of town, any number of statues and fountains, old buildings, narrow streets, busking string quartets (playing WAM, natch!) – you get the picture. Or rather, the set of picture postcards, with Mozart emblazoned on the corner of each one.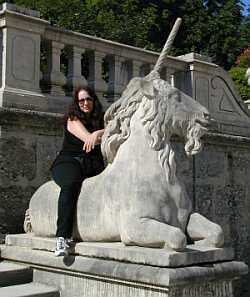 The Hohensalzburg Castle dominates the city from its rocky perch in the centre of town. There's a meandering path up to the fortress, but being lazy tourists, we opt for the funicular: the views from the top are spectacular. Started by the local archbishops in 1077, it was never successfully stormed, and thus is largely in pristine condition – though one pillar, pointed out on the tour, has a nasty chunk taken out of it by a cannonball – an interesting experience for anyone in the room at the time.
In the castle, was a stall offering you three shots with a crossbow for 2 Euro; I nail the first one, briefly contemplate a career as a professional crossbower, then get steadily worse, despite humming the Buffy theme. Grrr. Aargh. It does drive the selections from Sound of Music out of my head, at least temporarily, before we head back across the border to Munich, where it is chucking it down. Can't complain, however, this having been the first rain seen since the morning of the wedding, more than two weeks previously. We bid a fond farewell to Germany, even if it might be a while till we can face sausages again, and prepare to head into the land of banks, gnomes, cuckoo-clocks and chocolate…
Next: On a Swiss Roll