Previously: Sex, Drugs and Clogs 'n' Grolsch
We arrive in Berlin after the first night train of the trip, at some ungodly hour. You'd think they'd make some allowance for honeymooners, but no, all the timetables are designed to suit the business travellers. So, we pull in several hours before the tourist office (and its hotel reservation bureau) is open. The first thing we do is get our night train to Munich booked, since we have no desire to end up in Moscow, simply because there is no room anywhere else.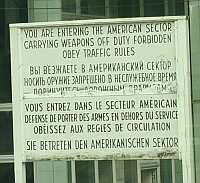 Are lucky not to end up there anyway, as the ticket clerk speaks no English, so we have to rely on a combination of my German, and her infinite patience – Dutch Railway personnel, please take note. We are first in the queue and get a room in the Hotel Remter, just off the Kurfurstendamm, up the street from both a strip-club and a transvestite revue. Bet that causes confusion to inebriated customers. We turn up at our abode, two hours before the room is ready (it's still early!) but Dunkin Donuts occupies the time, and we look at the map and plot. It's such a large city, we opt for an early bus-tour, so we can scope out the land and then go back tomorrow to interesting places.
I'm curious to see what Berlin is like, since the last time I was here was just before the wall came down (at the time, the Eastern Bloc border was cracking elsewhere, but not in Berlin). At that stage, you had to change DM25 into their currency when you went across into the East, but there was so little to buy, I ended up getting the best seat in the house for a performance of My Fair Lady. In German. Thanks largely to souvenir hunters, there's now very little of the actual wall still standing, and what there is, is carefully fenced off as a monument. Elsewhere, there's just a double line of cobble-stones which mark its path. As we travel round, it's as if the division had never existed – life has just gone right back where it left off, with an incredible amount of construction.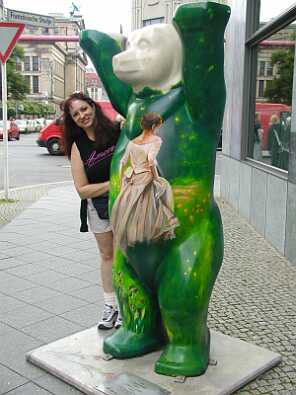 We notice a lot of psychedelically coloured bears lurking around the city. Before you discard this apparently bizarre hallucination, should point out we're talking cast from some kind of plaster. There were about four different poses, but no two were alike; turned out to be an art project, and one we fell in love with. Just done a quick count, and approximately 10% of all our honeymoon photos are of Berlin bears. 🙂 One statue was sent to New York in May, and was placed on Wall Street – this may not have been wise, given the bear has long been a symbol of market pessimism. And lo, the market did duly plummet, and accounting scandals did flourish!
That night, we head off to a Goth club, with the delightful name of Golgotha – not without trepidation, since we have no real idea of how to get around after the subway closes! The area it's in is very quiet, but the address is on a main road, which soothes our paranoia somewhat. We walk past an incredibly spooky park, which looks like something out of Brotherhood of the Wolf, and laugh – wouldn't it be funny if the club was in there!
We pass the park and check the house numbers. Guess what? It is in there. We go back and stand at the path (all badly-lit and tree-roots) peering in, nervously. Is that howling I can hear? I tell Chris I won't make her go in there if it bothers her, thereby artfully concealing the fact that I'm scared shitless. We see two figures looming up out of the mist towards us, and prepare to defend ourselves. It's an elderly couple. We figure if they can cope, so can we…
| | |
| --- | --- |
| | Ist das Lola? |
| | Lola's bank |
| | Run Chris Run |
Of course, nothing happens. The club is friendly, doesn't charge admission and has good beer, though the music largely sucks. We are too happy to be with living people to mind, but are careful to leave in time to catch the last subway, and with other humans. This last plan goes down in flames when they go in the opposite direction, leaving us to make our way out alone through the park. RUUUUUUUUUNNNNNNN!!!!
The next day, we head to the Post Office, and send back to Phoenix a box of stuff no longer needed. With hindsight, we should have delayed this until after the immediately following trip to World of Music; the space freed up is rapidly consumed by CDs and DVDs. Happy times… Thereafter, we turn to the main business for the day – retracing Lola's steps from Run Lola Run.
We had done some quick research on arrival here, Chris having found a website which lists locations used in the movie. Had we known we were going to be here, we'd have made the effort to watch it beforehand, but Berlin was not on the original plan. This lead to much "Er…is that the building?" questioning of each other; we take pictures anyway, just to be sure. [Subsequent inquiry back in London revealed we were usually pretty close to the mark!]
While running around odd corners of Berlin (and discovering that Lola would have to be an Olympic champion, or possess a teleport device, to cover all her route in 20 minutes), we stumbled across a couple of cool places. First up was Fassbender and Rausch, allegedly the world's largest chocolate shop, which uses it to create, much like Mini-Europe, large-scale creations of famous buildings. I presume they're varnished rather than actually edible (one hot day, and boom, the Reichstag is reduced to a puddle) but you can only admire the concept.
In the Babelplatz, opposite Lola's bank was a window in the ground, onto an underground library, without any books on the shelves. This was a chilling monument to the Nazi book-burnings in the 1930's, reminding me of Heinrich Heine's prophetic quote from a century before: "Where one burns books, one will soon burn people."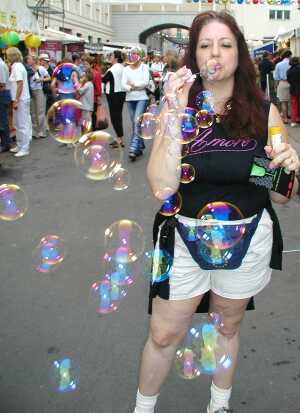 On a lighter note, we found the mother lode of bears: 125 in a circle on the site of the future U.S. Embassy, with each representing one country and decorated by an artist from there. Kind of a Uni-teddy Nations… [Go on, groan – I'll wait here for you] Also stumbled into a street festival, with food, entertainment and, of course, beer; one of the personal highlights was hearing them play Kraftwerk over the PA. Chris amused herself with some bubbles, and going by the trail of small children she acquired, it seems that you don't need any musical ability to be a Pied Piper.
We left Berlin that evening with a feeling that we'd only scratched the surface of the city. Chris – particularly impressed with the public toilets – said it was somewhere she'd be happy to live, and I'm inclined to agree. It's a place with enormous potential, busy without being overcrowded, and the train to Munich reinforced our overall happiness and satisfaction with Germany. Never have I ever seen a sleeping car possessing its own bathroom, including a shower. Sheer luxury, with even a ladder that comes out of the wall so that the top bunker doesn't have to engage in Lara Croft-ian maneouveres to reach the bed. With such attention to our comfort, it seems a shame to go to bed, but Munich beckons…
Next: The Hills are Alive…