"Although the world is beset with lots of seemingly intractable problems, such as the population explosion, and environmental disruption, making it difficult to entertain hope, it's nevertheless a wonderful thing to be alive."
Hayao Miyazaki, undoubtedly Japan's foremost director of anime, is often referred to as Japan's Walt Disney. But, probably a more accurate comparison would be Steven Spielberg, as Miyazaki's works possess similar imagination and genuine cross-population appeal. Their box-office success is also comparable; Miyazaki's latest film, "Kurenai no Buta" took in more money than any other film in Japan last year. Not "more than any animated film". Not "more than any Japanese film". Just more than any other film.
It's easy to see why "Kurenai no Buta", or "Porco Rosso", has followed in the footsteps of Miyazaki's other works. They are all technically unsurpassed, yet retain a warmth and depth which enchant almost everyone who sees them. I know several hardened gore-hounds who are more than happy to sit through any Miyazaki film, despite the fact that he has never made a film which would get anything stronger than a 'PG' rating.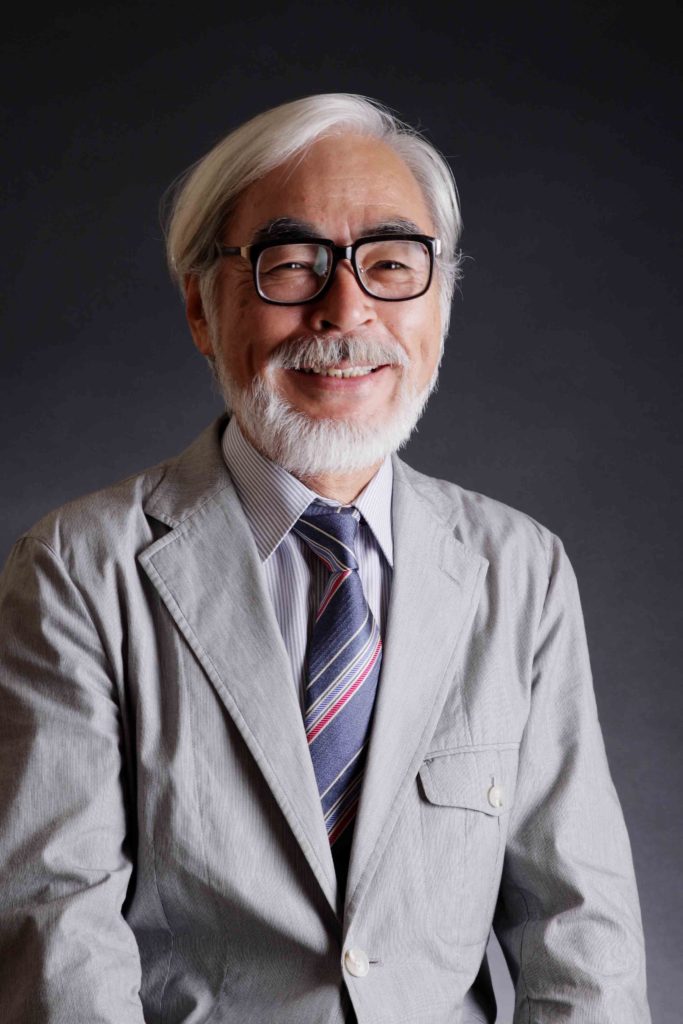 Miyazaki was born in Tokyo, on January 5th, 1941. His father was a director of Miyazaki Airplanes, a company owned by Hayao's uncle which made the rudders for Japan's much-feared Zero fighters. This atmosphere may well explain why so many of his films and series have flight as a major theme. It was not until 1958 that he decided he wanted to become a comic artist, but he rapidly discovered he could only draw planes and battleships!
Undaunted, in 1963, he joined Japan's top studio, Toei Animation as an in-betweener. It was here that he first met Isao Takahata, a fellow animator with whom Miyazaki has collaborated on many projects since, and Akemi Ota, his wife-to-be. After 8 years with Toei, he left in search of new challenges and, after a failed attempt to secure the rights to "Pippi Longstocking", Miyazaki finally got his chance to direct some of the episodes for "Lupin III", a then-new TV series about a gentleman thief.
However, it was to be a further eight years, and many thousands of cels, before Lupin also gave Miyazaki his second big break – the chance to move into feature film production, with 'Castle of Cagliostro', the second "Lupin III" movie. The following year, 1980, Miyazaki repaid the favour by moonlighting to direct two more episodes of the TV series under the pseudonym of Telecom – the name of the company where he was "officially" working as an animation instructor!
In 1982, the manga "Nausicaa of the Valley of Wind" started appearing in 'Animage' magazine and rapidly, talks began on converting it to an anime. The resulting film appeared in 1984, and it's success spurred Miyazaki to set up Studio Ghibli, his own animation house. It's first project was 'Castle in the Sky: Laputa', undoubtedly Miyazaki's most ambitions work to date at over two hours long, a rarely seen length for animation.
The rest, as they say, is history. 1988: My Neighbour Totoro. 1989: Kiki's Delivery Service. 1992: Porco Rosso. Each seemingly more successful than the last, demonstrating Miyazaki's mastery of every facet of film-making – plot, characters, action, atmosphere – over and above the skills necessary to create good animation.
Miyazaki's trump card is his ability to transcend the usual clichés of the field. The heavy SF content in anime – look at Manga Video's releases – is understandable, but too often the creators fail to appreciate anime's strengths and weaknesses. While it is cheaper to draw spaceships, giant robots, etc., they can never be as impressive as "the real thing" available through live-action. The city-scape in 'Blade Runner' may be ten years old, but it's still far better than even the best-imagined cityscapes, those of 'Akira' or 'Bubblegum Crisis'. Despite his deep interest in flight, technology for it's own sake plays an insignificant role in Miyazaki's films. What is important is how the technology relates to people, and how people relate to it. The abuse of science and how power can corrupt, is a strong theme in both 'Laputa' and 'Nausicaa'.
Animation's strength is it's ability to do things that would be impossible in live-action. The purest example of this is probably Western – "Tom and Jerry" – but physical comedy is certainly one of the most fruitful areas for anime. Indeed, animation probably has the upper hand for anything involving "life", whether past, present or future; nothing ILM have created can rival the icky creatures in "Legend of the Overfiend"! When it comes to biology, we can't yet replace artistry, as the feeble attempts of computer graphics to duplicate the human face show, and Miyazaki's imagination is at it's best when aimed in this direction, as seen in 'Nausicaa' and 'Totoro'.
Miyazaki's works are moral, without ever seeming preachy. There is a strong sense of right and wrong, honour and duty. But there is rarely any black or white in his characters; even the worst of villains is operating for plausible reasons, and it's easy to see ourselves in their shoes. But, as in Hammer movies, good always wins. This eternal optimism is, more than anything else, what distinguishes a "Miyazaki movie" and in the current climate – Reservoir Dogs, Bad Lieutenant, Man Bites Dog – such films represent a very refreshing change!