Sex, Lies and
Straight-to-Videotape
A couple of years back, when we were in Los Angeles, we looted the laserdisc section of Tower Records, which was being cleared out. The purchases languished on the shelf, largely forgotten in favour of the exciting new technology of DVD. :-) But some weeks ago, one surfaced: Flipping. It's a mediocre, Quentin Tarantino wannabe, about a bunch of low-level gangsters, ordered to kill a rival boss. They then decide to murder their own boss, Leo, the same night - partly as a business move, partly because they fear being tidied up themselves as "loose ends".
It's largely forgettable, save for a couple of features. Keith David (best known for his fabulous brawl in They Live with Roddy Piper) does a great, scary turn as Leo, and may set a record in terms of the gulf between him and the rest of the cast. There is also a wildly unnecessary subplot, redefining the term "gay Mafia", which allowed me to mock Chris for picking up the film (just as she mocks me every time lesbians appear in movies I choose - probably rather more often, if the truth be told!).
However, in the process of research, I discovered something that made me sit up and take notice. David Amos, one of the stars, who also appeared in Dancing at the Blue Iguana with Darryl Hannah, was currently in jail, along with the movie's executive producer, Michael Woods. And not for wussy Hollywood stuff like shoplifting, drug abuse or DUI - but their involvement in the 1989 murder of Horace McKenna, a former 'business partner' of Woods. My interest level suddenly rose several notches, and I began to dig further...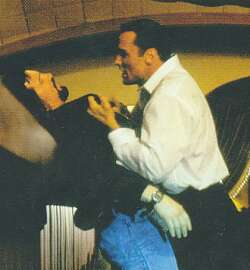 Amos demonstrates his method
acting on Gene Mitchell in Flipping

In the 1970's, both McKenna and Woods were California Highway Patrol cops in West Hollywood, but the 6'6" McKenna - hardly the inspiration for Erik Estrada - left the force under a cloud, and was later jailed for distributing counterfeit money. Woods took disability retirement, but remained friends with McKenna, and together they began opening a string of girlie clubs - Woods was the formal owner, McKenna's criminal record preventing him from getting a license.

Meanwhile, in 1981, British ex-pat David Amos met Woods, and worked as a bouncer at JR's Place. But as the decade progressed, Woods and McKenna began to fall out. Woods feared his partner's behaviour was drawing the attention of law-enforcement officers, though LA District Attorneys had been interested almost since the duo began to operate, suspecting tax fraud.

Woods paid Amos $50,000 in exchange for arranging a hit on McKenna. Amos, in turn, 'subcontracted' the murder to former club manager John Sheridan for $25,000. Said Sheridan in a jailhouse interview, "When Dave said he wanted it done, I said I'd find somebody to do it. But I couldn't find anybody. There's an old saying: If you want something done right, you've gotta do it yourself."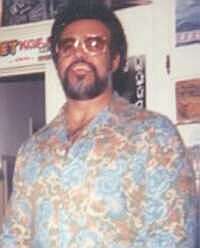 Horace McKenna in 1984

On 9th March, 1989, McKenna's limousine pulled up to his 40-acre home, and the chaffeur got out to open the gate. Sheridan came out of the shadows and fired 23 shots from an Uzi into the back of the vehicle, killing McKenna. Finding suspects wasn't hard, particularly as Amos subsequently became part owner in the clubs owned by Woods. However, getting the evidence necessary to convict was quite another matter. The trail eventually grew cold.

In the meantime, Sheridan had been in and out of jail on unrelated charges, and was now working in a menial job for Woods and Amos. Sheridan, perhaps understandably, was feeling rather bitter. "Mac [McKenna] goes down and everybody hits the lottery. I go to prison, I get out and everybody is making money but me." In January 2000, after three years of investigation on the re-opened case, he agreed to wear a wire.

Sheridan spoke to Amos about getting paid more money, and received $10,000 - Amos was subsequently arrested, and in exchange for a degree of leniency, went to meet with Woods, at a deli in Woodland Hills, while also carrying a listening device. The transcript sounds like pages from a berserk Sopranos episode:
Woods: Well, I hate to say this, but you're the one... you told me you would take care of Johnny.
Amos: I know. I thought he forgot about it. I mean you said you'd do it and I forgot to give it to him, is what happened.
Woods: But the thing is...
Amos: I mean he can't prove it's you.
Woods: Yeah.
Amos: Put it that way.
Woods: I mean, you can talk to him, you can say, Johnny, you're sharp enough to know, you are sharp enough to know I can't come up with money right now. I cannot come up with fuckin' money right now. And then that's, that's really what you're gonna say to him. Cause I'm telling you Dave, if they've already got him and you give him the fuckin' money right now and he demanded it from you as a pay off, you are fucked. You are absolutely, positively fucked."


Amos (left) and colleagues on their way to kill a rival

Woods: "They haven't gone to my house. Kyle said they were talking to Chip about their investigation into Mac's death and tax evasion. It makes me feel a lot better... Because if they're still doing the tax evasion that means they don't have shit on the other thing. They don't have shit on the other thing. You know..."

Woods: The other piece of equipment, did it get thrown away? I mean this evidence.
Amos: What piece?
Woods: The weapon.
Amos: The weapon?
Woods: The one that was used.
Amos: No, I didn't throw it away.
Woods: Oh.
Amos: He did. I never saw it. I didn't even know what it was till I read in the paper. Still didn't know exactly what it was.
On exiting that meeting, Woods was arrested, and in August 2001, the trial was held. Despite defence criticism of the prosecution's use of informants, and evidence suggesting McKenna had threatened Woods' family, all three men were found guilty; Amos and Sheridan got 20 years, and Woods 25 to life.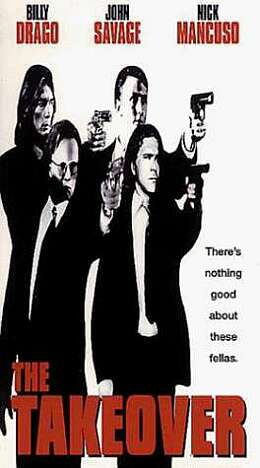 It's a story worthy of a B-movie. And, like something out of Basic Instinct, this is exactly what it became. In the time between the slaying and their imprisonment, Woods funded, and Amos starred in, not one but two films covering disturbingly similar territory. Flipping was discussed above, and certainly acquires a disturbing resonance, when you know that the cold-blooded killer in the movie is now behind bars for arranging a hit.
Perhaps even worse still is The Takeover, made a couple of years earlier, with veteran actors Billy Drago and Nick Mancuso...as gangsters battling violently for control of a chain of strip-clubs. Bare Elegance and New Jet Strip, two of the bars over which McKenna and Woods quarreled, appear in the film - Elegance is the location for shootouts with the regularity of happy hour, and you wonder why any paying customer would go there. Maybe they have a really good buffet? Another attack takes place as the target pulls up to the gates of his house, just as happened to McKenna, and ironically, Amos' character starts off in prison, which is exactly where he is now. And if you want really creepy, the movie was distributed by Live Entertainment, the company originally owned by Jose Menendez, killed by his two sons in one of the 80's most infamous murder cases.
It's not the first case of criminals being involved in the movie business - see The Cotton Club (likely the tip of the iceberg, I suspect), or the close, if often unwilling, relationship between the triads and the Hong Kong movie studios. While not an exact recounting of what happened, obviously, the similarities are there: to quote Orange County District Attorney investigator Rick Morton, "There's an arrogance there, it's putting it in people's faces." As an example of art imitating life, it's hard to think of another case that makes the hairs on my neck stand up so much.
[Tip of the TC hat to Z-bone.com for some of the background information in this article.]
---
[Article index]
[TC home page]