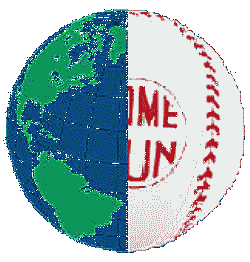 Like drive-ins and line-dancing, baseball seems a quintessentially American icon, a facet of the culture that has never quite caught on elsewhere. Yet the sport is more global in nature than might be suspected, and the international aspects have been around for almost as long as baseball itself. The origins are lost in the myth and mists of time, but legend has it that the first Mexican game took place at Jalapa in 1847, when American soldiers celebrated victory, using the artificial leg of defeated general Santa Anna as a bat. As early as 1878, Cuba had a league, with the proceeds funding rebels fighting for independence from Spain.
The spread of the game has largely been driven by American influence; for example, gold propectors brought Australia the game in the 1850's. Due to this, baseball is most popular in areas with ties to the States: Central America, the Caribbean and the Far East. However, the record attendance for a game took place outside these strongholds, in Berlin, where over 120,000 people watched a demonstration match-up at the 1936 Olympics. More currently, the International Baseball Federation now boasts affiliates in 110 countries.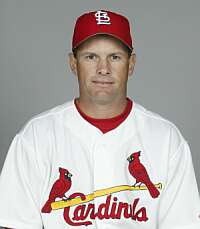 Lance Painter
St. Louis Cardinals pitcher
Born: Bedford, England
As well as exporting the game, America also imports players, drawn both by high salaries, and the opportunity to test their skills – the major leagues are universally regarded as the best in the world . Some deride the notion of a "World Series" involving only Canadian and American teams, but more than a quarter of the players currently in the major leagues were born outside the US, including natives of Australia, Germany, and even Englishman Lance Painter. This is not a modern innovation. Even in 1871, the first officially recognised season, history records ten players born in the British Isles, and Liverpudlian Tom Brown took part in more than seventeen hundred games while Queen Victoria was still on the throne.
Those in charge of the sport are aware of its international potential. "Baseball was born in America, but now it belongs to the world," said commissioner Bud Selig, and the 2003 season was scheduled to start in Japan until the invasion of Iraq took place. The Montreal Expos are also playing several "home" series in Puerto Rico, pending a decision on where the team should go. Further down the road, plans have been floated to play in Europe at some point, probably in Italy, where there's already a semi-pro league whose games are shown on regional television.
The task is not without pitfalls. Witness the failure of soccer to achieve mass popularity in the States, its place in public consciousness largely defined by Brandi Chastain's post-penalty strip-tease. A quick straw poll revealed that many Americans are unable to name a member of their men's soccer team, proving that people are averse to being told which pastimes to enjoy. Pure hype can work only in the short term. The London Monarchs won the 1991 World Bowl of American Football in front of 61,000 fans at Wembley Stadium; seven years later, barely five thousand watched the Monarchs' final game.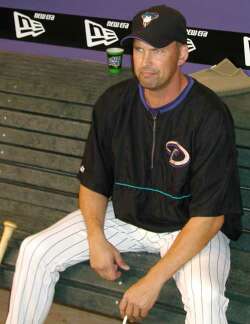 Mark Grace on world baseball:
"I would love that."
Despite the potential for failure, the Arizona Diamondback players we spoke to all supported the idea of playing worldwide. It wasn't just the rookies either: "I would love that," said Mark Grace, a player now in his 16th major-league season. Similar opinions were echoed elsewhere – typical was infielder Craig Counsell's reaction, "It'd be a fun experience." Despite such enthusiasm, there were some doubts expressed as to whether baseball could displace soccer in European hearts, and reliever Mike Myers raised the possible financial implications, especially for small-market teams. But the challenges were still felt worth the risk.
There was less consensus over the best aspects of the game: how do you sell baseball, in a market where people aren't familar with it? Most commonly mentioned was the strategy involved, and certainly, that's part of the attraction for me. Both beautifully simple – throw the ball, hit the ball – and deliciously complex, "It's a thinking person's sport," said Counsell, and David Dellucci described it as, "A chess match, with the manager using the players as pieces."
Other factors came up: "No clock, and no ties", was Mark Grace's view. Counsell feels it's a sociable sport, in that it can be a link between parents and their children, with time within the game for interaction and relaxation – "You can enjoy a beer and a hot-dog," agreed Delluci. Mike Myers appreciates the way centimetres, and even millimetres, can be crucial, plus the uncertainty of the outcome until the very last pitch. Or as the immortal Yogi Berra said while managing the New York Mets, "It ain't over, till it's over."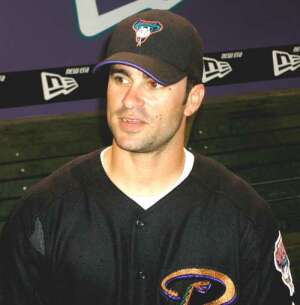 Dellucci on one attraction of baseball:
"You can enjoy a beer and a hot-dog"
Catcher Chad Moeller brought up the importance of building interest from a young age. He enjoyed soccer as a child, so has an appreciation of the tactics and skills: "Good soccer players, like good baseball players, have been playing all their life." Attracting kids is certainly significant, and perhaps Major League Baseball should consider building from the bottom up, rather than sending teams to countries which can't fully appreciate them. It is possible to come to the game late and still love it – I didn't see my first game until I was in my thirties – but if you grow up alongside baseball, the chances of enjoying it as an adult are much greater.
Moeller isn't the only major league player with additional sporting talent. While growing up in the Dominican Republic, Sammy Sosa's first love was cricket – had things been slightly different, he could be knocking balls out of the park for the West Indies team, instead of the Chicago Cubs.
Baseball is a wonderful sport, and there's no reason why it can't become as global as soccer. Perhaps eventually we'll see the London Lions facing the New York Yankees, for a true 'World Series' place against the Hanshin Tigers. However, recent history cautions us that it's best not to rush these things, organic growth offering the most secure route forward – anything driven solely by publicity is likely to leave the baseball cap as the game's only contribution to international culture.
[Thanks to Susan Webner, Arizona Diamondbacks media coordinator, for her help with this piece]
Tags: baseball, diamondbacks

No Comments
Comments RSS
TrackBack Identifier URI
No comments. Be the first.
Leave a comment